Everyone is head over heels for Joanna's selection for her Fixer Upper home makeovers. And why shouldn't they be? She seems to have the perfect eye for how paint is going to fit in a room. Joanna has always had some go-to Fixer Upper paint  colors for her Fixer Upper homes, but I bet she used to do a lot of custom mixing to get the right color as well. Heck, I'm an amateur next to Joanna and even I make custom colors when I can't find the exact color I want! So, of course the natural step would be for her to create her own paint line to match her style! Is anyone else feeling excited about Joanna's new Fixer Upper Paint Colors? After making us wait for what felt like forever, Joanna FINALLY released her new Fixer Upper paint line. yaaayyy!!  Joanna is selling her new paint through her shop, Magnolia Market.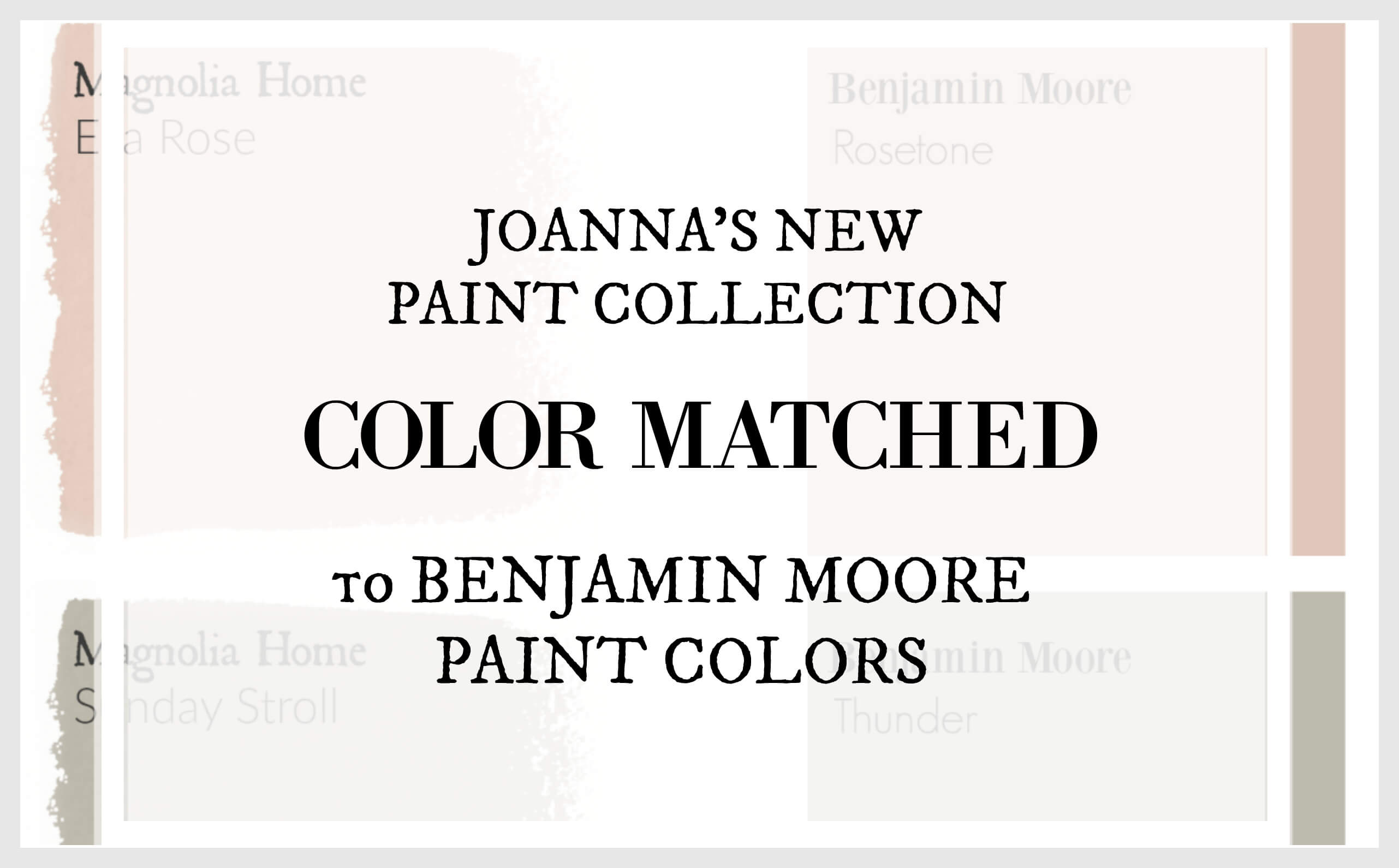 Joanna's Favorite Paint Colors Matched to Benjamin Moore Paint
I was hoping that she's release her paint line to local shops, but so far it's only available to purchase online. Hopefully one day soon Joanna's new paint line will be distributed to local shops, but I'm not sure what her plans are.
Since I know you are just as anxious I am to try out Joanna's favorite paint colors, I figured I'd do a color match for you so you can get the colors at your local store.
HUGE Fixer Upper Paint Colors Update
Joanna has released her paint line in select stores. Magnolia Home Paint can be found at some local hardware stores including Miller Paint, Ace Hardware, and others. I'm not sure if this new release includes all of her paint colors, or just the ones in the Market collection. But as soon as I find out, I will let you know!  As of now Magnolia Home Paint by Kilz is still not available at Home Depot or Lowes. But you can check if your local paint store is carrying Joanna's paint by checking out their store locater here: http://www.magnoliapaintbykilz.com/store-locator.html
Check out my review of Joanna's Peel and Stick Paint Samples here: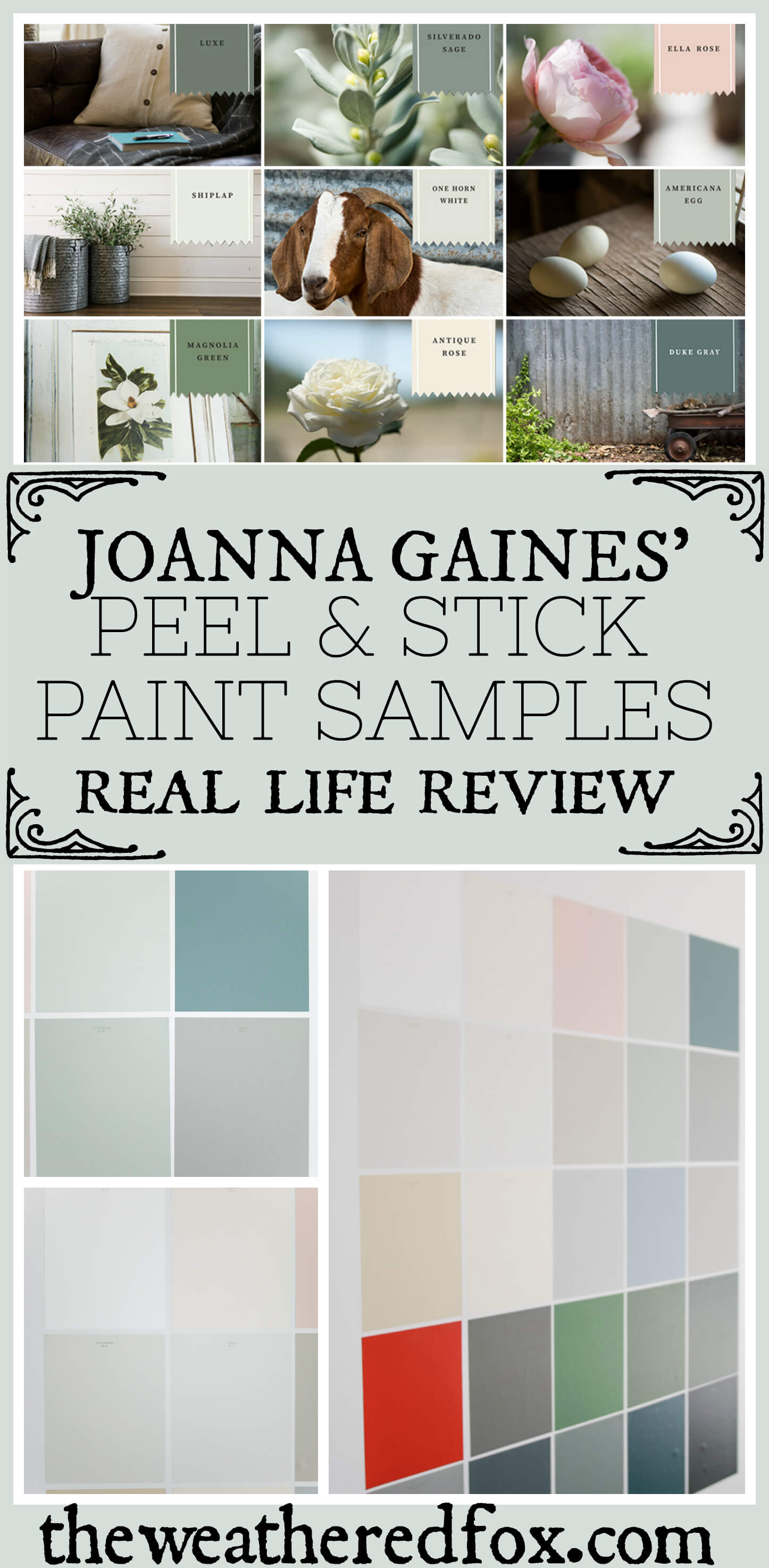 Watch me transform a kitchen table set using Magnolia Home Trim and Cabinetry Paint
Did you know you can color match Fixer Upper Paint Colors?
Actually you can color match pretty much any paint. I doubt that the local paint stores have Joanna's new line of paint stored in their database yet though. Here's a great way to work around that:
Browse the images below to select your Fixer Upper Paint Color Match.
Jot down the name of the color matched paint. Here's the cool thing: I color matched all of the colors to a Benjamin Moore paint, but you can go to ANY paint store to get a paint that matches.
Take the name of the paint color and the brand (in this case it's Benjamin Moore) to the paint color and ask to have it matched to whatever brand of paint your heart desires. Every paint store has a database with brands, paint names, and their corresponding paint mix code. ***See my insider information about matching paint colors below!
Come back here and show me pictures!
An Err of Caution When Color Matching
**Update** A TWF reader and owner of a Benjamin Moore store emailed me and gave me some awesome insider information! Here is what she said about matching paint colors:
"Almost all stores have a data base for all other major manufacturers colors. With that being said, the computer isn't always right, in fact, it's often quite off. I generally think of the computer as a starting point. It gives you an idea of what to put into the color but unless you have an actual color chip of the paint you are trying to match it is difficult to get an exact match. I will admit, computer formulas have gotten better through the years, but I still prefer to be on the cautious side, I consider it a customer service issue if I send a customer out the door with the wrong color. Every store has its own policy of how to handle competitor matches, and even ours has changed through the years. We are happy to do a competitor match as long as the customer understands it will never be exact, and that's the truth."
Fixer Upper Paint Colors Matched to Benjamin Moore Paint
Readers often ask about what colors she is using for her new Fixer Upper Makeovers since she released this paint line. The answer is a mix. I assume the clients get a choice when picking fixer upper paint colors, and so she doesn't always use paint from her new collection. there are episodes that were released after her paint line, and she still uses some Sherwin Williams colors in those makeovers! Here is a color match, as close as I could get, to Joanna's 25 paint colors in her Market Collection. She now has over 100 new colors outside of her collection as well.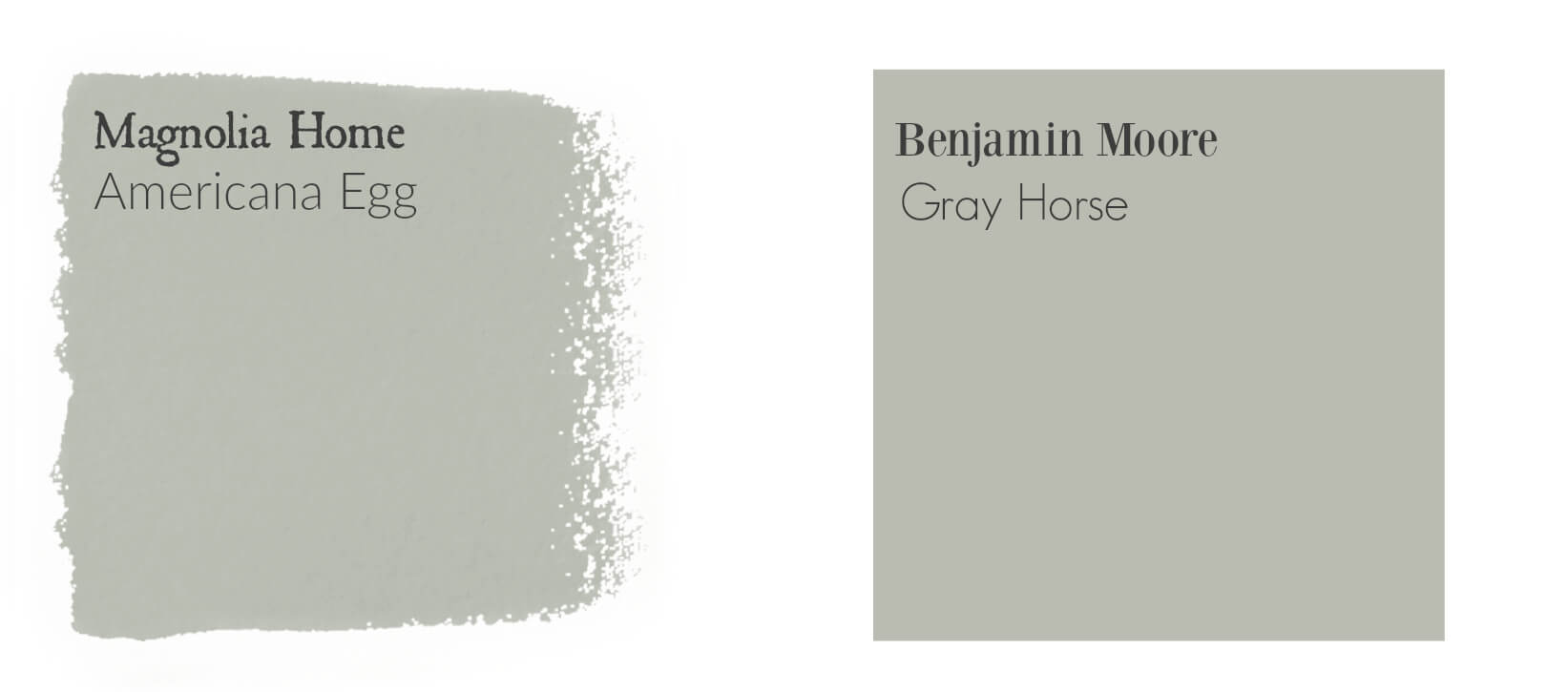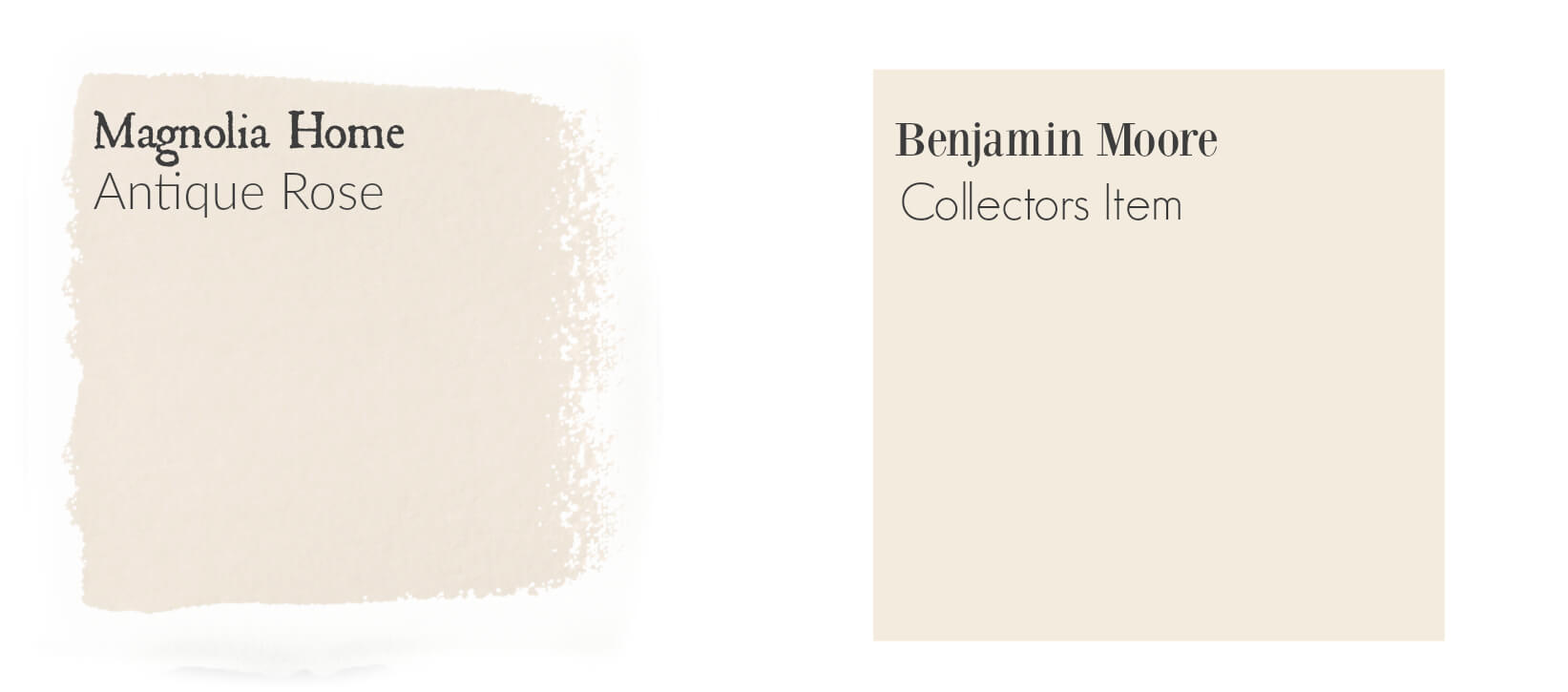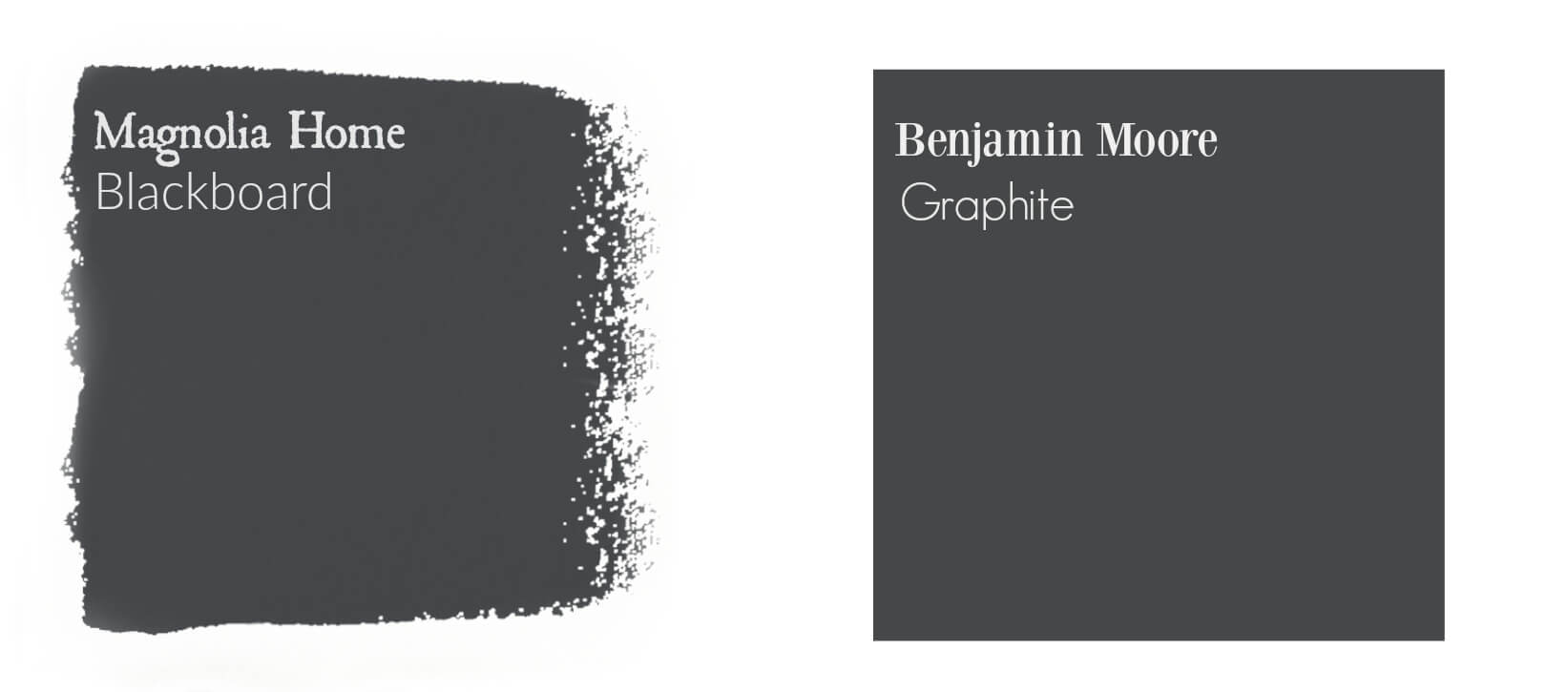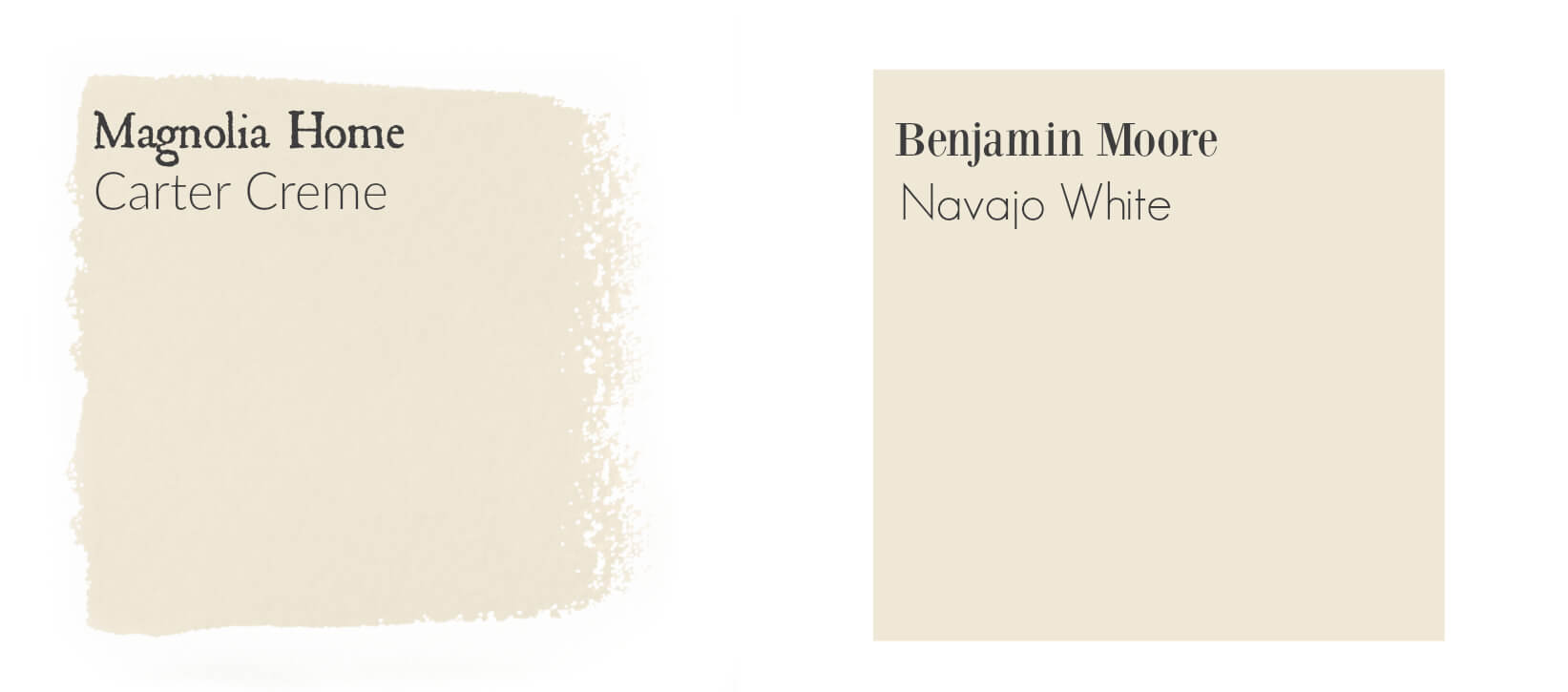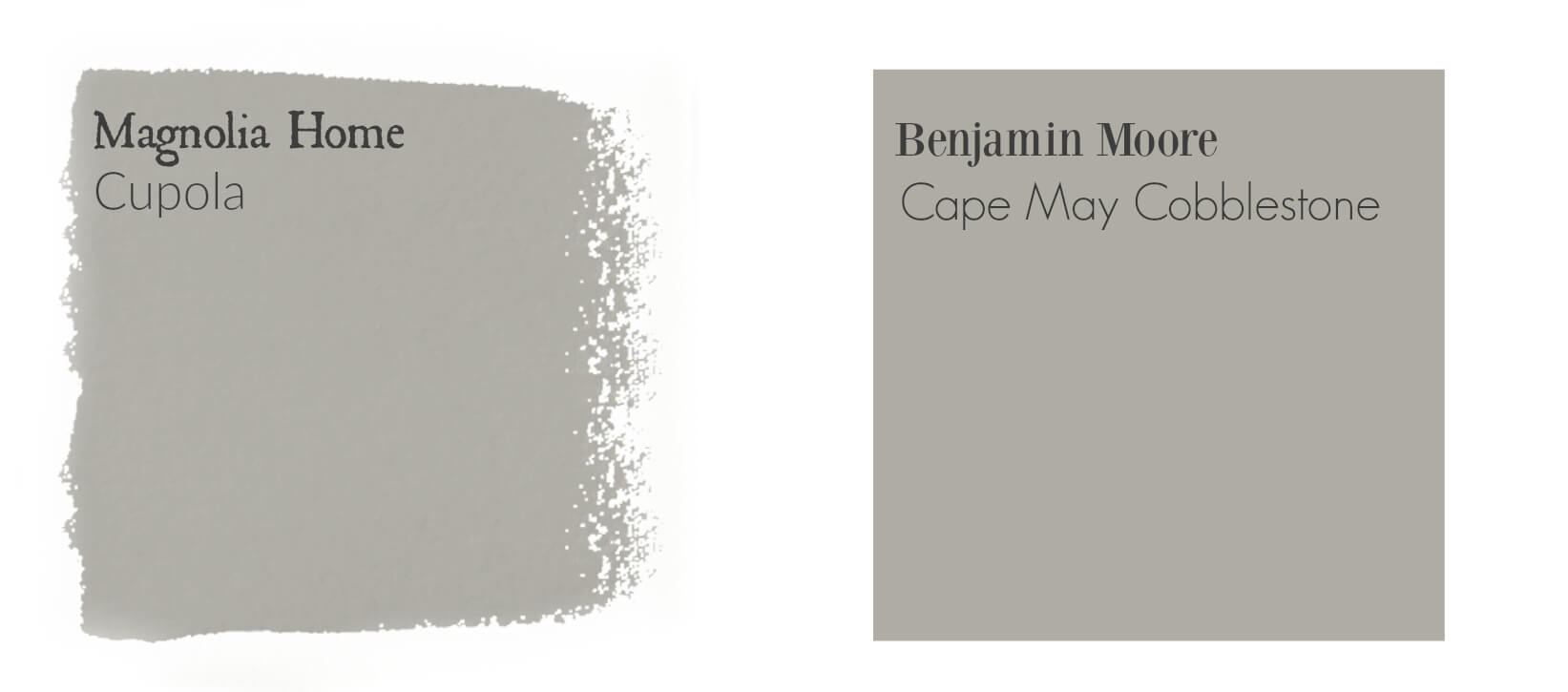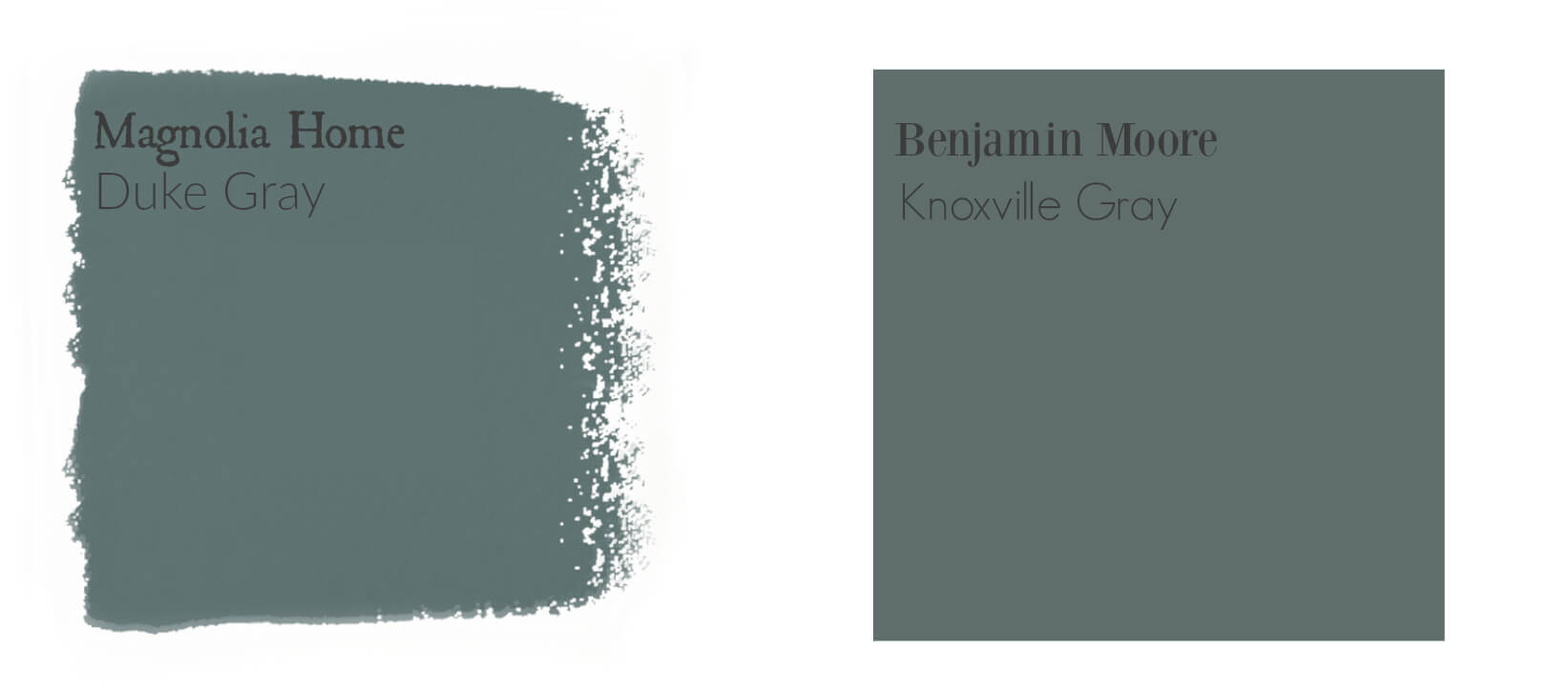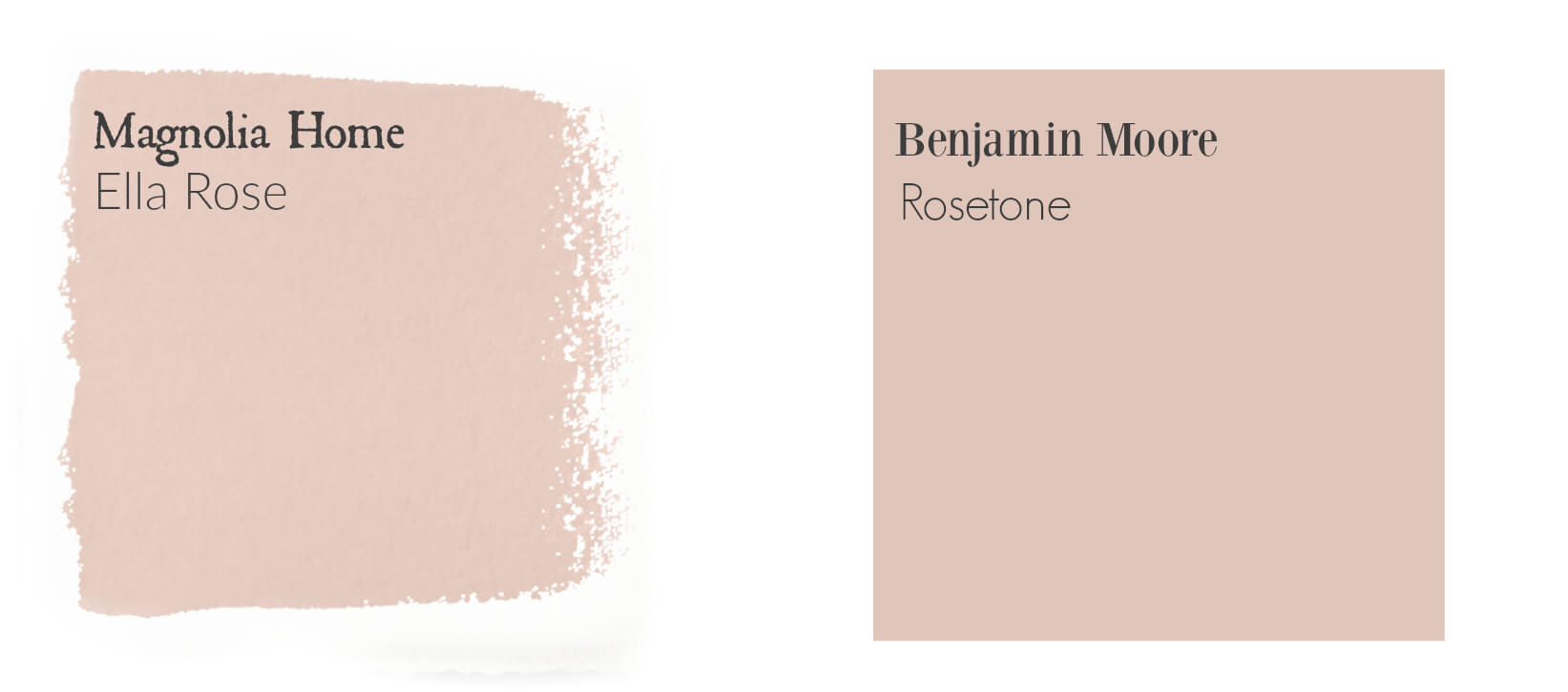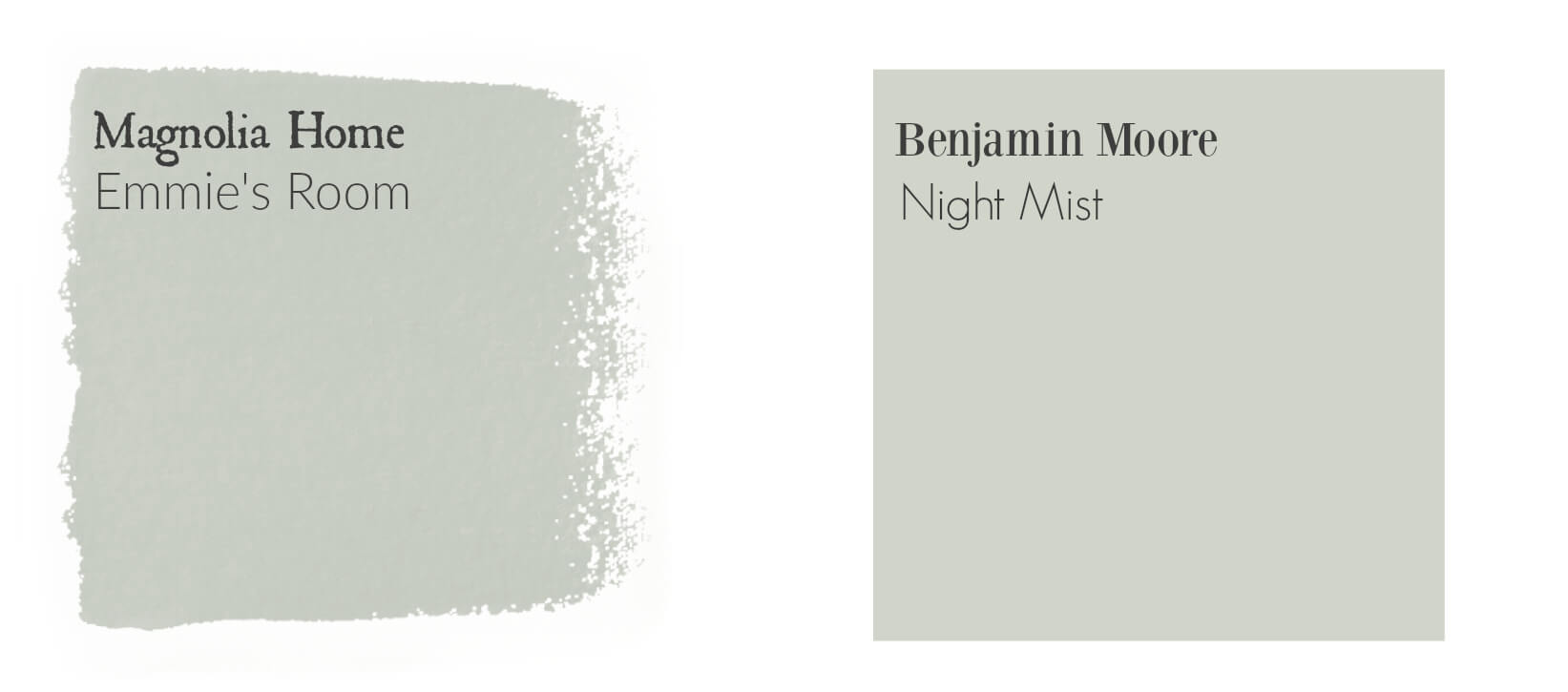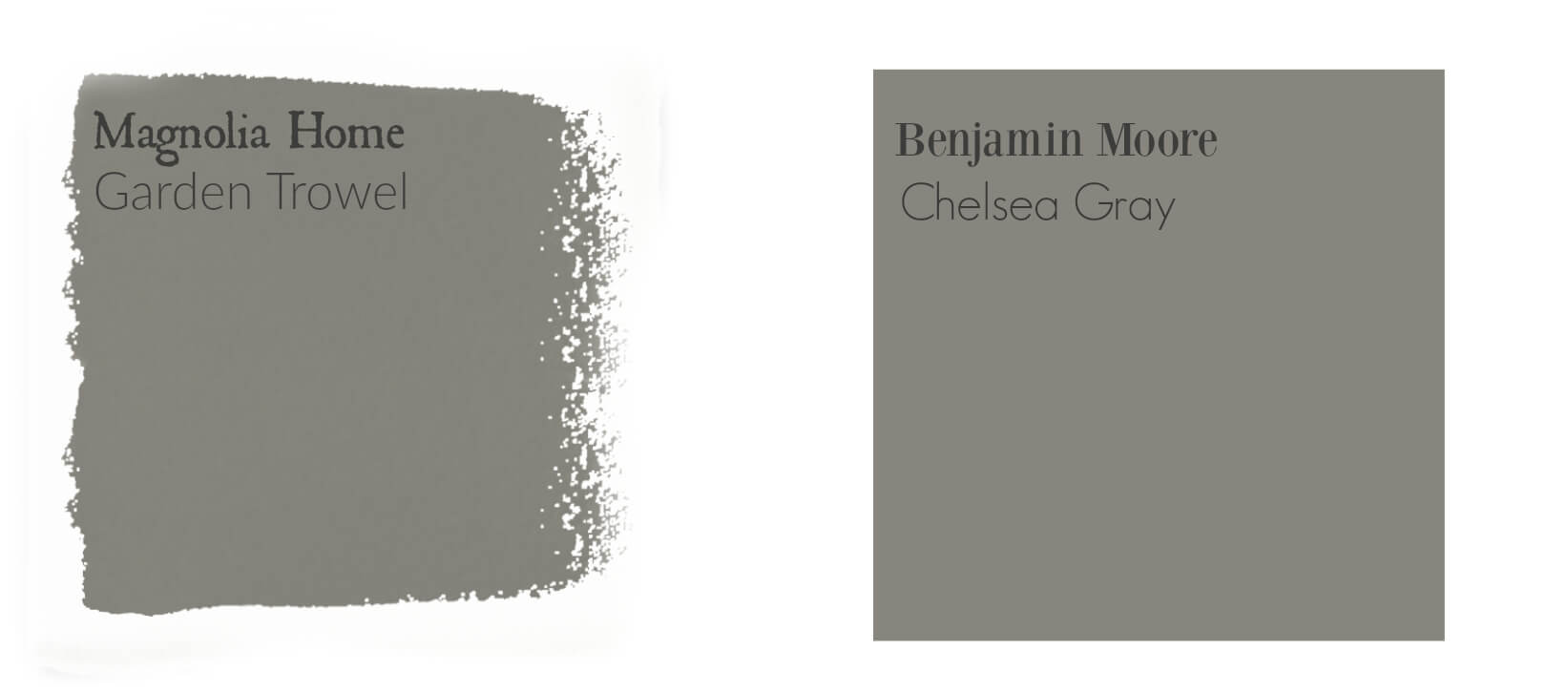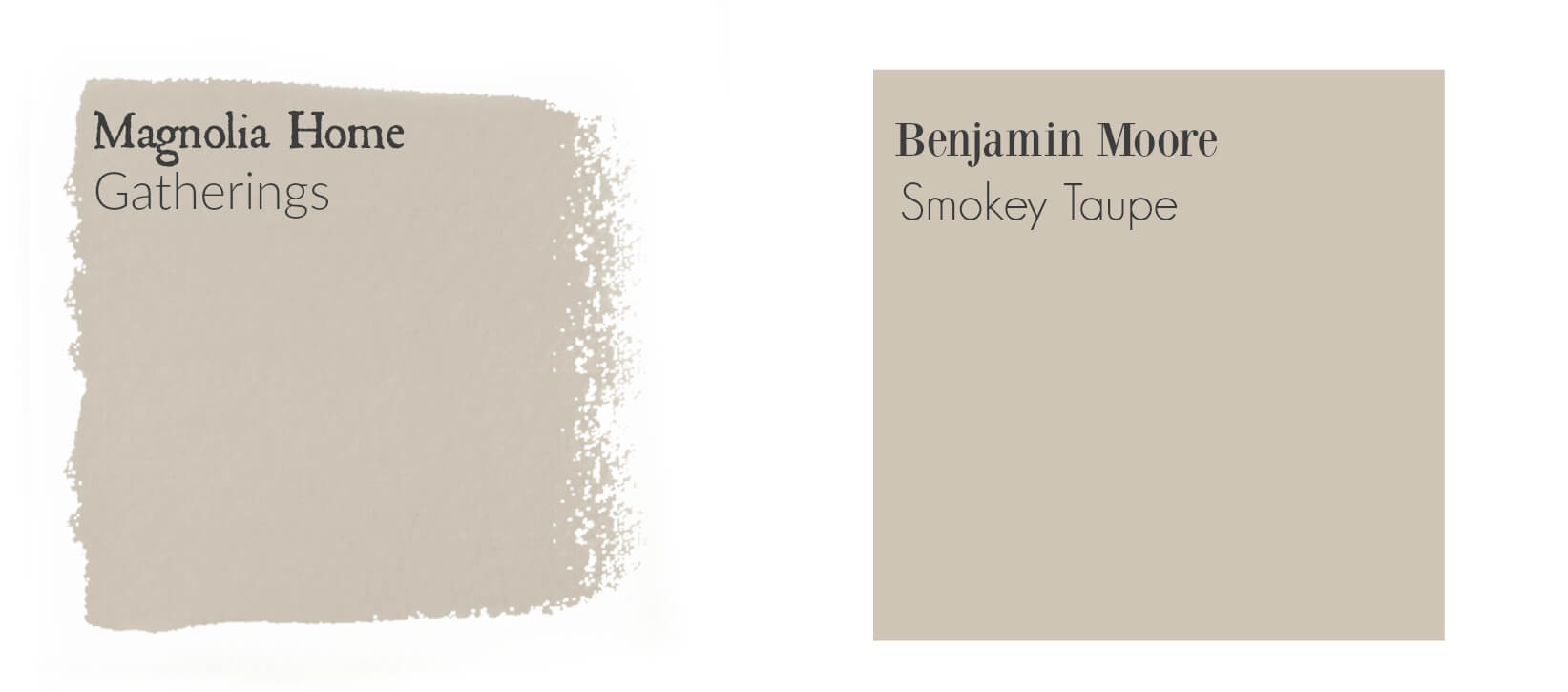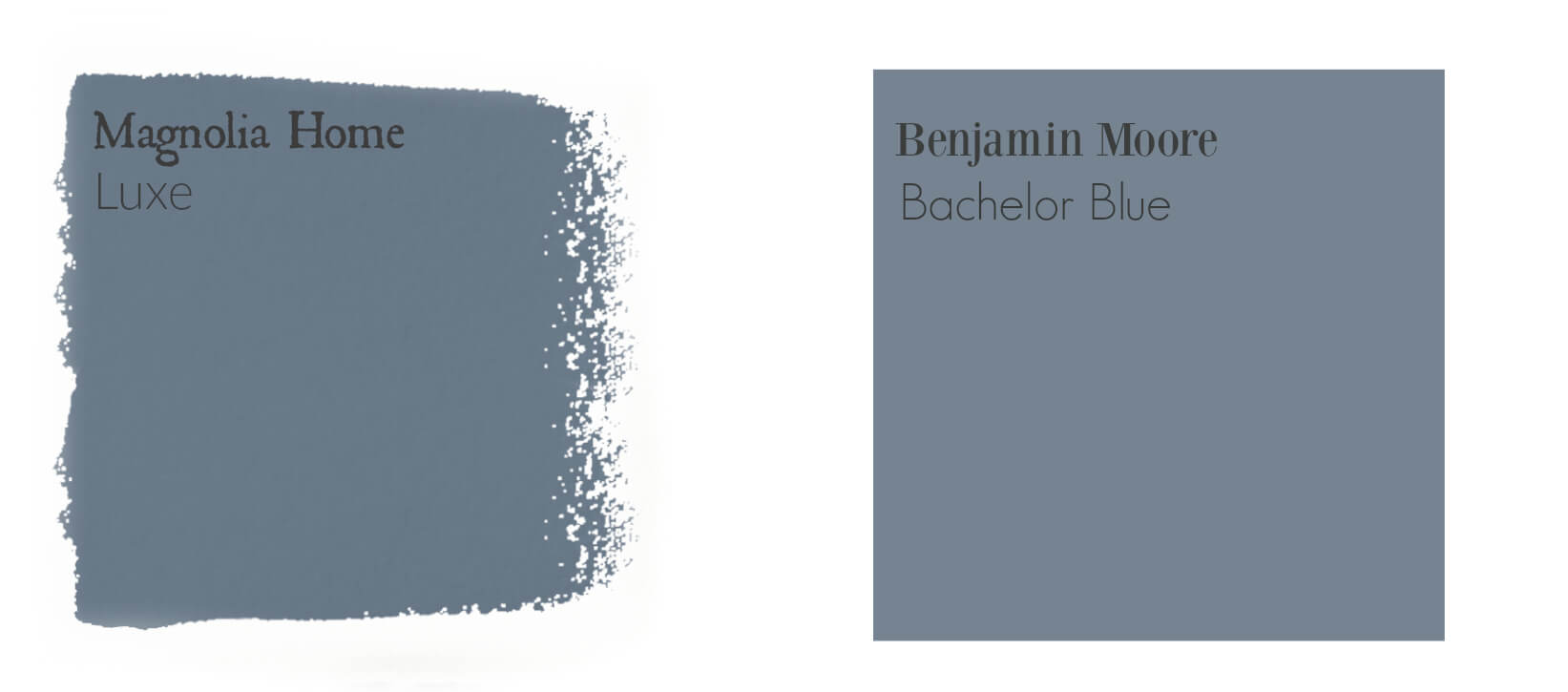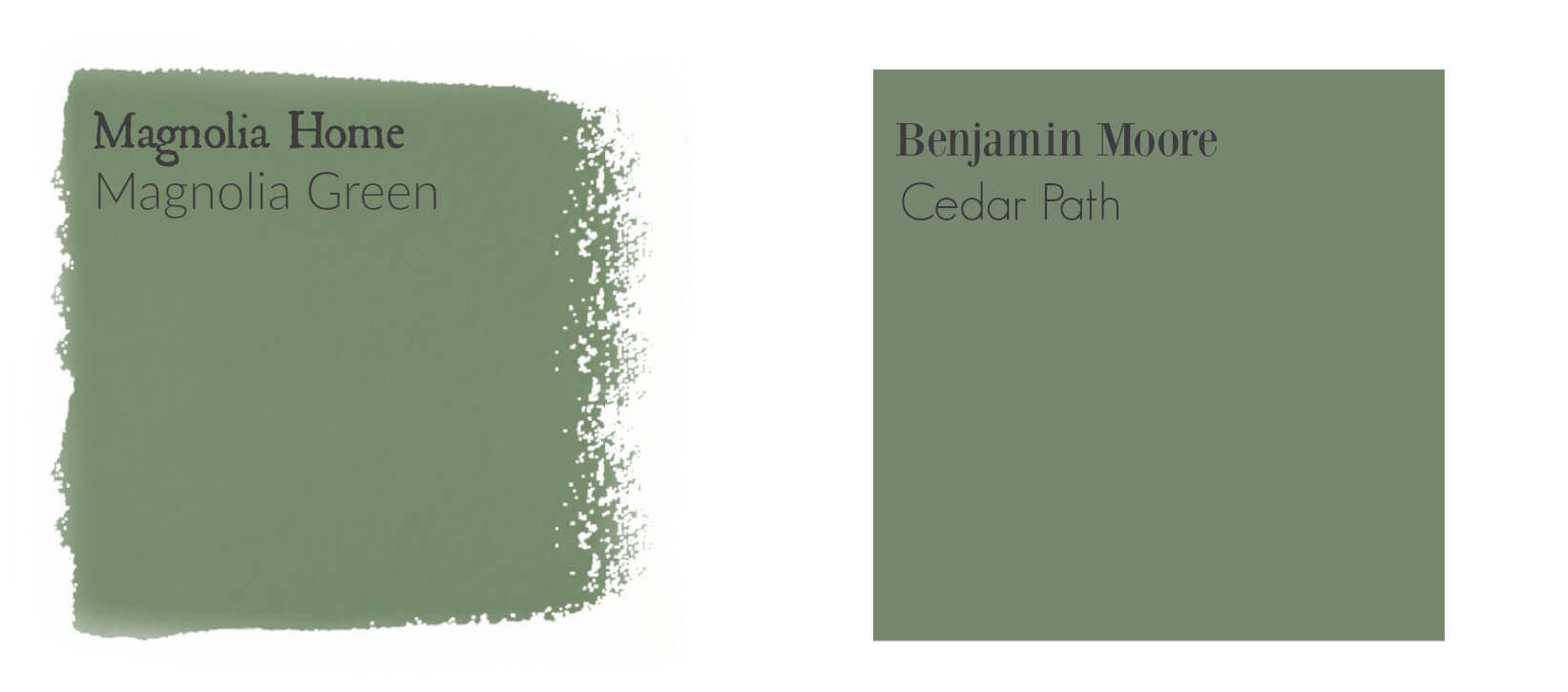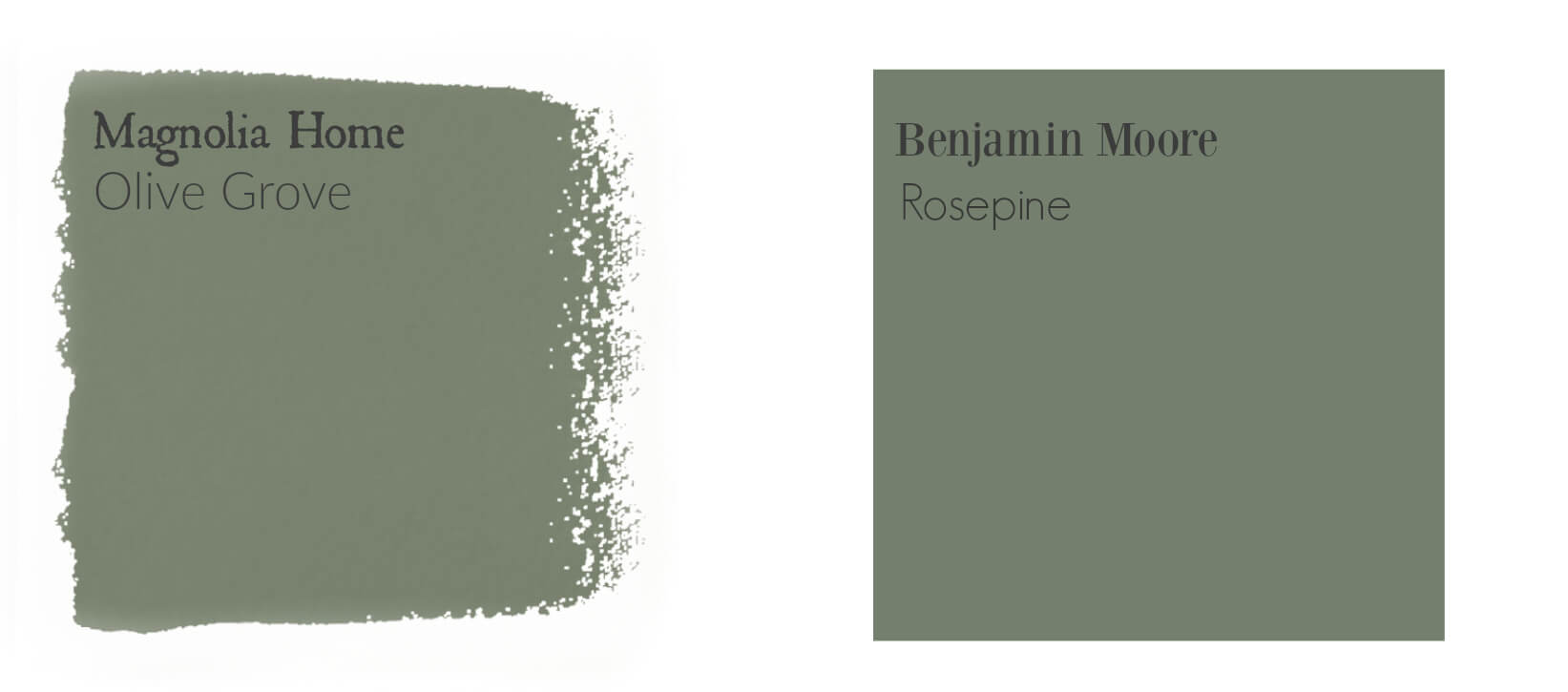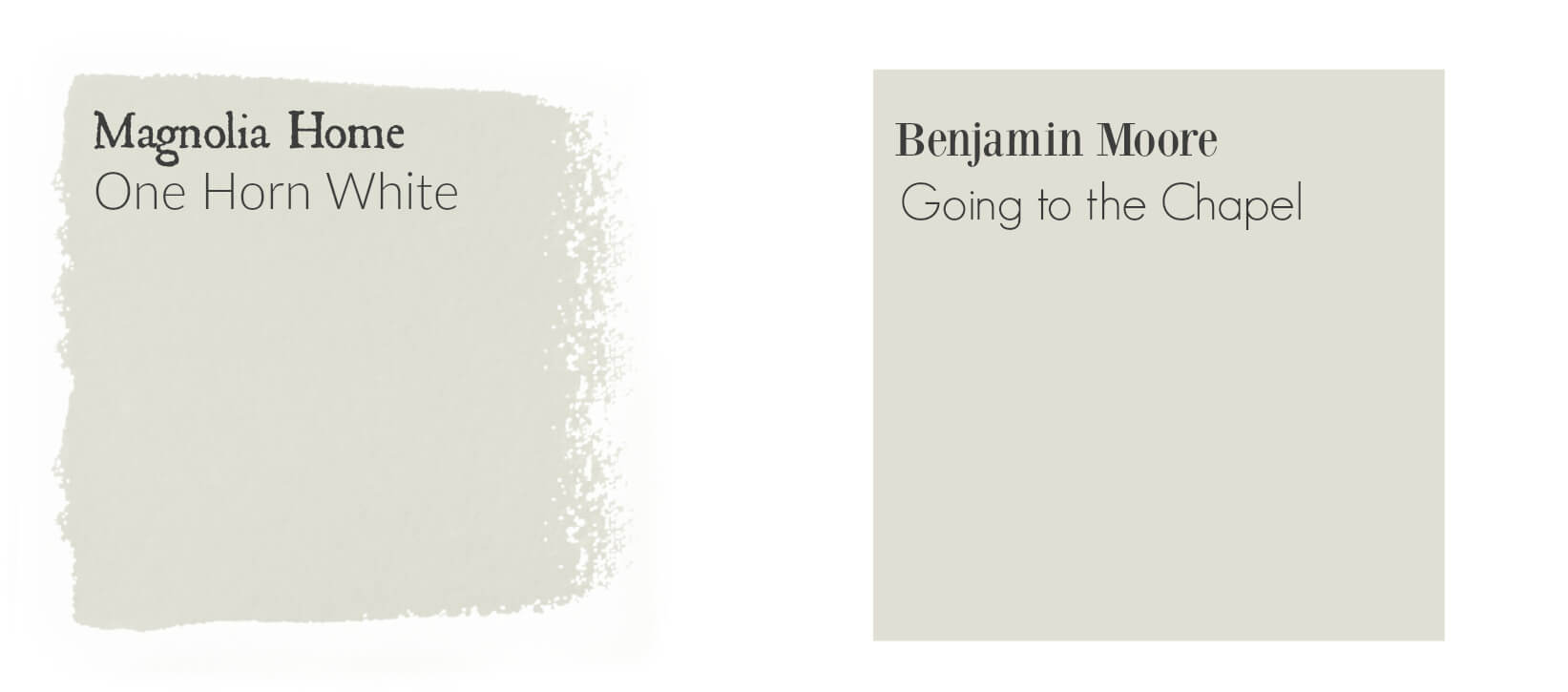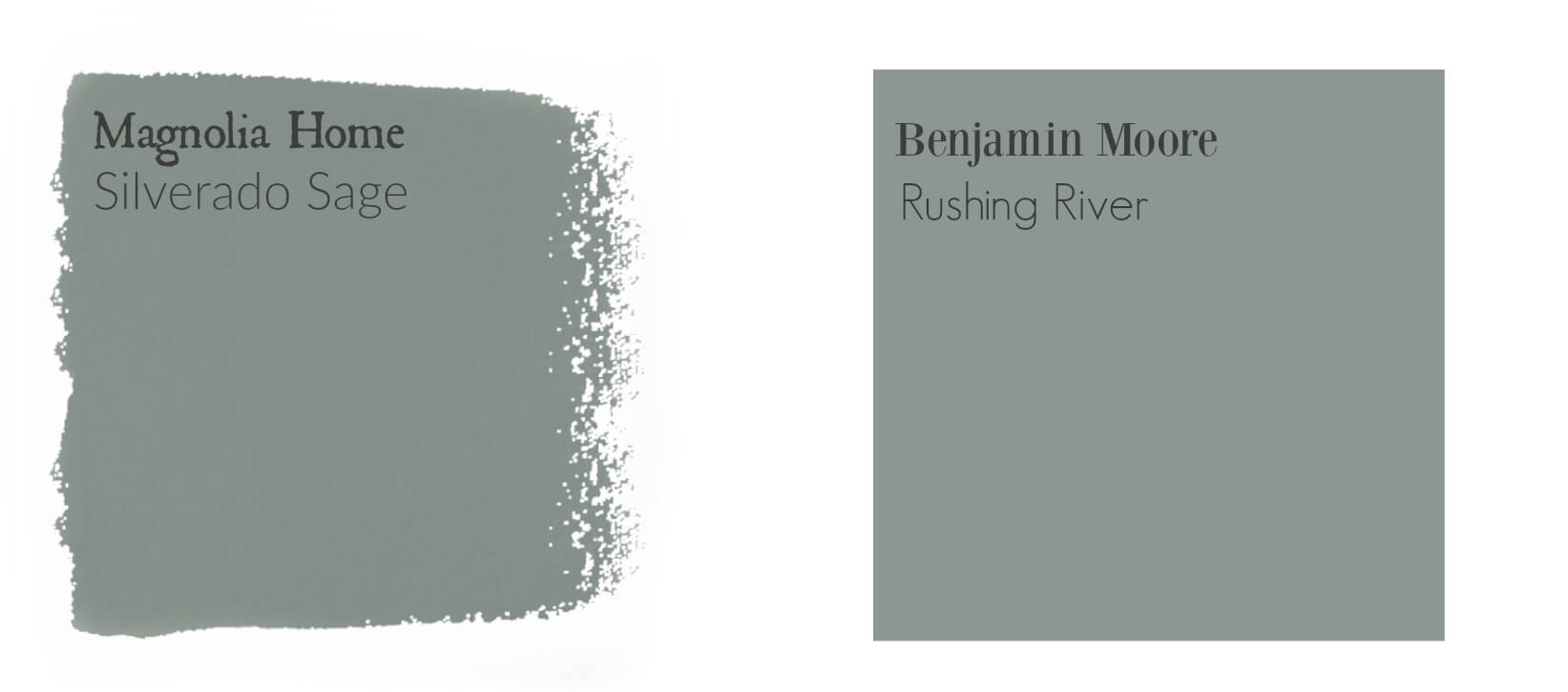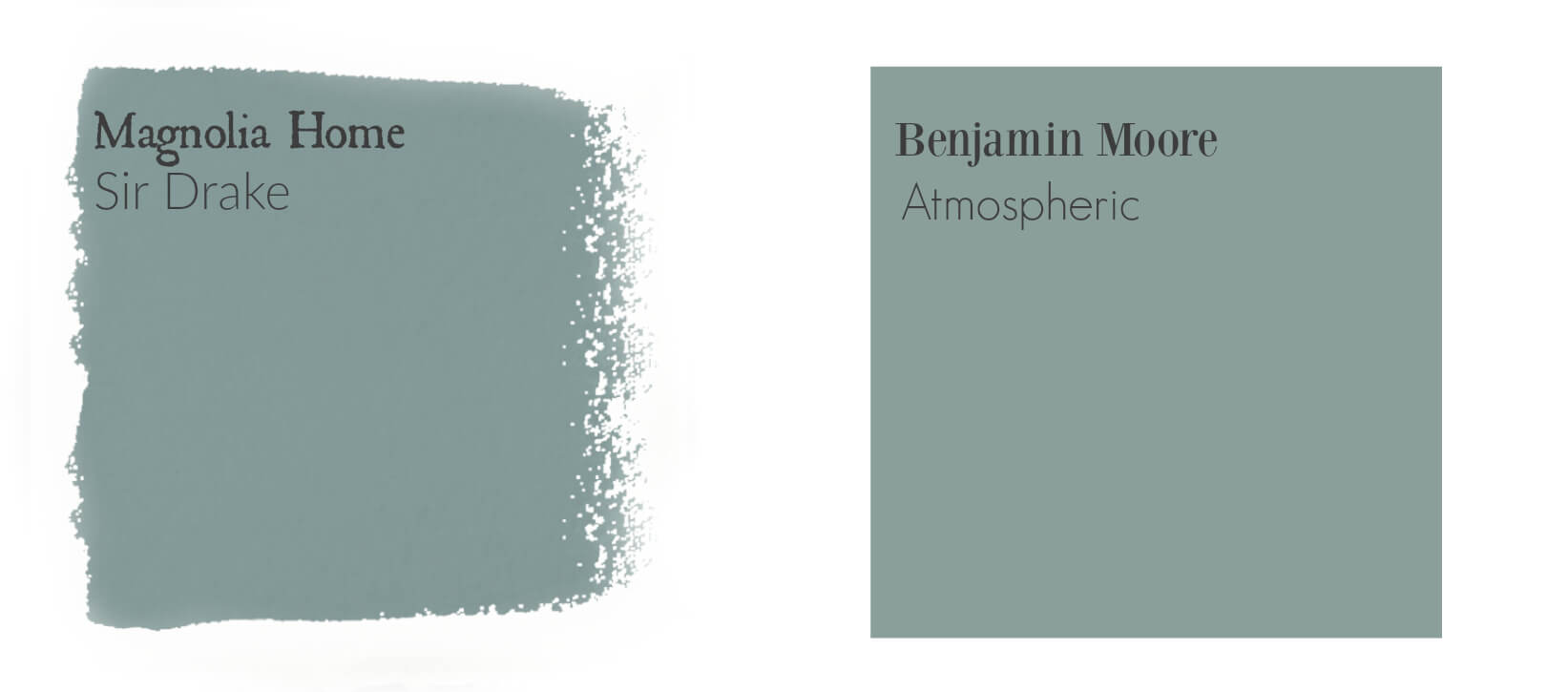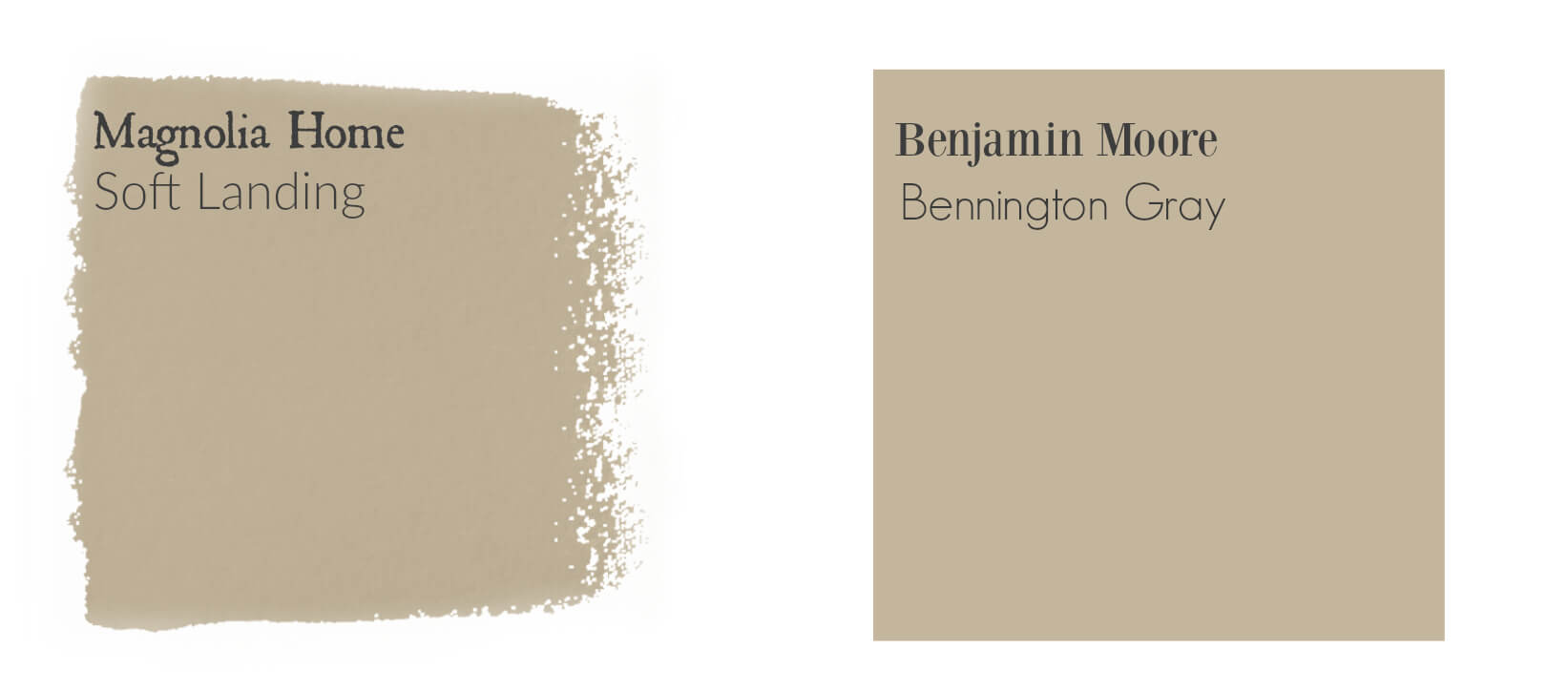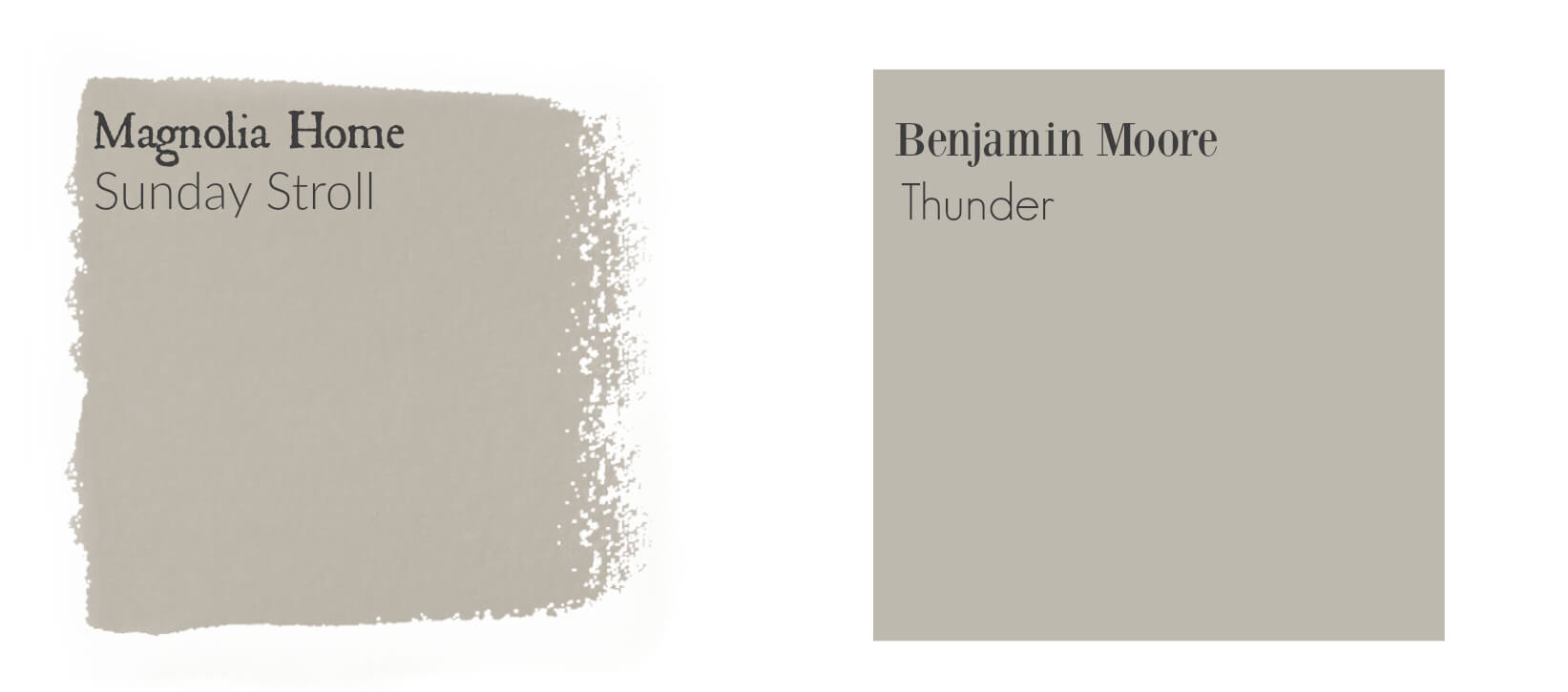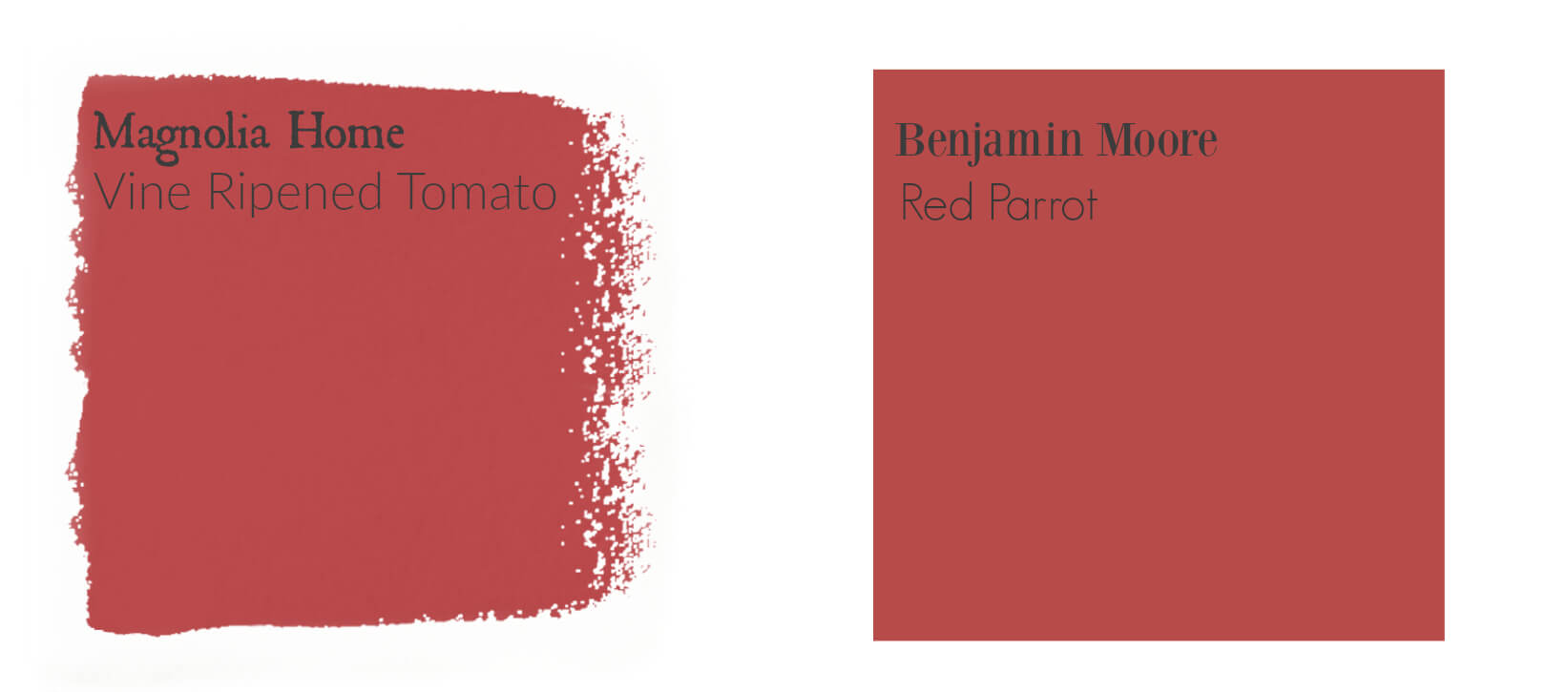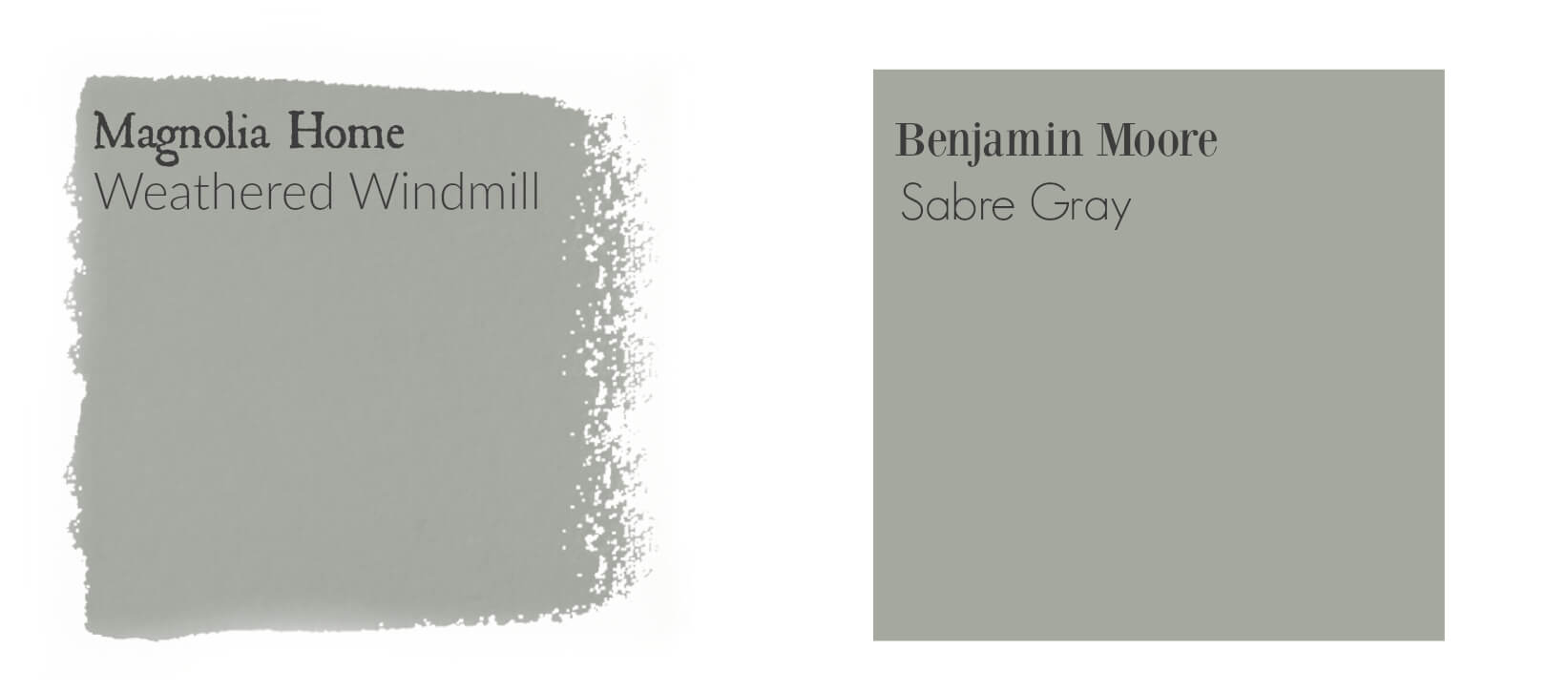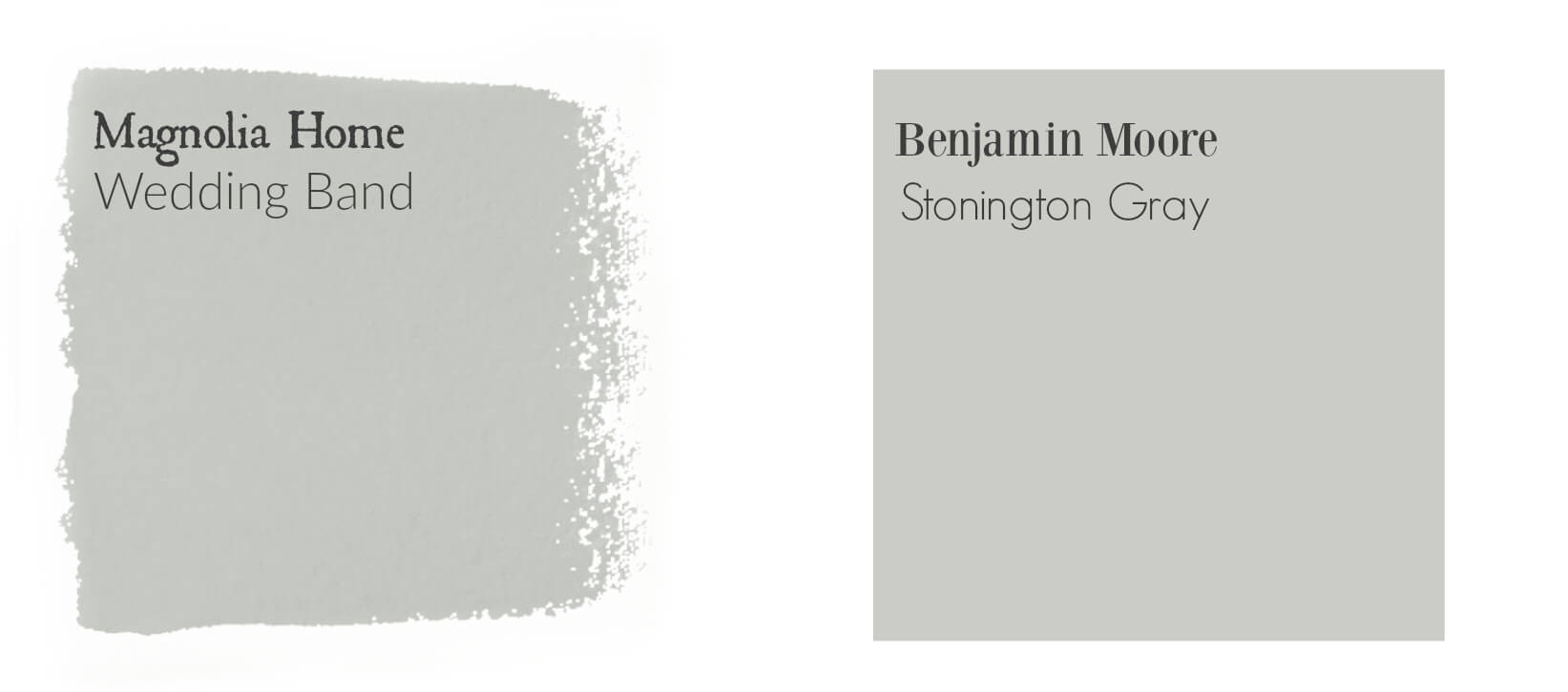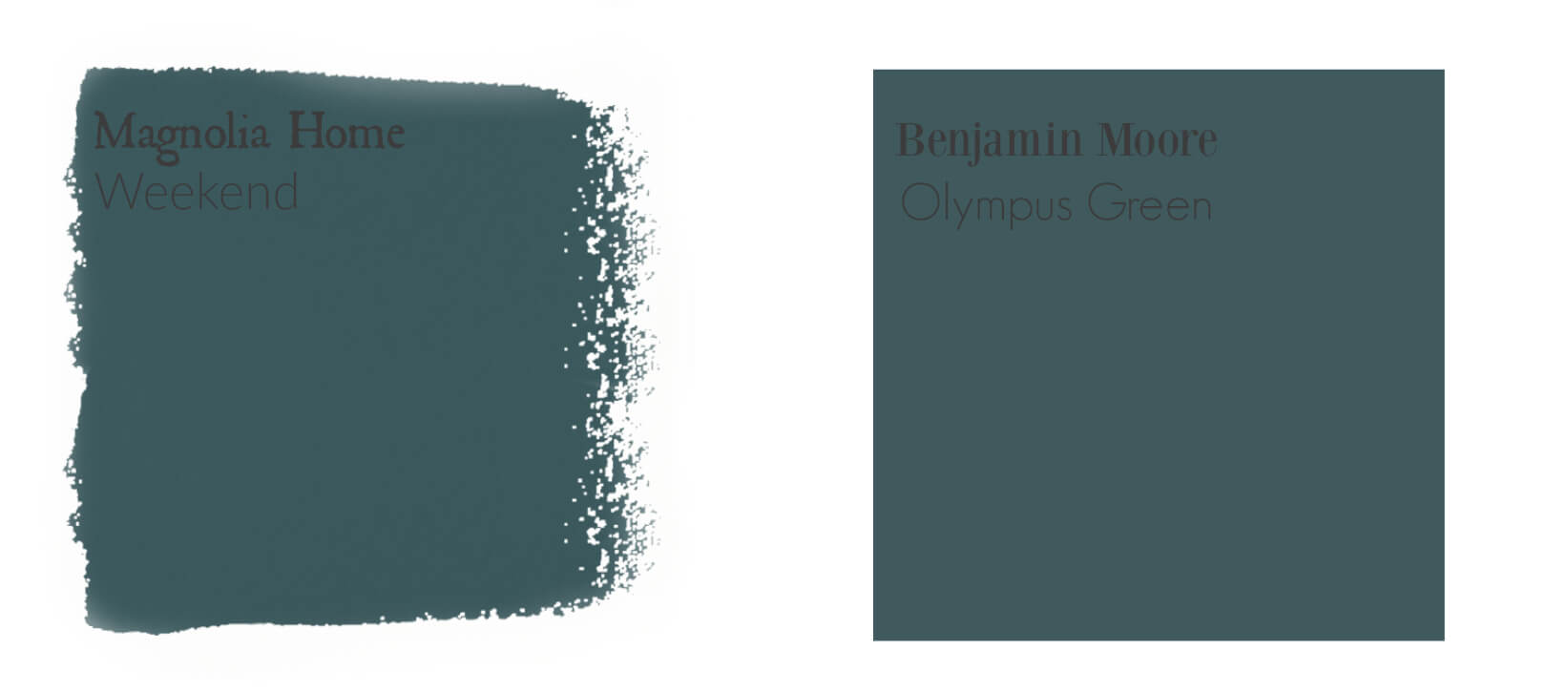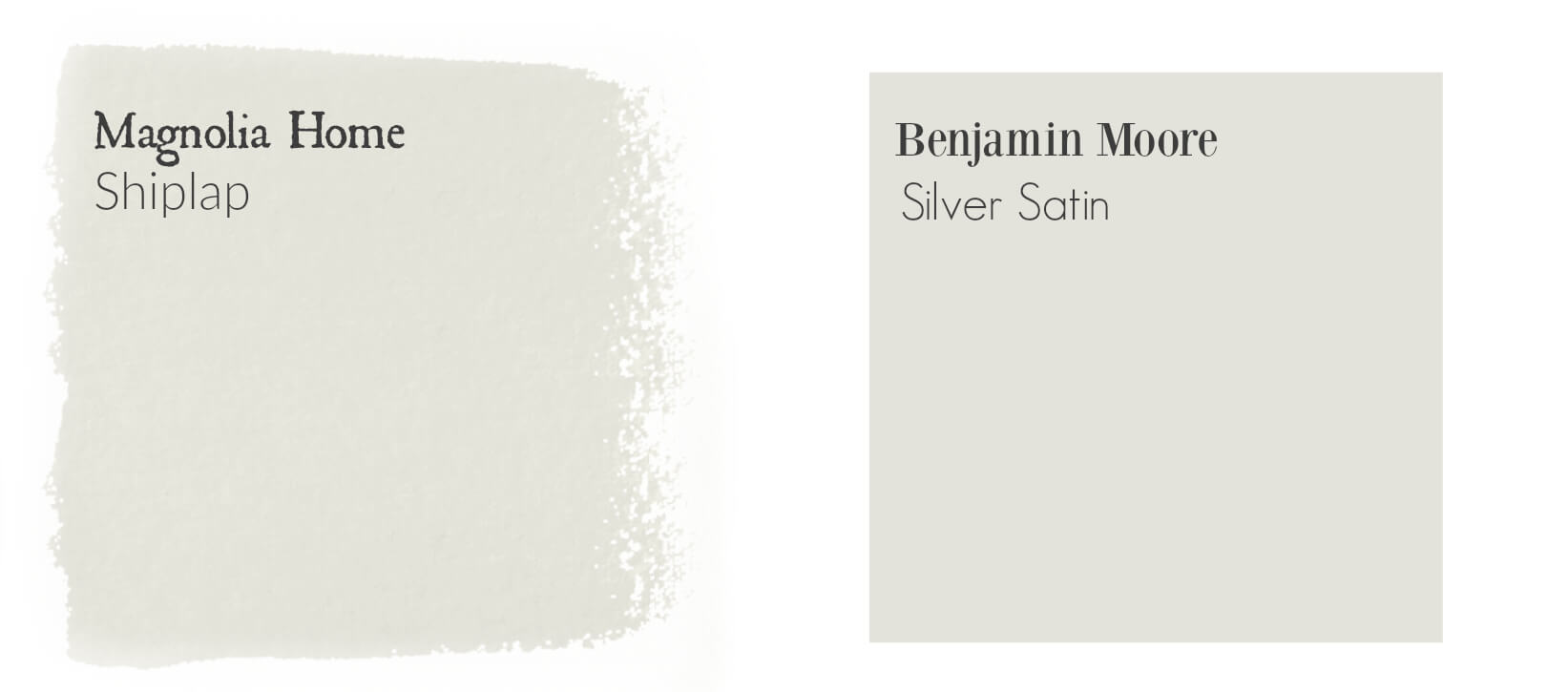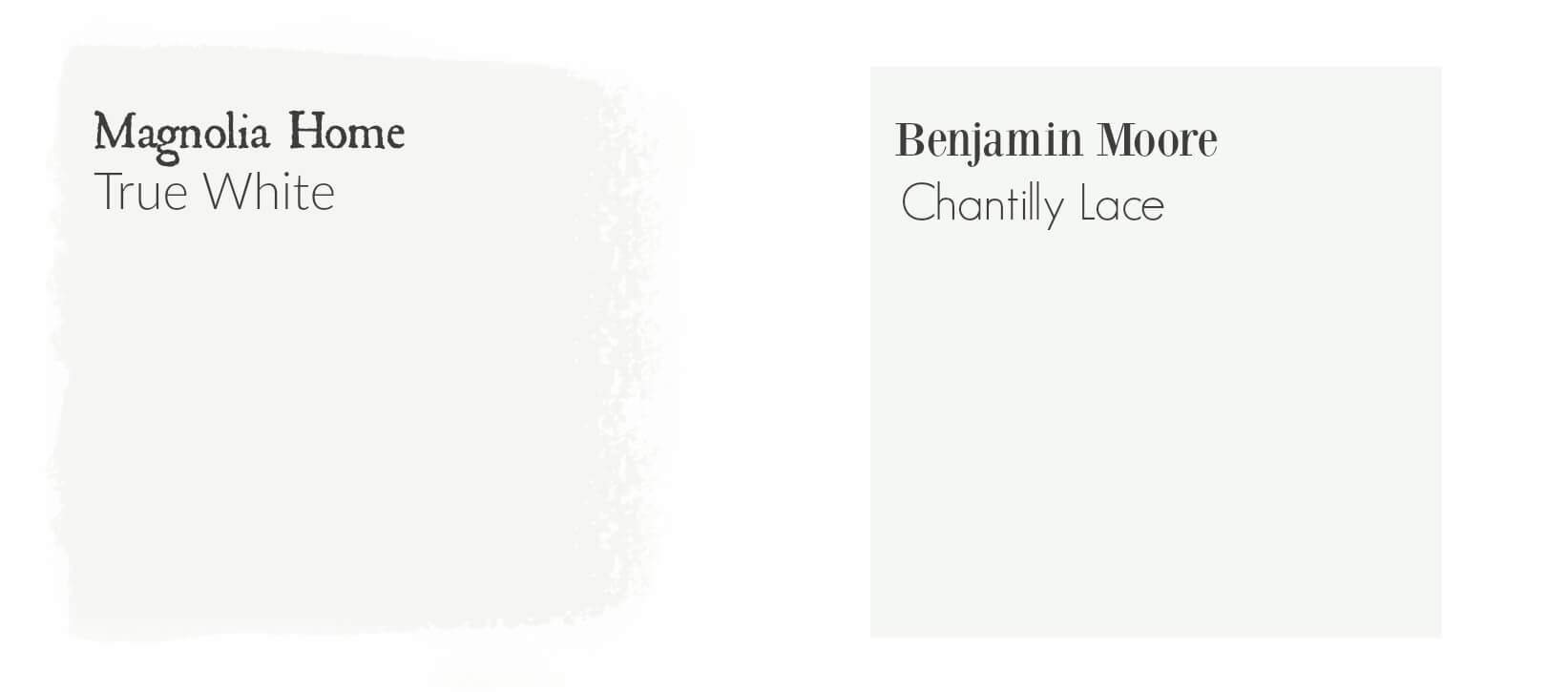 There you have it! 25 Fixer Upper Paint Colors matched to Benjamin Moore Paint. This took me quite a while, but it was a labor of love. I hope you are able to get use out of this information!
Joanna's Magnolia Home Paint Collection now has more colors!
Since writing this post, Magnolia Home paint has actually come out with over 100 more paint colors in their Magnolia Home Paint by Kilz line. The 25 paint colors that were color matched here are still available in her 'Market' collection. These are the colors Joanna holds closest to her heart, and they're also the colors that are available in the peel and stick paint test option. You can choose any of Joanna's 25 Market collection paint colors to be sent to you in a peel and stick form, so you can try out the color on your wall without having to actually paint over your existing paint. It's a fabulous way to see the colors in different shadows of your room without the consequence of having blotches of paint all over your walls!