This is a sponsored conversation in partnership with Magnolia Home by Joanna Gaines™ Paint and the KILZ Brand. All opinions are my own.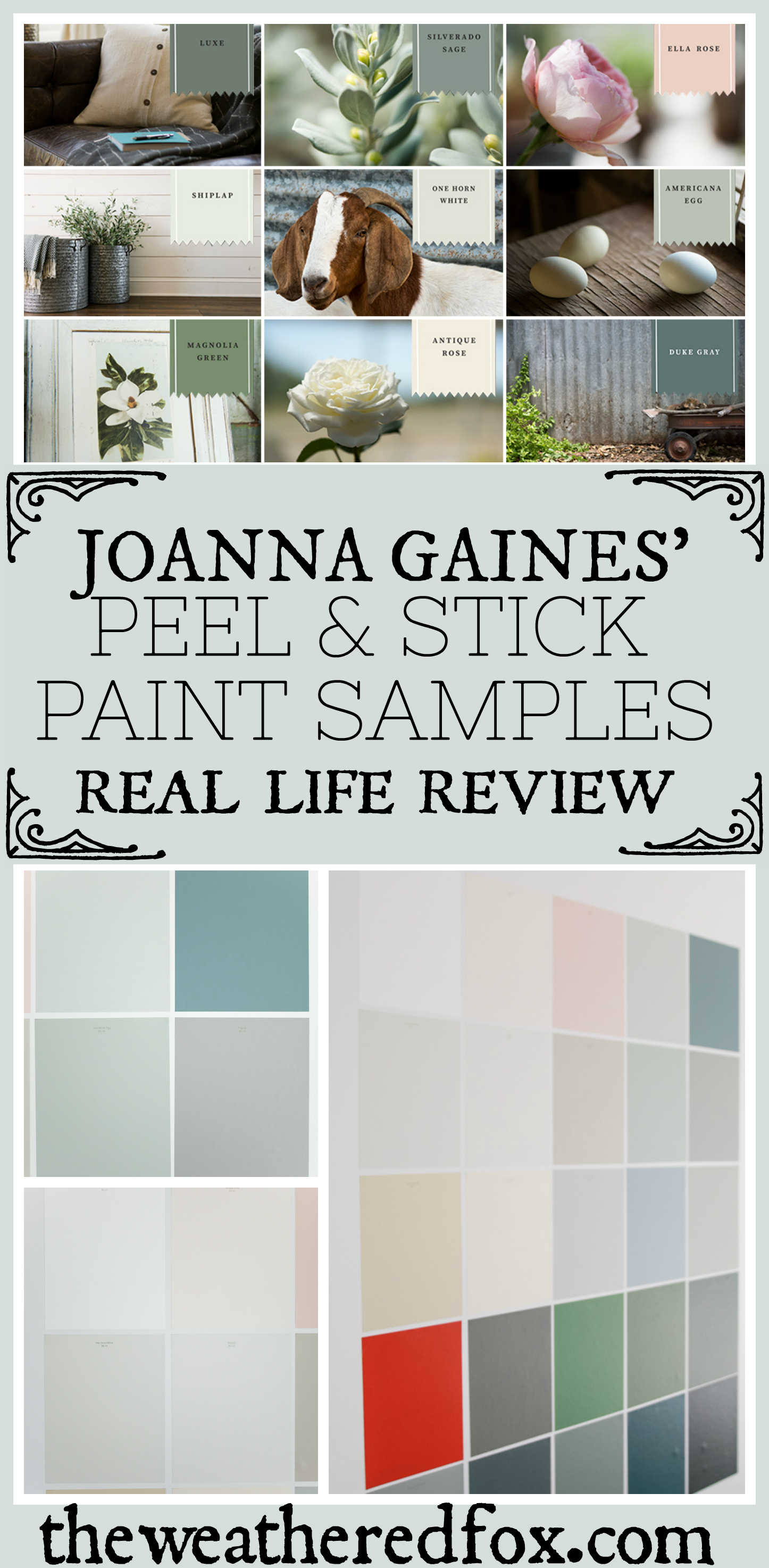 Peel & Stick Magnolia Home Paint Sample Review
Now that the floors are done, we get to talk about paint!
paint, paint, paint, paint, paint!
The color paint you choose for a room will determine that room's destiny. So you better not make a bad choice, or your house will be damned and you'll have to sell the house and buy a new one and start all over.
At least that's the anxiety I feel when picking paint colors. Amiright?
Honestly, how can we be expected to make a decision based off of one tiny 2inch wide scrap of paper? Actually, for me it's usually more like 200 scraps of paper that look like the perfect shade of blue, but when you bring them home they're all purple. PURPLE. And then my whole day is ruined.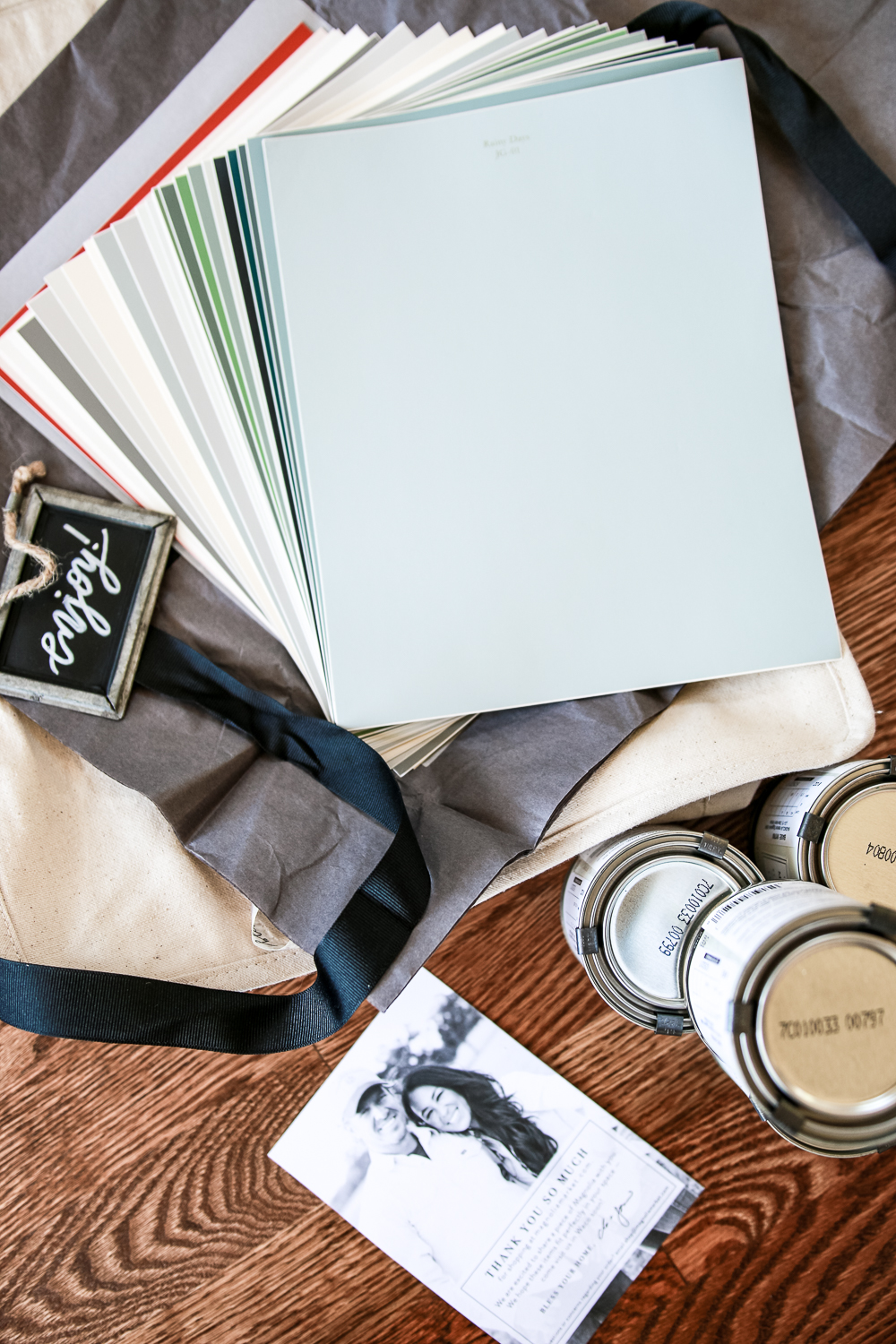 Or how about when you actually narrow down your top 5 (OK 10) colors, buy samples, and paint those samples all over your walls. Then you really have to make a decision. The pressure is on, because the party you've been planning is less than two weeks away, and you have random patches of color all over your walls. How embarrassing.
So a rush decision must be made in order to save face. And guess what? That seaside blue you picked is actually more of a doctors office blue. And now you have to pretend it's the exact perfect shade you've always wanted when your party guests ask about it.
womp. womp.
I know, I'm so dramatic. But believe it or not, paint color gives me major anxiety. That's coming from someone who knows how easy it is to repaint if you hate the color. Paint is one of the easiest ways to make over a room. But because it makes such a huge impact on a room, I also want to be certain it's the right color.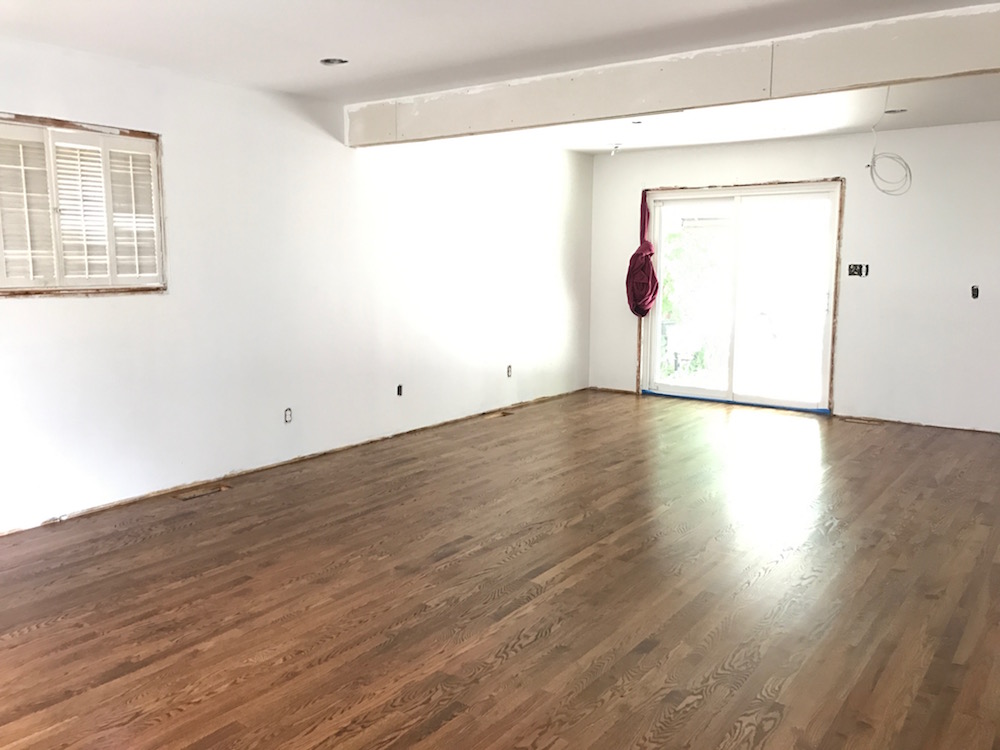 Besides, with the brand new precious hardwood floors, I don't want to spend too much time painting. More time painting makes for more opportunities for paint to find its way on my hardwood floors, despite every effort we would take to try to avoid it. It's like Murphy's Law. So I'm determined to paint this room once.
So help me.
So when Kilz asked me which peel and stick samples from Magnolia Home Paint by Joanna Gaines I wanted to try, you bet your sweet little face I told them all of them.
All of them.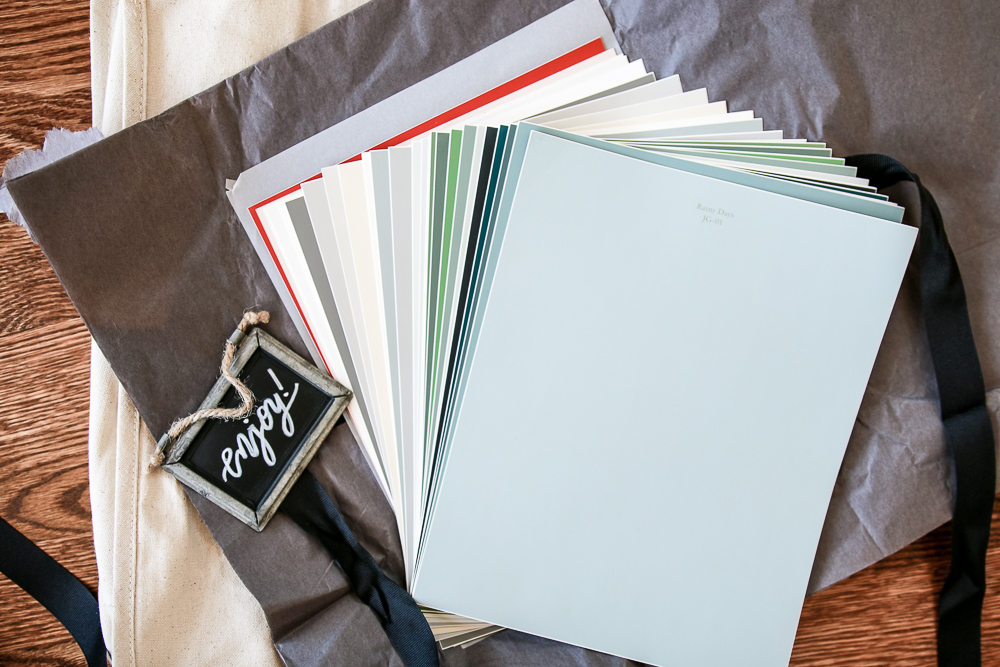 Because, why not? They're peel and stick for crying out loud. Which means I can put them anywhere. And then take them off. And put them back on somewhere else. Endless opportunities for paint sampling without having to actually paint samples on my walls.
Your party is saved. And so is your face.
And you know what I did when my peel and stick samples arrived? I peeled. and I sticked. Every. Single. Sample. On my wall. In a glorious grid of Magnolia Home paint colors.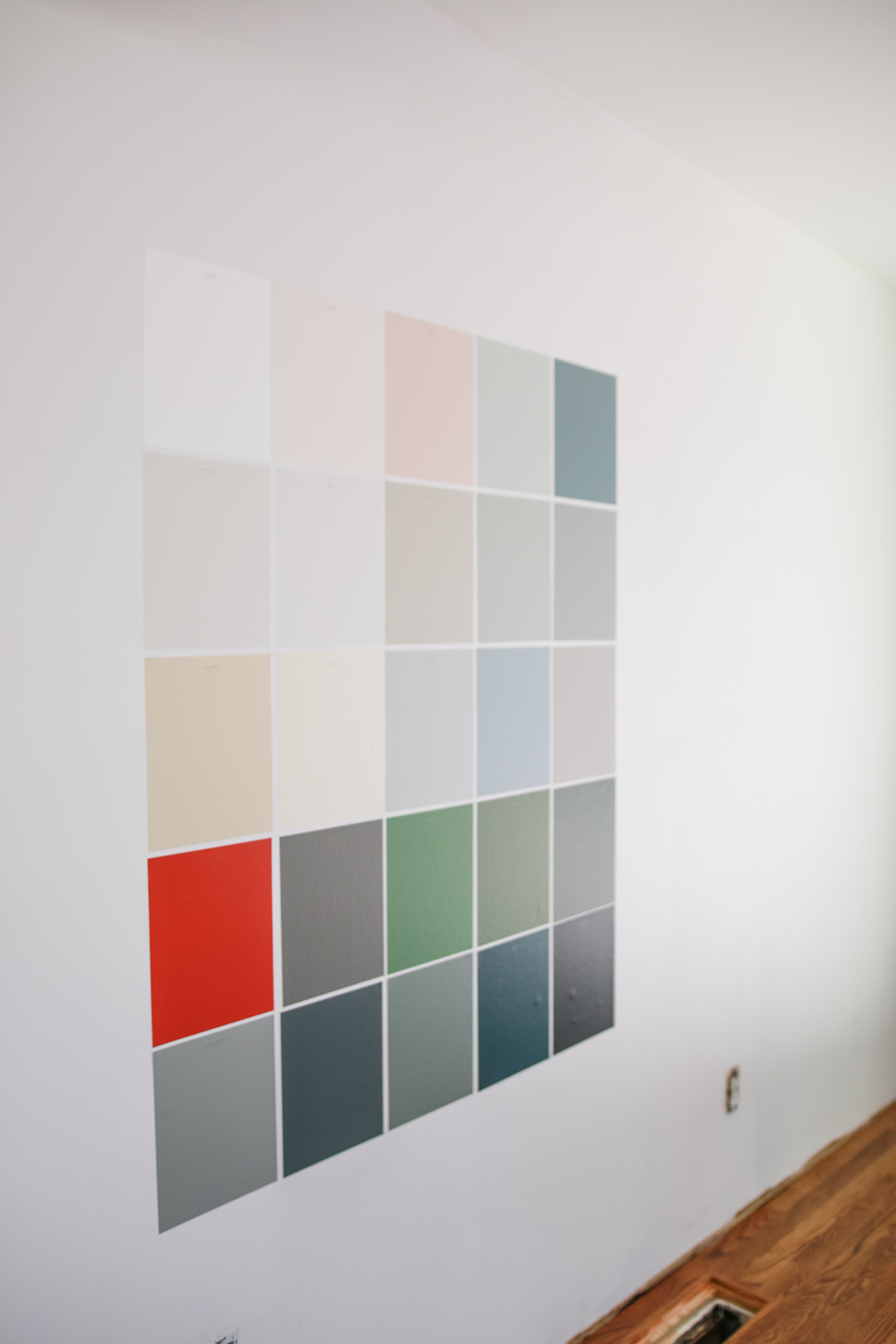 But not before I took some pictures of how adorable the wrapping was. Honestly, I was expecting a beat up paper tube with some samples rolled and stuffed inside. But they sent me this Magnolia canvas tote.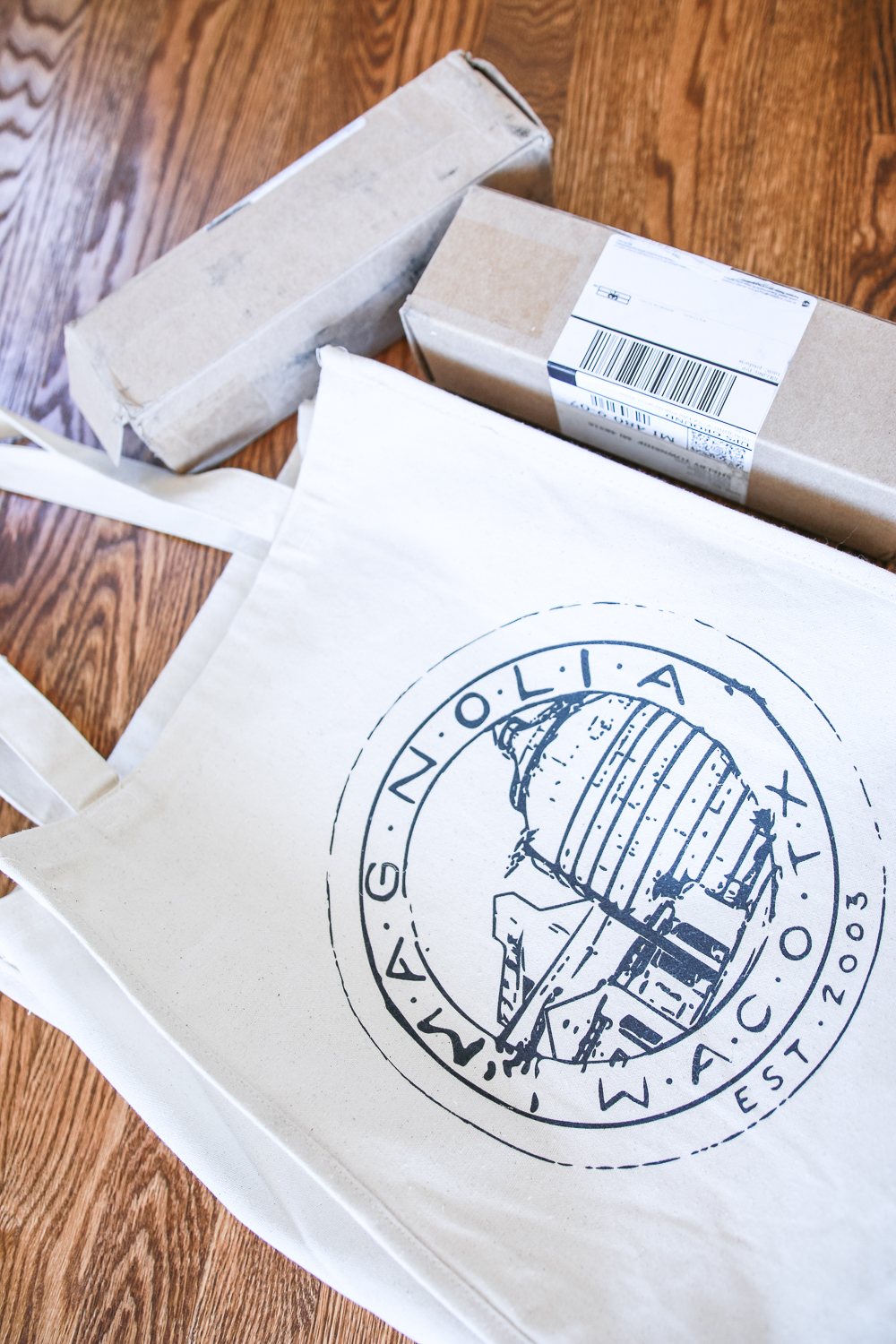 Inside was a postcard from Chip and Joanna and cute little package with pretty plum wrapping paper and package tape that said, 'bless your home.' Attached was a little chalkboard sign with a handwritten 'enjoy' note. How cute is that. I'm telling you, details are what make brands successful. Take notes from JoJo.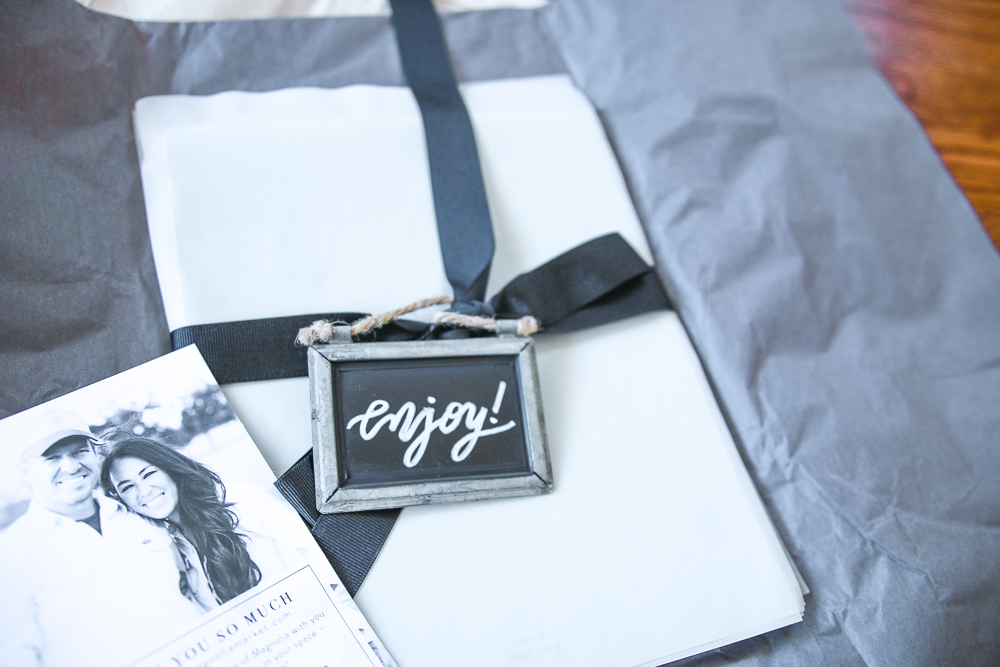 I also got Magnolia Home paint samples in Shiplap, Wedding Band, Emmie's Room, and True White. They came boxed, wrapped, and clamped. There's no way these bad boys are opening during delivery.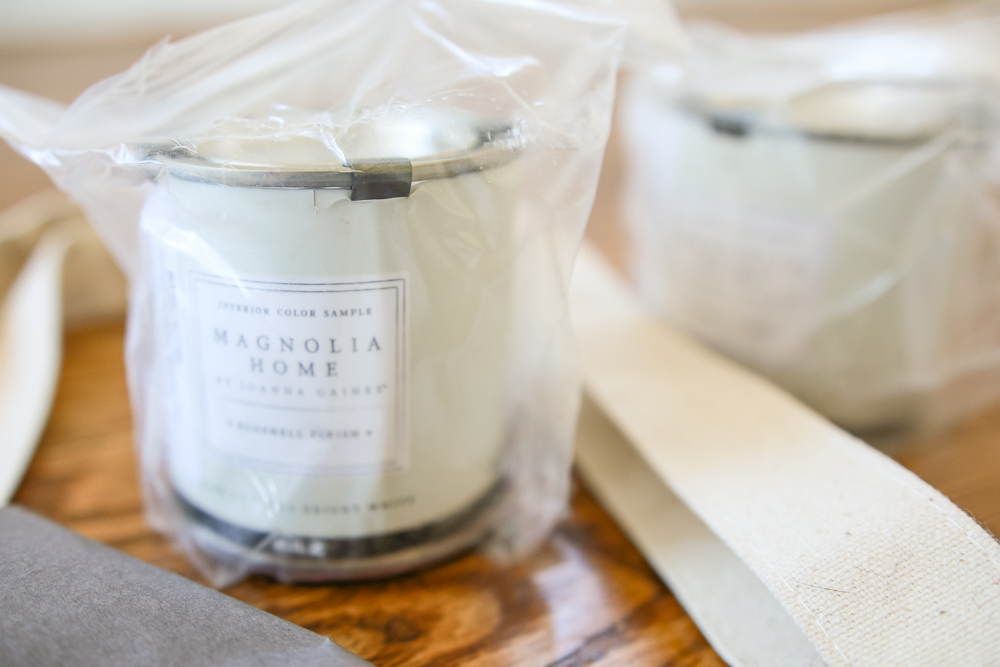 But back to my color grid of Magnolia Home Paint. It was magnificent.
So much so that my neighbor looked in my window and knocked on my door just to ask me what that interesting art-piece was on my wall. Not even kidding.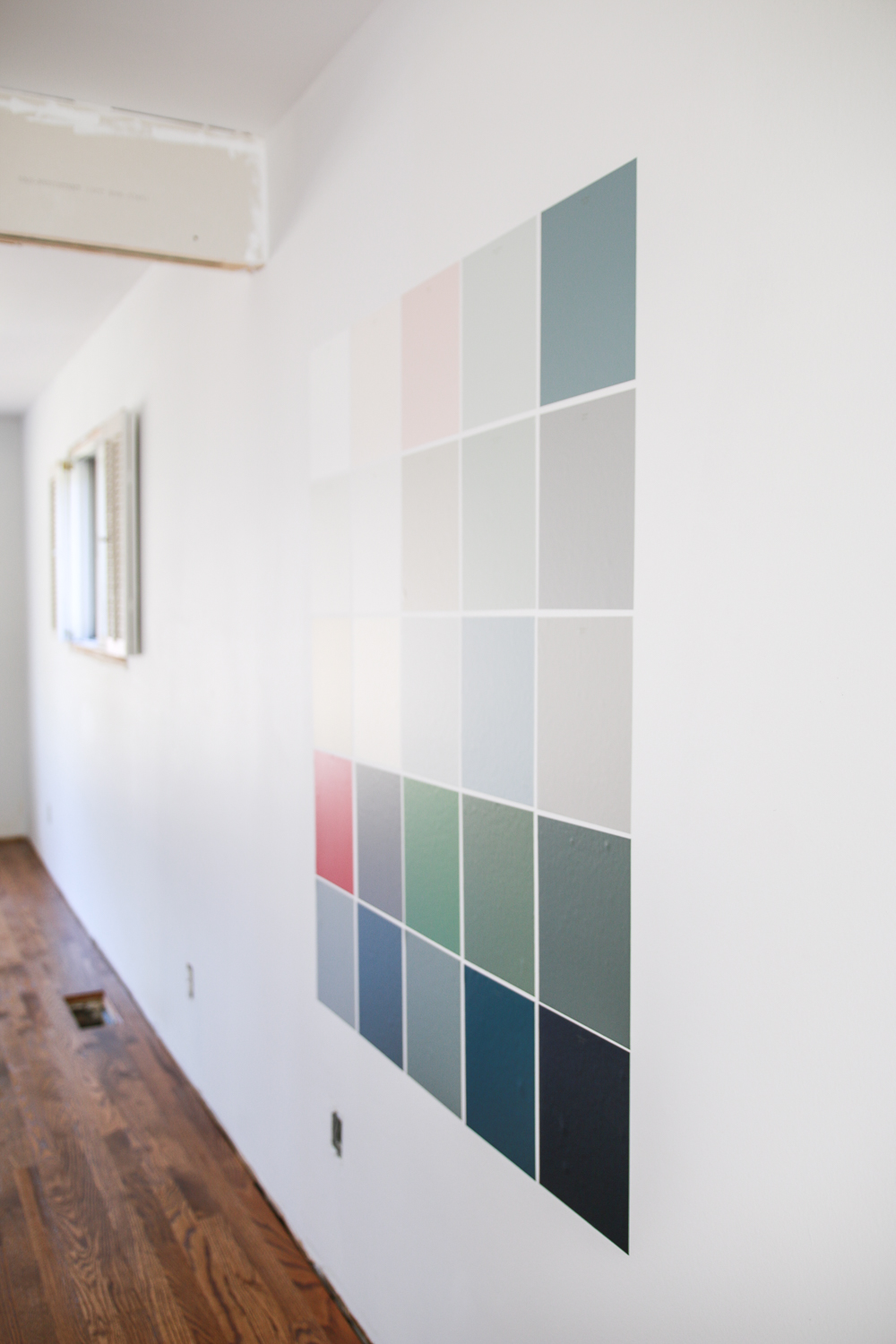 And it stayed right there until my decision was made a week later, and I was ready to paint. At which time I peeled them all off the wall and stuck them back on their sticker sheet things they came on. And they'll sit in my workshop until I'm ready to paint other rooms.
Because even though I stuck and unstuck these peel & stick paint samples several times, and left them on the walls for a week, they still were peely…and sticky. They still have a lot of love to give.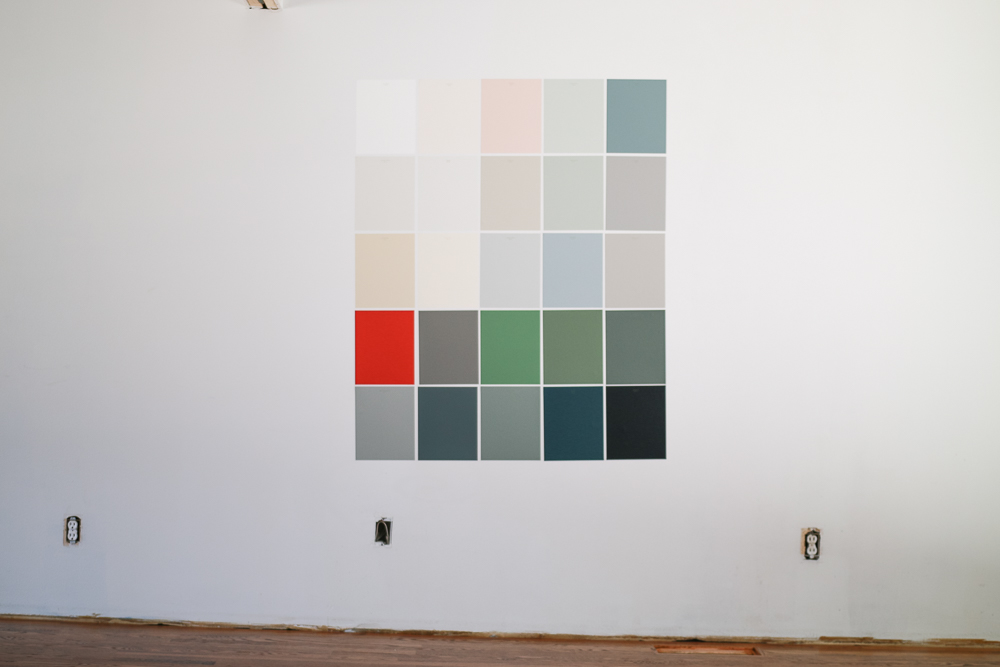 Let's talk about the Magnolia Home Paint colors for a sec.
Now, I thought for sure I wanted some real color on my walls. Not bright or in your face, but something that would make the space just feel lived in, and cozy, and loved. Maybe a nice gray, or a warmer neutral. Wedding Band was a color I gravitated toward right away. It seems to be a great gray shade. Gatherings was another color I really liked. But I also had a warm gray at our last house. And though I loved it, I just wanted to try something different this time.
But I also am going for a really kind of vintage cottage feel. So I was leaning toward a color that would give me that vibe too. I was really leaning toward Americana Egg or Emmie's Room. Those softer blues with a hint of green I think would be a great color for a vintage cottage.
The one decision I was so happy about was to have all the colors sent to me. Because I did that, I was able to see everything in person, and get more of a feel for how they really play together and what they really look like. Originally I was sold on using One Horn White for my trim color. But when I saw this color in person, it's clear this is not really a white at all.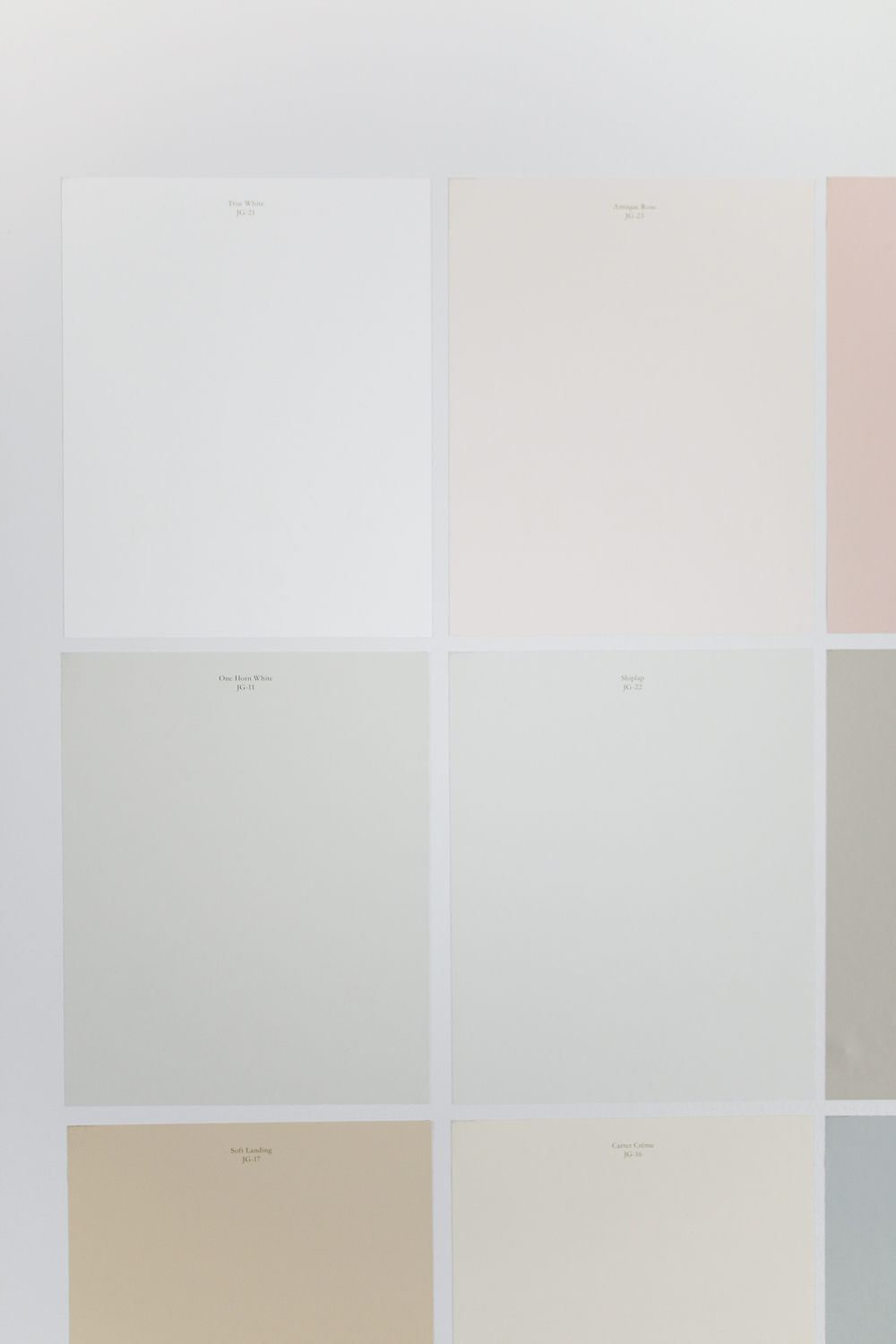 Neither is Shiplap, really. Shiplap is white, but not a bright white. It has a nice warm age to it, but its quite a bit of the gray side. That's probably why Joanna chose those two for the trim and cabinetry color, because True White is honestly the perfect shade of white. But if you want an instant aged look for cabinets, Shiplap would be great for that.  One Horn White and Shiplap are more of an aged white color, if that makes sense. They would be great for an actual wall color, but I personally wouldn't choose them for trim if you're going for a nice bright white.
And I officially decided Emmie's Room and Americana Egg are my favorite colors of the Market Collection line. I mean, they're all fabulous. But these are my most favorite. I almost want to paint one color on my walls, and the other on my cabinet. But they are a bit too close in color I think. Sir Drake is fabulous too, isn't it? And Sunday Stroll. And all of them.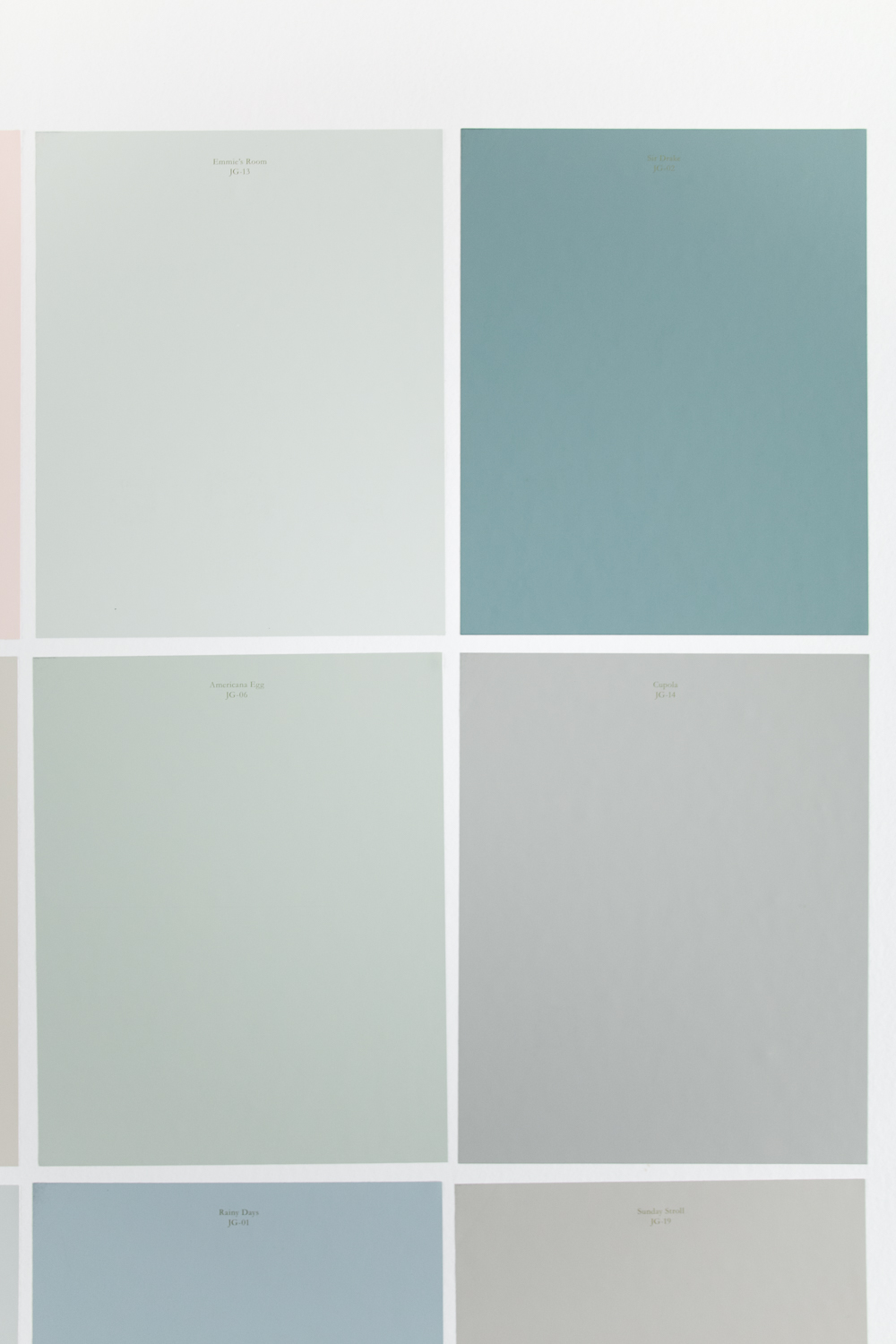 The dark colors are really quite dark. It's not always easy to tell how dark a paint color is from looking online. So I was quite surprised at some of these colors.
Though they'd look great in some spaces, I think they're just too dark for what I want to do. I thought maybe I wanted to do a Magnolia Green somewhere. But now I'm thinking it would be better as an accessory color instead of a whole room.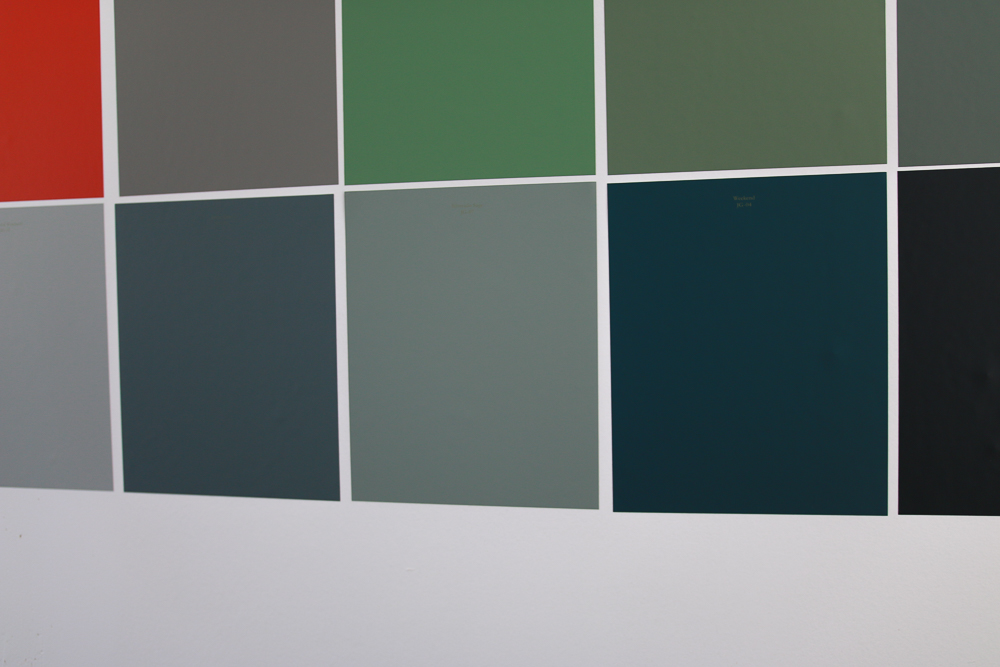 Weathered Windmill (bottom left) is surprisingly darker than I pictured in my head. But I'm also not all that great at visualizing color. That's why I'm usually paralyzed at this step. And vine ripened tomato was much brighter than I thought it would be.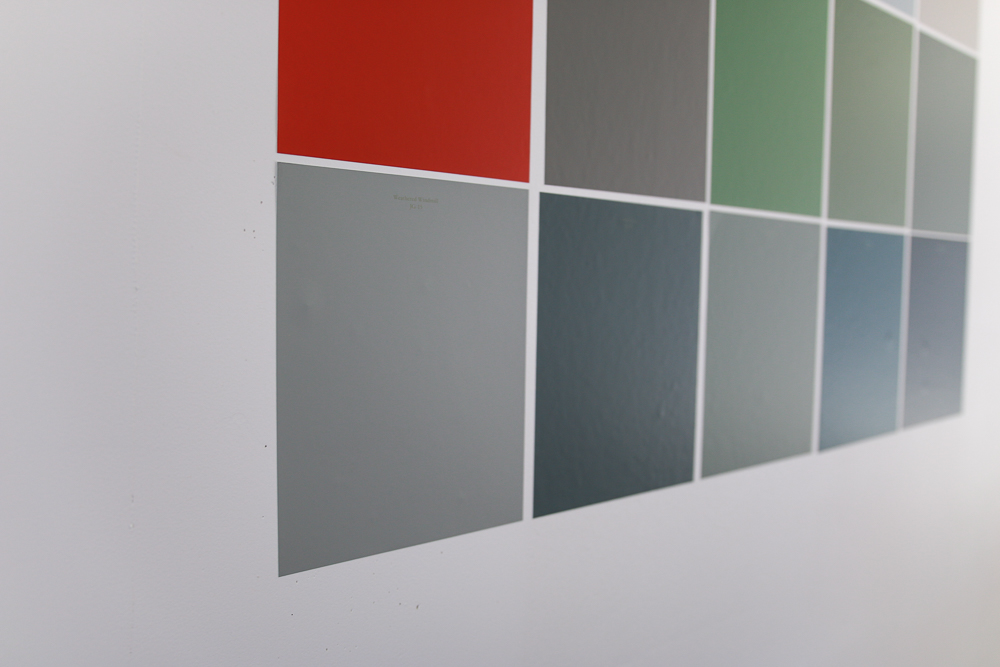 I decided to go with True White for our trim color, and I'm going to reveal the color I chose for the walls very soon! But I'm so glad I used the Magnolia Home by Joanna Gaines™ Peel & Stick Paint Color Samples first. With seeing all the paint colors on the wall, I know for certain that I want to stick with a light color in this space. I think a lighter shade will look really good against the color of the floors. I'm super pumped to hold onto the peel and sticks for later too when I start deciding on colors for other rooms!
Magnolia Home Peel and Stick Paint Samples Q & A
Here are some questions I thought to ask about the Magnolia Home by Joanna Gaines™ Peel & Stick Paint Color Samples:
What sheen is the peel and stick? Eggshell! However, the actual interior paints come in matte, satin, and eggshell finishes. 
Will you be coming out with the peel and stick in all colors? (Currently they are only available in the 25 Market Collection colors) Not any time soon that they know of. However, you can still buy samples of all 150 Magnolia Home Paint colors.  
Are they sold in stores that sell Magnolia Home Paint? Right now, the Magnolia Home by Joanna Gaines™ Peel & Stick Paint Color Samples are only sold on MagnoliaMarket.com
Currently you have cabinet grade paint in the two white colors, will you be adding all paint colors in a cabinet paint? Or, can we use the wall paint on cabinets?
Eventually, all colors will be available in the trim & cab but that won't be till the fall. You may use satin interior paint for trim & cabinetry, but the most durable of the paint sheens is the semi-gloss trim & cab formula.
How much is a peel & stick sample? Each Sample costs $2. Which I think is an amazing price for the value you get. Even if you tried the other kinds of peel and stick samples, you still have to buy the sample of paint in order to use it. That can run you almost $10 for ONE color. I love that Kilz added the color onto the peel and stick sample so you don't have to do buy anything else.
And most importantly, I bet you're wondering how closely do the peel and stick paint samples match to the actual paint. And I can say they are an exact match. I tested out all 4 samples against the peel and stick samples, and all 4 were perfectly matched. The material is not translucent at all, and from what I can tell it doesn't take on any colors from the wall behind it.
Anyway, I hope my review of the Magnolia Home by Joanna Gaines™ Peel & Stick Paint Color Samples has been helpful to you! Here are more resources for you!

You can buy Peel & Stick Samples of Magnolia Home Paint on the Magnolia Market website.
You can read and watch more about the Magnolia and Kilz partnership and their paints here: http://www.magnoliapaintbykilz.com/
And if you're one of the lucky ones, you can shop Magnolia Home Paint by Joanna Gaines at some local stores. Click here to see if there's a store near you!