Hi again!  It's Nicole from Birkley Lane Interiors where I help women solve their decorating problems.  I'm so happy to back here with you!  I love sharing decorating ideas and crafts, like how to create the perfect farmhouse bed and this darling DIY pom pom wreath!  Today I'm back to share some of my favorite farmhouse accent chair ideas with you!
Farmhouse Accent Chair
The farmhouse accent chair is one of the easiest ways to add farmhouse style to your home.  And it doesn't matter what style of farmhouse you prefer: modern, french country, shabby chic or the more traditional farmhouse look, there is an accent chair that will be perfect for you!
Farmhouse Living Room Chairs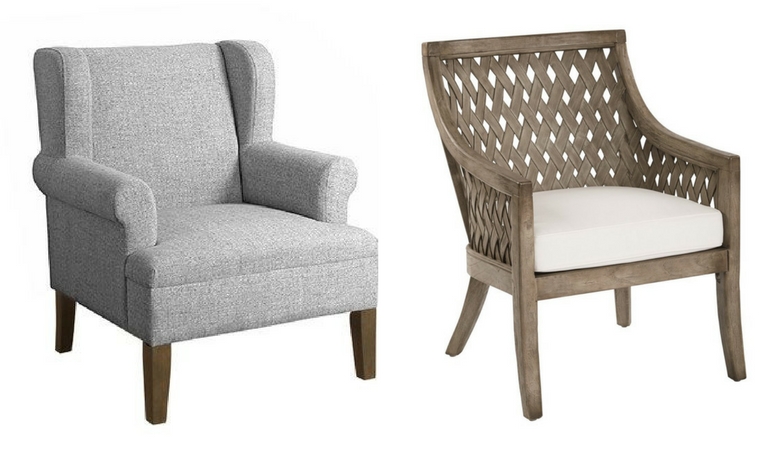 If you are just starting to incorporate the farmhouse style into your home, adding a farmhouse accent chair is a great way to begin!  They are more affordable than starting with a sofa, or a larger piece of furniture, and they are easy to add to an already established room.
A classic feature of the farmhouse look is neutral colors.  That's another plus if you are starting to incorporate the farmhouse style into your home—these accent chairs are neutral and can fit with most color schemes!
And, to add even more farmhouse style to your accent chair, don't forget about the farmhouse style throw pillow!  I created the ultimate guide to shopping for Fixer Upper style throw pillows.  Be sure to check it out here!
Cottage Style Accent chairs
In order to make this shopping guide easier to follow, I've divided it up into two style categories: first, the more classic and modern farmhouse look, and then secondly, the french country and shabby chic style.
Farmhouse Accent Chair Shopping Guide
Classic/Modern Farmhouse
I love this look!  I think these chairs can more easily be added into any type of style you may already have in your home.  These farmhouse accent chairs can really be the bridge into creating a farmhouse look for your home.
I included these gorgeous black dining table chairs, because first of all, they are to die for!  And secondly, your accent chairs don't always have to be fabric.  It can be fun to include a wooden chair in a living room!  It changes things up and it becomes a real style statement.  Add a stylish farmhouse throw pillow to the chair, and you are good to go!
French Country/Shabby Chic
This is a really fun farmhouse look.  These chairs tend to be more frilly and ornate than the classic or modern farmhouse look.  I love the curvy lines and ornate accents that these chairs are decorated with.  Any of these farmhouse accent chair ideas would be a gorgeous piece in any family or living room.
I also think it's a fun idea to add them to your dining or kitchen table!  You could even just use two accent chairs: one at each end of the table.  There's an immediate sense of style and class that using accent chairs at a table brings!
I hope you are inspired to add a farmhouse accent chair to your room design!  I have no doubt you'll love how it changes the look of your home and brings you farmhouse style!
Happy decorating friends!


If you liked this post, then you'll love my posts on a Modern Farmhouse Bedroom, Cozy Living Room Mood Board and Are You Making These 5 Decorating Mistakes?  Check them out below!