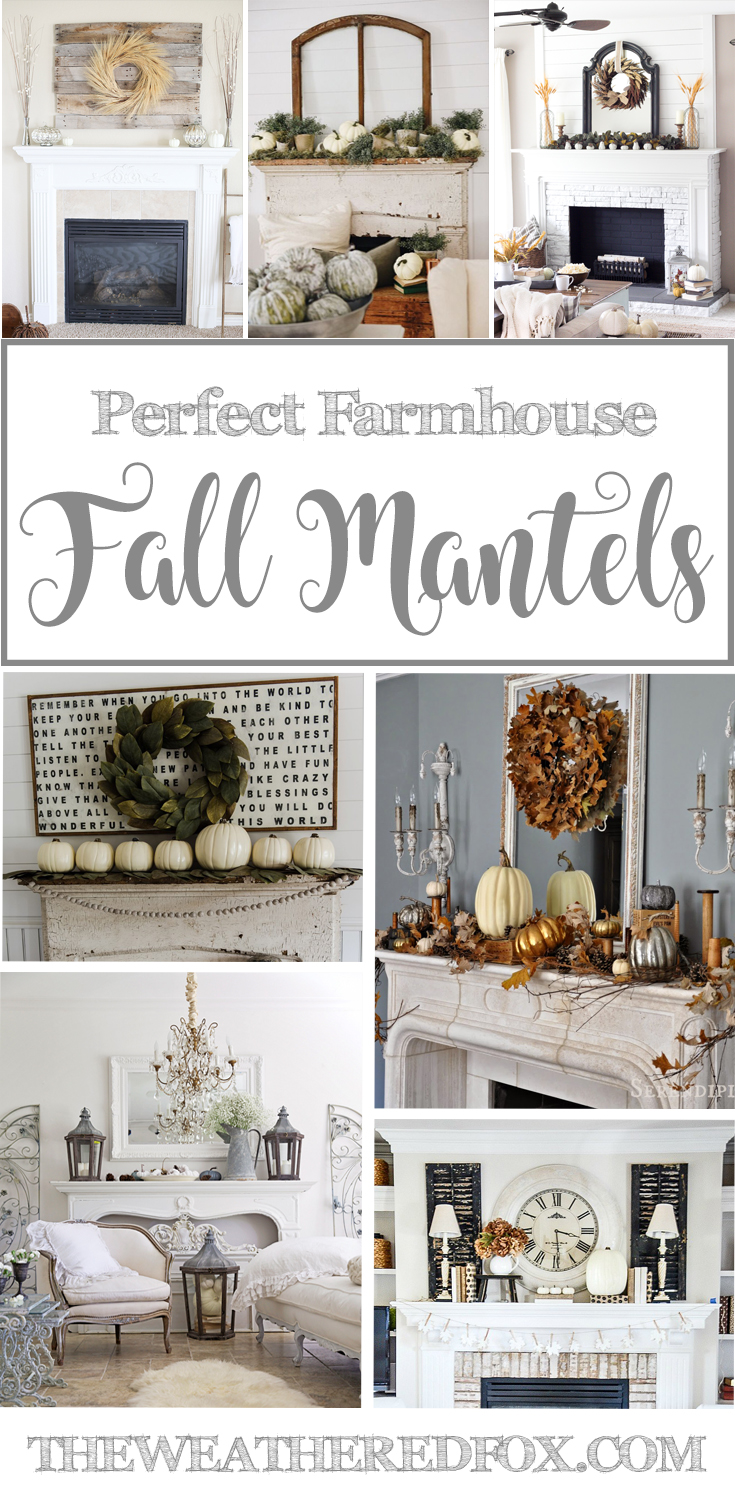 One of the most iconic places in your home to decorate for the seasons is the fireplace mantel. Whether you have a real fireplace, a faux fireplace, or simply a shelf that you wish was a fireplace mantle, these spaces offer prime real estate for adding just the right fall touch to your room.
Today I want to share with you some of the most beautiful and inspiring ideas for decorating your fireplace mantel for fall. You will find that these very talented bloggers all have very different design tastes, but they all manage to create gorgeous fall mantels that would be perfect in so many different kids of farmhouse-style homes!
Clean and Elegant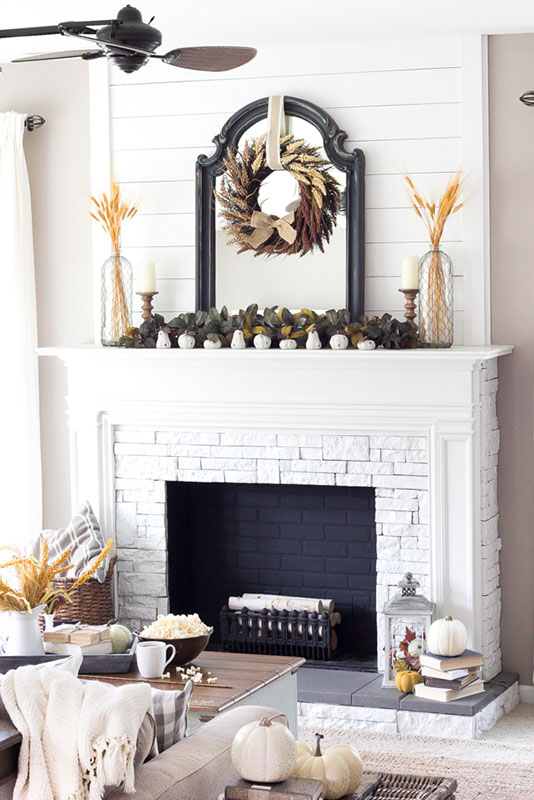 I just love the clean elegance of this mantel by Lauren at Blesser House. The shiplap wall and gorgeous mirror are complimented by the symmetry of her subtle fall decor. I love the cleanness of the lines of the space but also the warmth added by all the natural elements. This is a perfect example of how you don't have to get crazy with seasonal decor to make a huge impact!
Natural Elements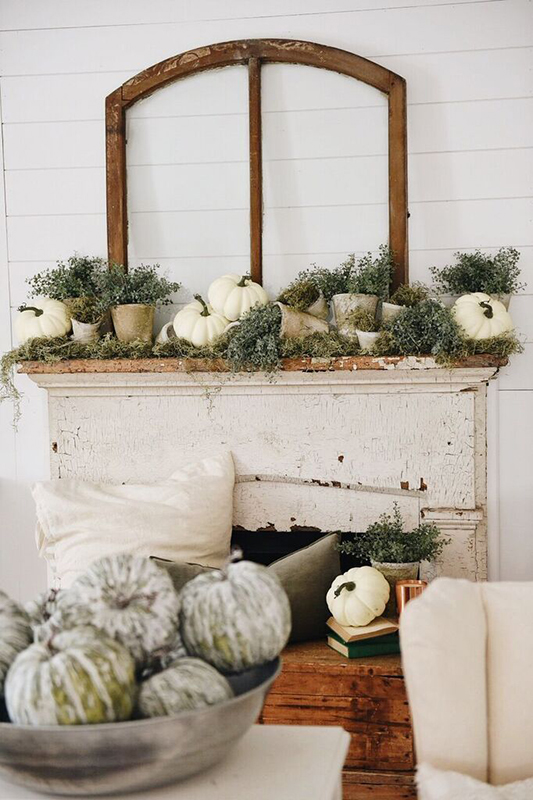 Here is a gorgeous example of using natural elements in decor! Liz over at Liz Marie Blog called this her rustic garden mantel, and I think that is quite a fitting description. I love her use of the distressed clay pots, the moss and the greenery, all sprinkled with classic white pumpkins. And that chippy fireplace is perfection! This gorgeous green and cream palette is one of my favorites!
Pumpkin Everything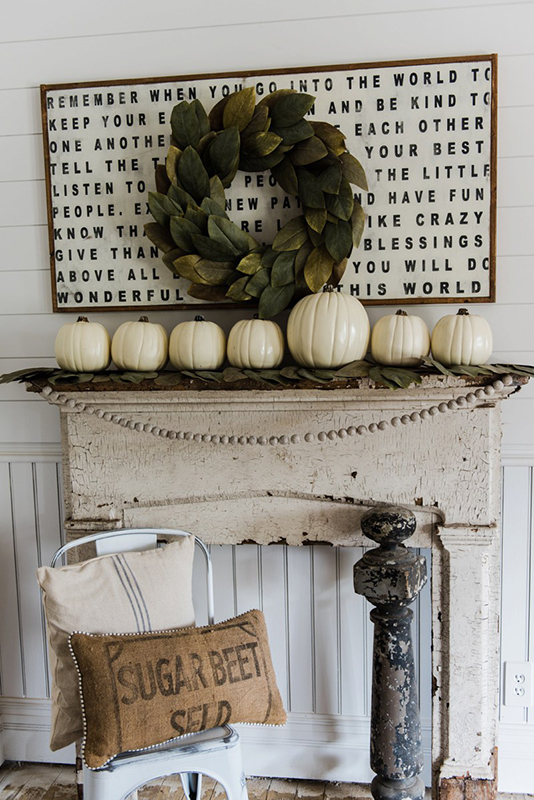 Honestly, you can't go wrong with pumpkins everywhere when you decorate for fall! And you don't have to use the typical orange pumpkins, either. I'm not a fan of orange so I use white, cream, blue and soft green pumpkins in my fall decor and I love how they look. I love the way Liz Marie used ALL THE PUMPKINS in this mantelscape. And the pop of green from that magnolia wreath is so beautiful. You can always count on Liz to take your breath away with her fall decor!
Warm and Cozy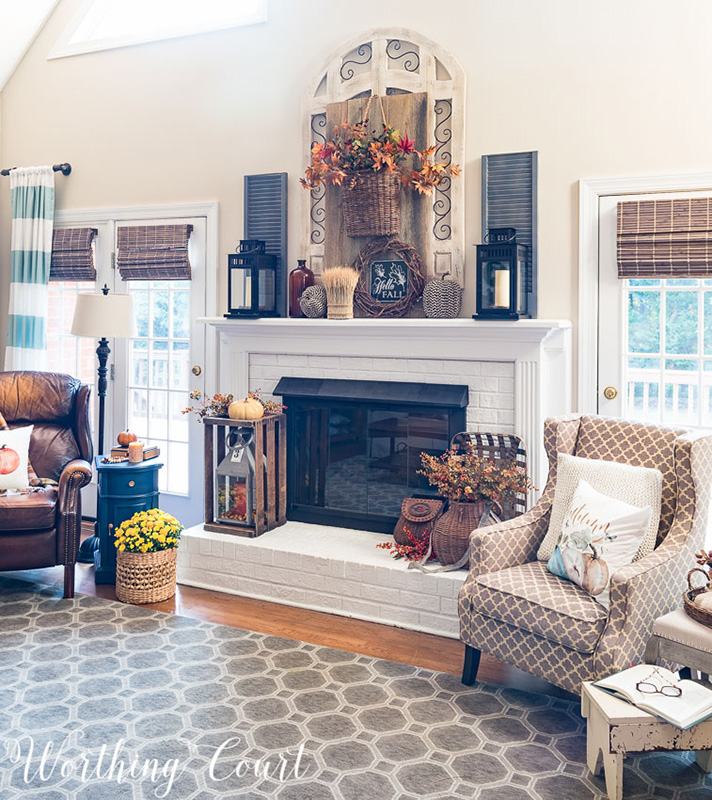 Suzy at Worthing Court has done an amazing job with her warm and cozy fall mantel. I love her use of a variety of baskets and the symmetry of the shutters and lanterns. The pops of color brought in with the florals and pumpkins makes this whole space so warm and inviting!
Black and White
This fall mantel by Yvonne at Stone Gable Blog is black and white perfection! Those distressed shutters and the white clock is amazing. And I love the hint of quirkiness with those polkadot-covered books lining the mantel. The white pumpkins and maple leaf garland (for which she shares a tutorial here) are the perfect finishing touches for this elegant space.
French Country Touch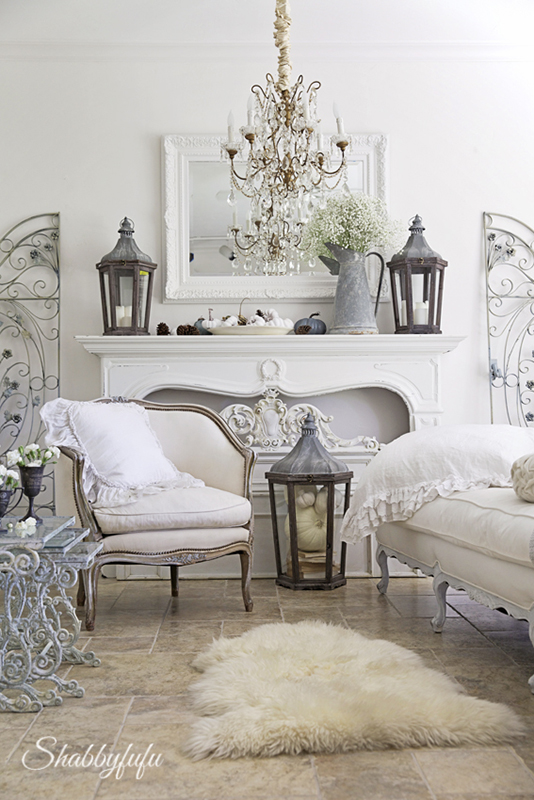 Be still, my French country loving heart! I, personally, love French country and this fall mantel is absolutely gorgeous. Of course there are white pumpkins, but I also spy a couple of blue ones in there too. I adore the lanterns stuffed with candles (on the mantle) and old books and more pumpkins (on the floor). Janet over at Shabbyfufu really did an amazing job on this fall mantel!
Classic Elegance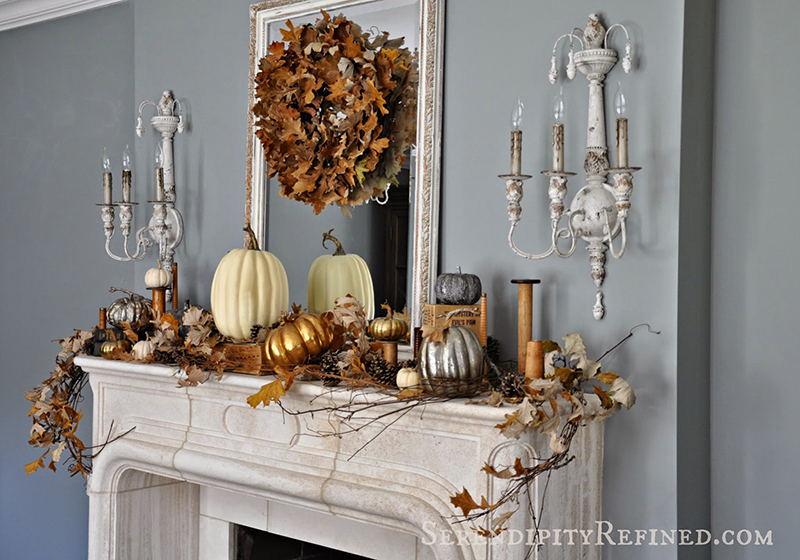 This fall mantel by Kimberly at Serendipity Refined is a classic. I love all the cream pumpkins among the orange and rust colored leaves and twigs. I also love the gold and silver pumpkins; they add a touch of bling! Adding a wreath to a large mirror is also one of my favorite ways to decorate seasonally. And can we just stop to admire those sconces for a moment? Sigh…
Fabulously Eclectic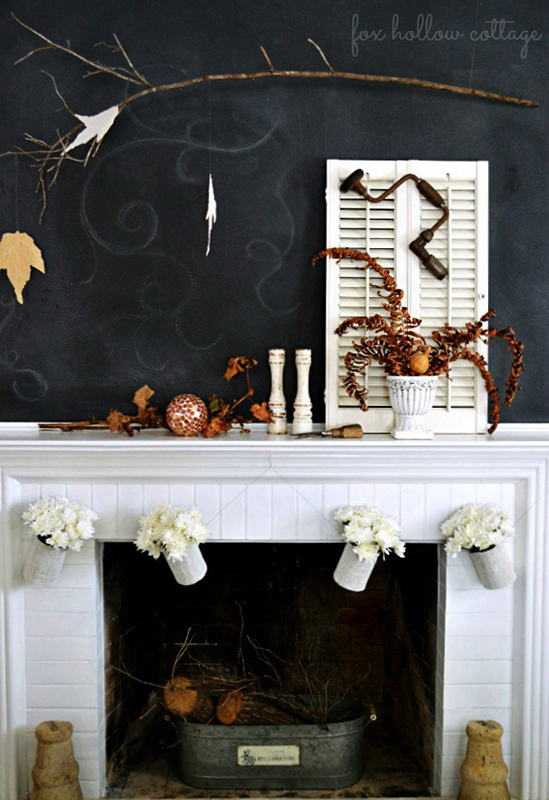 Is this not the coolest fall mantel you've ever seen?! It reminds me of abstract art. The genius behind this fabulously eclectic mantel is Shannon at Fox Hollow Cottage. I love the asymmetrical vignette on the mantel and I absolutely adore the "floating" tree branch above it! And those buckets of flowers she added as a garland…just genius!
Perfectly Inviting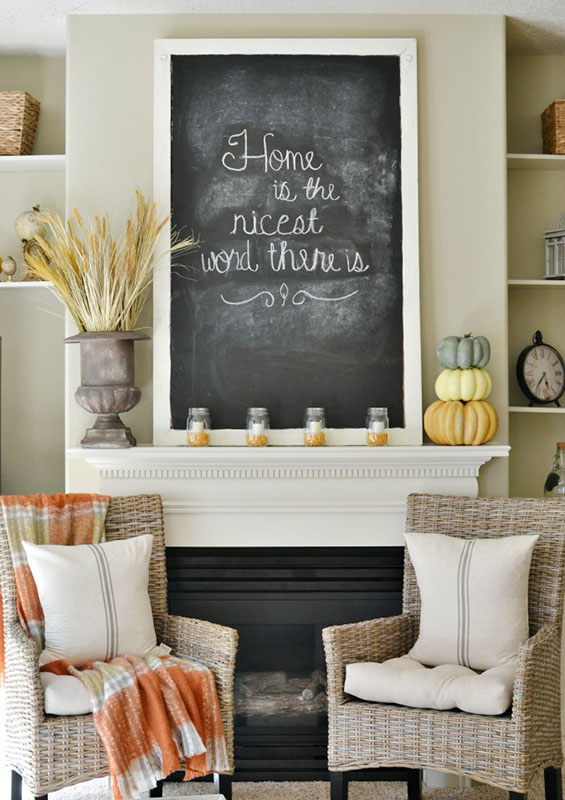 Isn't this mantle so cozy looking? I could sit in that chair with a cup of coffee and chat for hours. I love how Vanessa at At The Picket Fence used a simple statement on a large chalkboard to make a big impact in her home. I also love the stacked pumpkins and the mason jar tea lights along the mantel. I think this is such a beautiful display and another example of how simple design can be some of the most beautiful.
Simply Lovely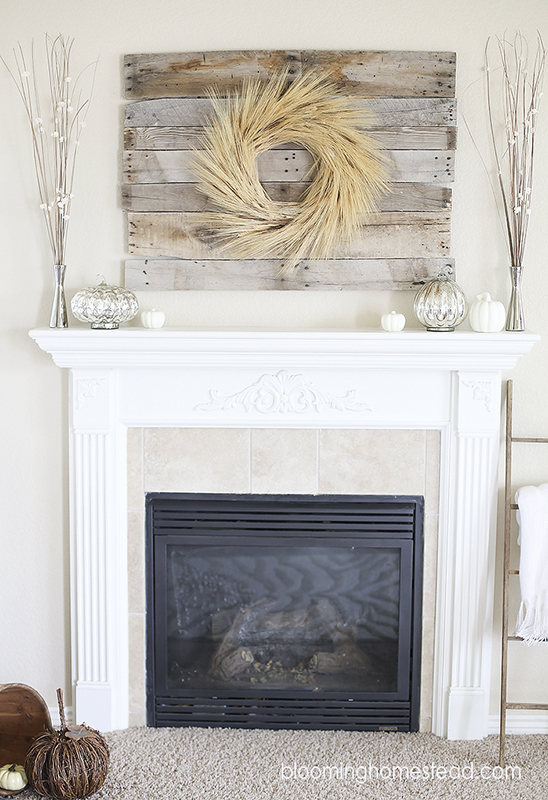 And speaking of simple and beautiful design, I think I am in love with this mantelscape by Marie at Blooming Homestead. I can't get over that pallet wood with the grass wreath! And the touches of white and silver on the mantel is a gorgeous contrast to the neutral, warm tones of the wood and wreath. I just love the elegance of this whole look!
As you can see, there is no one way to decorate your farmhouse mantel for fall. Nor is there one right way! Each of these very talented bloggers has created a unique and beautiful fall mantelscape in their homes, some with a more simple and elegant feel, others with a more classic feel, and still others with a bit of a quirky touch. I hope these examples of farmhouse style mantels will inspire you to create a uniquely beautiful fall mantel in your own home!

If you'd like to see more home decor & DIY inspiration and tutorials, come visit me over at my blog, Sense & Serendipity, or check out these popular posts: