Hi friends!  It's Nicole again from Birkley Lane Interiors, where I help women solve their decorating problems.  I'm excited to be with you again!  I love sharing decorating ideas here at The Weathered Fox like my Fixer Upper Style Throw Pillows shopping guide and my Farmhouse Bedroom Ideas.  Speaking of farmhouse bedrooms, today I'm sharing some gorgeous farmhouse bedding ideas!
This post contains affiliate links. I get commission from purchases made through these links.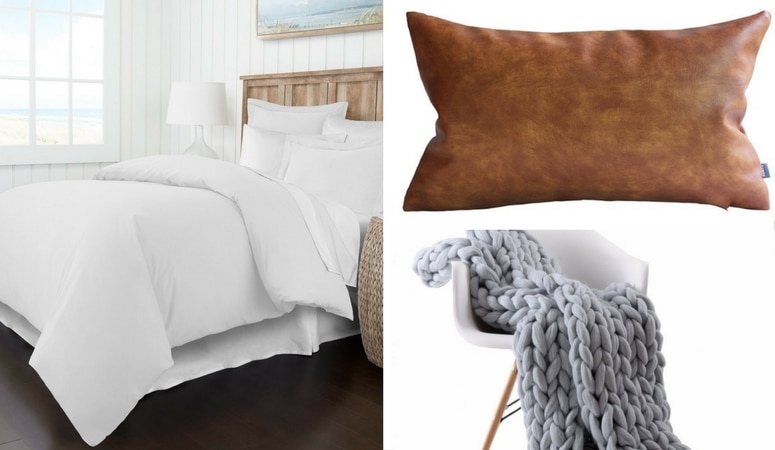 Accessories for Your Bed
Let's be honest, your bed really is the focal point of your bedroom, but so often, it's neglected!  We sleep in it and forget it.  Or, if you're like me and my husband, you each want to sleep with a different blanket, and having stylish farmhouse bedding seems to go out the window.  You can check out how we solved that issue and see our farmhouse bedroom here!
Farmhouse Bedding Ideas
Have you seen this Pottery Barn Master Bedroom?  It's beautiful and you can see how to DIY the look yourself!  So, even if you have crazy sleeping problems, you can still have a stylish bed!  And to help make that process easier for you, I've selected some pretty farmhouse accessories for your bed!  I've chosen items that can fit into many different styles of farmhouse, so there is something for everyone!
To help make this shopping guide easy to use, I've divided this bedding accessories list up into sections: blankets/bedding sets, sheets, pillows, throws, bedskirts and headboards.  So let's get started!

Farmhouse Bedding Accessories List
Blankets/Bedding Sets
When choosing your farmhouse bedding, the first step is to choose your blanket, bedspread or your bedding set, if you choose to purchase it in a set.  This is your foundation!  Make sure it's a color that you love and that will work with the rest of your room.  Don't feel like it needs to be a solid color—unless you want it to be!  But having patterns can be fun!  If mixing and matching patterns seems like an overwhelming task, don't panic!  I've created a cheatsheet to help you mix patterns in three easy steps!  You can grab yours for free here!
Sheets
The next step is to choose your sheets.  As you do this, be sure to consider how you will be making your bed: will your covers be folded down so your sheets will be on display?  Will your pillows that you sleep on be visible?  If so, make sure to select sheets that will blend well with what you're choosing.  My husband sleeps on a How to Train Your Dragon pillow case, so no, our pillows are not visible, haha!
Pillows
The next step is to choose your accent pillows.  Keep in mind it's pleasing to the eye to have pillows in varying sizes!  This is also a perfect place to add depth and interest to your farmhouse bedding by layering your pillows.  If you're looking for even more throw pillow options, be sure to check out my Fixer Upper Style Throw Pillows, I've got lot's more super cute pillows to choose from!
Throws
Next, you're going to want to choose a blanket you can use as a throw on your farmhouse bedding.  This will help in finishing off the look of your bedding.  Using a throw also add additional color, texture, layering and depth.
Bedskirts
Bedskirts can often be overlooked, but can make a big difference!  Now, if you have a really nice bed frame and you want to display that feature, then skip this step!  But, if you're like me and have the generic, metal frame, it's nice to add a bedskirt!
Headboards
Again, if you already have a nice headboard or one built into your bed frame, then you can skip this step.  But, don't underestimate the power of the headboard!  Using a headboard really finishes off the look of your whole bed and will take your farmhouse bedding to the next level!  You can check out more headboard ideas here!
I hope you loved this farmhouse bedding shopping guide and that it got your inspiration flowing!  Have fun creating a farmhouse bed!  If you're looking for some farmhouse accents to add to your bedroom, be sure check out this amazing shopping guide to help you!
Happy decorating!