Enjoy the relaxing lavender scent each time you walk through your front door with this farmhouse inspired monogram lavender wreath!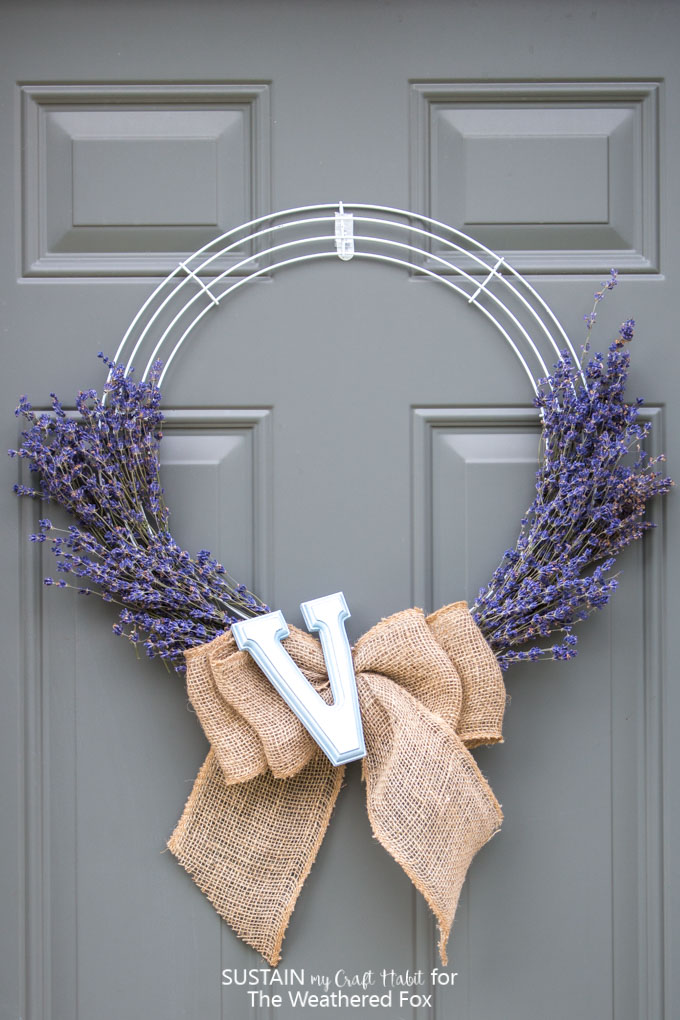 Hi there! It's Jane and Sonja from Sustain My Craft Habit back with another nature-inspired DIY for you. Ever since we made this rustic dried lavender wreath with driftwood two summers ago, we've been itching to make one more. There's nothing quite like dried lavender to add that earthy farmhouse touch to a home like Crystal did with her salvaged farmhouse mirror project.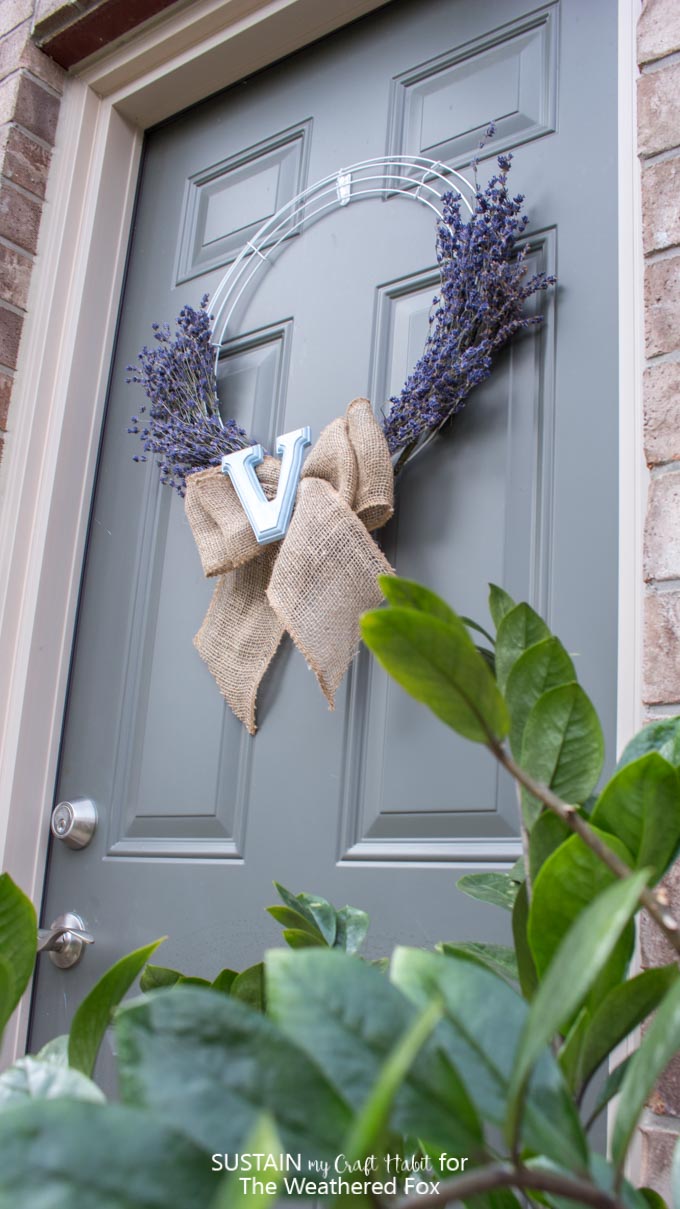 So while our lavender was in full bloom recently, I made sure to collect it all, tie it into little bunches and hand it upside down to dry. I got overly excited and hung all the bunches in my dining room to dry. It took me a couple days to figure out that so much lavender was quite potent and the cause of the headaches I'd been experiencing!
For this wreath, we used a standard round wire frame which you can find at any craft store for the base. This wreath was quick to put together and could be personalized with any letter.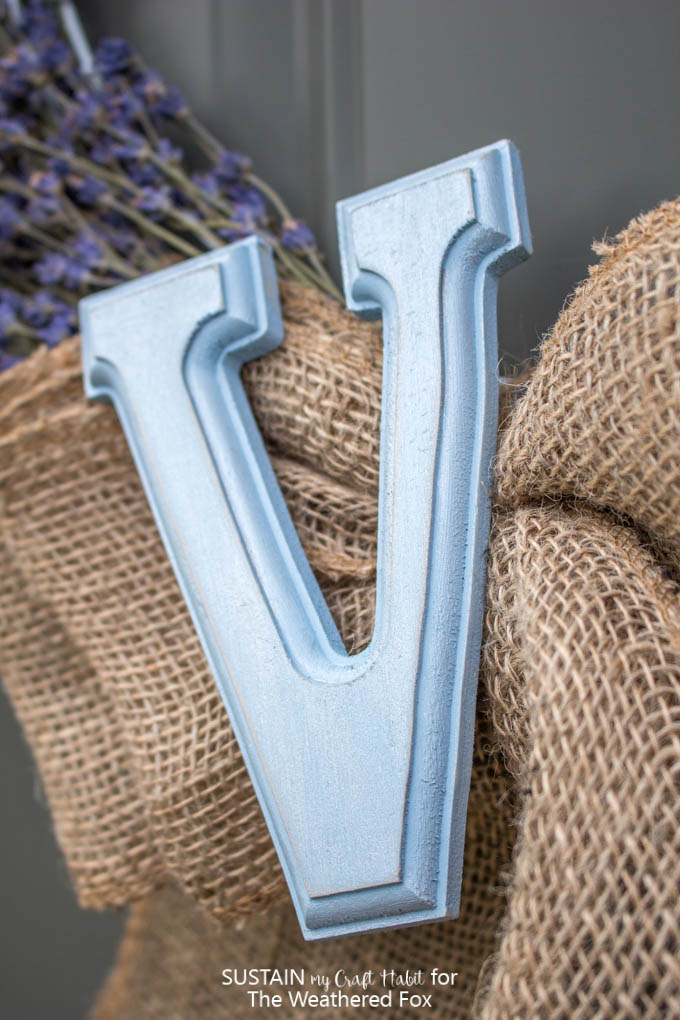 Supplies Needed to Make a Farmhouse-Inspired Lavender Wreath:
(This post contains affiliate links. This means I get commissions for purchases made through links in this post.)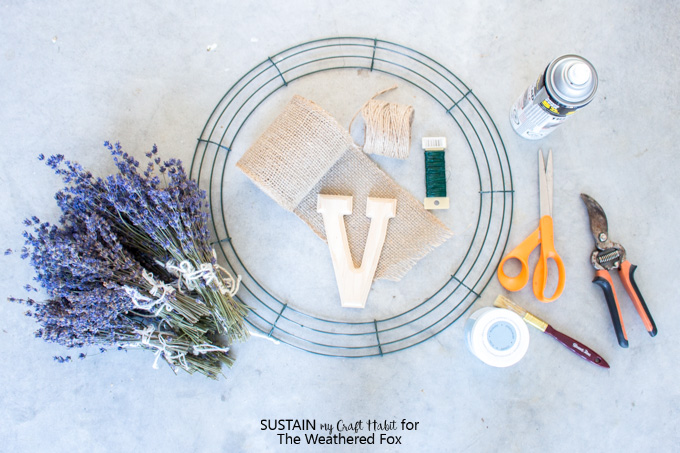 How to make a Simple Lavender Wreath with Burlap:
Preparing the supplies to make this lavender wreath:
Since our wire wreath was green, we chose to give it a fresh coat of white paint. In a well ventilated space and with the surfaces protected, spray paint the wire wreath on one side and leave it to fully dry before continuing to other. If your wire wreath is already white, move onto step 2.


Paint the wood monogram letter using chalky finish paint. Once dry, lightly sand all the edges using 100 grit sandpaper. Apply a coat of Vintage Effects Wash in silver with a cloth or paper towel and rub off any excess paint. Leave to dry.

Snip about 15-20 pieces of floral wire to 3" lengths to use for attaching the lavender bunches to the wreath frame.

Assembling the lavender wreath:
Start by placing the wire wreath with its right side up on a flat working surface. Begin attaching bunches of dried lavender (about 12-15 stems each) to the wire wreath. Using the floral wire, start on one side and work down towards the center. Overlap the bunches as you go for a fuller effect. Repeat on the other side.

With the 60" long burlap ribbon in hand, begin folding as shown to form the burlap ribbon.

Take a piece of twine and tie the center of the bow to the bottom of the wire wreath, covering the lavender stems. Tie securely in place. Cut the ends of the burlap ribbon on an angle.


Lastly, to attach the monogram to the wreath, staple a piece of twine to the back side of the wood letter and then tie it over top of the bow.
And voila! The wreath looks beautiful hung indoors or out. If hanging outdoors, make sure the wreath is in a spot protected from the elements.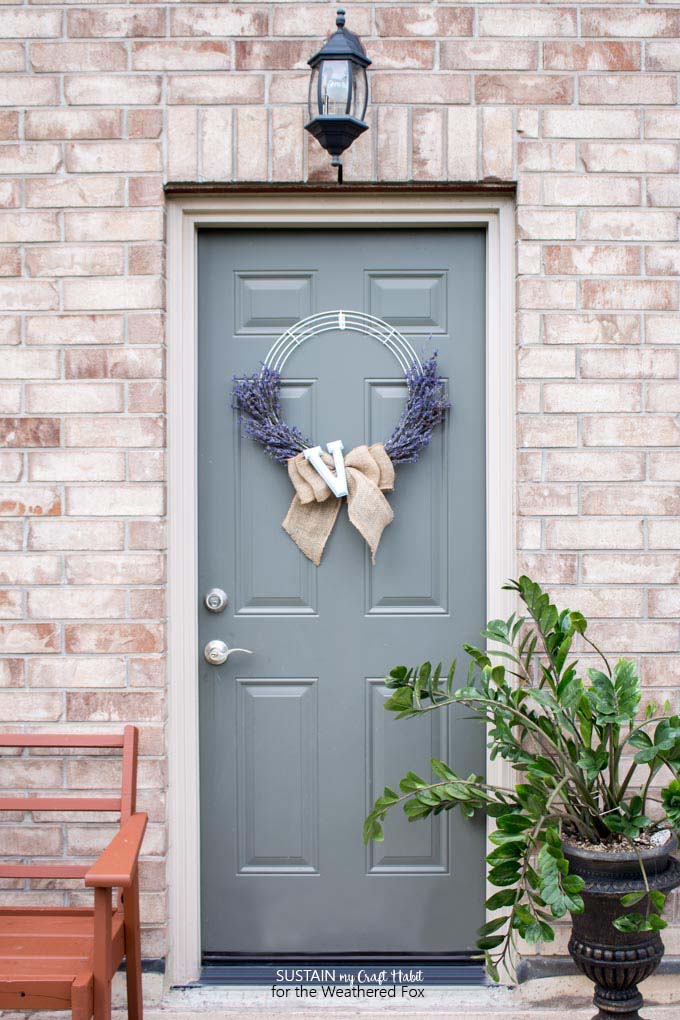 What is your favourite way to use lavender?



We'd love for you visit us at Sustain My Craft Habit and explore our other nature-inspired wreath ideas. While there, sign up to receive our free guide to creating a rustic tablescape and monthly floral note card printables.