Hello again! This is Jessica from The Vanderveen House here to give you some of my favorite picks for farmhouse kitchen faucets. A few months ago when we were working on our kitchen I spent a ton of time researching faucets. I love scouring through the internet to find the best options before committing to any product. It can be a daunting task because there are so many options, but I'm going to take some of the guess work out of it for you. I'm going to show you some of my favorite farmhouse kitchen faucets in a variety of styles and finishes that would be perfect for anyone's home!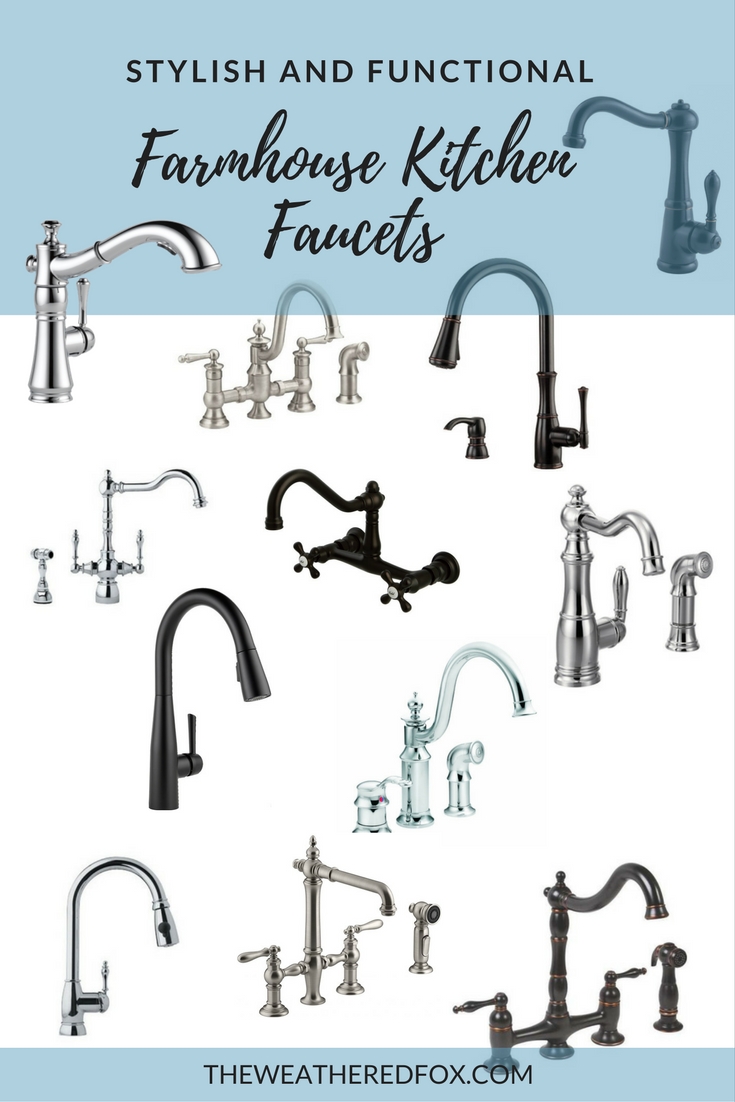 Before making a decision on your faucet choice you should create a "must-have" list. Do you want a single hole faucet? Need a three hole faucet? Do you like the look of a high arc faucet, or do you prefer a low arc one? Do you want a pull down sprayer, or a separate hand sprayer, or a faucet that comes with a soap pump? Fortunately most of these faucets come in a variety of different colors, so once you have your check the boxes on your list it's just a matter of choosing the finish that matches the rest of your decor.
(This post contains affiliate links. This means I get commissions for purchases made through links in this post.)
Low-Arc Kitchen Faucets
If you don't have much room for a tall faucet, a smaller height low-arc faucet would be perfect. I love the look of a single hole low-arc faucet, they look understated and elegant and work so well with a white apron sink. This Delta Cassidy faucet is one of my favorites with a simple one-hole design, and also has a pull-out sprayer.
The Moen Weymouth is another great option. The Weymouth comes with a separate sprayer, and I love how shiny this faucet is in the chrome finish. If you're looking for this type of low-arc faucet, a few other great options are the Franke two handle faucet which also comes with a hand sprayer, or the Pfister Marielle single handle faucet which looks lovely in the tuscan bronze.
High Arc Kitchen Faucets
High arc faucets can be so classy yet also functional. They provide a little extra room in the sink area for filling pots, and provide a simple and clean design. I love a good bronze faucet. The Pfister Wheaton faucet would look stunning with a white apron sink to give any kitchen a beautiful homey look.
I love the Delta Essa matte black faucet for the simple and sleek design. This is the one I ended up choosing for our own kitchen. I chose to go with a matte black faucet to match the light fixtures in our living area, plus I thought the black would be easier to keep clean.
Another great high arc farmhouse kitchen faucet is this Franke spray faucet in a chrome finish, which has a single handle and a pull out sprayer.
Three Hole and Bridge Faucets
To me, nothing says farmhouse kitchen like a fancy bridge faucet. If you're replacing a faucet in your kitchen and already have three holes drilled through your counter, bridge faucets are a great choice. They look so classy and make any kitchen look incredibly high-end. I love the Moen Waterhill bridge faucet.
Some other beautiful bridge faucets include the Premiem Charleston, Moen high arc faucet with side spray, Kohler Artifacts bridge faucet, and this beautiful Kingston wall mount faucet.
12 Best Farmhouse Kitchen Faucets
All of these farmhouse kitchen faucets would be a great choice for any kitchen. A faucet can be a statement piece in your kitchen while still being practical. Think carefully about what functionality you need and the type of look you're going for, then make your decision. I'd love to know which one of these is your favorite if you had to choose just one!