Fixer Upper Whole House Color Scheme
When you're trying to redesign your home but can't quite figure out what colors will go well together, things can get a bit frustrating. Especially if you just bought a house, and every room has 1980 floral wallpaper like mine did! It can be a pain to go back and forth from the paint store with color swatches too. I feel like I had every paint swatch known to man at one point while trying to pick out paint colors. What I ended up doing is browsing Pinterest, finding inspirational rooms, and trying to find a paint that looked similar to that. Of course, every paint color is going to look different in your room, but I think it's a lot easier to visualize a color when you actually get to see it on someone's walls right? And since I'm the biggest Fixer Upper fan around, I decided to put together some whole house color schemes inspired by Joanna Gaines herself. So we'll be talking about Joanna's favorite paint colors, and how she puts colors together to create homes that are open, inviting, and transition smoothly.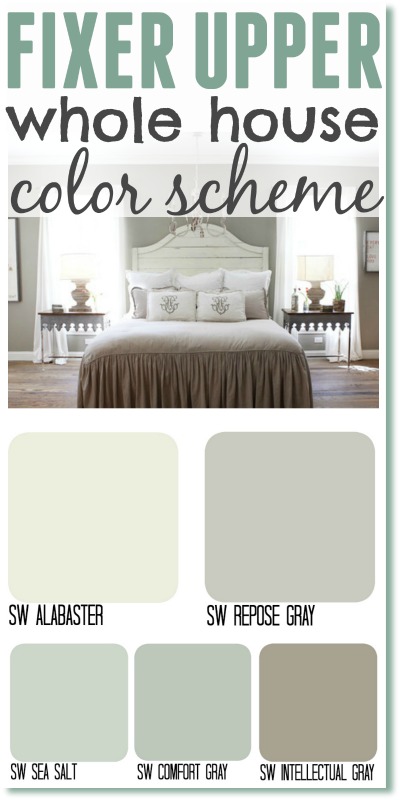 So first let's talk about Joanna's old favorites. I want to share these first because they're some of mine too. I've used these colors in my own home and I can tell you they're just as pretty as they are in the Fixer Upper houses! Early on in the Fixer Upper Show, Joanna really gravitated toward dusty blues and greens. Very light, airy, cottage type of colors which I'm all about! So here's a Fixer Upper whole house color scheme based on Joanna's throwback favorites!
Let's start with trim color. By far the easiest way to make your house feel more cohesive is to stick with one trim color. Joanna often uses Sherwin Williams Alabaster for her trim, and occasionally Sherwin Williams Pure White. Use one color for trim throughout your home and you'll have a home where rooms just flow from one into the next.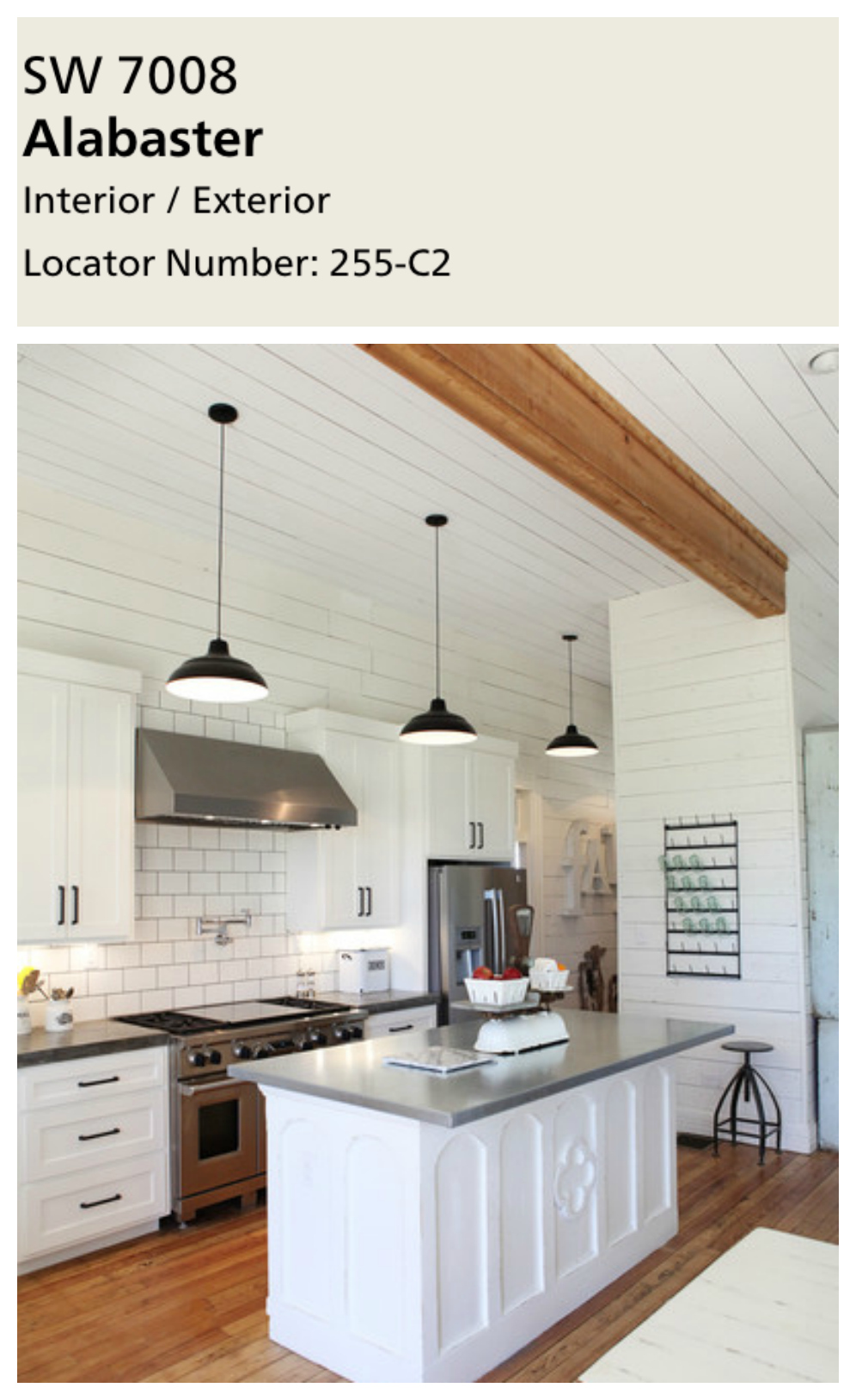 Every home needs a go-to neutral wall color. Joanna loves using grays in her homes for the main living spaces. Some of her favorites are Sherwin Williams Mindful gray, Oyster Pearl, and Passive Gray. Repose Gray is one shade lighter than Mindful and would look fabulous for an open living space. A friend of mine just chose this color for her open living & dining room and she loves it! Grab a paint sample first though before painting every wall! 🙂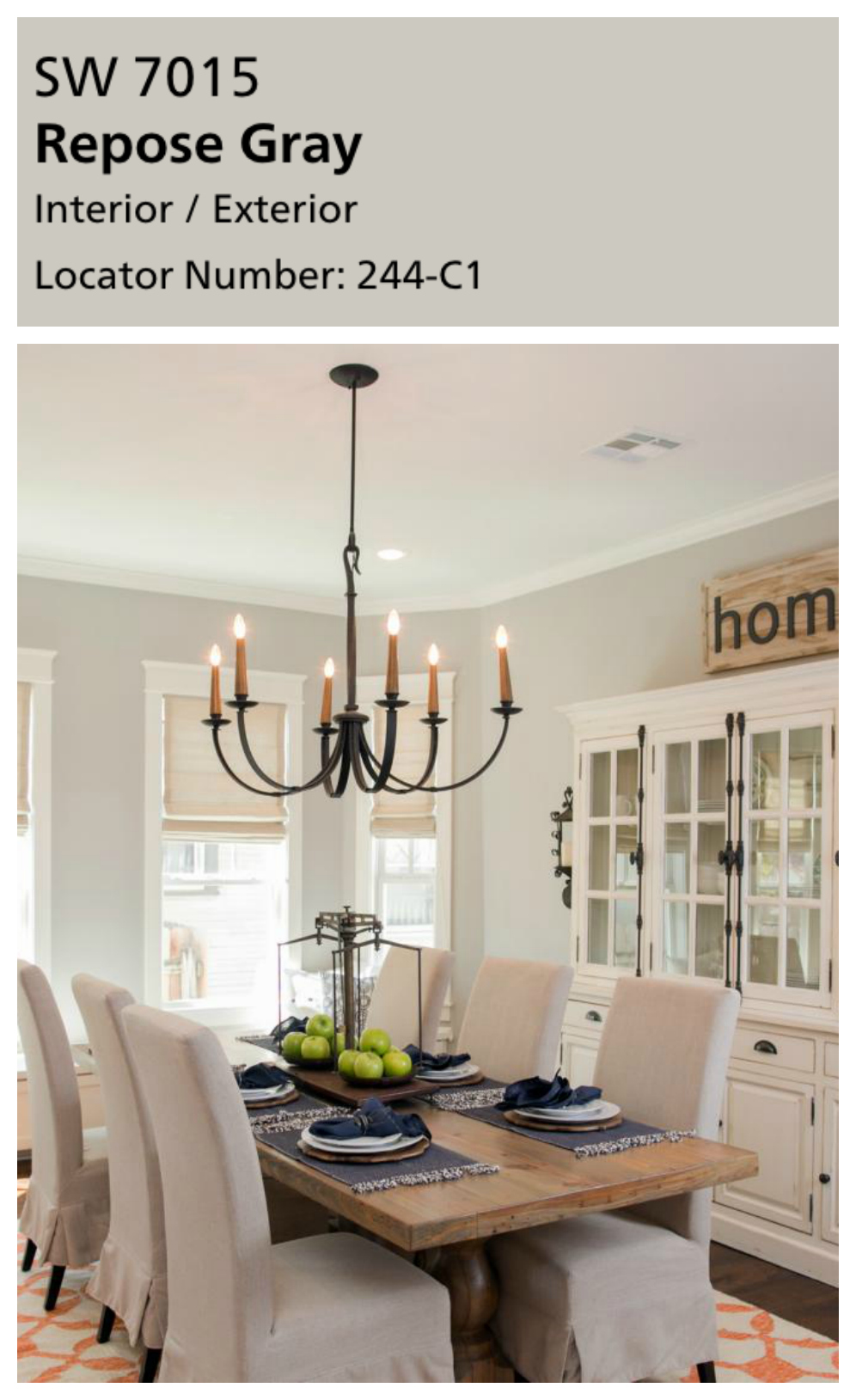 Moving on to some nice accent colors. Joanna has said that she really favors airy blues and greens. I can say without a doubt that Sherwin Williams Sea Salt is one of the prettiest paint colors I've ever used. It's no wonder why its such a popular color with Joanna and other designers. It's the perfect blue green, and looks great in any room. I used it in my bathroom and laundry room makeovers!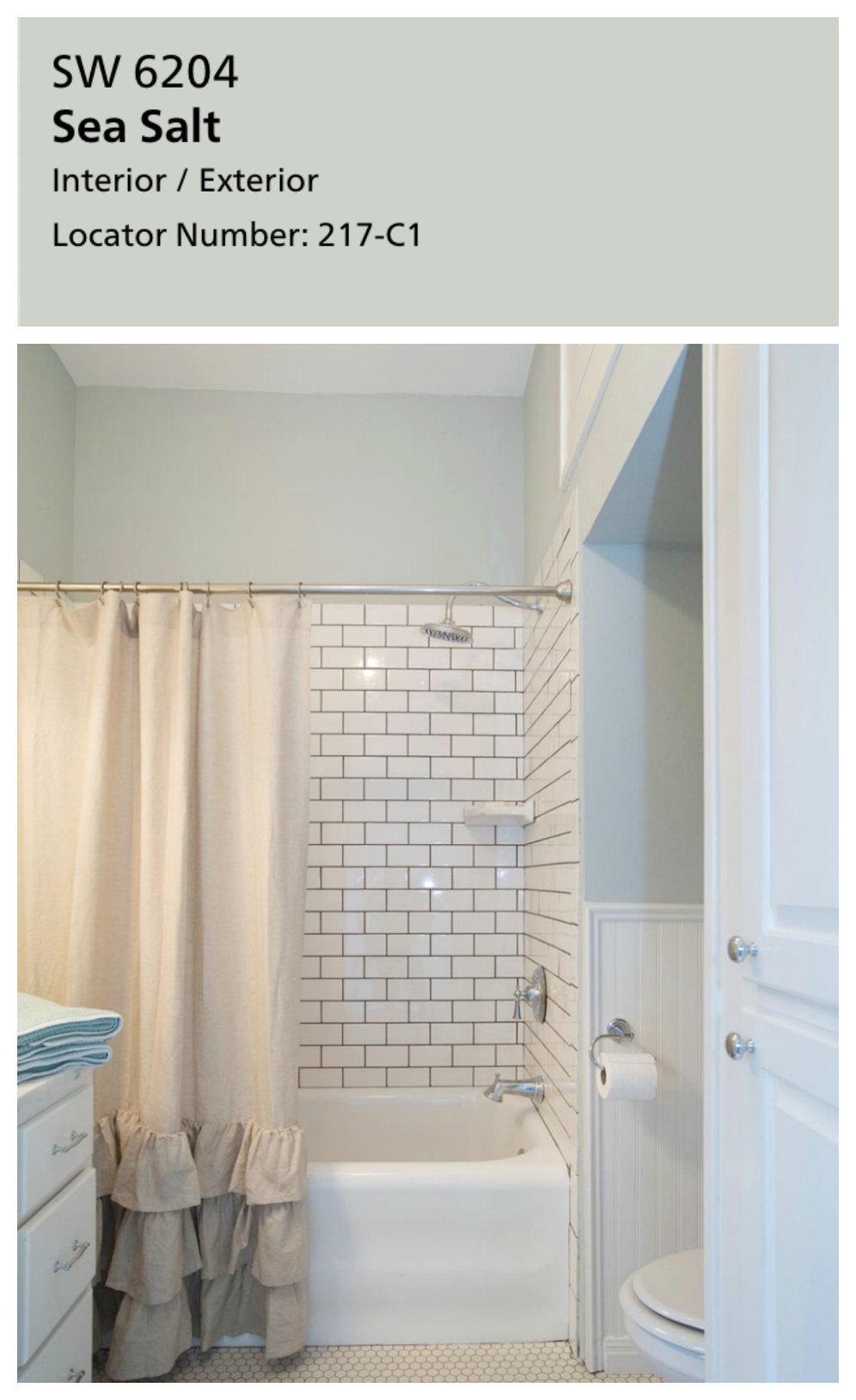 Sherwin Williams Comfort Gray really isn't very gray at all in my opinion. It's another dusty blue green. And I'm in love with it! Joanna uses this color in living rooms and bedrooms that need a color that a little more bold, but this color is never overbearing! Perfect for a guest room or office.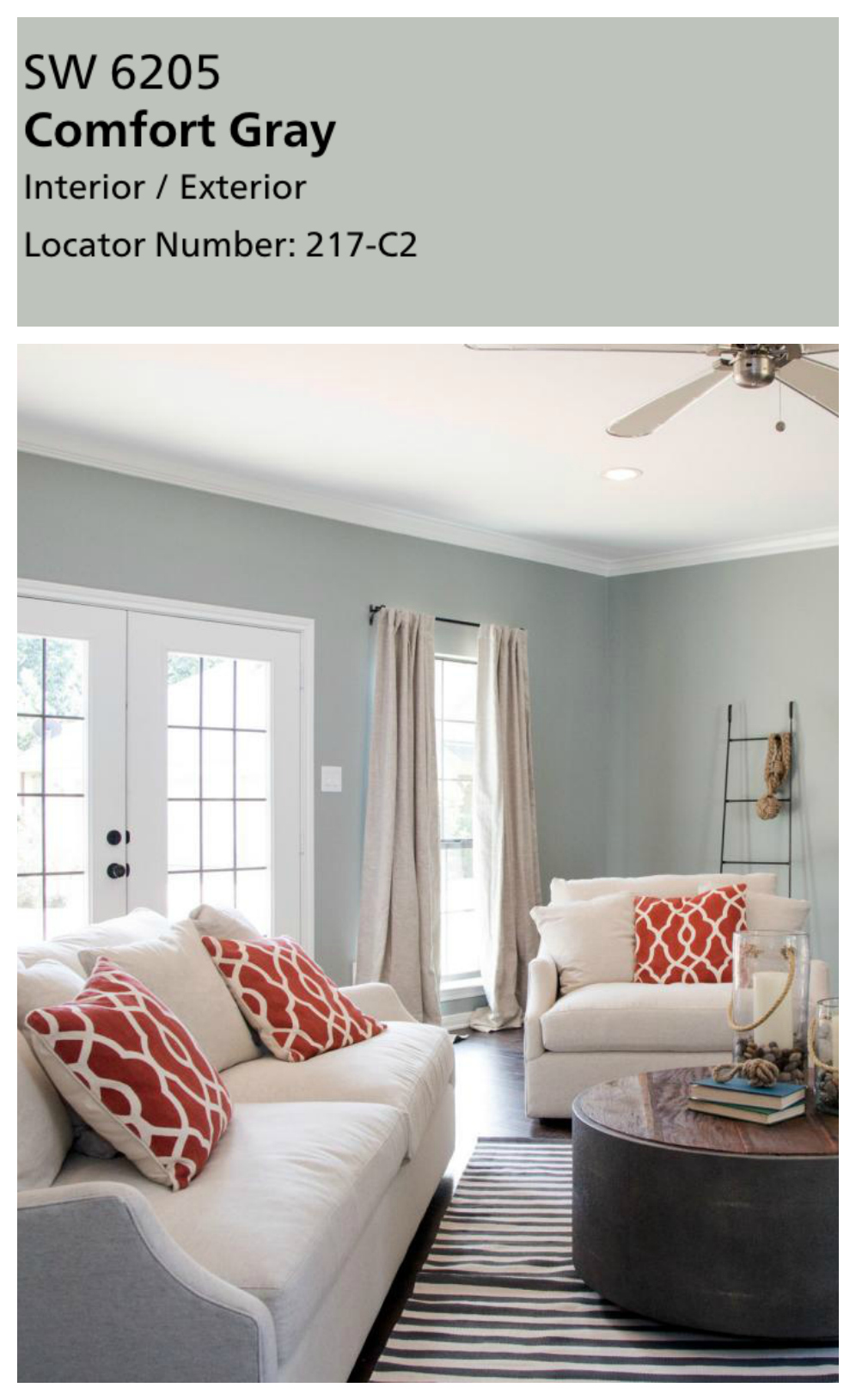 A master bedroom is the perfect place for sherwin Williams Intellectual Gray. This color has a beautiful warmth to it, especially against a wood floor. Joanna used this color for her master bedroom and I just can't get enough! Be careful though, if your bedroom doesn't have great natural light, this color might be a mistake.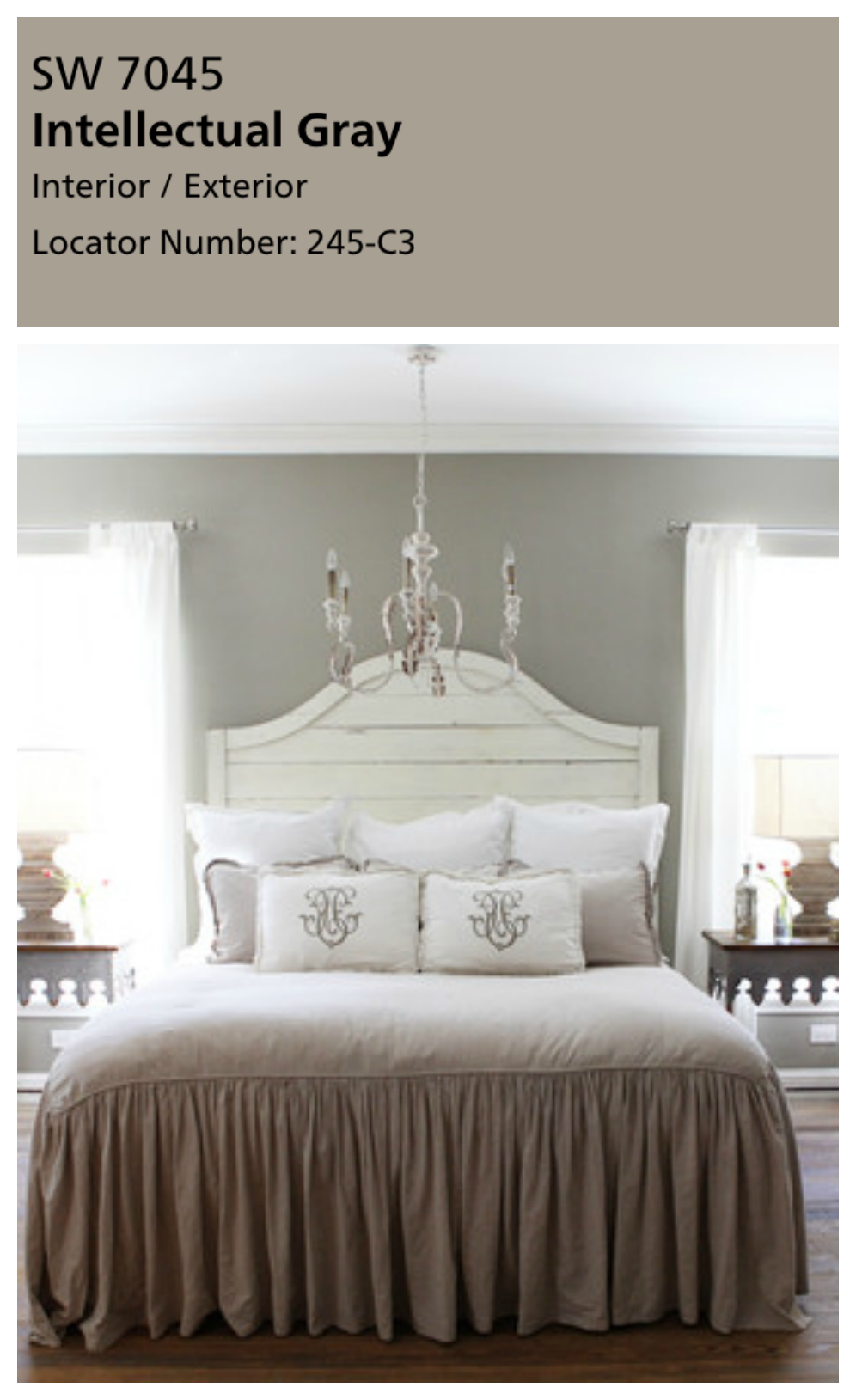 So there you have it! A color scheme inspired by Joanna's most popular paint colors. Don't forget to pin this post for later!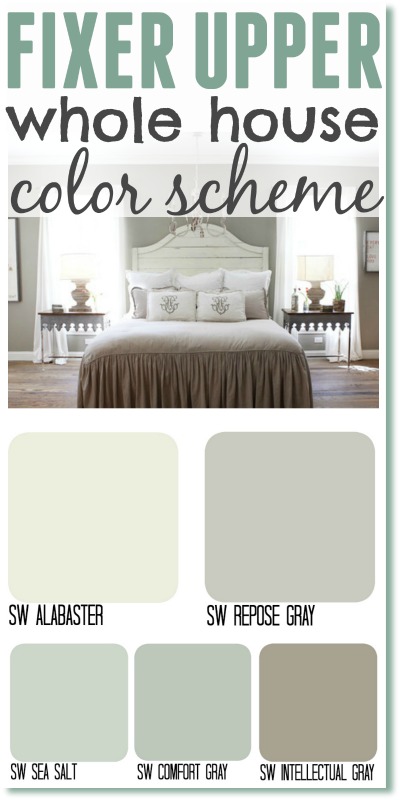 And check out my other Fixer Upper posts!