Hello everyone!  I'm Nicole and I blog over at Birkley Lane Interiors where I help women solve their decorating problems.  I'm very excited to be here today!  I love talking about anything and all things decorating, and today we're talking about one of my favorite decorating accessories: farmhouse throw pillows!  Throw pillows are a super easy way to add the farmhouse look to your home decor in an affordable way.  They don't cost much, and can be easily changed if you want to try something new!  If you're in love with the Fixer Upper look, then you're going to LOVE these farmhouse throw pillows and pillow covers!
Quick tip: if you're looking for even more affordable Fixer Upper accents to add to your home, be sure to check out these Fixer Upper farmhouse signs!  These are another fun and easy way to add farmhouse decor to your home!  You can check them out here.
Farmhouse Throw Pillows
Most of my farmhouse throw pillows are found on my couch in my living room, although I do have some sprinkled throughout other places throughout my home decor.  Did I mention that I happen to be slightly obsessed with throw pillows?? 😉  One of the best things about throw pillows are throw pillow covers.  I love that I can throw them over a pillow that I already have, which saves me some money!  (Who doesn't love that??)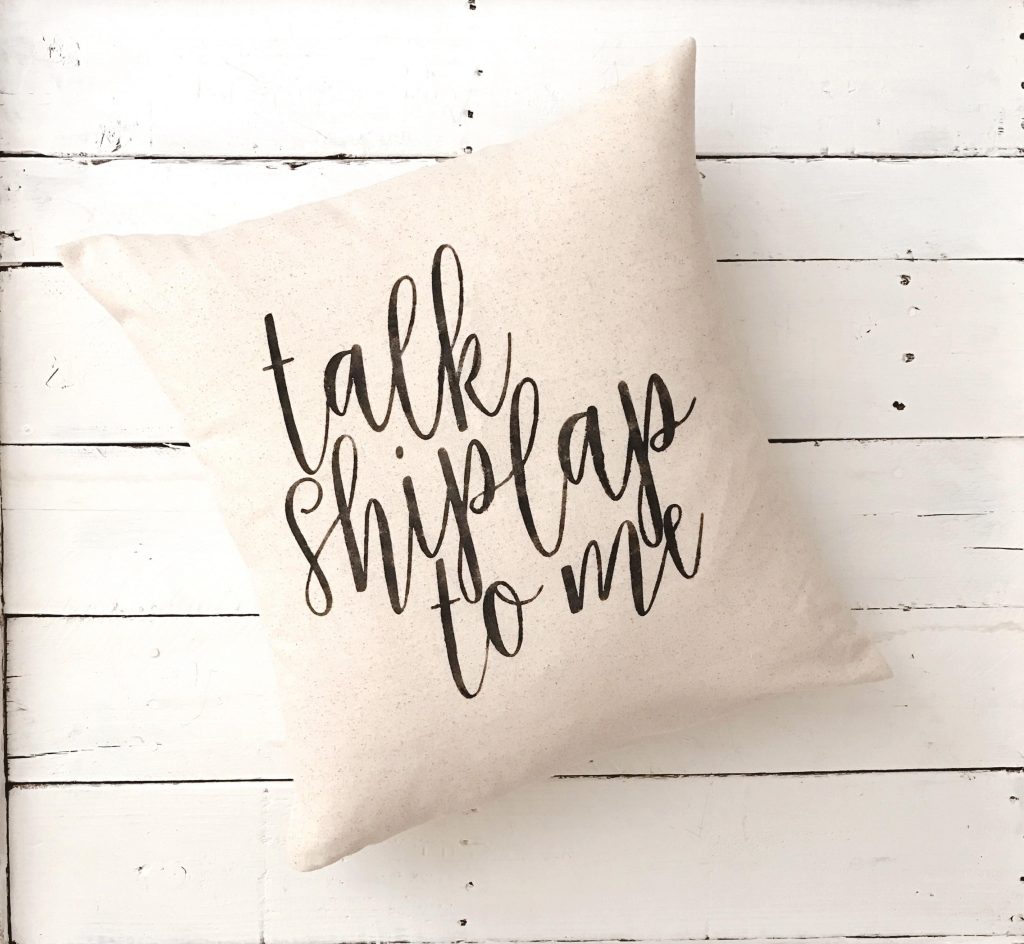 Shopping for Farmhouse and Fixer Upper Style Throw Pillows
The other thing I love about throw pillows is that I can easily buy them online.  It's not like buying a couch or a bed, where you really want to be able to feel it and test it out before you buy it.  I have two favorite places for buying farmhouse and Fixer Upper style throw pillows: Amazon and Etsy.  They are both amazing resources with lot's of buying options and styles.  But, it can seem overwhelming to try and search through all of those options.  So, today I have taken away all that stress and picked out my favorite Fixer Upper throw pillows!
To make this shopping guide easy to follow, I've broken these farmhouse throw pillows into sections: one for patterned throw pillows, one for throw pillows with text and one for throw pillows with images.  Hopefully that will help you as you're searching for the perfect Fixer Upper throw pillow (or more!) for your home decor!
(This post contains affiliate links. This means I get commissions for purchases made through links in this post.)
Fixer Upper Style Farmhouse Throw Pillow Shopping Guide
Patterned Throw Pillows
I love a good patterned throw pillow!  They're fun to add against a pillow that has a solid color; it breaks up the space and adds some interest!
Farmhouse Throw Pillows with Text
Using a throw pillow that has text on it is a really fun way to add some personality to your space!  These are fun to layer with solid and patterned throw pillows!
Throw Pillows with Images
It's always a great idea to have a good mix of pillows on your couch to add style and interest, and using a pillow with an image is a perfect way to do this!  These can be added to a solid, patterned or text throw pillow mix!
If you're looking for even more ways to add the Fixer Upper look into your home decor, there are a couple of other super easy ways to do that: with rugs and lighting!  They are both smaller accents that make a BIG impact on a space!  Be sure to check out our shopping guides for Fixer Upper lighting and Fixer Upper rugs.  They will help guide and inspire you as you're making more farmhouse accent choices!
Thanks for letting me visit!  Happy decorating friends!


If you loved this post, then you'll also love my tips on How to Decorate Like a Designer, How to Mix Patterns When Decorating and my Cozy Living Room Mood Board!