How's your patio looking? Is it ready for warm, summer nights? Or is it unfinished and waiting for a makeover? If it's the latter, check out this Farmhouse Patio Design Board and start working towards a finished patio.
My name is Lora Green, of Craftivity Designs, and last summer we invested some time and money into creating a cozy outdoor space — and I haven't regretted it for a minute. I'm a big proponent of investing in outdoor spaces (isn't it so easy to just focus on interiors, instead?!) because it will encourage us to actually spend time outdoors.
(This post contains affiliate links. This means I get commissions for purchases made through links in this post.)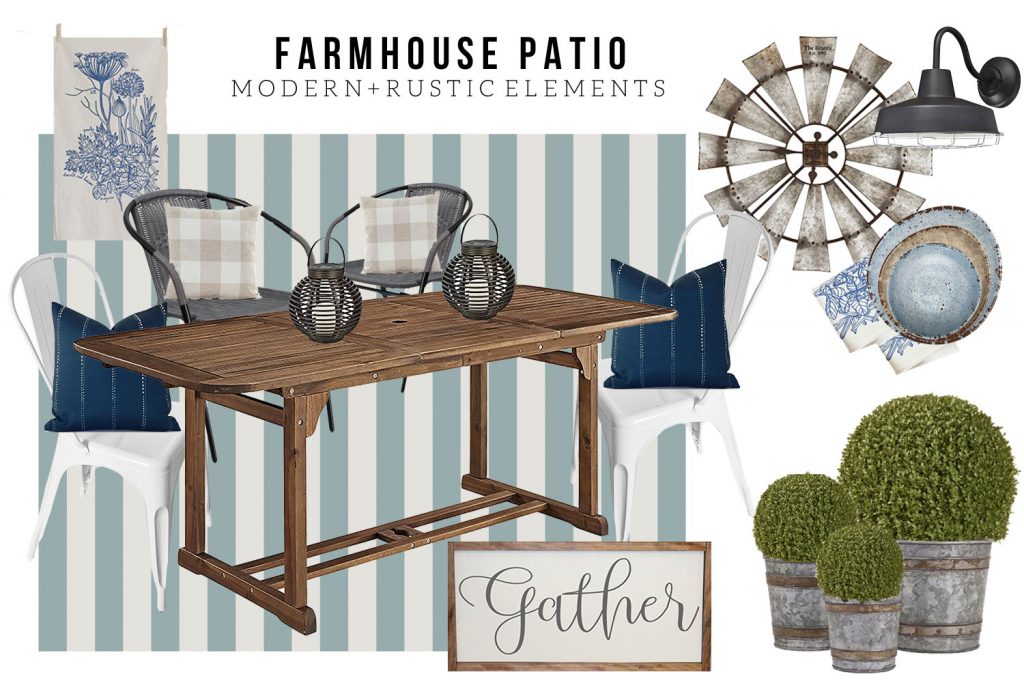 How to Create a Farmhouse Patio
To recreate this farmhouse patio, start with a classic, striped, outdoor rug, and layer in patio furniture. A mix of colors and finishes will create a relaxed vibe; such as white enamel and black wicker chairs with a teak farmhouse-style table.
Now — the fun part — layer in the accessories. Even if you already have patio furniture, you can still create a farmhouse patio space with a mix of modern and rustic accessories.
If you want a space to appear collected over time like a true farmhouse patio, make sure to choose a mix of fabrics and patterns for textiles. For example, this farmhouse patio design board includes navy striped pillows, buffalo check pillows, and botanical cloth napkins. If these textiles aren't your style, check out tips and tricks for mixing patterned pillows and a roundup of neutral pillows from Amazon, for more ideas.
Gorgeous Farmhouse Patio Products
These are the items I used in my farmhouse patio design board. Click on the images below to be taken to the product page!
To set the table, use low-profile lanterns which won't block the view across the table, but will provide ambient lighting. A set of quality melamine dishes, like these rustic dishes, are durable, without sacrificing style.
Finally, bring in some more wood and metal rustic elements through galvanized planters, a decorative sign, and a windmill clock.
Does this look like a farmhouse patio you'd love? Pin it!
Start working your way to an outdoor space that will encourage you and your family to spend time outdoors.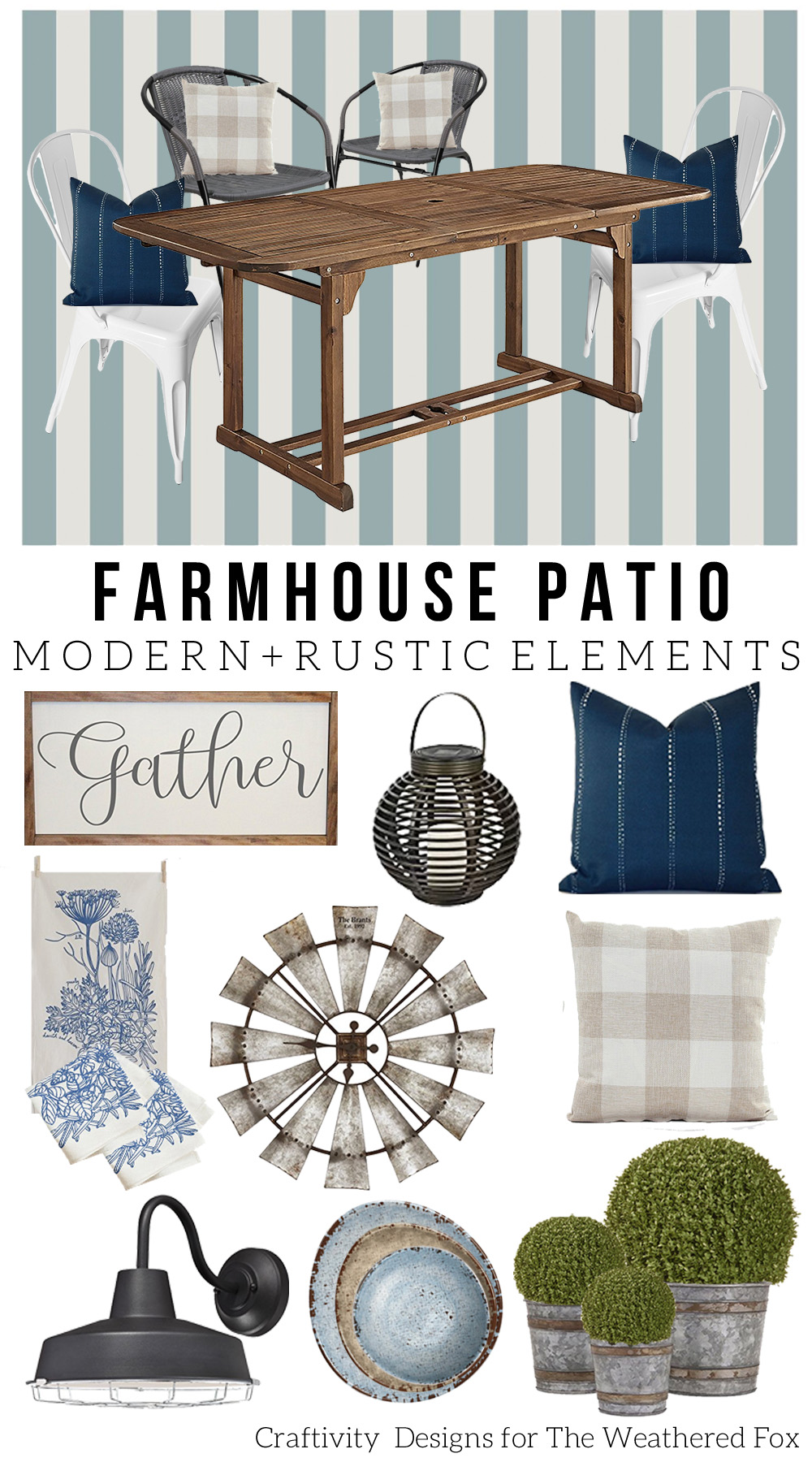 Hope you are having a beautiful, summer day! Until next time,
Lora Green of Craftivity Designs

Would you like more outdoor inspiration? Learn how to make a DIY House Number Sign and find tips for a cozy, farmhouse-style, deck. Plus, if you love farmhouse-style, check out my Breakfast Nook, complete with rustic lighting and vintage details.
See all my posts on the Weathered Fox by clicking here!
Check out these other Farmhouse Patio Ideas!