Hello everyone! I'm Leslea from A Heart Filled Home. I love to write about home decor and decorating on a budget. Today I'm here with some beautiful farmhouse mirrors that will add some beautiful style to your home!
You can use mirrors in just about any room in your house to add some visual interest and style. Mirrors can be used above your vanity to dress up your bathroom, above a bed, in a wall gallery, in a mud room or entryway, or in a hallway. You can use mirrors to make your space feel larger than it actually is. That's a win-win in my book!
When we purchased our second home and had a small decorating budget, I needed to get creative about how to fill our walls and create some visual interest. One of the ways I was able to decorate our home was with budget friendly mirrors. I was able to create a statement piece by using a couple large mirrors on our mantle that had a classic look and feel. Then I layered them along with some art to create a nice display!
We have taken those same mirrors with us to our newest home where I was able to place them in different spots where they both very useful. One of them is in our entry way / hallway from the garage. I hung the other large mirror along with a couple frames, pieces of artwork, and a clock to create a gallery wall. If I ever tire of the frame color I can always change it with a coat of paint!
(This post contains affiliate links. This means I get commissions for purchases made through links in this post.)
Rustic Mirrors
These rustic mirrors have a barn wood finish that would fit in perfectly with some rustic farmhouse decor. Rustic mirrors have great color and texture that really adds dimension to a wall. This one would look great above a bathroom vanity or over a table in an entry way. It has a great chunky and substantial frame!
Windowpane Mirrors
Windowpane mirrors have gorgeous style and really make a statement. They really do create the look and feel of a window. As a result it creates the illusion of a larger space. If you have a small room with no windows or natural light, try a windowpane mirror like this arched one! This amazing rectangular windowpane mirror would make an amazing statement above a bed or along a hallway! They will make your space feel so much larger than it actually is!
Beautiful Farmhouse Mirrors
Click on the images to be taken to the products (affiliate links).
Which one of these mirrors is your favorite? I personally love this metal mirror with a shelf, and this beautiful brass oval mirror because they are both so beautiful and have different and unique styles!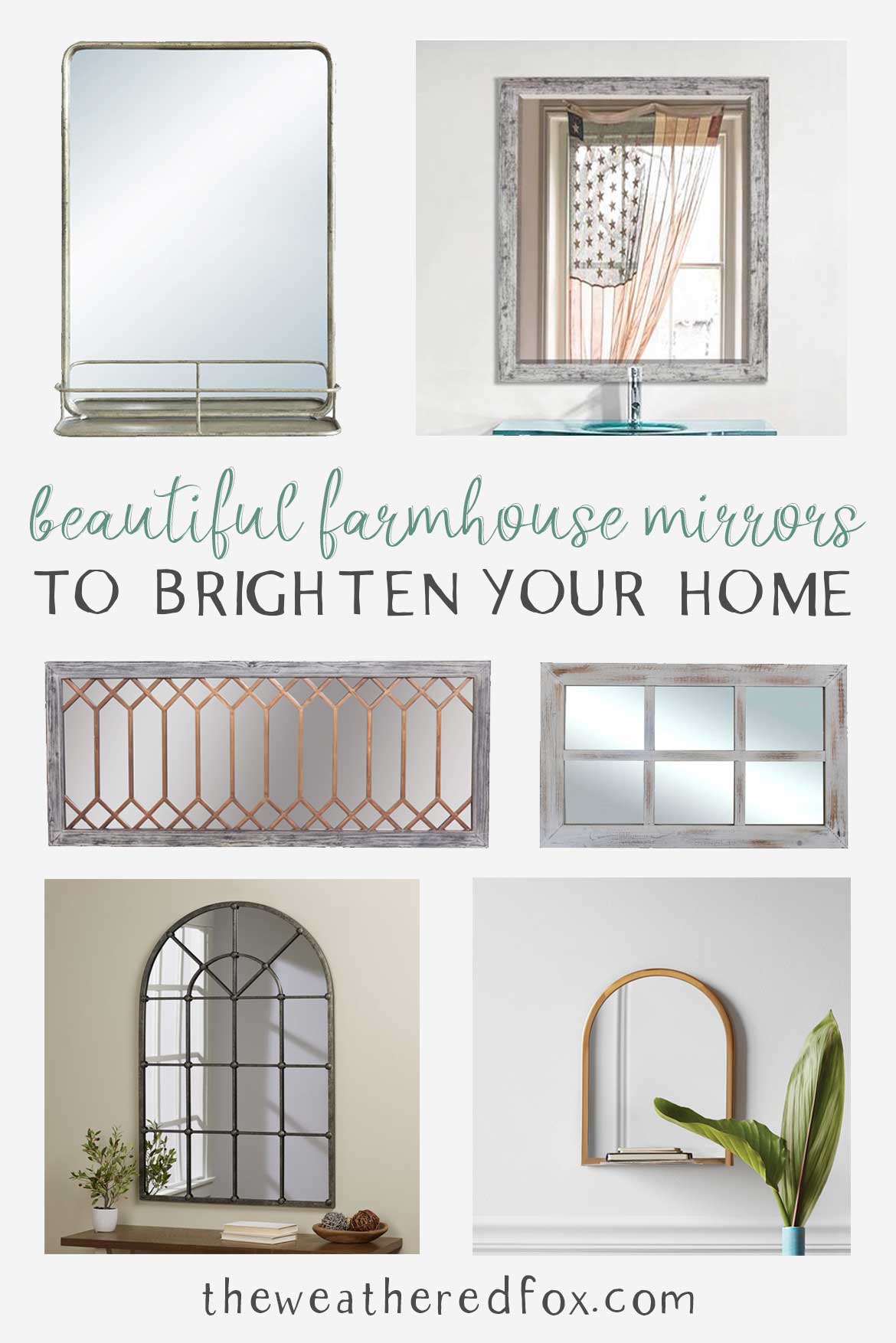 If you are looking to add farmhouse touches to your home, you'll also love these farmhouse lighting options, these awesome budget friendly farmhouse storage solutions, and these beautiful farmhouse coffee tables!
Thanks for reading friends!