Now that the holidays are over, you've probably noticed that the stores have all tucked away their red and green, and they've hauled out the pink!  That's right, valentines day is almost here, and it's time for hearts and chocolates and jewelry.  But here's the thing: all those valentines day gifts?  They cost a pretty penny.  if you're looking for a great idea that's easy on the budget, then these DIY date night jars might be the perfect thing.  Want to learn more about how to make this easy date night jar?  Keep on reading!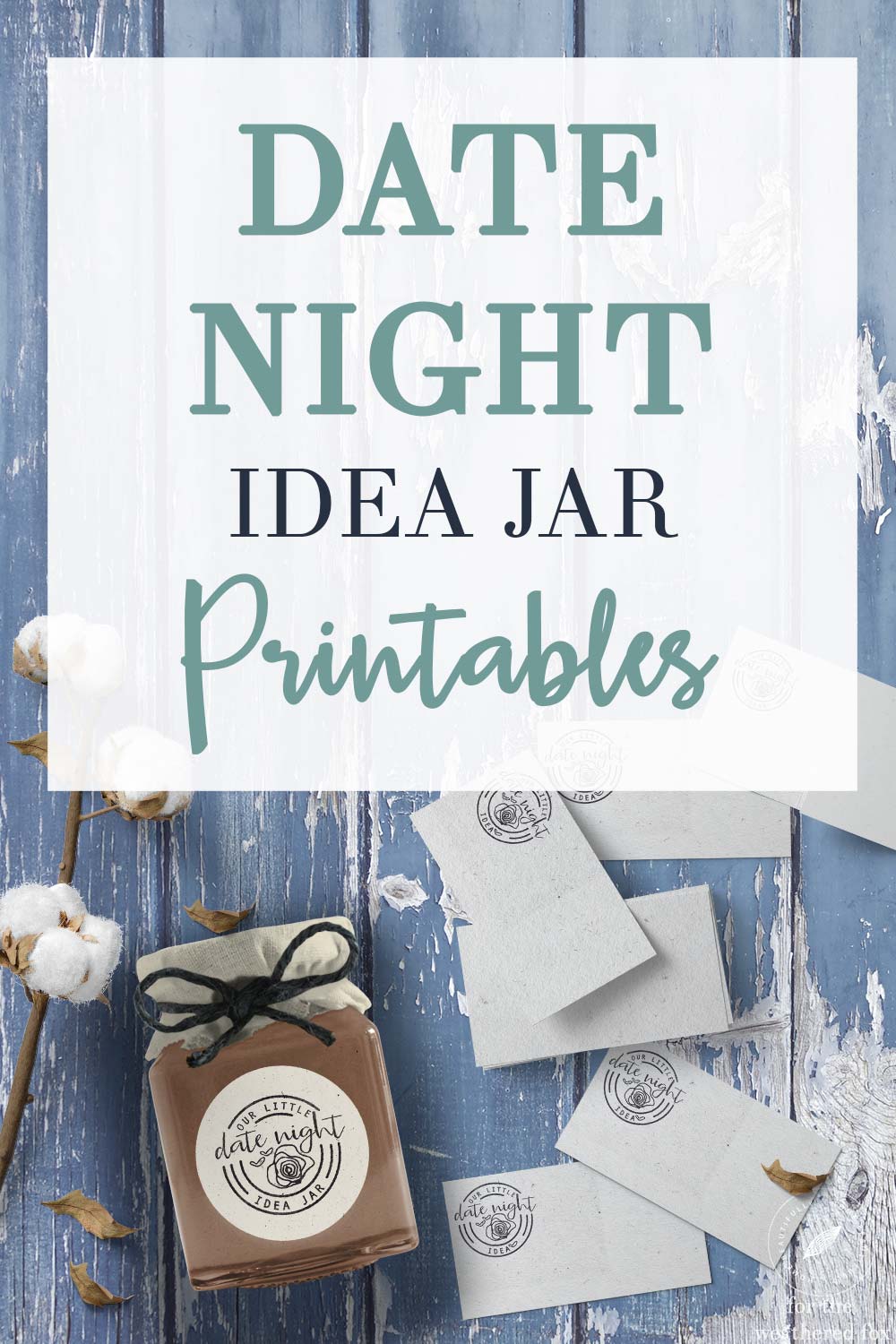 My name's Cynthia, and I'm the DIY loving mama behind the blog, Home Beautifully.  At Home Beautifully, we're all about creating beautiful, organized homes on a budget.  And these DIY date night jars?  They're sure to bring a smile to a loved one's face this valentines day.  (Or, let's be honest, they're kind of perfect for presents year-round!)  Not only are they adorable, but also (even better) they're really adorable and easy to make!
(This post contains affiliate links. This means I get commissions for purchases made through links in this post.)
DIY Date Night Jar Step 1: Gather Your Supplies
To create your date night jar, you'll need a few things, most of which you can probably find already in your home or pretty cheaply at a craft store or online.  I've tagged some recommendations with clickable affiliate links so you can hop to the product page to learn more.
Got your materials?  Then let's keep going!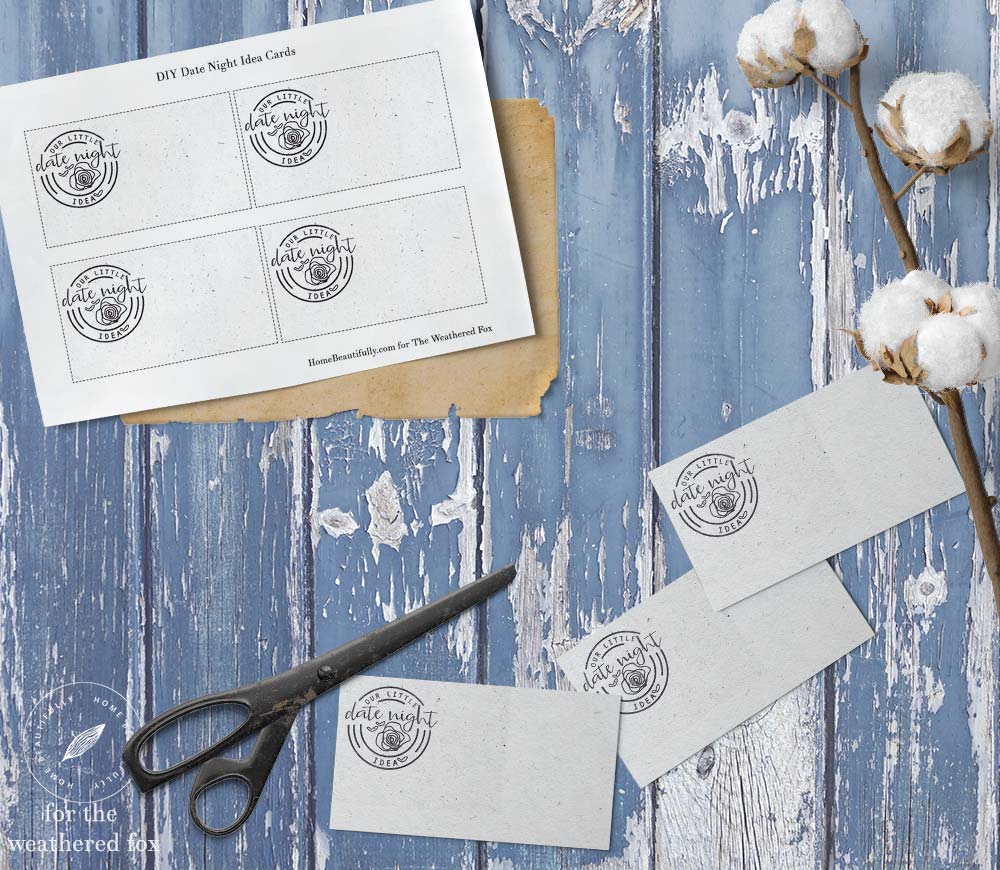 DIY Date Night Jar Step 2: Print and Cut the Printables
I've designed the logo for this jar to have a handmade, vintage feel so it looks right at home on your mantle or bedroom nightstand.
Both printables are available as a bonus for The Weathered Fox subscribers.  Just click on the image below to grab your copies of the printables. If you're already a subscriber, you can get your copy by going to our printables library and entering your password located at the bottom of your emails.
Print them out on sturdy card stock, then cut out the cards and label.
DIY Date Night Jar Step 3:  Fill In Your Ideas!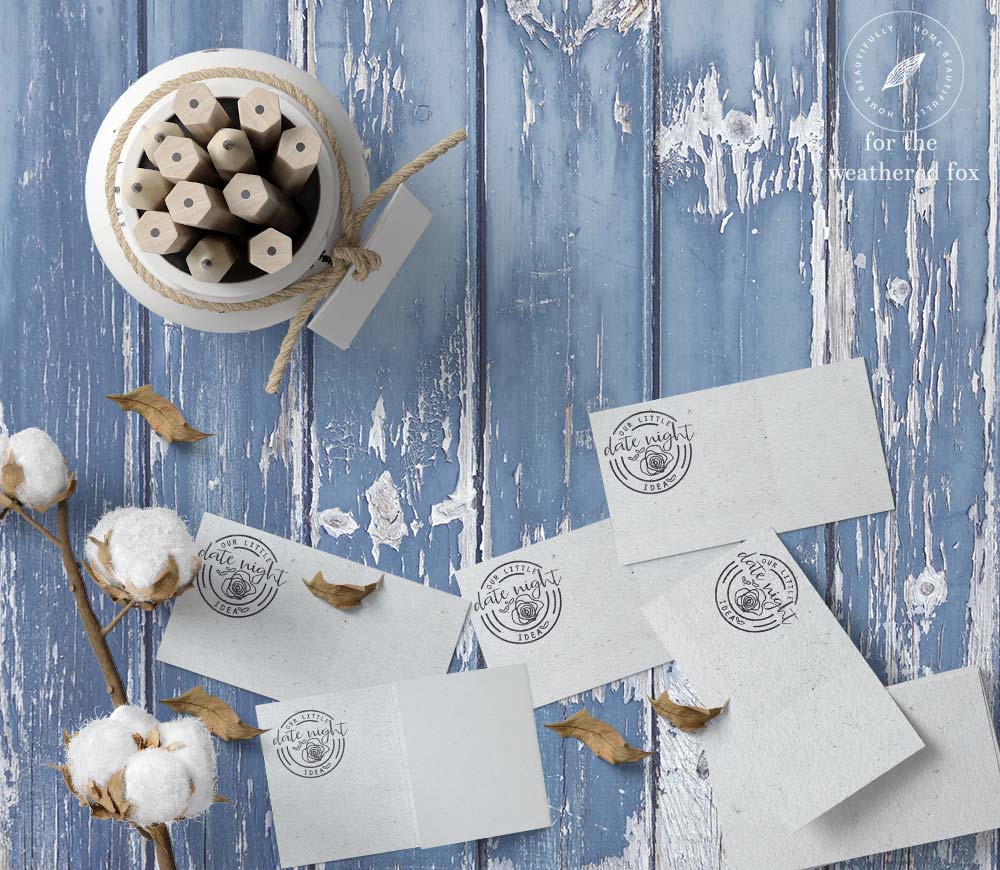 This might be the best step since it requires a little creativity about what you and your honey love to do the most.  There's tons and tons of ideas you can write.  Remember, you can always print more than one sheet of date night idea cards to fill up your jar!
And, what's great is that if you're trying to stick to a budget, you can absolutely come up with low cost (or even no cost) ideas to spend time.
What are some ideas to get you started?  Here are some of my favorites:
Go on a hike
Cook a new meal
Browse around a thrift store
Binge watch a new TV series
Play frisbee
Play cards at a coffee shop
See a movie
Visit a dog park
Go bowling
Volunteer locally
Play mini golf
Try fancy cocktails at a new bar
Have a picnic
Hit up garage sales
Go to the zoo
Enjoy beer tasting
Try a fitness class together
Once you've filled in as many cards as you want, fold them up and place them inside your jar.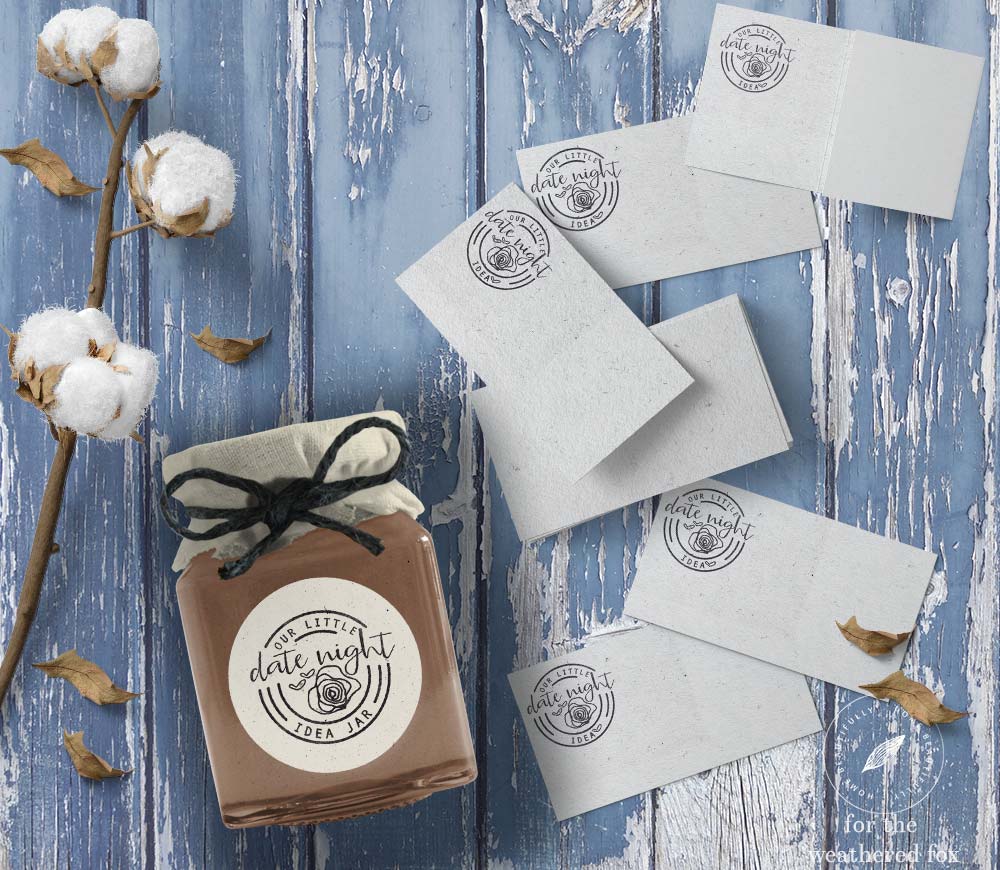 DIY Date Night Idea Jar Step 4: Affix Your Label and Decorate Your Jar
Once you've filled up your jar, twist the top of the jar back on.  Cut out the label that you printed and, using a little glue, affix it to your jar.  (You can also print the label onto a sticker if you're feeling fancy.)
Cover the top of your jar with fabric, like this cute rustic burlap, and tie twine around the fabric to hold it in place.
Now, all you have to do is surprise someone you love with lots and lots of ways to spend time together.  Whether this is for valentines day or a birthday, I hope you enjoy it!