With Valentines Day right around the corner, the time has come to hunt for some cute and stylish holiday decor. But what if you don't want your home dripping in hot pink?  If you're looking for Valentines Day decor with a more subtle vibe, going vintage is the way to go!  And what's better for farmhouse chic Valentines Day decor than a vintage kissing booth sign?  Want to learn more about how to grab this free kissing booth art print?  Keep on reading!
(This post contains affiliate links. I receive commission from purchases made from links on this page)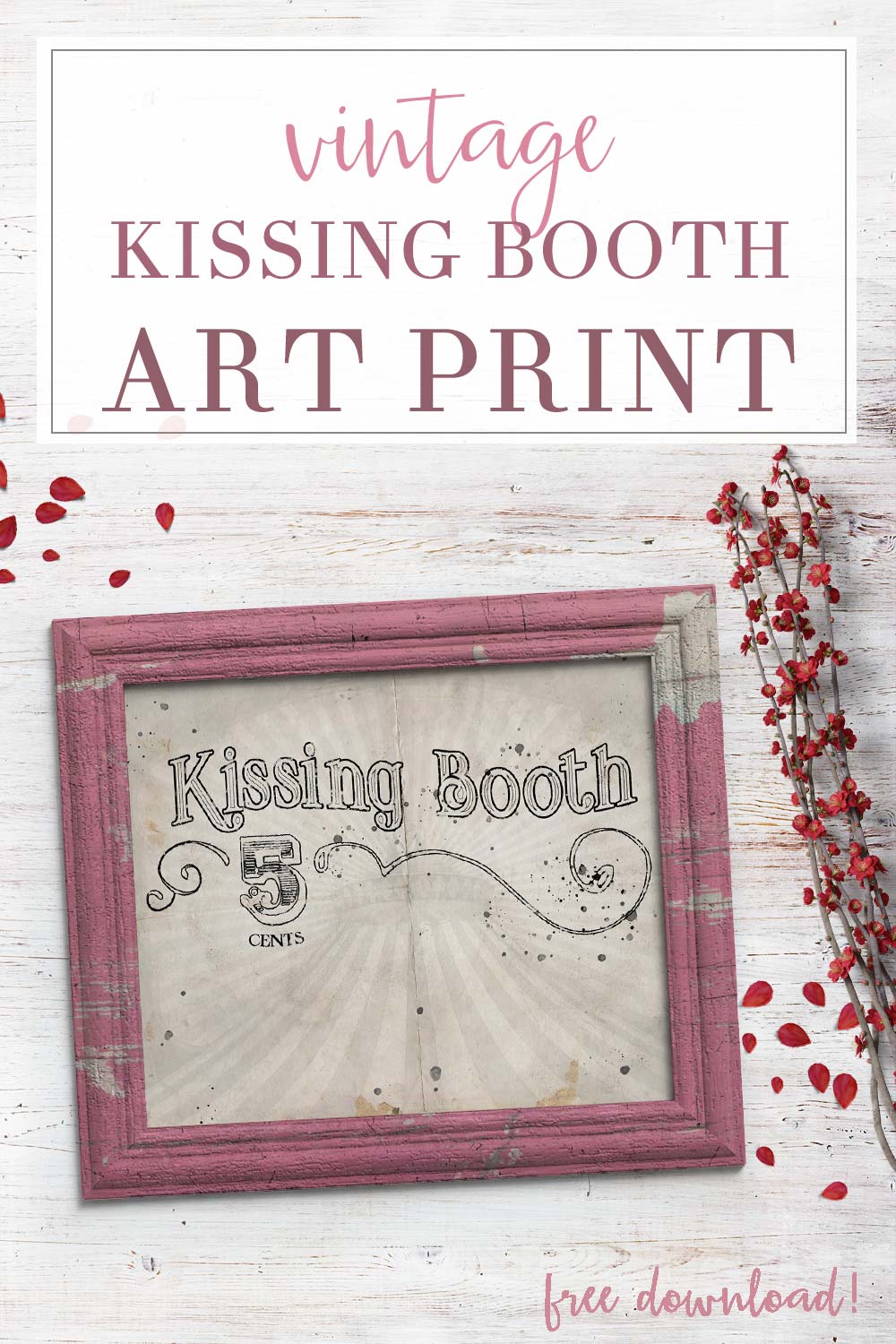 Hey Weathered Fox readers!  My name's Cynthia, and I'm the DIY loving mama behind the blog Home Beautifully.  Over at Home Beautifully, we're all about empowering busy women with easy DIY projects to create beautiful and organized homes.  Sounds good, right?  With all that in mind, pretty art prints are right up our ally.  (This chalkboard art printable Valentines Day card, for example?  So big on the blog right now!)  Yep, I love printable art!  And this vintage kissing booth print's no exception!
Vintage Kissing Booth Art Print
It's no secret that I'm a sucker for farmhouse style and vintage-inspired decor.  Um, any other Joanna Gaines fans here, too?  (Yep, we're all raising our hands.)  For Valentines Day, I knew I wanted to design a print for The Weathered Fox family that had a vintage vibe.
When I was ambling along The Weathered Fox's fall home tour, I immediately fell in love with the vintage crate turned on its side.  (So cute, right?!)  For some reason, that little wooden crate reminded me of a small version of a wooden booth you might see at a carnival.  Wooden booth… Carnival… "Oh my gosh, a vintage kissing booth art print for Valentines Day!  How great would that be?"
Funny where we find our inspiration, huh?

Printing and Hanging Your Kissing Booth Art Print
While the print has a minimal feel, definitely print it in color to get the worn look of the paper.  It's designed to be printed as an 8 by 10.  So you can easily print it at home if you have a color printer and trim it down accordingly.  Or, send it off to your office supply store or pharmacy to print it for you, either on paper or as a photo.  Paper will look more matte while printing it as a photo will look glossier.
All those scratches, folds, and ink stains?  Those are actually designed into the art print!
To frame your print, pop it into a well-loved frame.  In our home, we have these cute barn wood frames we found on Amazon.  I'll include them below with affiliate links.
This printable is available for free to email subscribers. If you'd like to download this printable, simply click on the sign up image below and subscribe. your free download will be sent to your email address! As always, these printables are available for personal use only. They are not permitted to be copied, reproduced, sold, and are not permitted for any commercial use.

Thanks so much for checking out this vintage-inspired kissing booth art print!  I hope you love it as much as I do.  Pop a comment below with ideas for other seasonal prints you may have.  And let us know how you style it in your home!

If you're all about easy DIY projects to create beautiful, organized homes, be sure to check out other posts I've contributed to The Weathered Fox.  This gorgeous DIY date night jar is an easy, affordable project you might love!  And hop over to Home Beautifully to check out other projects there as well, like these three down below.