Hi guys! I'm Kala, blogger at My Breezy Room, and I'm excited to share this modern farmhouse patio inspiration with you today! It's not too late yet to make your outdoor spaces an extension of your home for the summer. Our family spends so much time outside when the weather's nice that our patio was a space I couldn't ignore any longer. I wanted it to be a functional space for gathering with friends and a cozy space to read a book in the evenings.
(This post contains affiliate links. This means I get commissions for purchases made through links in this post.)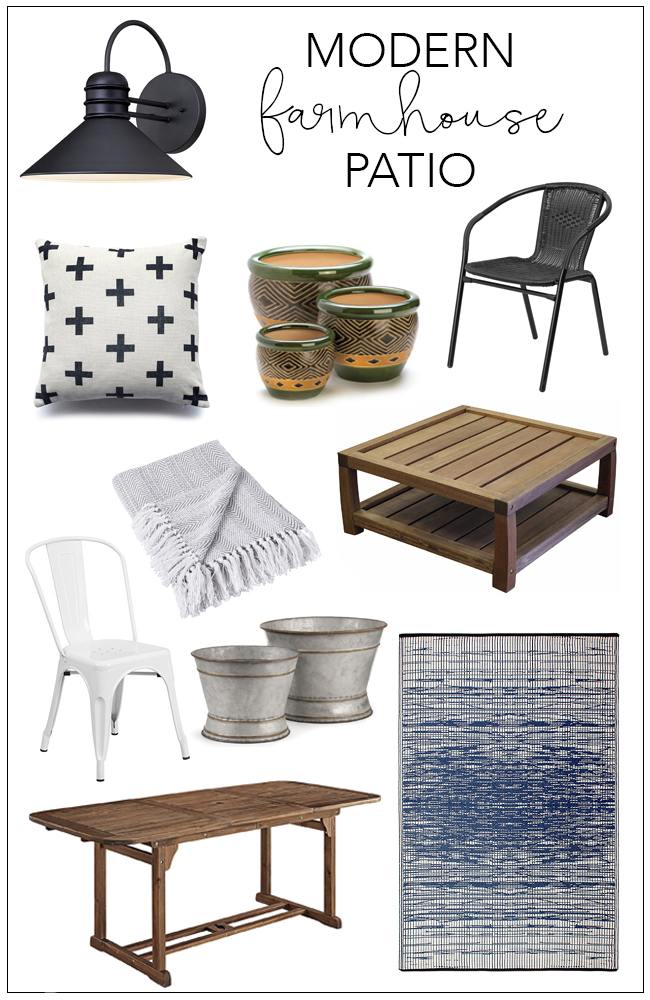 I have an obsession with modern minimalism and the black and white look. The straight lines, the patterns and the textures of modern styles…it's all soooo good. I love it even more when you pair it with classic farmhouse touches to bring some warmth back into the look. So here are 10 adorable (and affordable – everything is straight off Amazon!) items to I've picked out to help you bring your modern farmhouse patio to life!
10 Items to Create a Modern Farmhouse Patio
This particular look is completely interchangeable. You can put either style of chair with the farm table or the coffee table. The rug can go under either arrangement. And the galvanized buckets and planter set can be moved from table to table depending on the occasion. I really love the idea of the galvanized buckets as a center piece. You can fill them with flowers or some type of decor, or you can use them for ice and drinks when you're hanging out outside. I also happen to be a crazy plant lady, so planters are always a must. (If you're just getting into plants or want to, check out my article about houseplants for beginners.)
Outdoor pillows and throws help add texture and pattern and bring everything together esthetically. They also make your outdoor space as comfortable to spend time in as your living room.
And that light fixture? It's perfection! You know one of the easiest but most overlooked ways to make a big impact is to change out lighting. That works inside your home and out!
I hope you enjoyed this modern farmhouse patio shopping guide and love this look as much as I do. I want to encourage you to take some chances with your home. Incorporate some other styles you admire if you aren't already doing that! Your home will be more interesting and feel more like "you" and that's the whole point!
If you liked this post, I'd love for you to check out some of my other posts, like the best paint brush for chalk paint, this houseplants for beginners guide, and how to style open shelving.