Hi friends!! I have a super fun and easy project for you today to spruce up your outdoor space! A DIY hanging plant stand!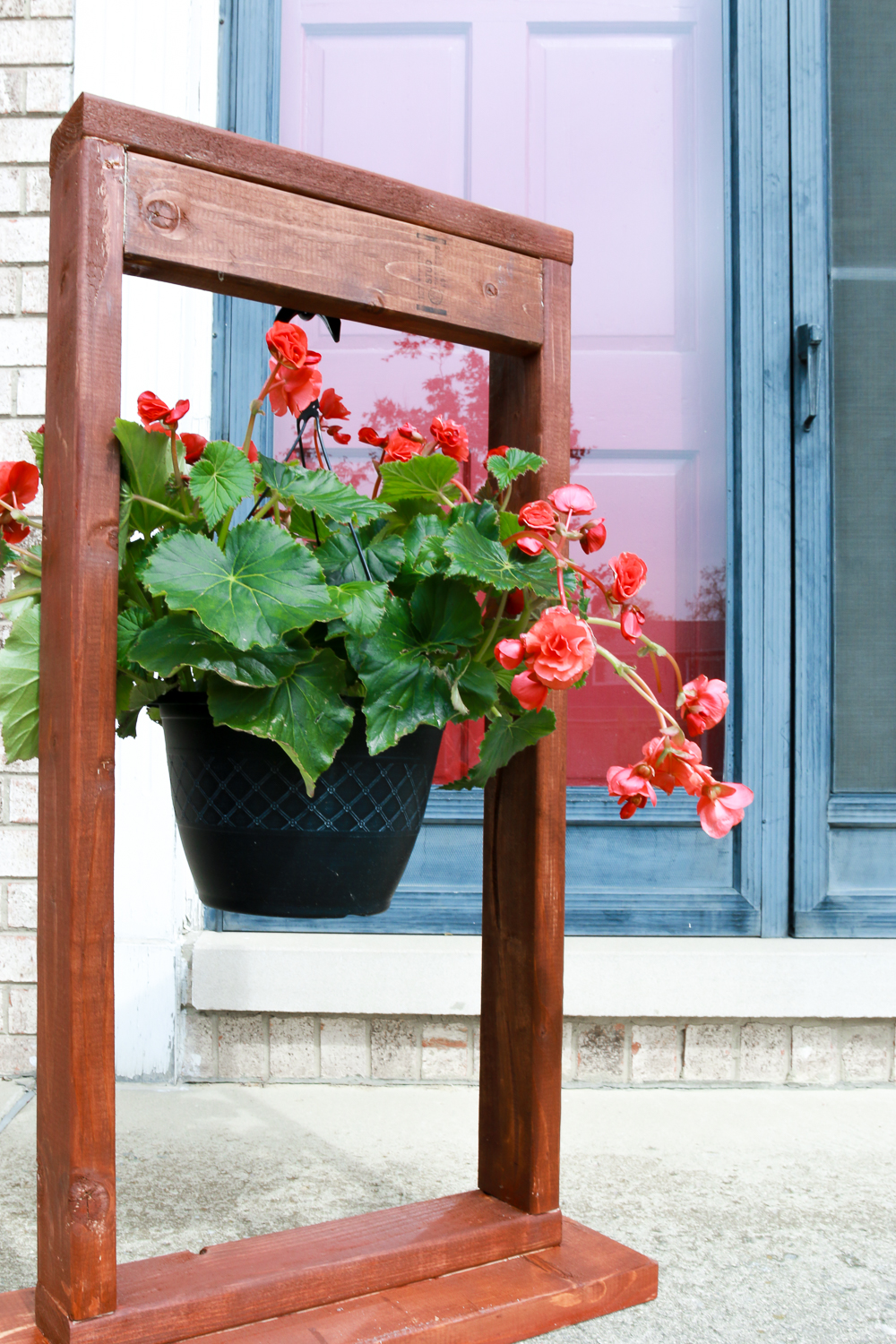 It's part of the Power Tool Challenge that I am participating in this month. The Power Tool Challenge is a series made up of a ton of DIY bloggers & they get together once a month to bring you a themed project. This month I was invited by the Power Tool Challenge host, Wendi from h20bungalow.com. We met at a conference recently and had such a blast together. I always love meeting new friends, and I'm super excited to be a part of this awesome group of bloggers. This month we focused on outdoor projects, so I made a hanging plant stand.
I have to be honest, this power tool challenge comes at a pretty challenging time for me. We are basically living out of boxes since selling our house, and I honestly have no clue where half of my tools are. I didn't even use a drill for this project because I couldn't find any! But sometimes you have to improvise to get a project done, and construction glue was my saving grace.
DIY Hanging Plant Stand Materials List
For this project you will need:
(2) 2x4x6
(1) 2×8 – need about 2 feet
(1) hook
screws or construction adhesive or both
saw, optional if you can get your local hardware store to cut for you
paint or stain, also optional
hanging plant basket
Hanging Plant Stand Cut List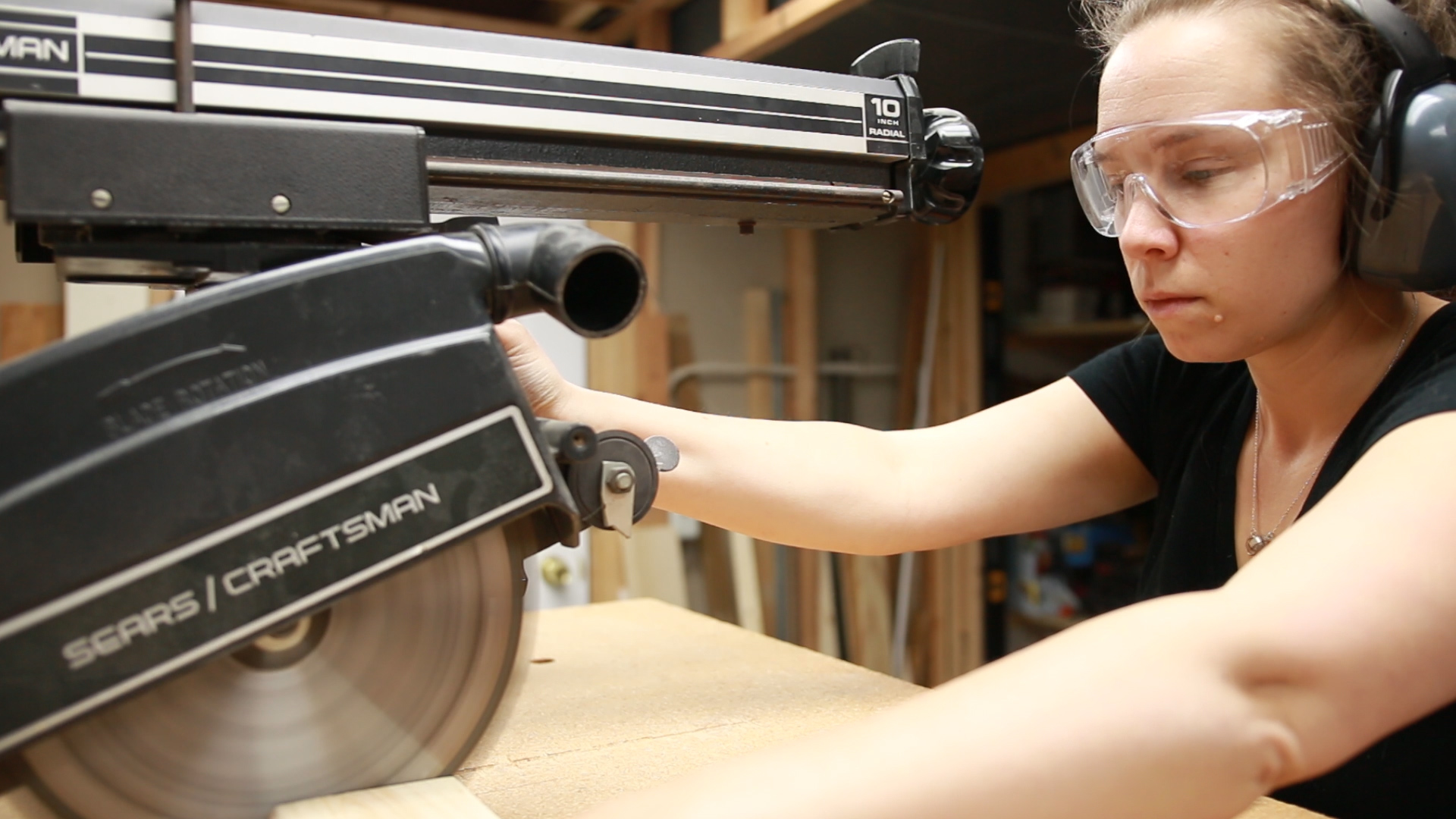 I cut these at home, thankfully my father in law had a saw I was able to use. But if you are not able or are not quite comfortable making cuts yourself, Home Depot or Lowes are usually willing to make the cuts for you at the store. You'll just need to tell them the cuts, and be aware they may be slightly off depending on who is using the machine. Feel free to adjust these cuts to fit your needs.
(2) 2×4 cut to 36in
(2) 2×4 cut to 19.5
1 2×4 cut to 16.5
1 2×8 cut to 24
How to Make A Hanging Plant Stand
Step 1: Assemble your frame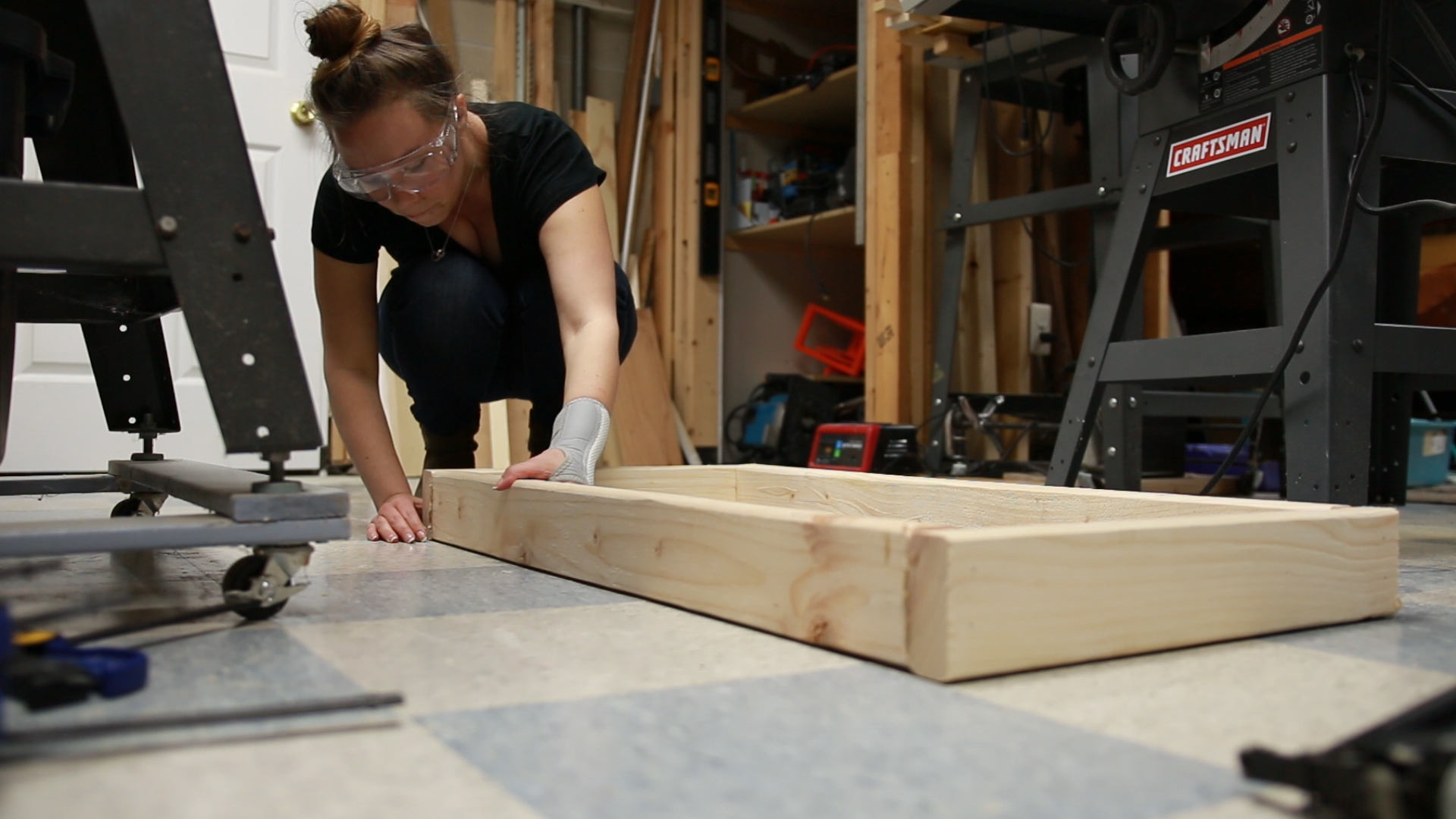 Probably the easiest way to assemble your boards is to use a square to be sure all of the sides are…square. I, unfortunately could not find a square, so I used a square-like piece of plywood and hoped for the best. Not the best way to do things, I know. But lucky for us, this doesn't have to be perfect. We're not building cabinets here! So, I squared all the sides the best I could and crossed my fingers that it would be OK.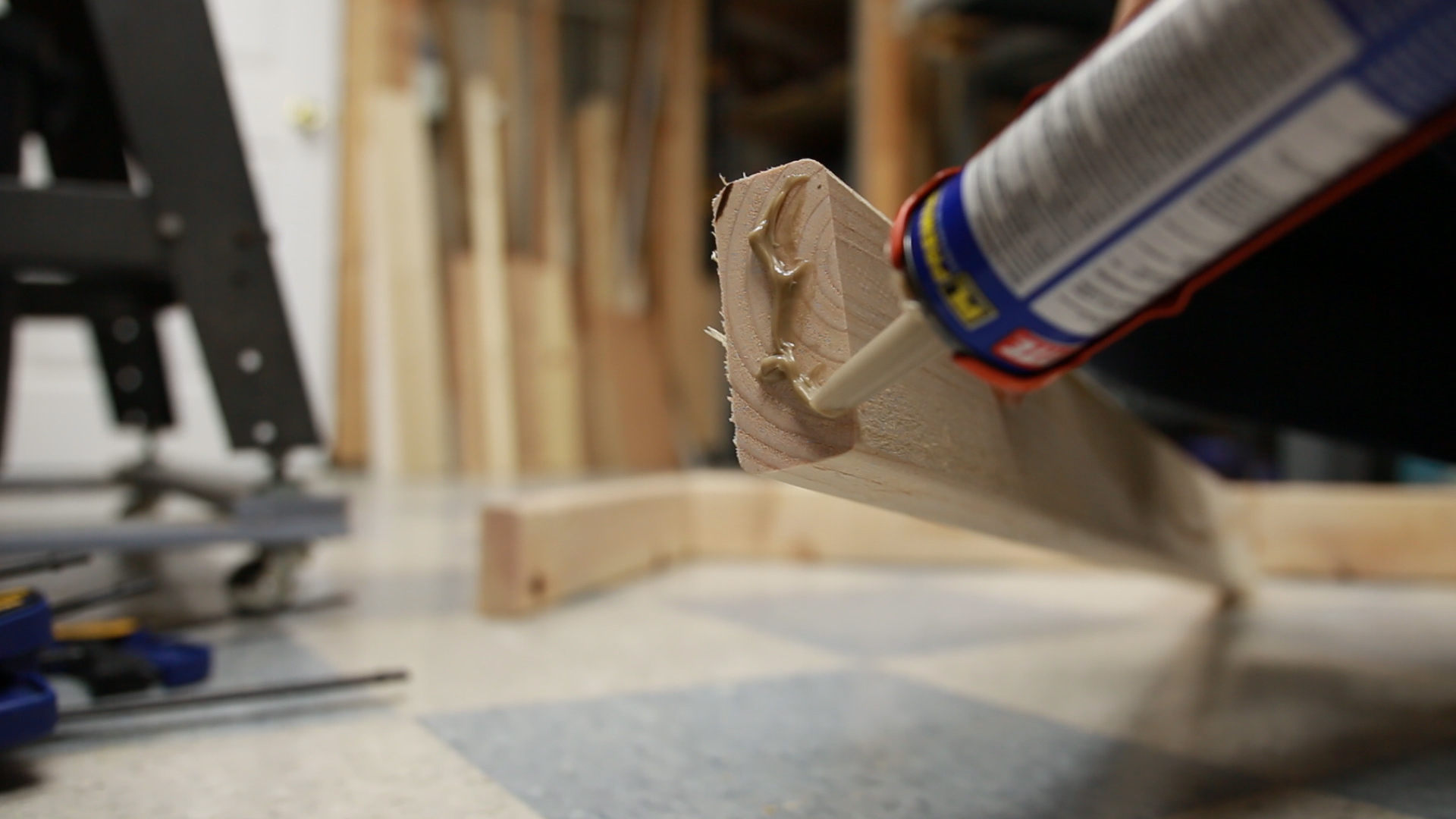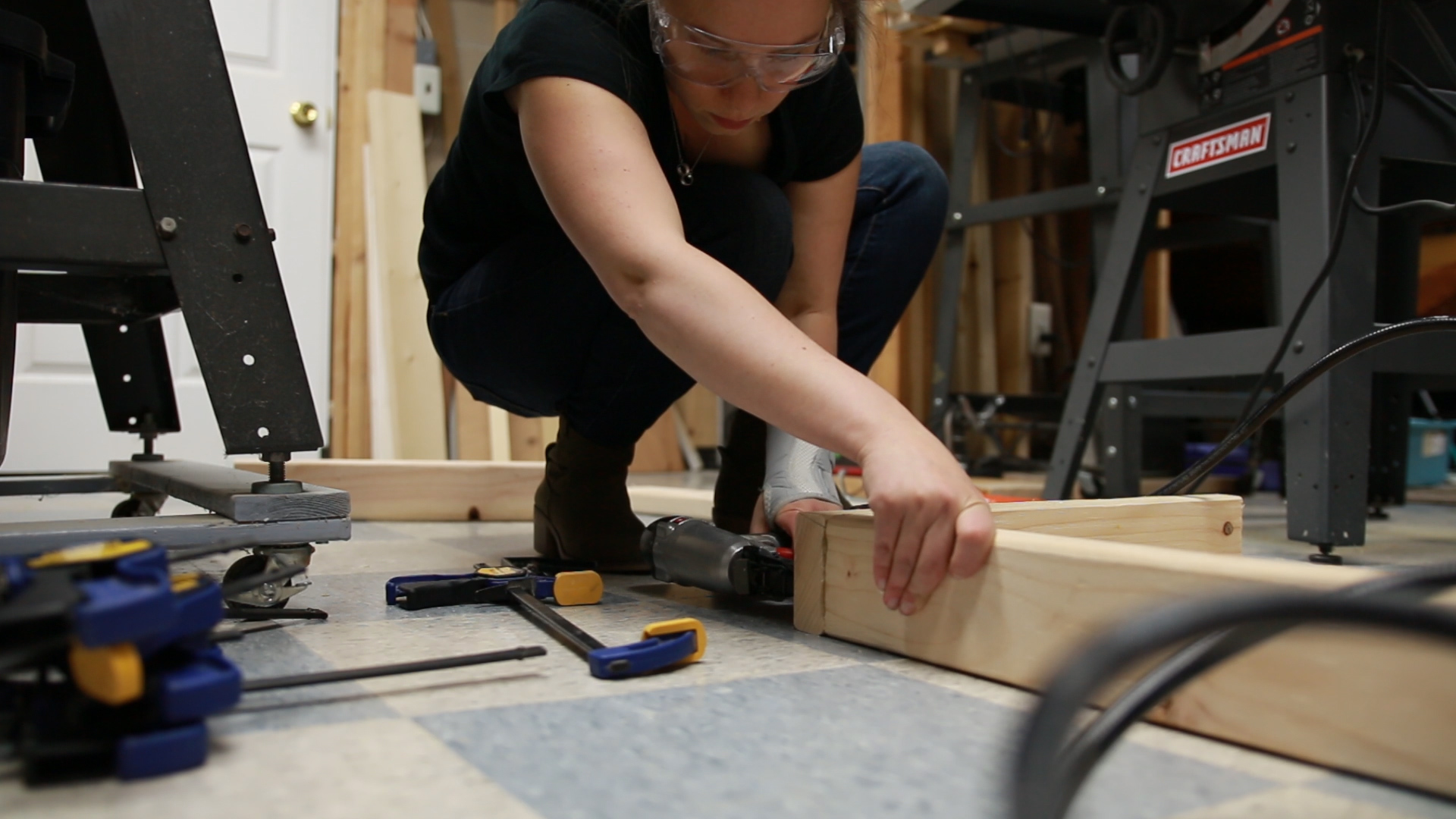 Like I said, I didn't have a drill, so I glued everything together. I was able to use my nail gun to keep the glued sides nice and tight, but clamps or something else would work too. Just don't move it for 24 hours!
Step 2: Attach the bottom.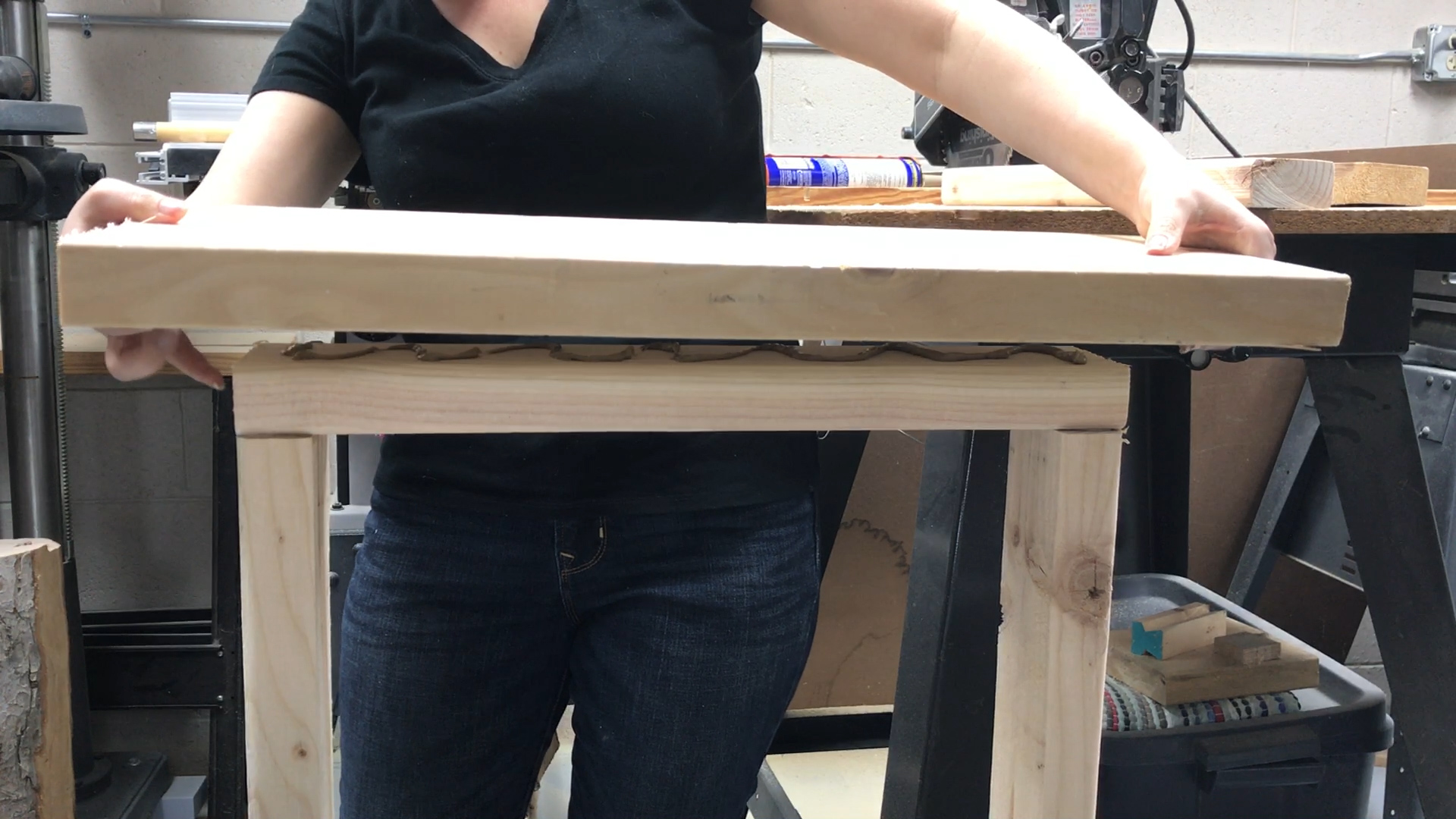 Because I didn't have screws, I had to spread this out into multiple days. If you have screws, you can add the bottom right away. I needed to wait until my glue completely dried before lifting the frame. Once the frame was dry, I added some glue to the bottom piece, centered it, and let it dry for another 24 hours.
Step 3: Stain/Paint Center Piece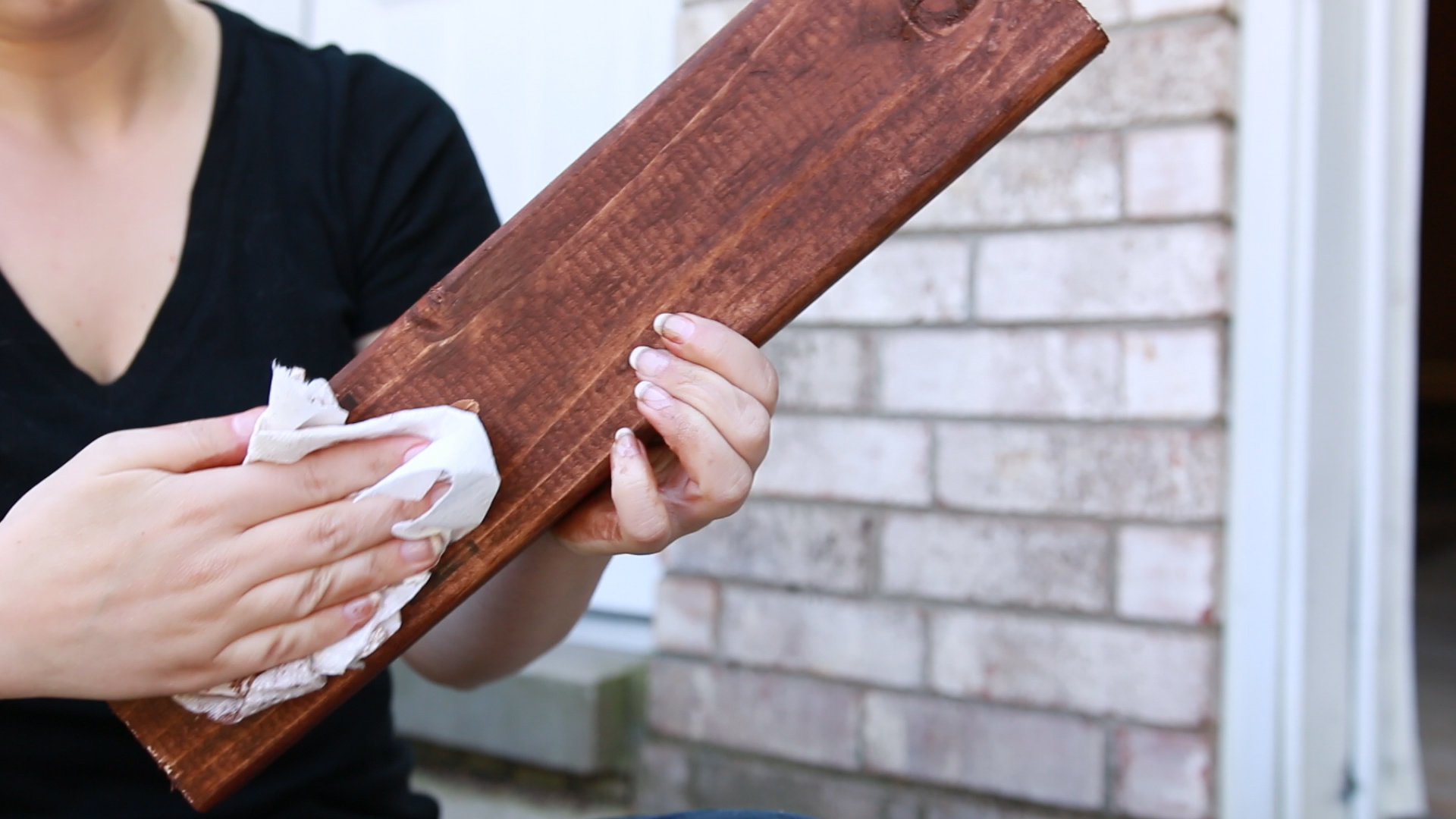 While the bottom was drying, I stained the center piece. This would be a good time to add any personalization to the piece too. I was planning to add a 'welcome' text to it with my Cricut, but…it's packed in a box somewhere. I know, it's super depressing. Once your frame is dry and sturdy, you can go ahead and stain that too.
also, maybe use gloves.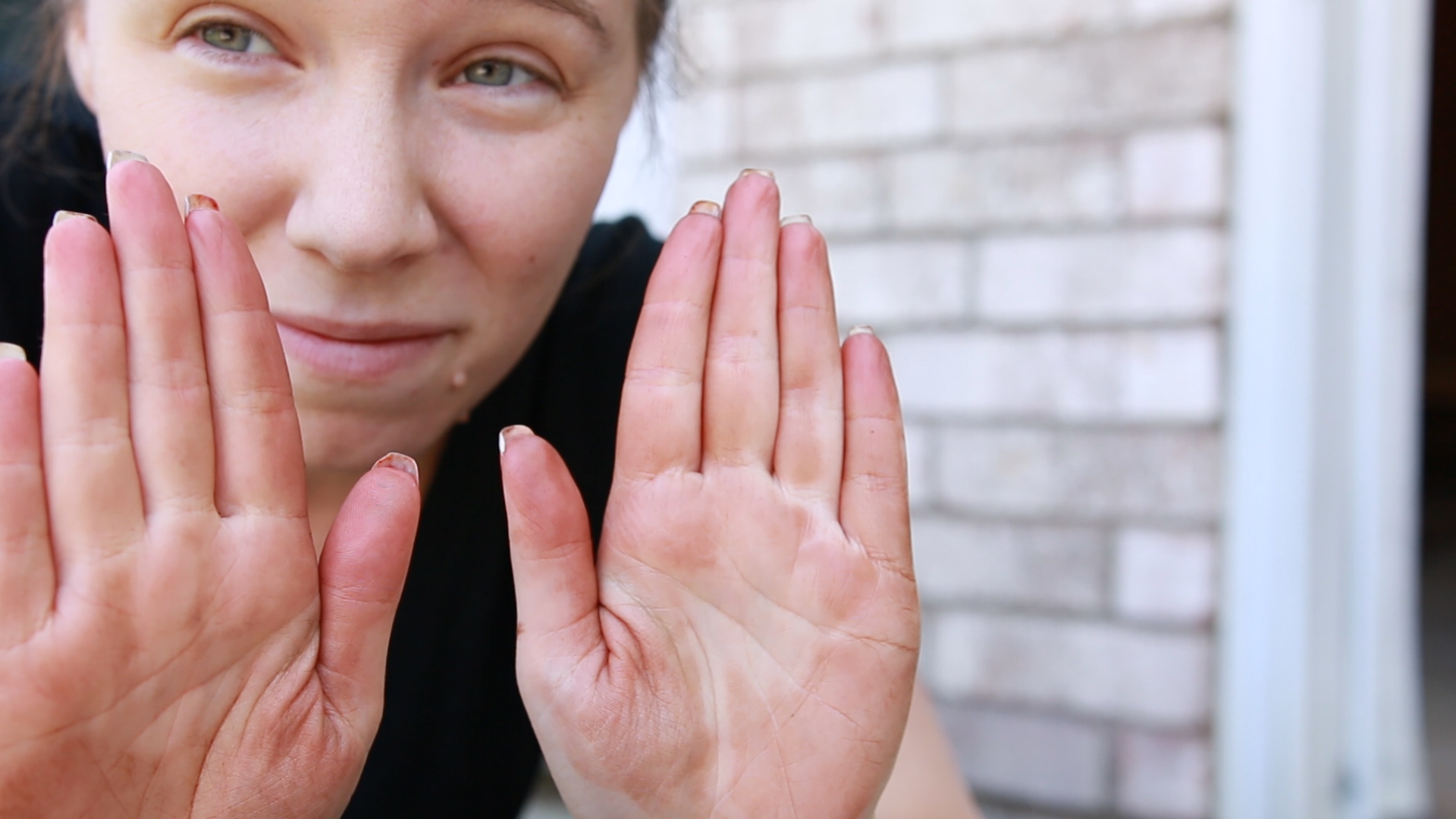 Step 4: Attach hook
On the back of the center piece you'll attach a hook. You can glue it or screw it into place.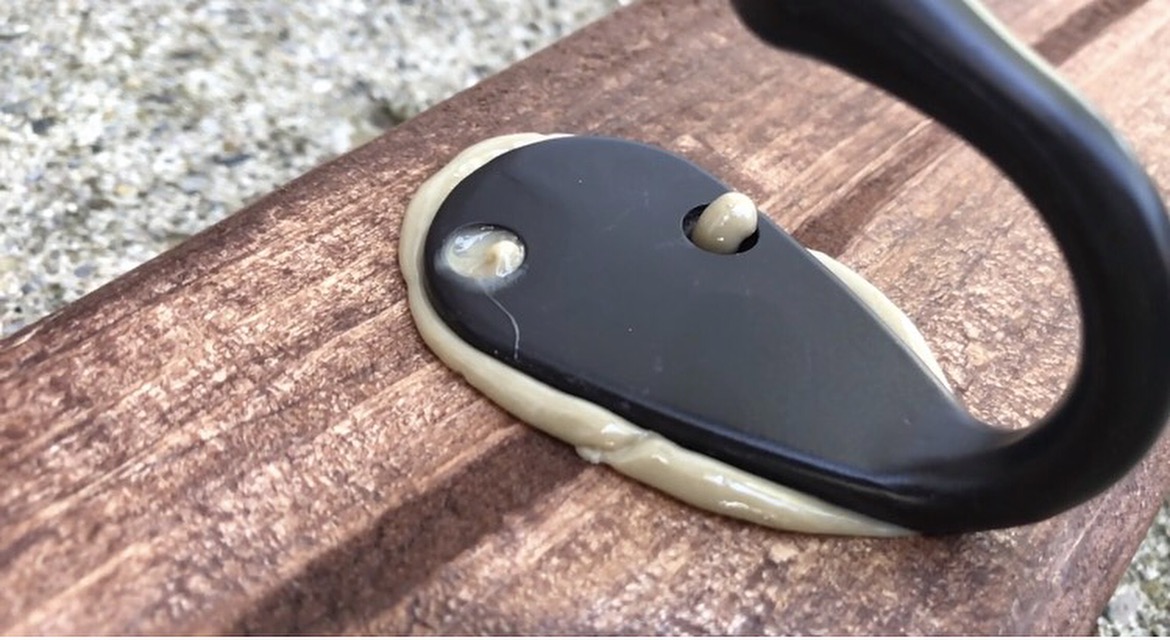 Step 6: Attach center piece to frame
I once again used glue and a nail gun to keep everything together while it dried. If you're using glue, remember you'll have to wait 24 hours to dry.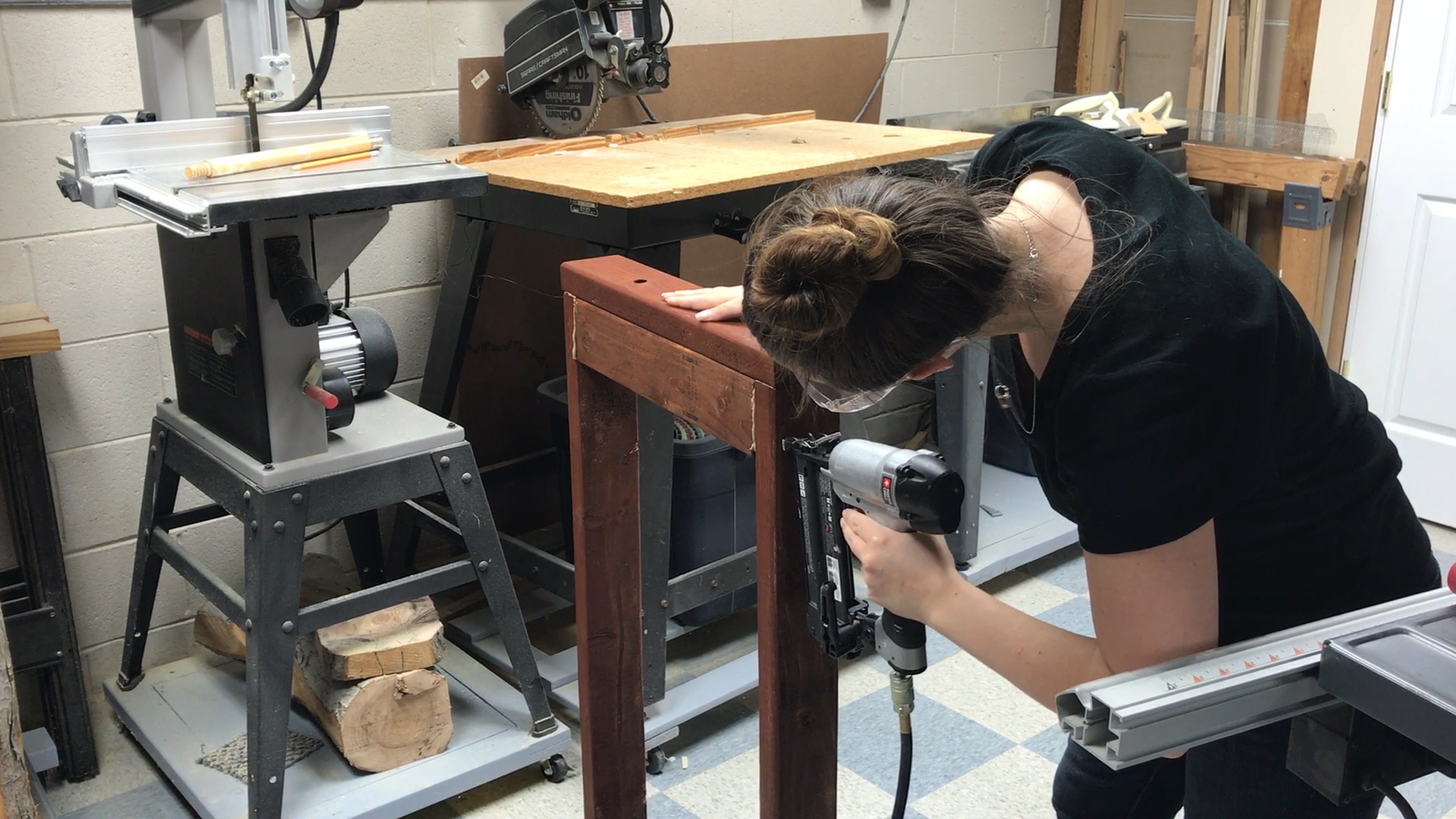 Step 7: Finish With Poly
Since this plant stand is going to live outside, we need to make sure it's properly protected. Add two to three coats of an outdoor polyurethane and your plant stand will look great for years to come!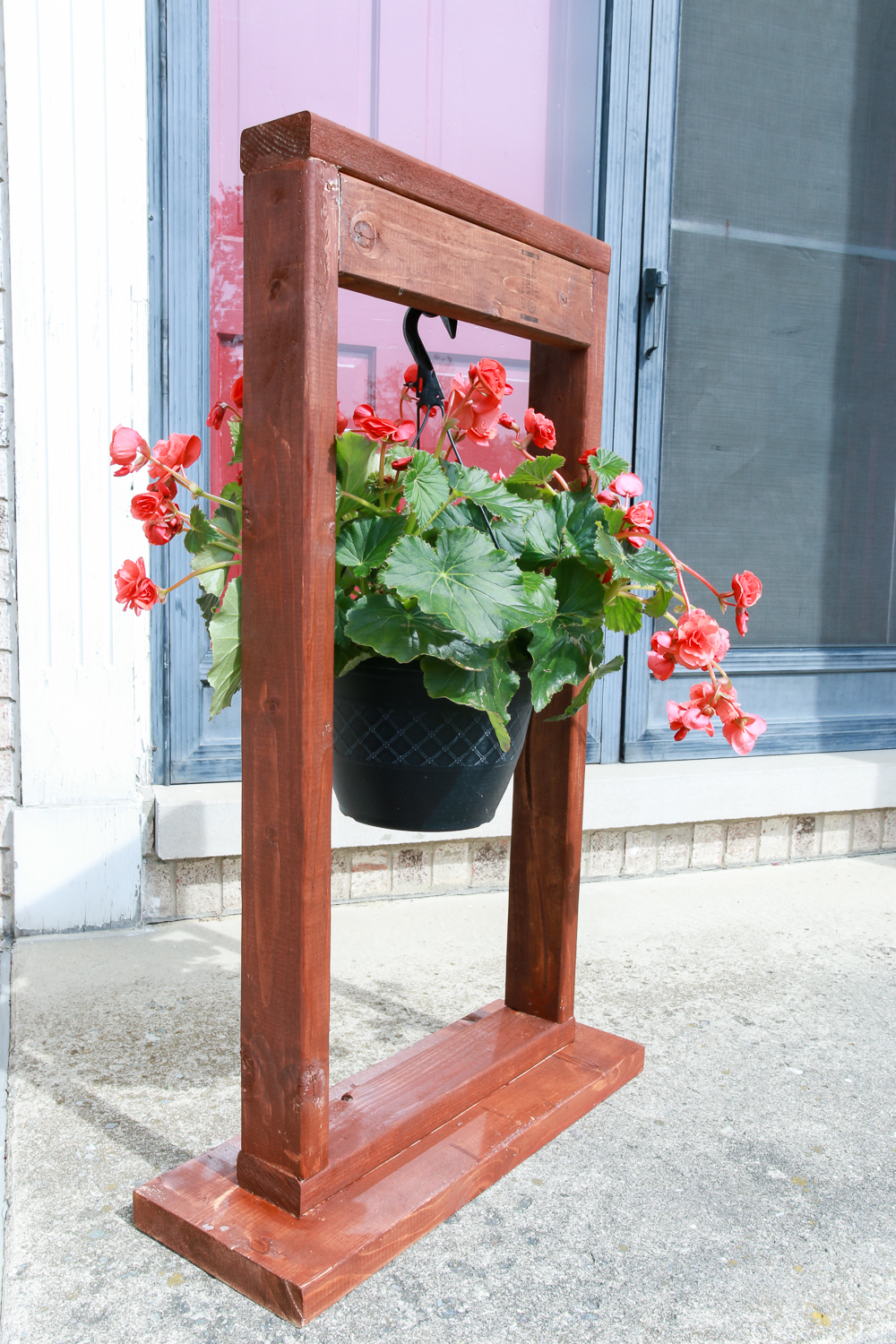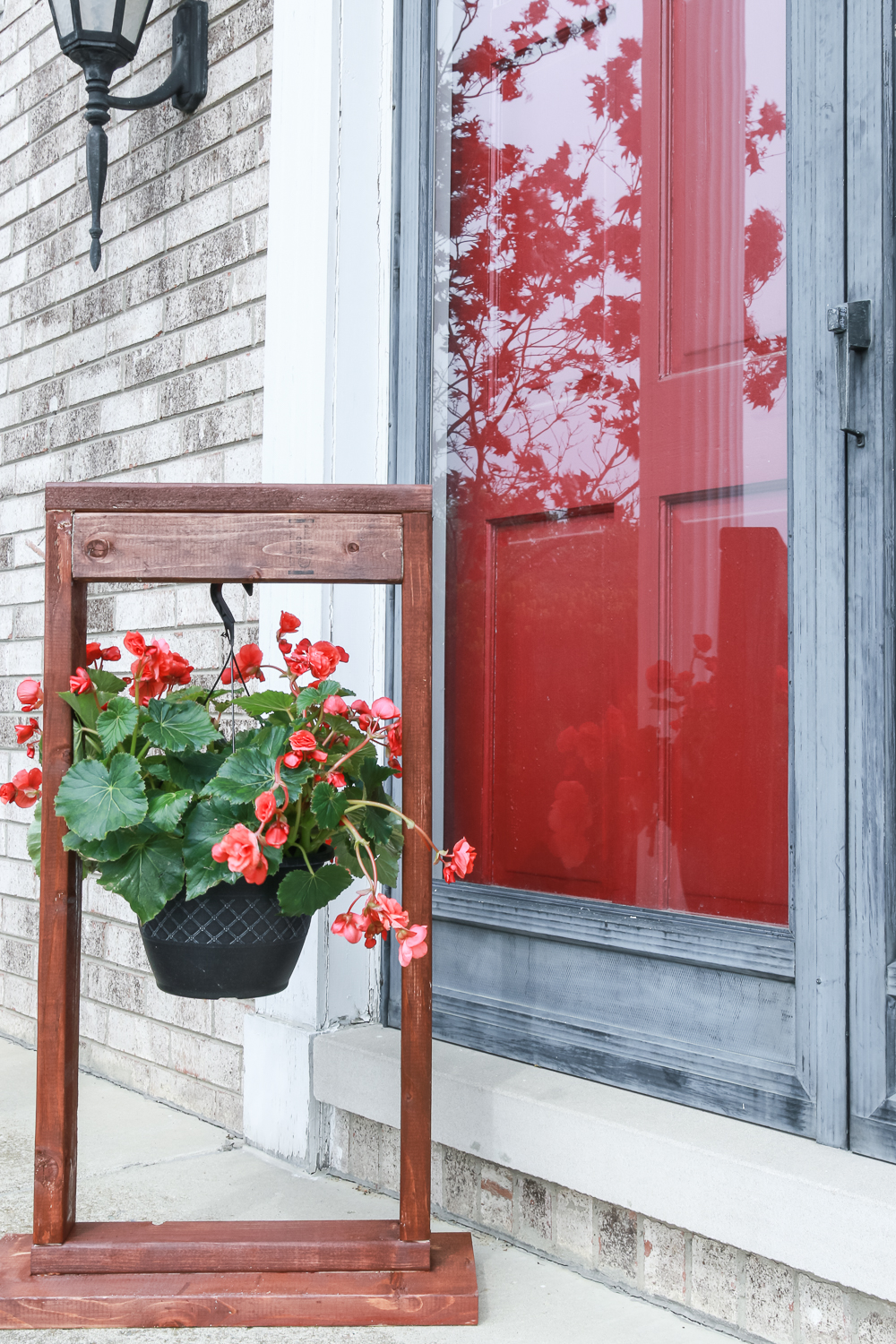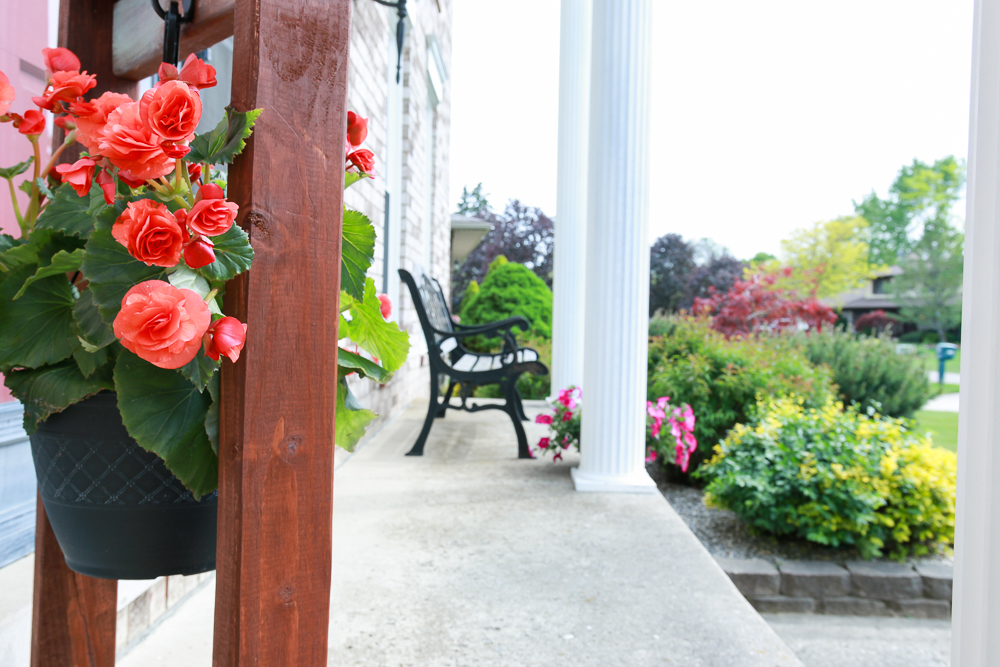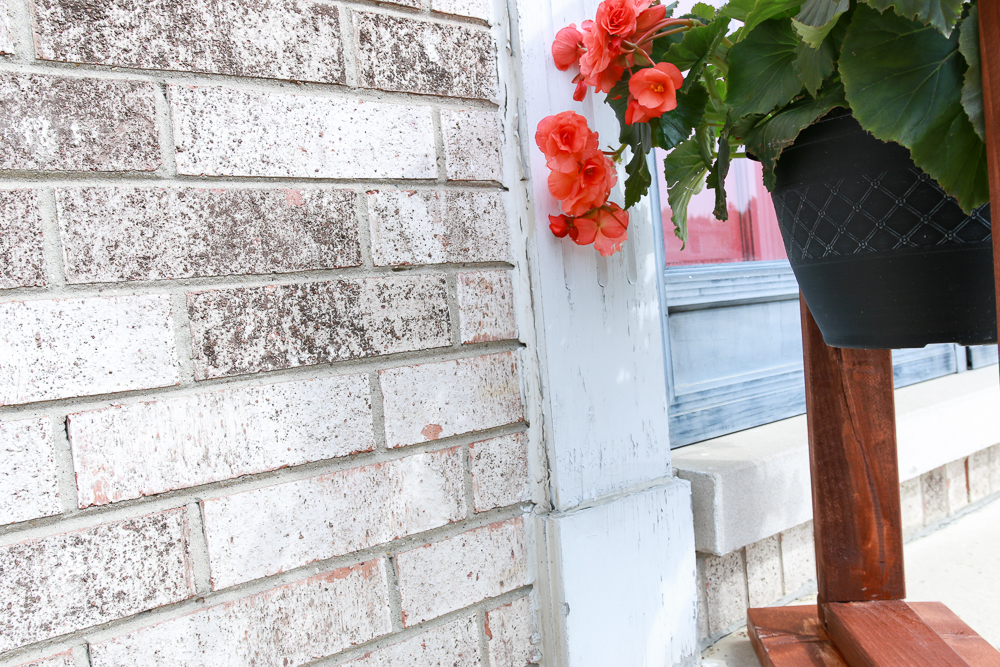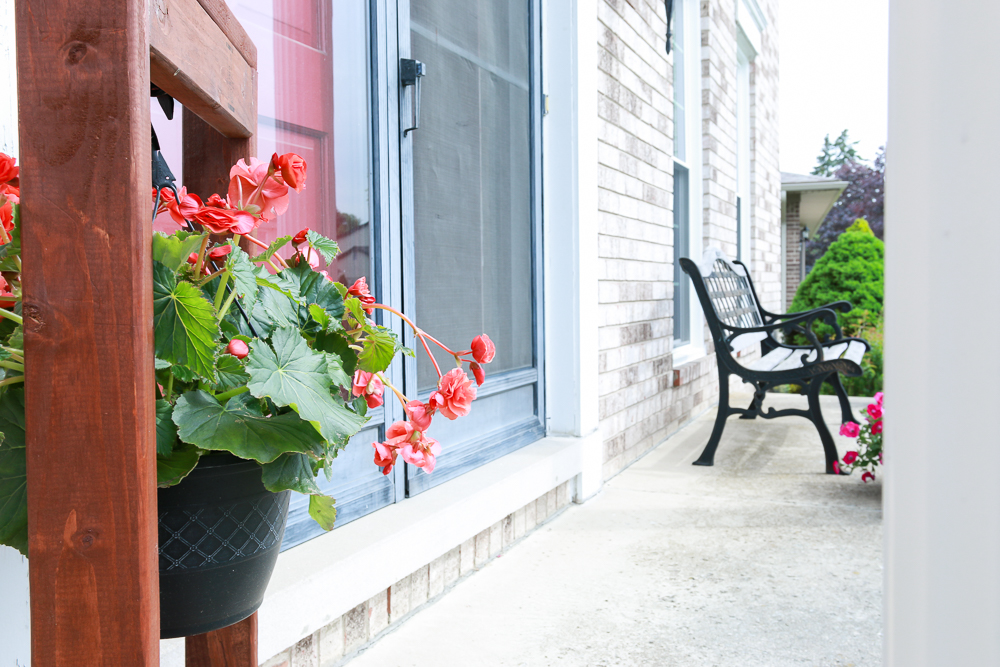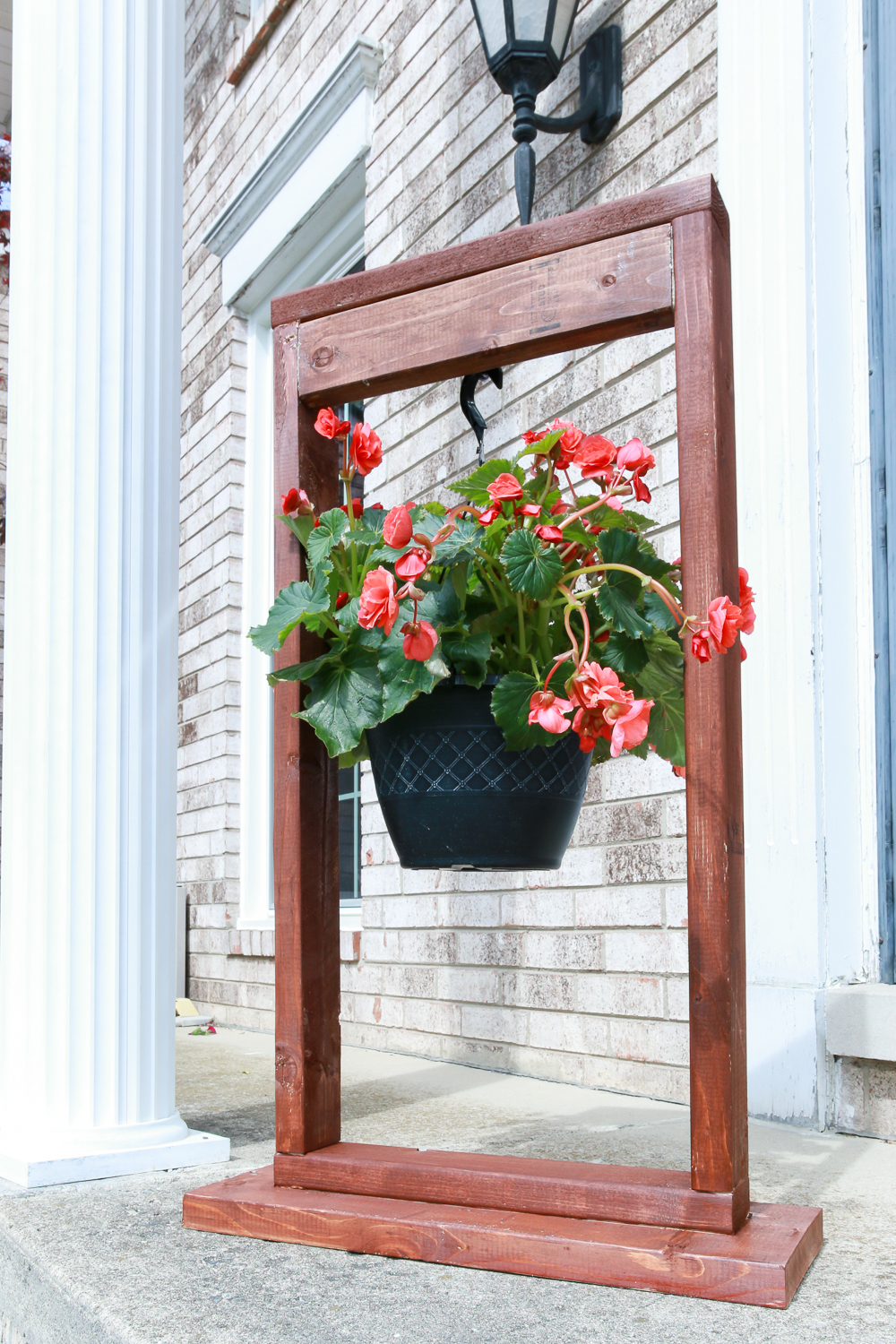 I'm really digging the rustic touch of the rough wood and the black stamps showing through. But, I actually gave this to Brian's mom for Mother's Day and am giving her the choice for final customization. She may want it painted, and I think she wants the front to say 'Welcome'. So there will be an update in the future some time!
---
Be sure to stop by everyone else's projects! I love that fold down outdoor bar, may have to add that to my to do list!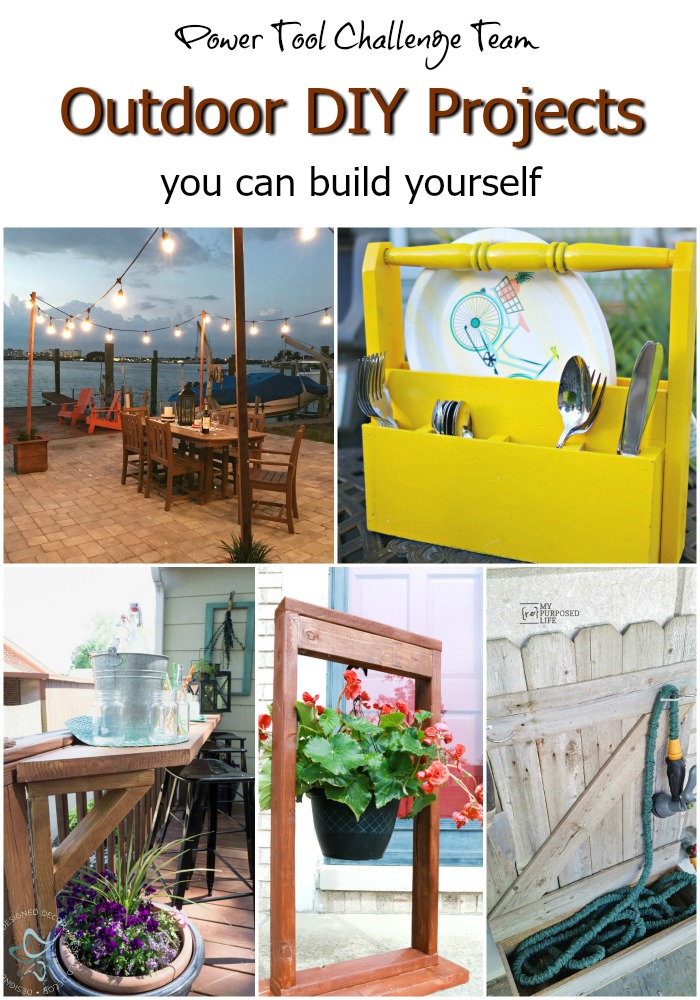 H2OBungalow – Outdoor String Lights on Poles
Create and Babble – Picnic Caddy
Designed Decor – Flip up Deck Bar
The Weathered Fox – DIY Hanging Plant Stand
My Repurposed Life – Patio Garden Hose Organizer