Hi! I'm Kala, blogger at My Breezy Room. You might know me from my posts about modern farmhouse patio inspiration and this DIY geometric planter design. Today I wanted to share some ideas for how to add pineapples to your home decor. The trend is in full swing, but you might still be wondering how you can incorporate it into your own home.
(This post contains affiliate links. This means I get commissions for purchases made through links in this post.)
They say the pineapple is supposed to be a symbol of welcome. It makes sense to me, because it adds fun personality to a home, can be dressed up or down and has just the right amount of funkiness to make people feel at home. Lucky for all of us, there are some really creative people out there who have come up with tons of awesome pineapple ideas.
You can start by adding pineapples to your walls.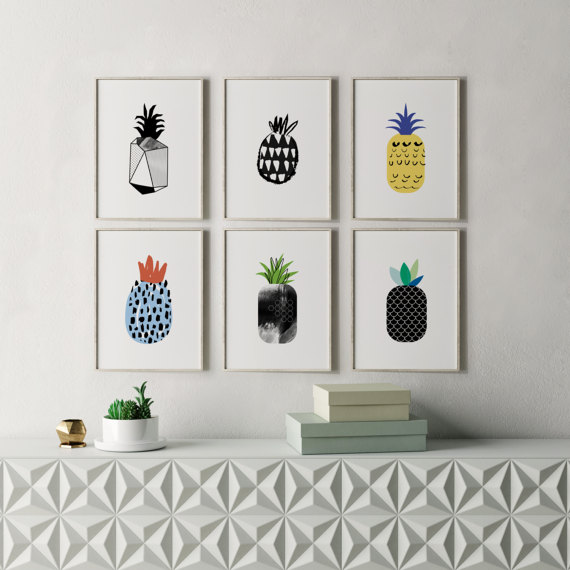 These geometric pineapples from Printables by Oak House Designs are amazing! I love how different they are from your typical pineapple pictures. But I also love the traditional pineapples pictures. Down below I've found some great prints that are ready to add tons of personality to your spaces. That pink one is simple with a punch of color, the blue ones are neutral, and I always love black and white.
If you're really feeling gutsy, you could even go for some removable wallpaper or decals. Wallpaper is back in, and makes it so fun to mix patterns together. Any of these would be perfect for a small space, a closet or a nook!
A super easy way to ease into the trend is with pillows. Add them to a neutral chair, sofa or bed to spice it up a bit!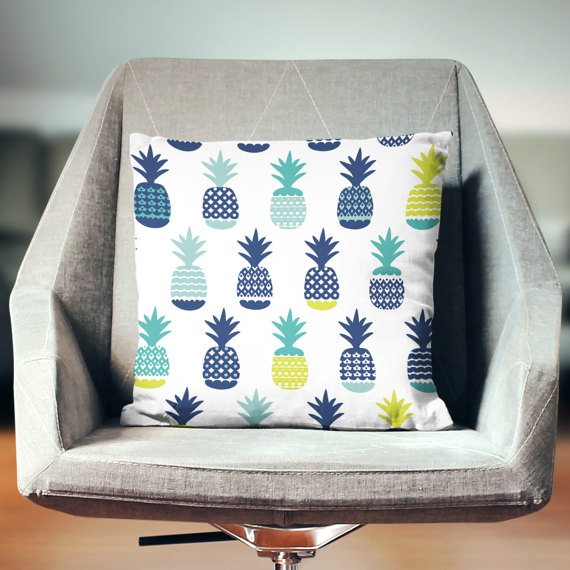 I love the colors in this blue and green pineapple pillow. That would certainly brighten up your space!
The "Good Vibes Only" pillow just gives me good vibes…and who knew pineapples could be so neutral? You can really pair them with almost anything! Want classic?? Go with this one. Want a little more color? Go with this one. And the blue background in these is really appealing. Or you can be a little more glam and stick with a white and gold pillow.
Click on the images to be taken to the products (affiliate links).
I definitely couldn't leave out planters, and just like I hoped, I found some really good ones!
How seriously adorable are these?! Do we all need a bunch of plants around our house to look like pineapples? Yes, yes we do. This classic pineapple shape is so good. Sign me up for anything geometric like this one. If you'd prefer something a little more neutral, this plaster planter is awesome and it was made from the shape of an actual pineapple!
If air plants are your jam, because hello – they live on air, these are awesome. And I even found some that were magnets. I can't even handle how cute this set of magnet air planters is. And then this set takes it to the next level as geometric wooden pineapple magnet air planters.
Another fun way to bring a pineapple into your home (or outside it) is to literally welcome your guests with the symbol of welcome. It's also nice because you don't have to worry about coordinating it much with other styles you may have going on inside your home (although obviously I think you can totally do it!)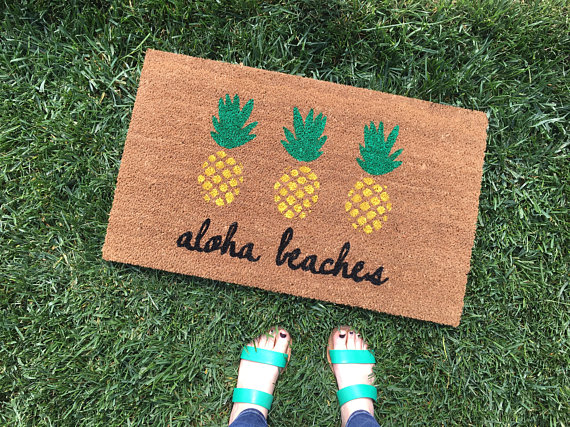 I don't know how you feel about a little snark on your front steps, but this "Aloha beaches" doormat is cracking me up!
Apparently pineapples lend themselves pretty well to doormats. You can go with a cursive font, more of a whimsical font, or even a bright pink doormat. Either way, your guests will know they're going to have fun when they come to visit.
Another great place for pineapples – a kid's room!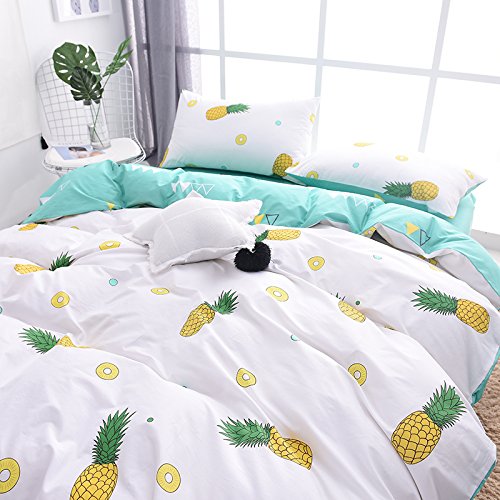 This comforter is so cute. And there's plenty of pineapple themed stuff for nurseries like these crib sheets and this changing cover. And can't you just picture some of that wallpaper in a kid's room or nursery?
If you need more pineapples in your kitchen – besides the ones you're eating – the options are endless here too.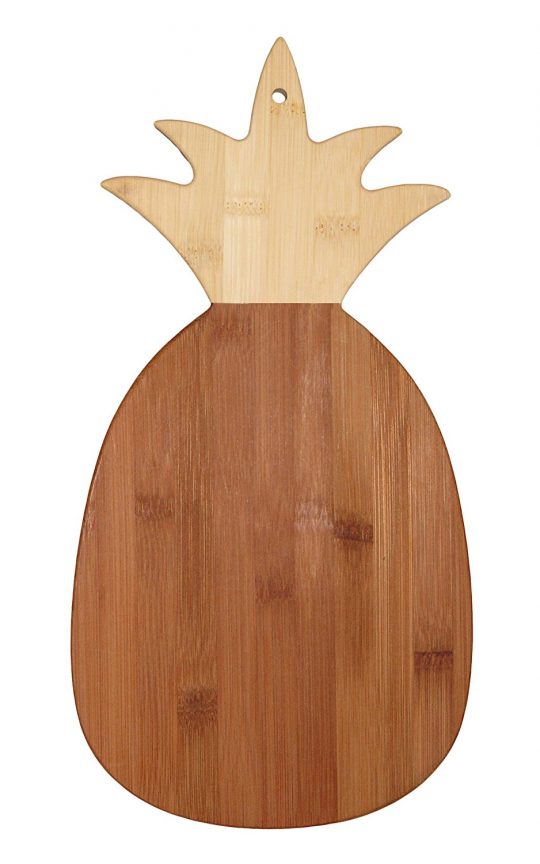 I LOVE this pineapple cutting board…it's neutral but funky. Tea towels are a fun way to switch things in and out of your kitchen depending on the occasion. Use this white and gold one for more formal occasions and this pink one when you're feeling wild. And you can leave these awesome pineapple glasses out all the time!
The last few things I rounded up here are a little random, but I couldn't pass them up!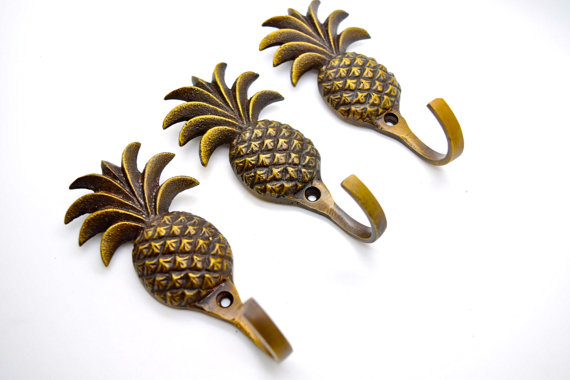 These coat hooks seriously might have to be mine in the near near future. And yours too probably. You can never go wrong with a classic white pineapple. Put it on your mantle, use it as a centerpiece or style it on a dresser. If there's any place in your home meant for bright colors and pineapples, it your office. More specifically this desk mat in your office. And if all else fails you can always just wear a pineapple on your shirt!
I had so much fun finding all these fun pineapple home decor items! I hope I succeeded in convincing you that this trend is worth trying out and helped you come up with new ideas of how to add pineapples to your home decor. I'm not sure if you noticed, but most of these things are from Etsy (a few are from Amazon). I really am always so amazed by what creative people come up with, and I love shopping off Etsy and supporting small business owners.
I would love to hear what you think of the pineapple trend and if you've already tried decorating with them? Let me know in the comments!



If you liked this post, you probably love cacti too! Check out this DIY cactus doormat and these 14 cactus must-haves. If you want to learn more about keeping plants alive, check out my houseplants for beginners guide or make your next favorite planter with this DIY geometric planter design. Or you can redesign your patio with this modern farmhouse patio shopping guide!