Hi friends!! I'm getting ready for some nice outdoor weather! Aren't you?? As a result, I've been dreaming of drinking coffee on the patio, having picnics with friends, and bonfires at night. Because Summer is my favorite time of year, I really want to be ready for it! We live in Michigan, and while the weather is gorgeous this time of year, holy cow the amount of mosquitos that come out at night is enough to make you not want to go outside! Which is sad because  it seems like there's only a short couple of months that we can actually enjoy the outdoors without worrying about snow or rain!
(This post contains affiliate links. This means I get commissions for purchases made through links in this post.)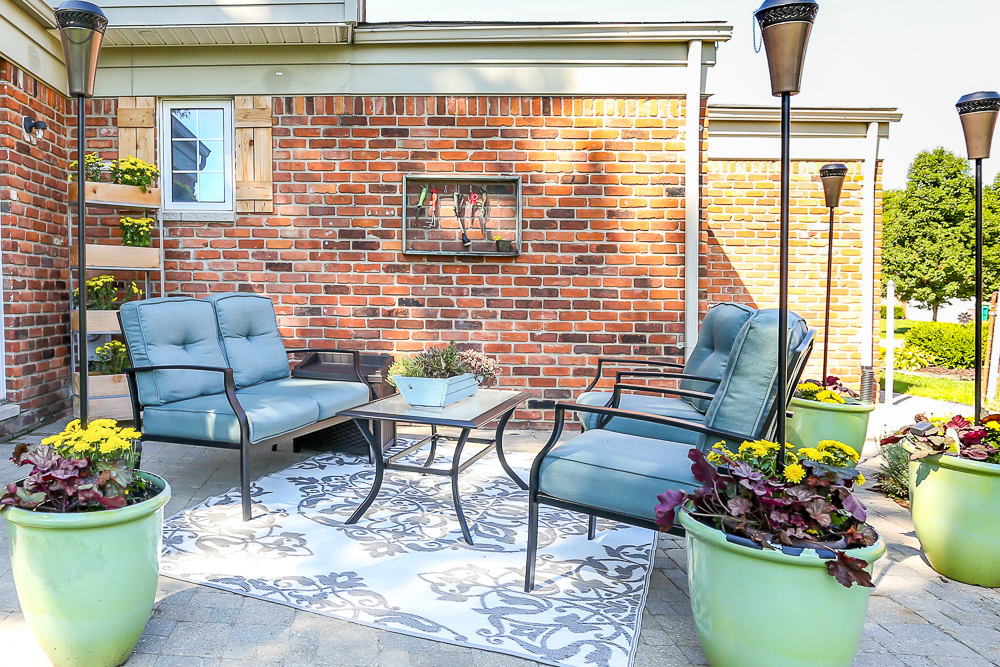 As a result, we typically tend to forgo the outdoors and sit inside. But not this year! This year I wanted to make sure that we would be able to sit out on our patio at night while keeping those pesky mosquitos at bay, so I made some DIY Tiki Torch Planters! They were so super simple to make. Each Tiki Torch planter only took me a few minutes to put together, and we'll be able to enjoy them year after year.

I got this idea after seeing this amazing patio space from Yvonne's home. It just gives such a cozy feeling to the space to have these planters anchoring the area, sort of creating it's own little room without walls. I love the cascading flowers, and the warm light against the night sky. It makes me feel all warm and cozy inside.
8 ways to perk up your patio this spring
Now, I don't have a patio nearly the size of Yvonne's, but I still wanted to have that same feeling when I'm entertaining guests. So I made my own Tiki torch planters! And, all things considered, it was one of the easiest outdoor projects I've ever done!
How to Make a Tiki Torch Planter
The materials list will make one Tiki Torch Planter. Feel free to multiply materials for as many planters as you want.
Materials:
Large Patio Planter – I got mine from my local hardware store.
1 hanging flower pot filled with flowers
Steps:
1) Before you begin, be sure that your patio planter has holes for water drainage. Then,  grab your bag of river rocks and pour the entire contents into the patio planter. This will serve as an anchor for your tiki torches to prevent them from tipping over.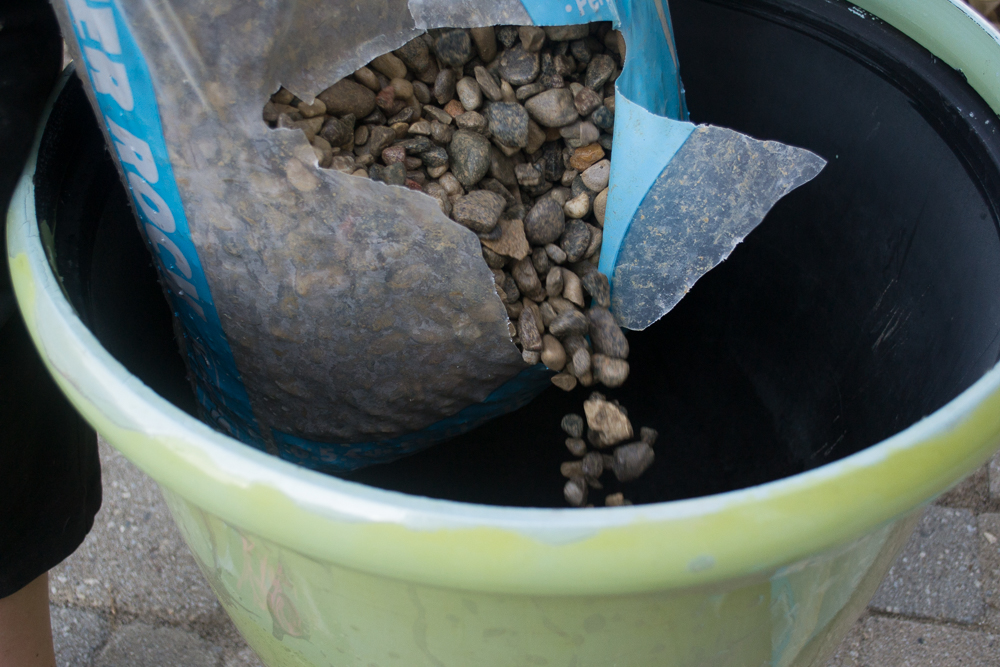 2) While your hanging flower pot on its side, cut out a hole at the bottom of the pot using your utility knife.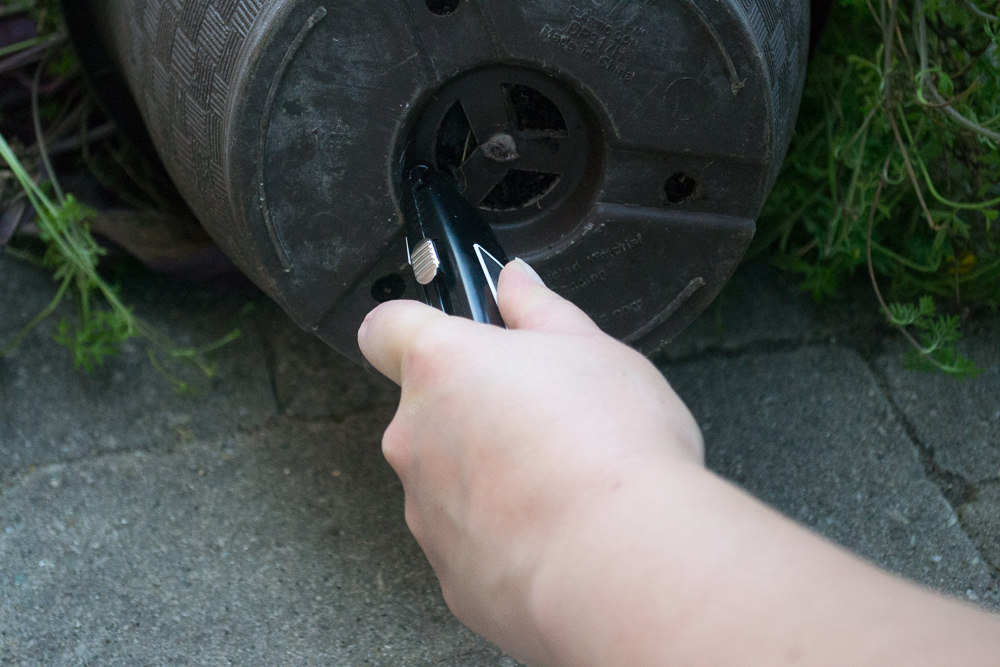 3) Add your hanging flower pot on top of the rocks in your planter.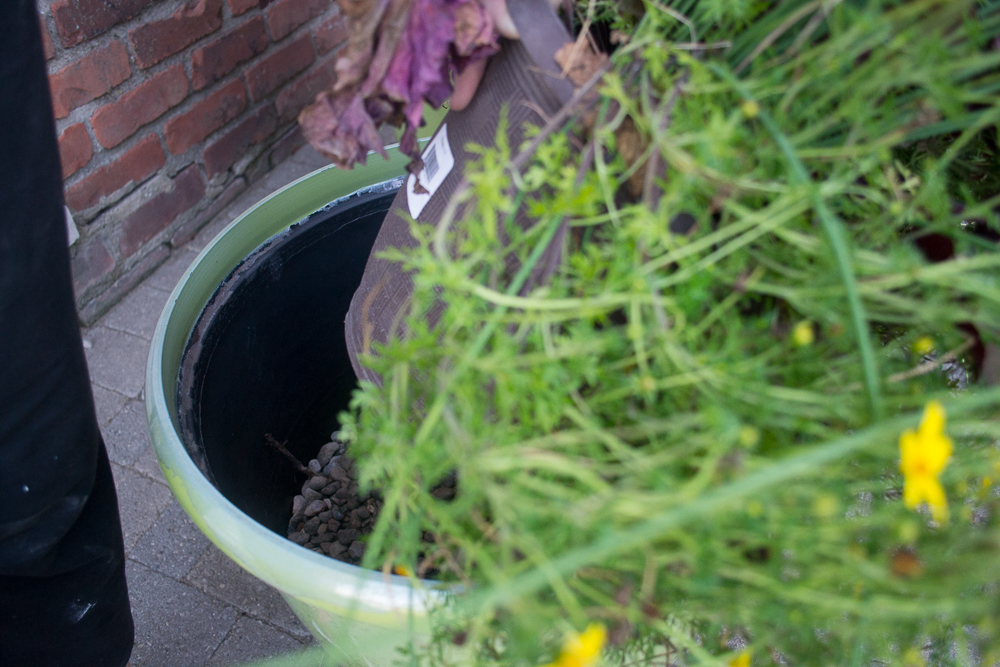 4) Grab your tiki torch. First, find the center of the planter. Then while holding the planter in place, push the pole of the tiki torch through the center of the hang flower pot, and through the bottom where you cut out your hole.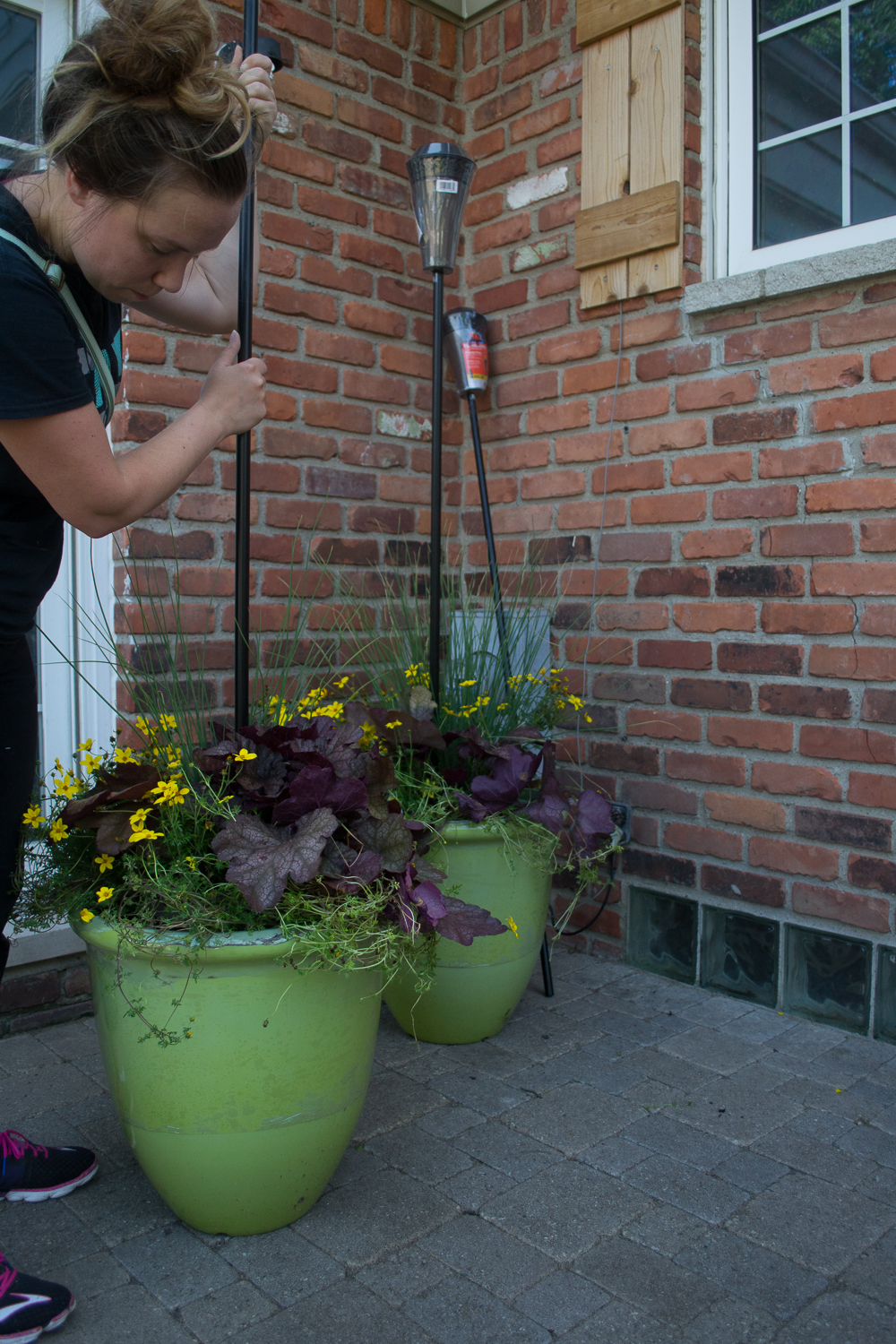 5) Continue to push the tiki torch pole into the river rocks until you hit the bottom of your patio planter. Finally, straighten it out until it feels sturdy on it's own, and you're done!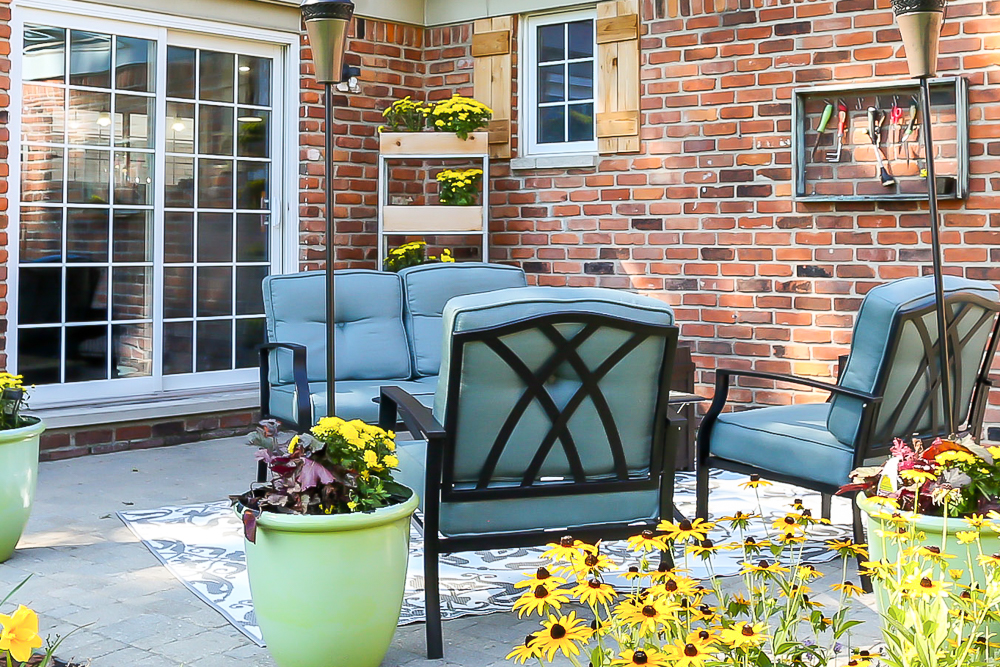 And that's it! You made a tiki torch planter! It's that easy! Not only do these tiki torch planters keep the pests away, they also add character and pops of color to my patio while they're working.   I love that I can use this tiki torch planter over and over and also switch out the flowers with every season! while you can choose to buy an entirely new hanging planter with the flowers already in it, you can also plant flowers yourself based on your taste! I love swapping out the plants with each season so that I always have plants in bloom on my patio.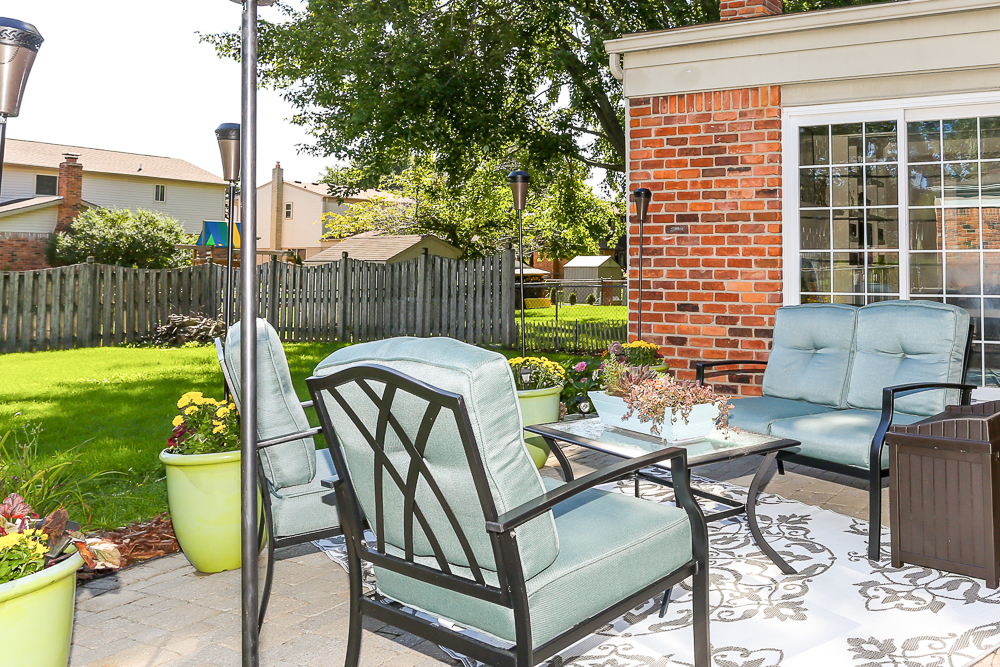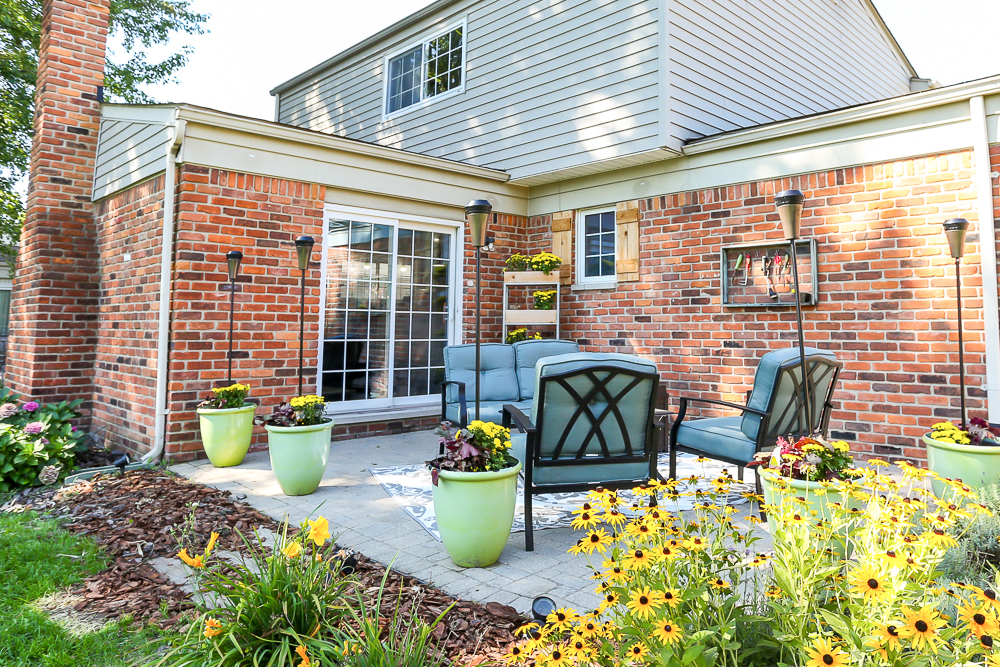 So, do you have any plans to spruce up your patio this season?? Let's hear it! Leave a comment below!
Click on the images to be taken to the products (affiliate links).