Hi friendSSSSS!!! This week I'm bringing you a ton of talent from so many of my favorite bloggers! Yep, we're taking on a Pallet Challenge this week! 9 bloggers were challenged with the task of creative something unique using pallets, and to share our projects with you! Today's challenge kicks off the Pallets Aplenty Week on Remodelaholic.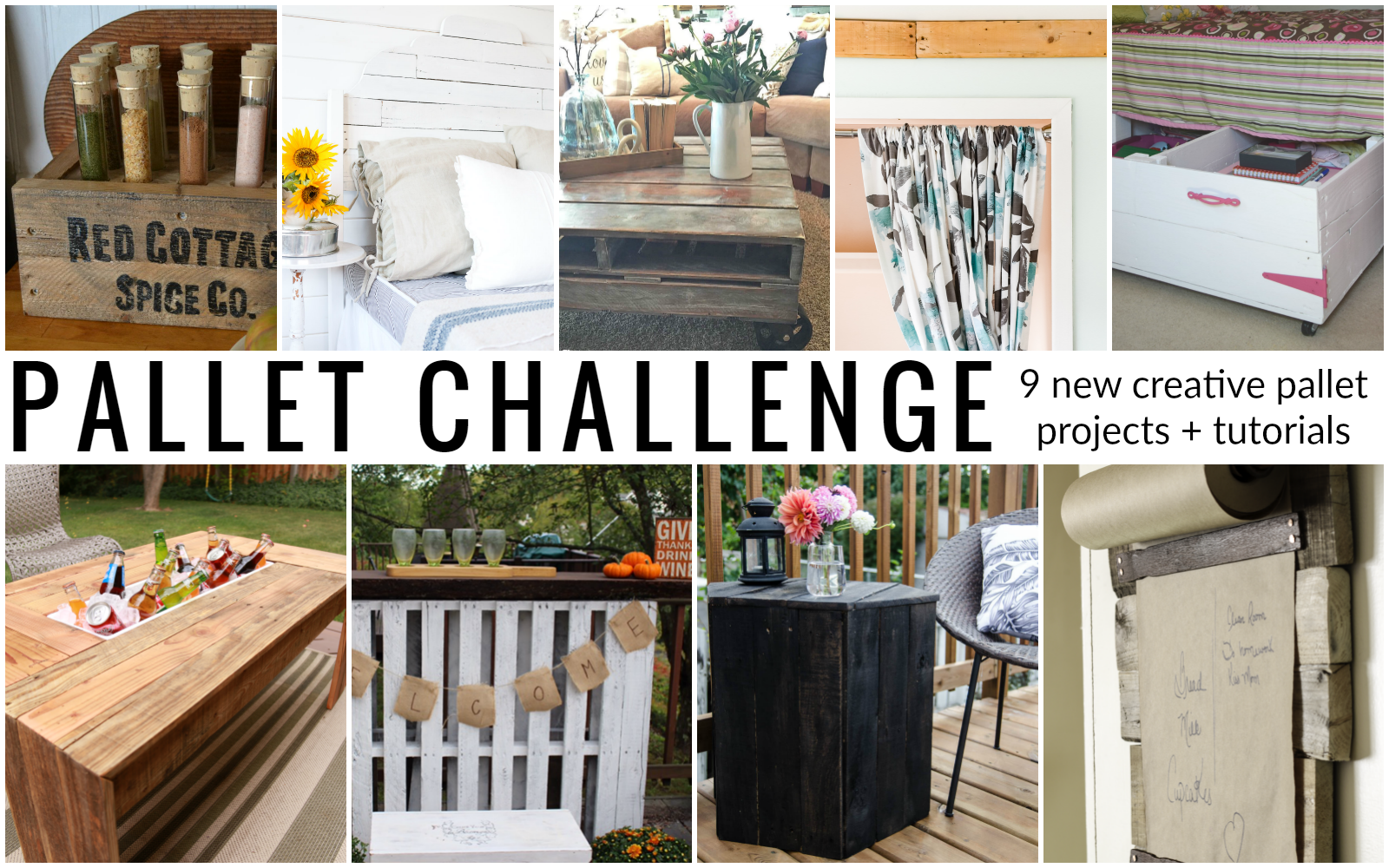 I love getting together with other creative minds for a challenge! We always end up creating completely different and unique pieces, and it's so amazing to see such talent come together.
As part of Remodelaholics Pallets Aplenty week, they'll be featuring so many different pallet projects every day this week. Plus, we want you to join in on the fun, so you'll have a chance to link up your own pallet projects in the Remodelaholic Pallets aplenty link party! So come check it out and share the pallet love on social media with #palletsaplenty too. I told you. Lots of pallet goodness going on. And it also happens to be my debut week as their new contributor, so be on the lookout for a (different) fun tutorial from me using pallets over there! Don't worry, I'll let you know when that goes live of course!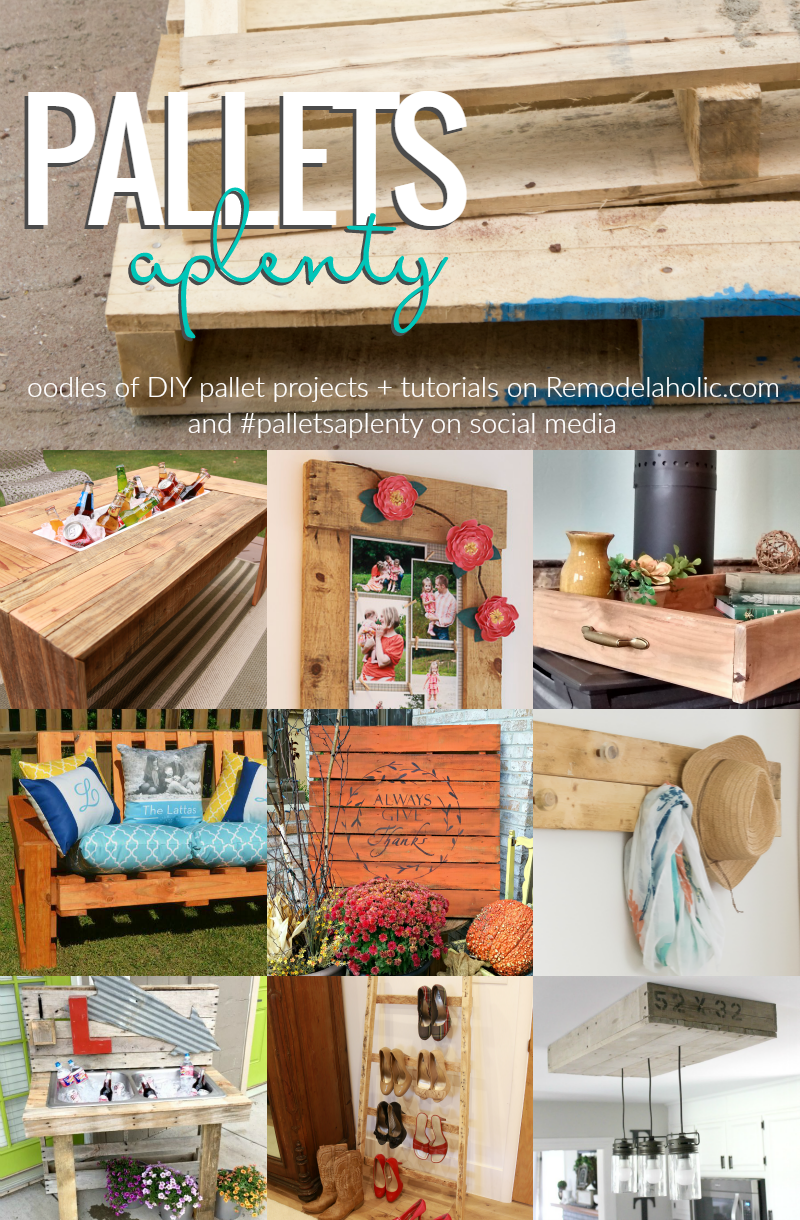 OK, so now that I've told you whats going on, I want to share my pallet project with you!
(This post contains affiliate links. This means I get commissions for purchases made through links in this post.)
Nature Inspired Bedroom Pallet Molding
It's funny how true it is that people are most creative in times of desperation. That's a saying, right? You probably know by now that we're selling our house so we're trying to get all the room finished and staged before it hits the market. Well, we had painted one of the bedrooms when we first moved in, but didn't cut in with the paintbrush because we were planning to add crown molding eventually. You can see a peek of that in my hanging nightstand tutorial. Yeaaaa. We'll get around to it, right? Eventually?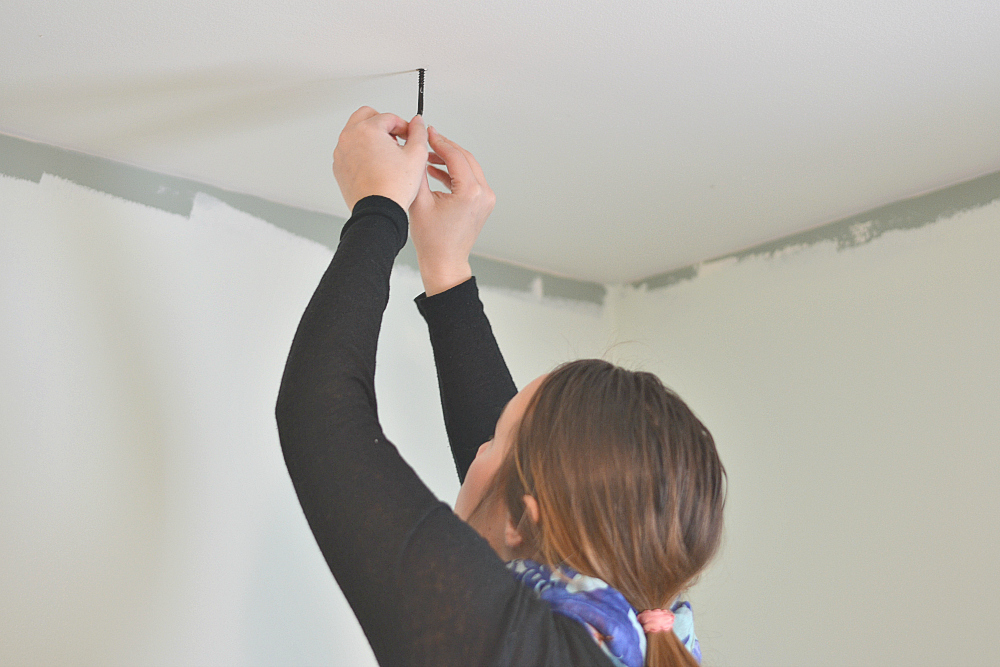 Well, that eventually turned into 4 years. And now we have to finish this room. This day in particular was a rough one. We had people in and out working on the house, we had already been to the hardware store more times than we could count and we had just one thing left to do to check this room off as done. Yea, the top of the walls were still showing signs of a haphazard paint job. We couldn't just leave it like that, we didn't have the paint color for that room to finish it (salt glaze in case you were wondering), we didn't have crown molding. But more notable was our complete refusal to go to the hardware store any more times that day, regardless of how much we desperately needed to go. NOPE. So we put our thinking caps on and were determined to finish the trim using only the materials we had on hand. And that's how the pallet wood molding in our nature inspired bedroom came to be.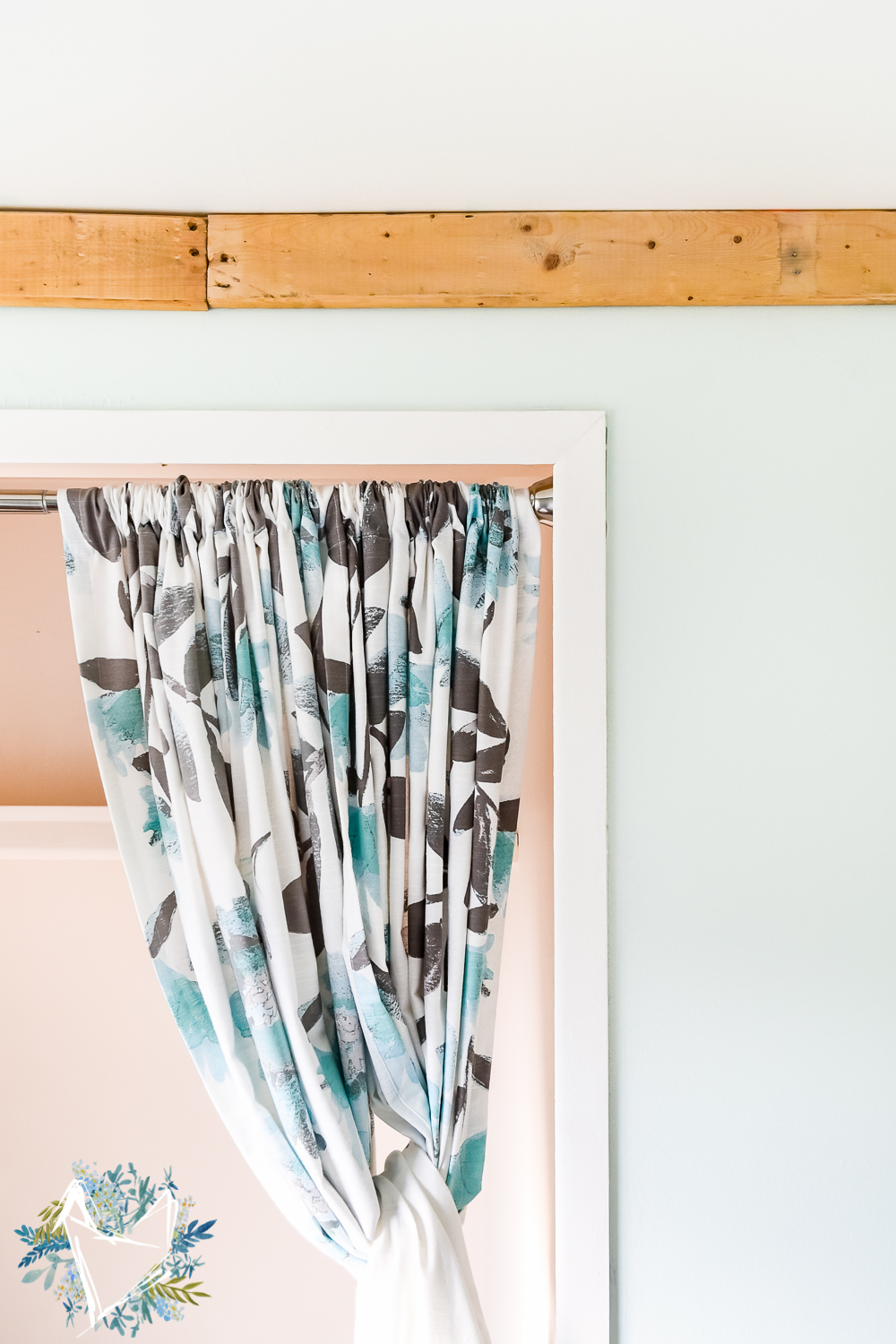 These curtains can be purchased here.
We first brainstormed maybe using some painters tape and some paint to create a painted molding of sorts, but decided it would take too much time. And luckily we had some pallets stored up in our basement for projects such as this. So we dismantled the pallets, picked our favorite pieces, and tacked them up with our handy nail gun & compressor. It was so easy.
Here's a video on how to dismantle a pallet.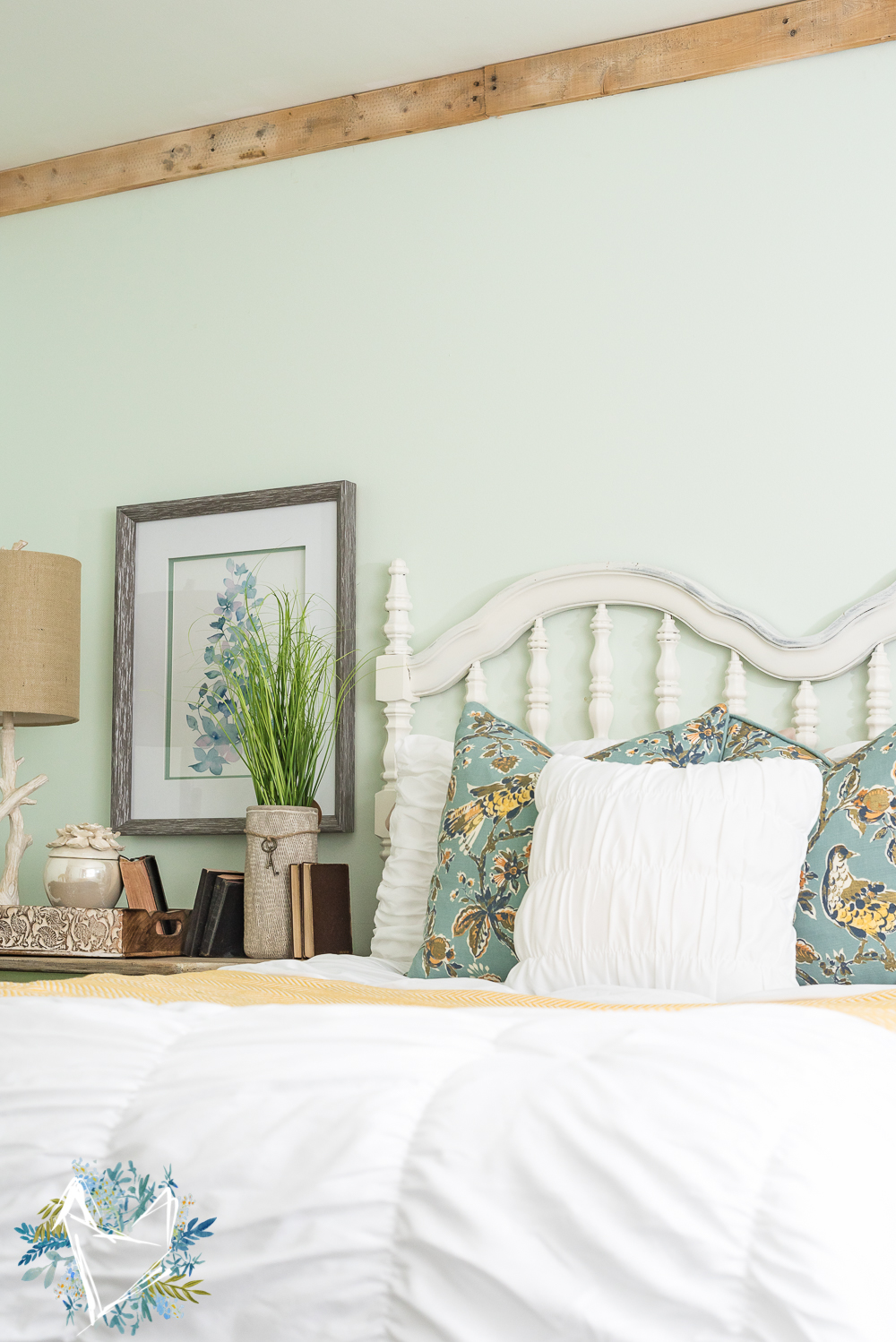 Doesn't it seem like the easiest projects are often the most rewarding??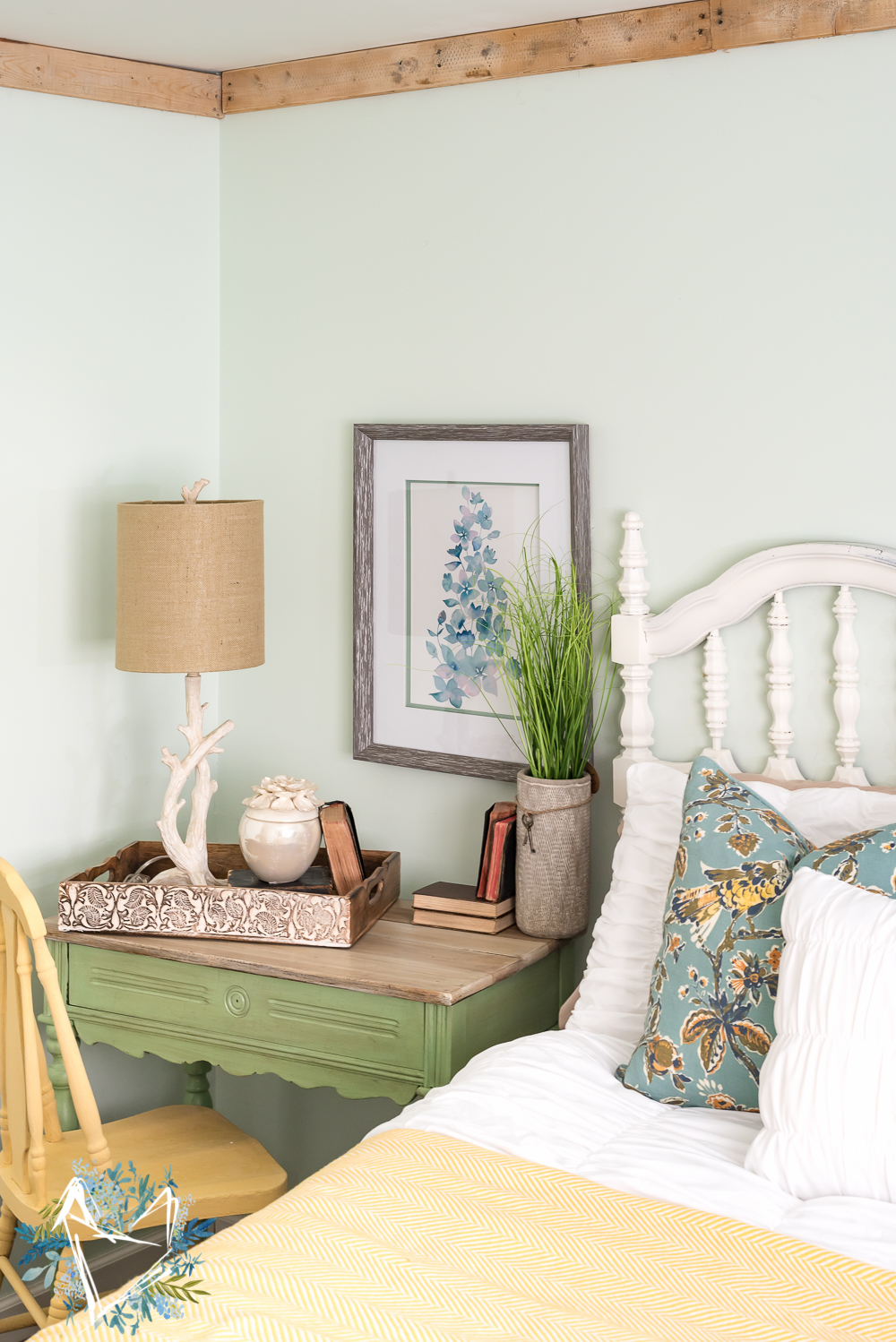 As for the corners, we didn't even bother with angled cuts or anything like that. I think that would take away from the rustic feel of the molding.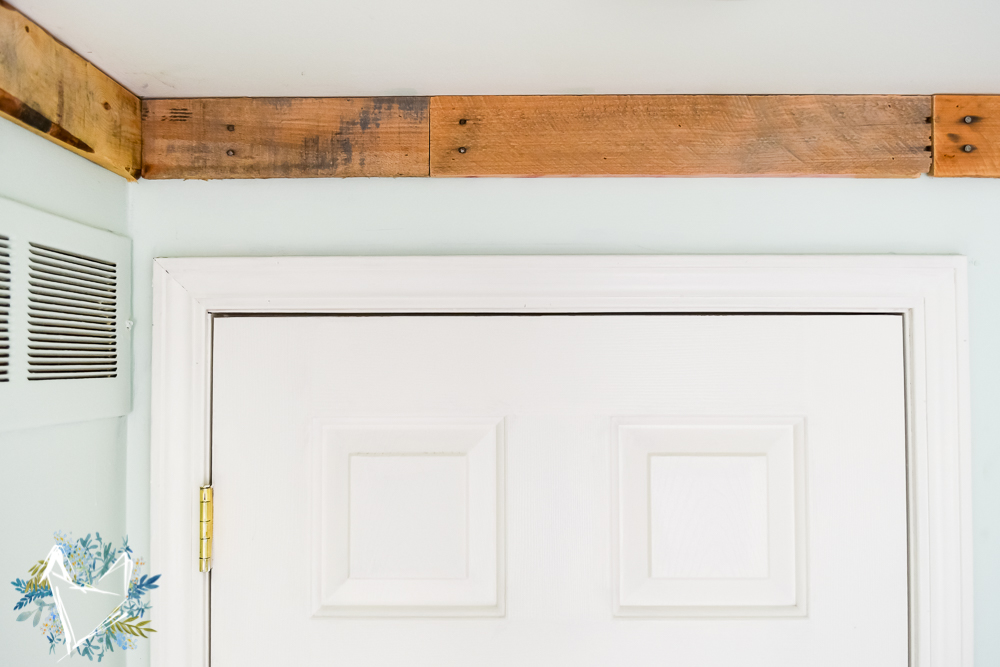 I loved the feel of this pallet trim so much that I baed my entire design off of it. So I went with a nature inspired bedroom with a bit of rustic whimsical flare to it. And the whole space came together so easily.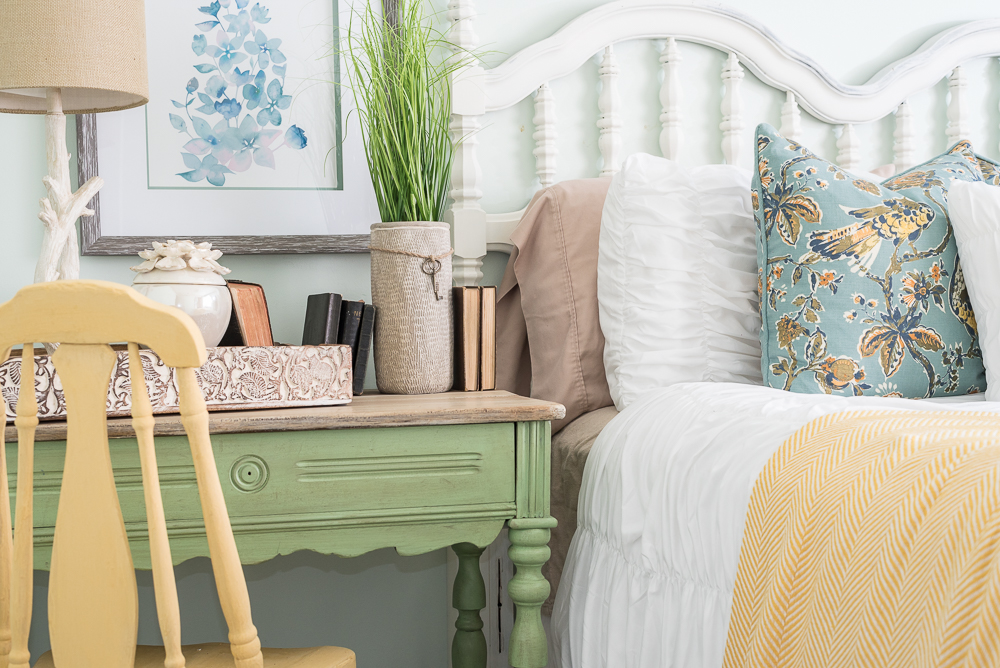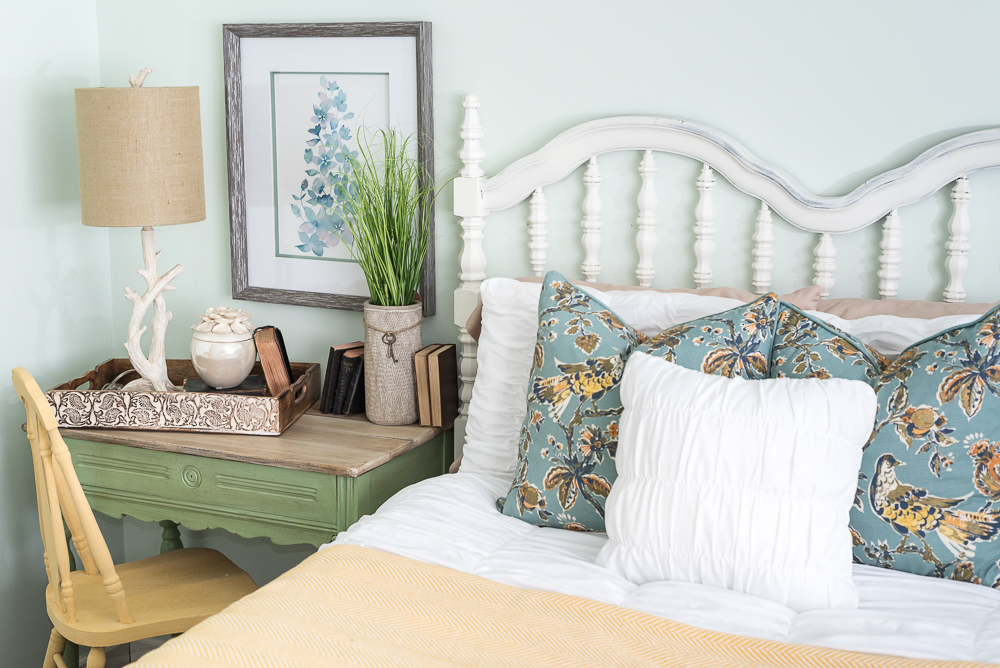 The headboard and little chair were garbage finds that I painted. That yellow is a miss mustard seed color, you can purchase it here.  The desk was given to me, it was painted a dark brown. I gave it a new purpose as a nightstand/ desk in my nature inspired bedroom by painting it this pretty green (oops color from clearance) and waxing it with an antiquing wax. The top got a faux wood plan finish to match the pallet trim. Isn't it darling now?? I just need a knob for it.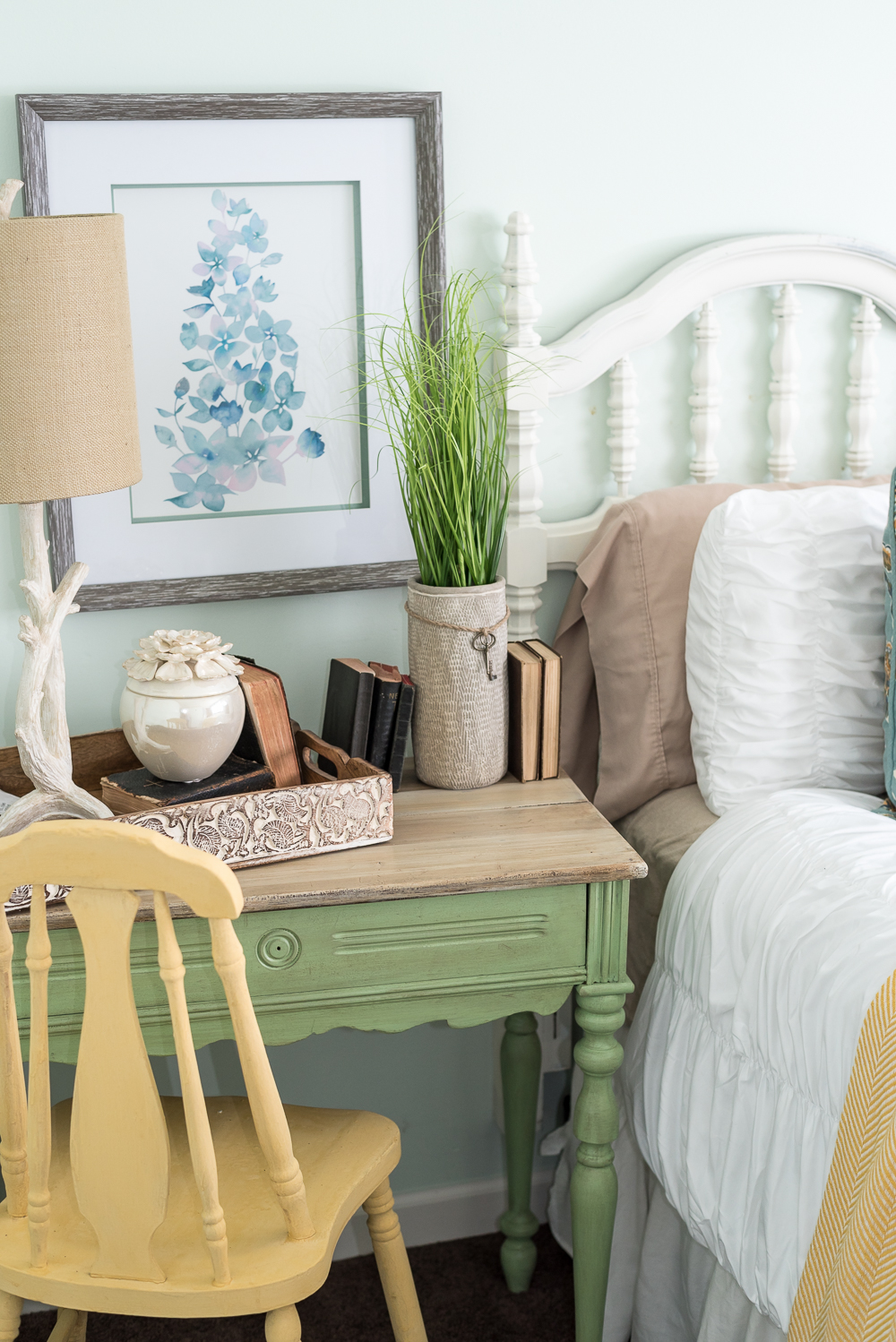 The desk accessories I got from Home Goods. And those little books are all from a rummage sale. I think they were free actually!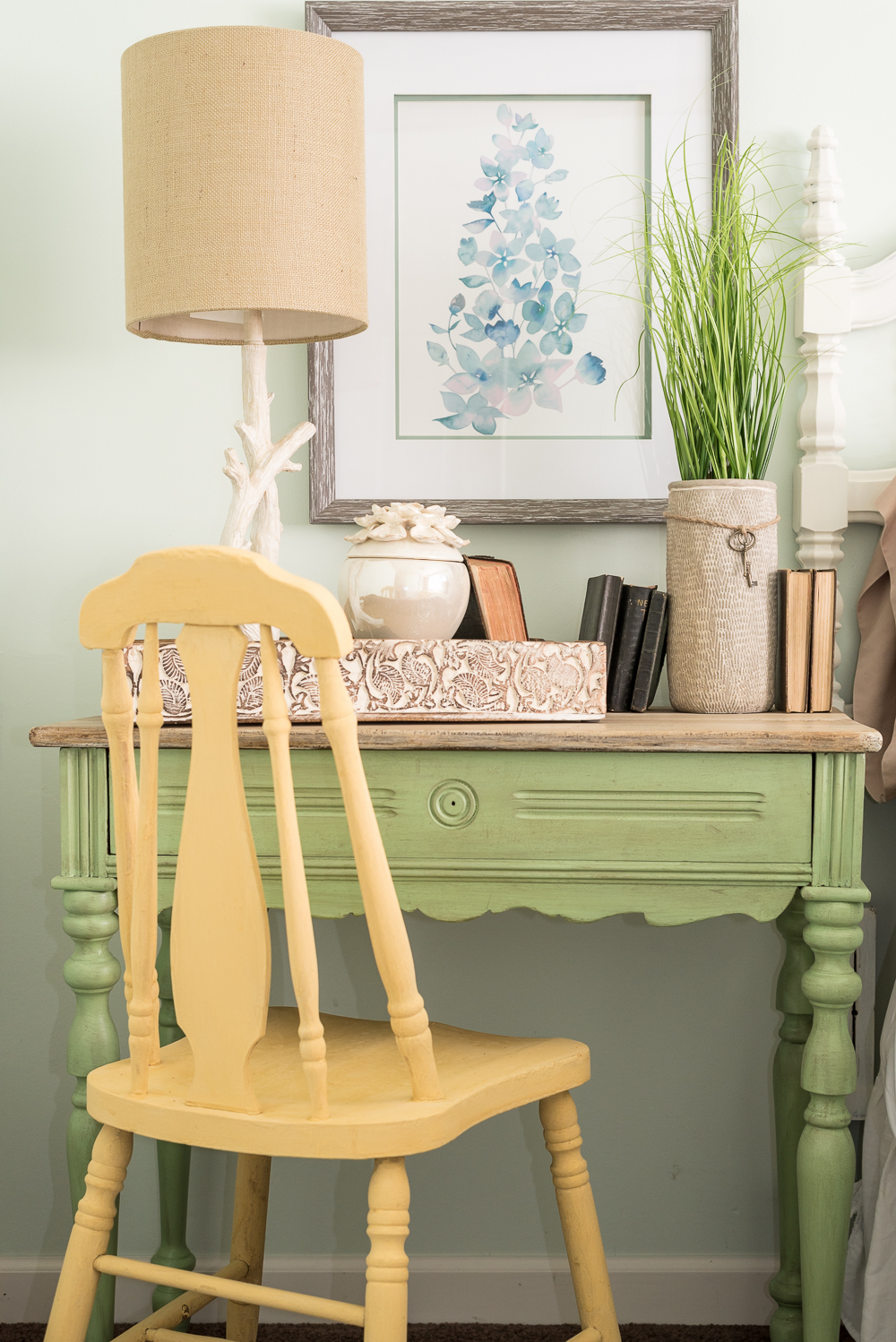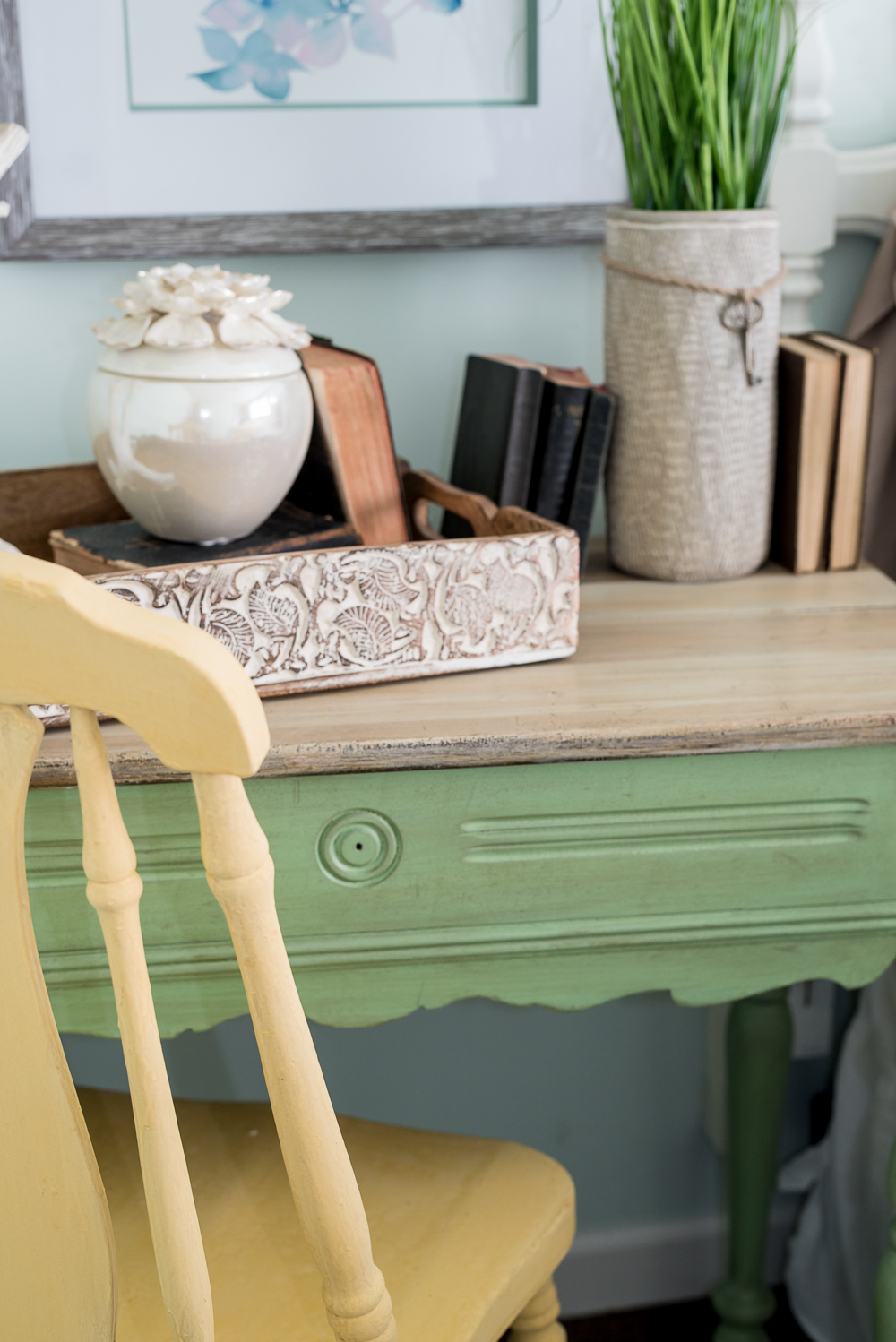 The bedding is also from home goods, but I found a similar set online, click here to check it out. I found a similar yellow chevron throw here.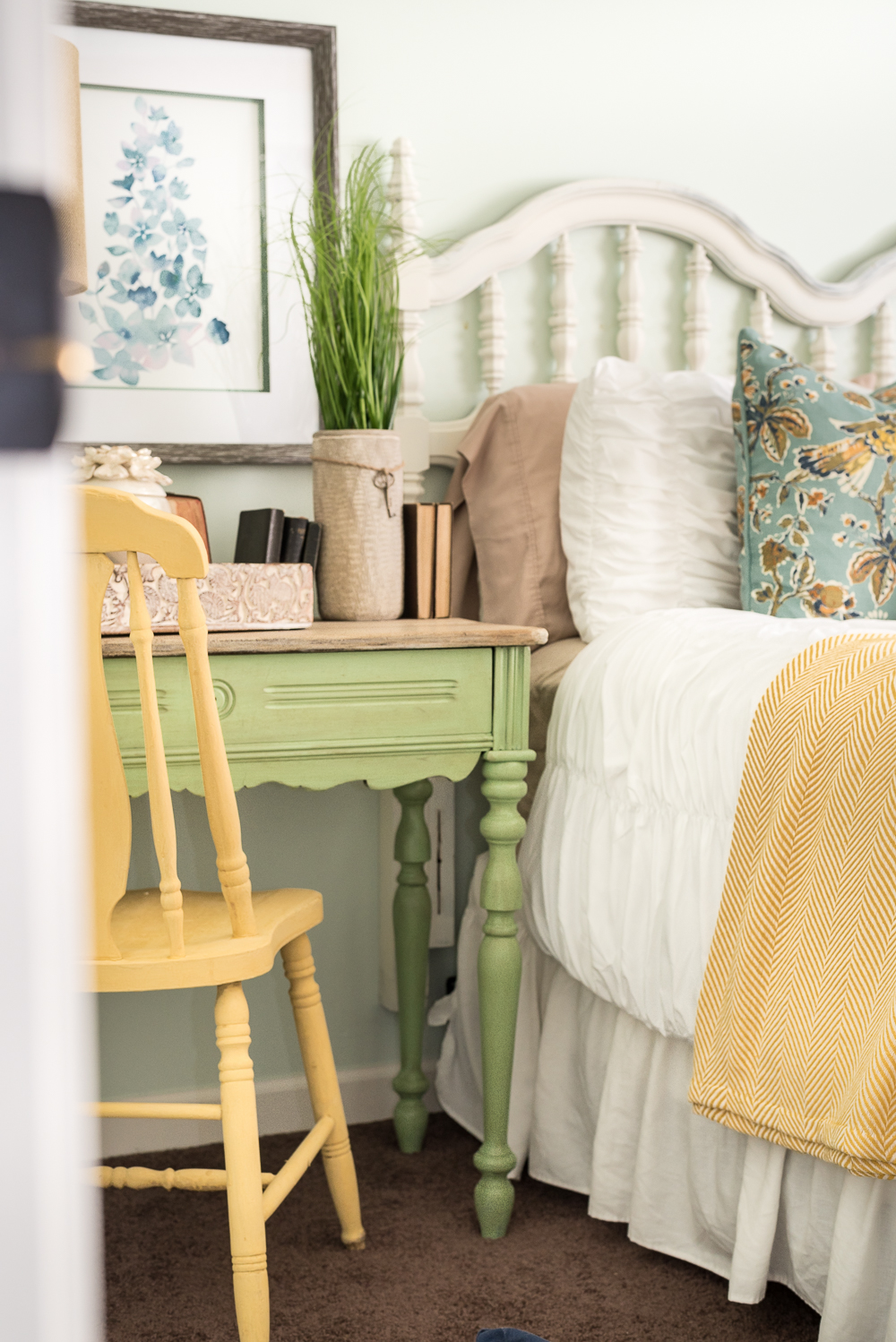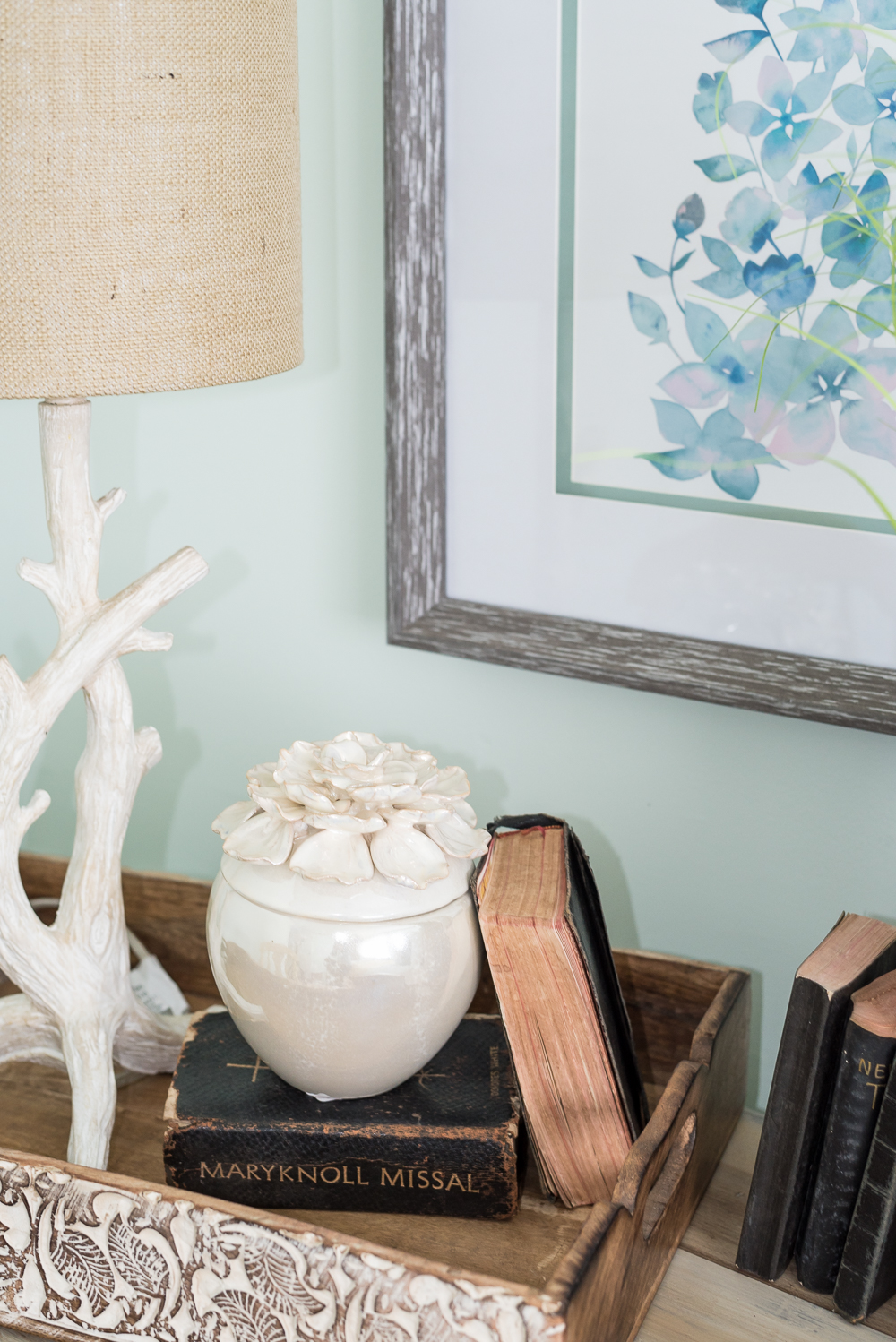 You can find a similar wood tray here. And a similar lamp here.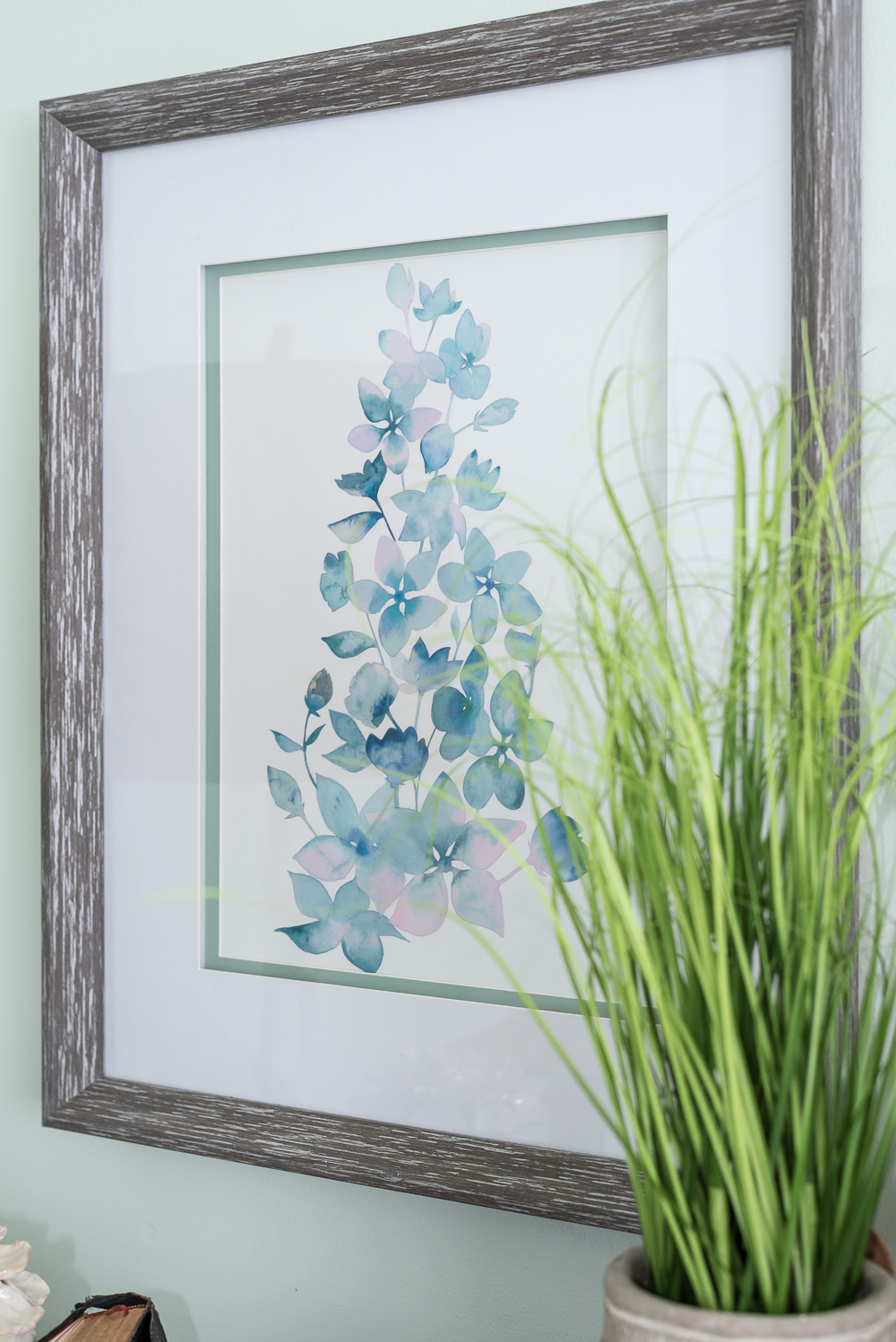 I know this look is probably not for everyone, but I love it. And we get compliments from everyone that sees it.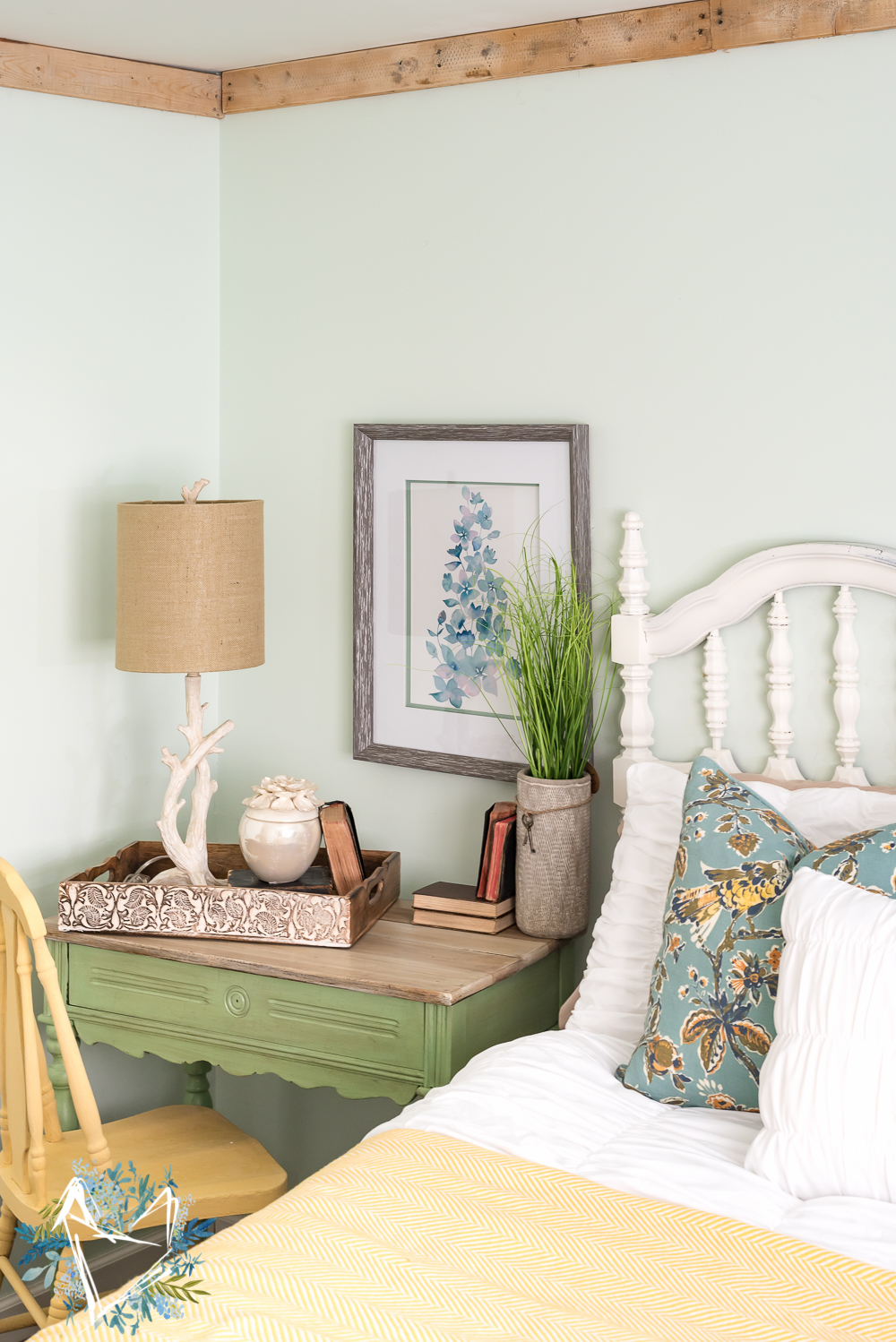 As always, Seuss needs to approve all spaces. Safe to say he likes the new design! He feels right at home <3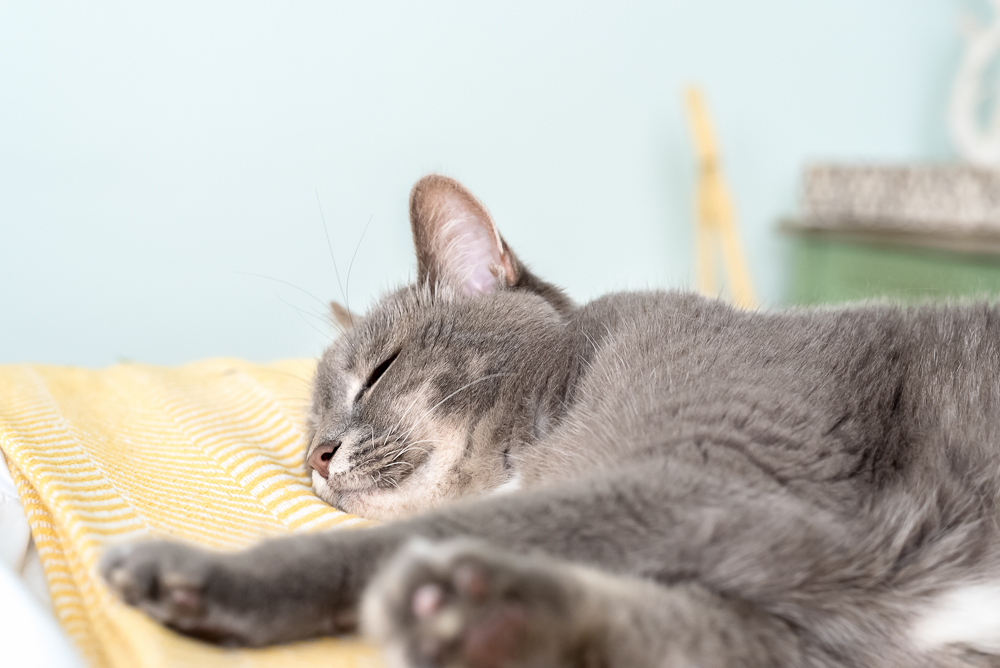 Check out all the other Pallet Challenge Projects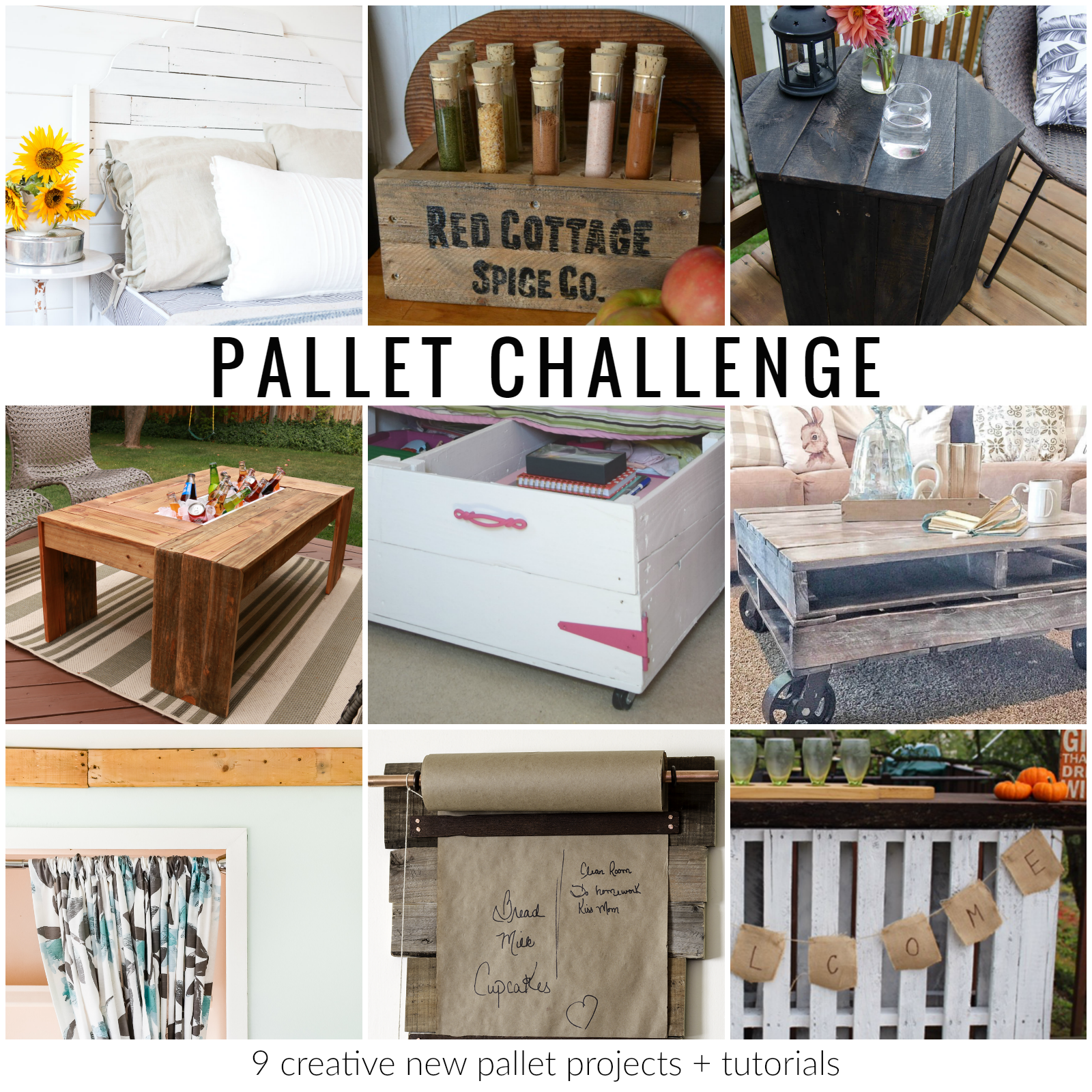 outdoor coffee table with drink cooler | Remodelaholic
spice rack | Red Cottage Chronicles
hexagon side table | Lemon Thistle
rustic pallet wood crown molding | The Weathered Fox
stacked pallet coffee table | AD Aesthetic
paper roll pallet memo board | Cupcakes and Crinoline
under bed toy storage | Our House Now a Home
scalloped headboard | This Mama's Dance
outdoor pallet bar | Our Crafty Mom
Don't forget to link up your pallet projects on Remodelaholic throughout the week here!

Click on the images to be taken to the products (affiliate links).