Hi friends!
I have some super duper excited news for y'all! Since you all have been so so supportive of my blog, sharing it with friends, and being all around awesome people, my blog has grown quite a bit in the past few months! On top of that, we're tackling getting our house sold, finding a new project, and working on new opportunities that have sprung from this little blog of mine. With all the things going on, I kinda slacked on bringing you fresh content consistently, so I've asked some friends to help me out! Today's tutorial is courtesy of my friend Kimm from reinventedkb.com. She has an amazing style and wanted to share with you a recent rummage redesign she finished! So please give Kimm a very warm welcome!
(This post contains affiliate links. This means I get commissions for purchases made through links in this post.)
Hello friends and fans of The Weathered Fox! My name is Kimm and I blog over at Reinvented;
where we talk faith, family, and farmhouses. The holy Trinity, teenagers, and trash to treasure. I am so freakin' excited to be here with you foxes. That's what you call yourselves, right? Anywhoo, I am also grateful to Crystal for inviting me over to share our farmhouse style TV console.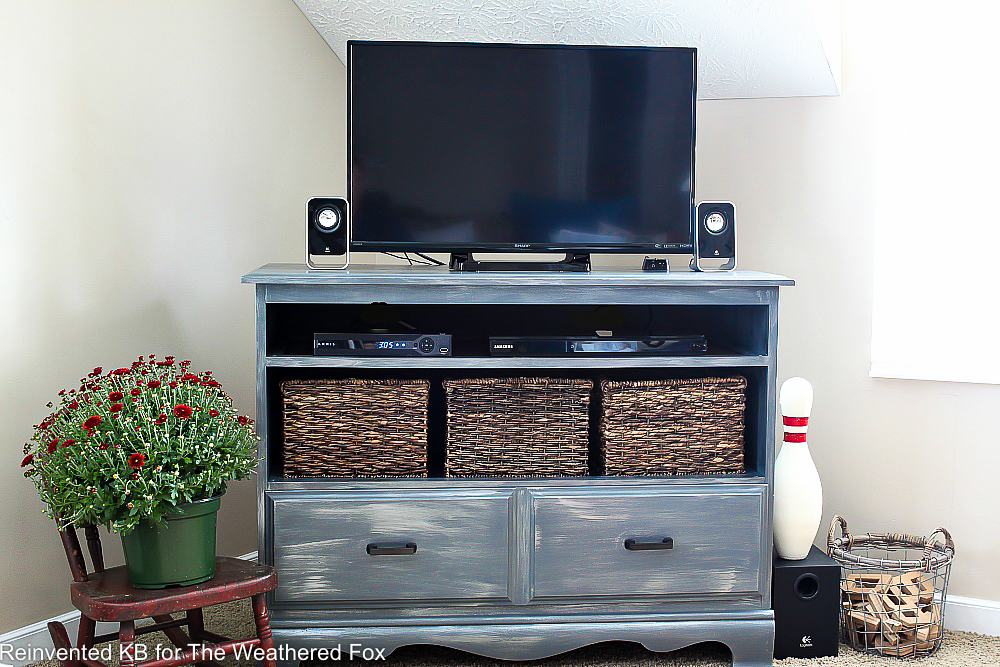 First, a little about our family. I am a mom of four, ages 22, 19, 17 and 14. I am smack dab in the middle of the "leave mama" season. The only good thing about this season, besides the fact that apparently we raised good humans that can function independently, is that when a kid leaves, I seem to turn my inner conflict in to creativity. When child #1 left, we converted her room over our garage in to a teen hangout space, with some cool rustic wall art.
After #2 flew the coop, I decided to convert his dated dresser in to a farmhouse style TV console. You see, we had an old science table that the engineer (that's what I call my hubby) cut down for a TV stand, but it didn't have any storage and was too short for our new smaller TV. And all those wires make me itch, so there's that.
DIY Farmhouse Style TV Console
Here's what you need to make this Farmhouse Style TV Console DIY (affiliate links)
Old Dresser
DecoArt's Satin Enamel in Charcoal
DecoArt's Metallic Paint in Tin
Drawer Pulls I used these here
May I present Exhibit A, the dated dresser; rarely used because our son preferred to store his clothing in two piles; a dirty pile and a clean pile.
To begin the transformation, I painted on one coat of DecoArt's Satin Enamel in Charcoal. The first coat covered well, but not completely, and I was fine with that. Next I lightly brushed on DecoArt's Metallic Paint in Tin, for a weathered metallic look.
I love the layered look achieved by letting a little wood color remain, with the gray and metallic on top.
The new drawer pulls have an oil rubbed bronze finish, and I dig the contrast they create. You can purchase those here.
We removed the top drawer, leaving a shelf for the cable box and DVD player. I didn't care for the style of the middle drawer, so it's gone too, and I added a shelf withBaskets like these here for DVD's and texture.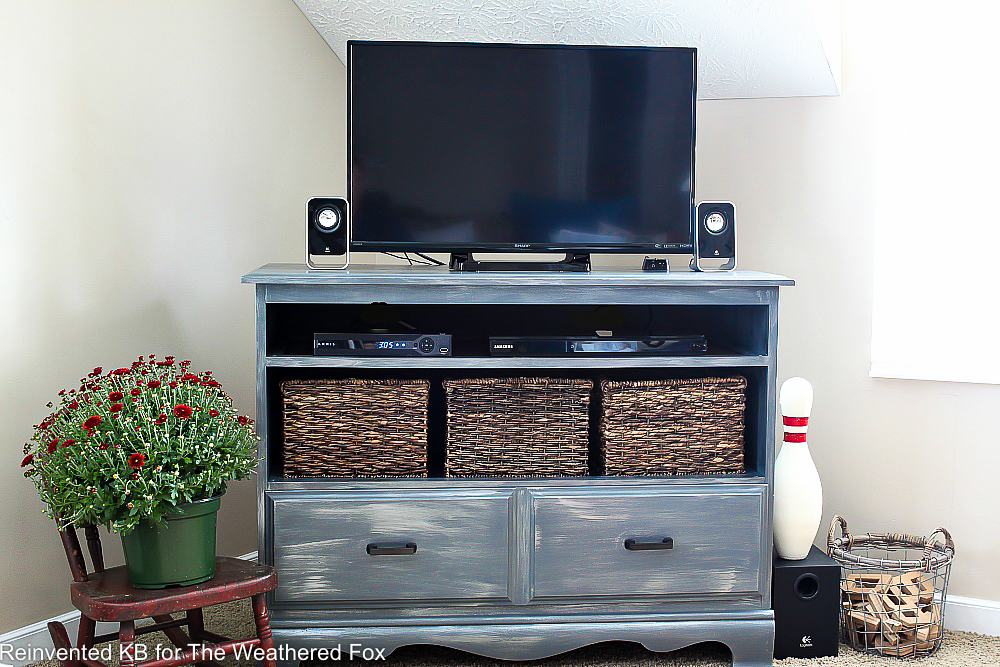 If you love farmhouse style, but aren't sure how to pull it off on your budget, I can so relate. Start with a piece you already have, like I did, and change it up with paint. You don't need fancy paint, I used an economical brand that can be found at your local craft store. Adding light layers of two colors or finishes gives the piece an aged and weathered look that will make your farmhouse heart beat a little faster.
If you salivate over shiplap like me, check out our faux shiplap wall, a $75 DIY project that made a million dollar difference in our family room!
Thank you SO MUCH Crystal for having me!

If you love this Farmhouse TV Console DIY, then you'll love these:
Industrial Farmhouse Sofa Table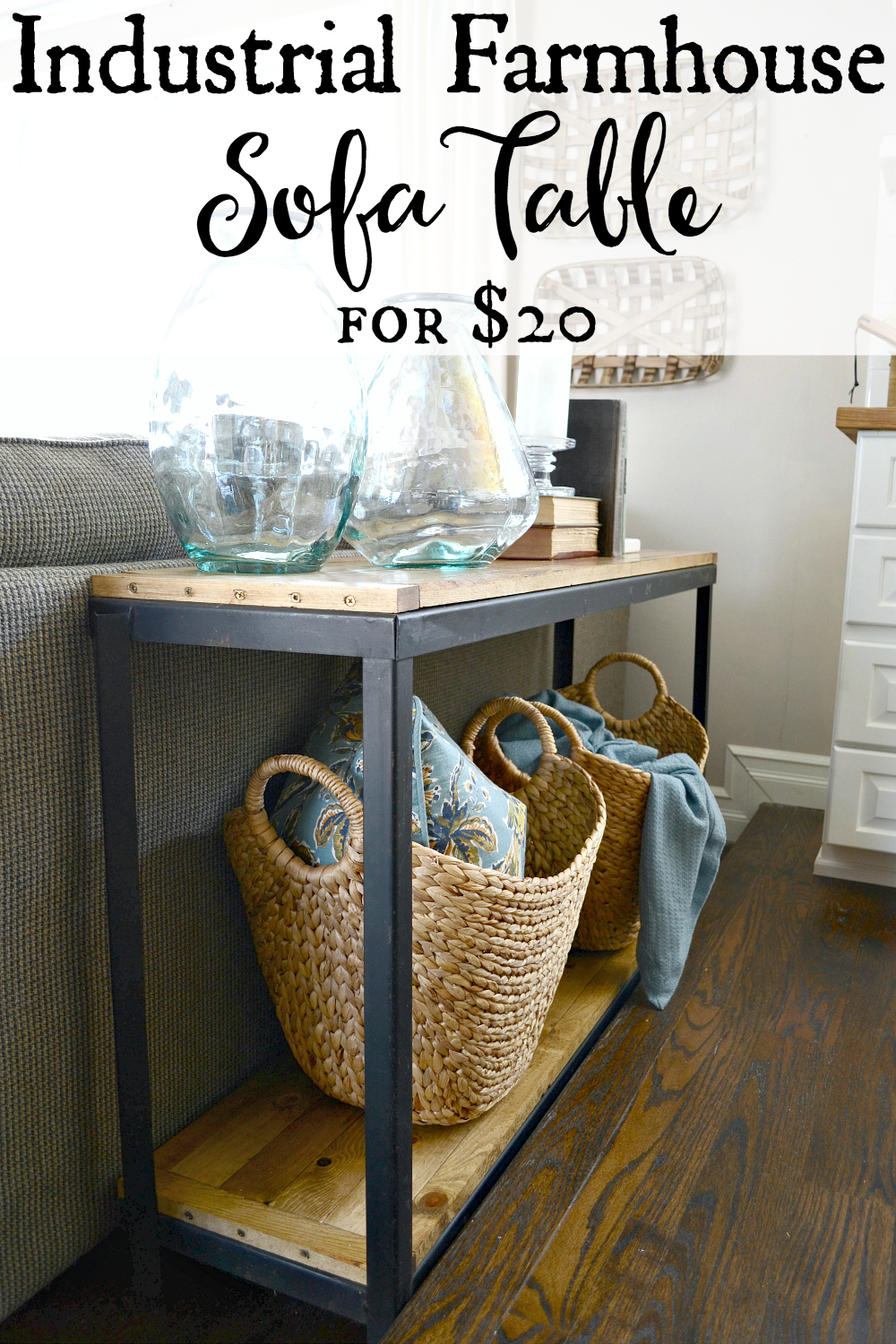 Gray farmhouse Side Table Redesign
Nautical Side Table Rummage Redesign