Today is day two of our Pineapple Week on the Weathered Fox, and we're sharing how to use pineapples in your tablescape! I love this pineapple vase idea from our contributor Lora!
Make sure to check out all of our pineapple posts throughout the week!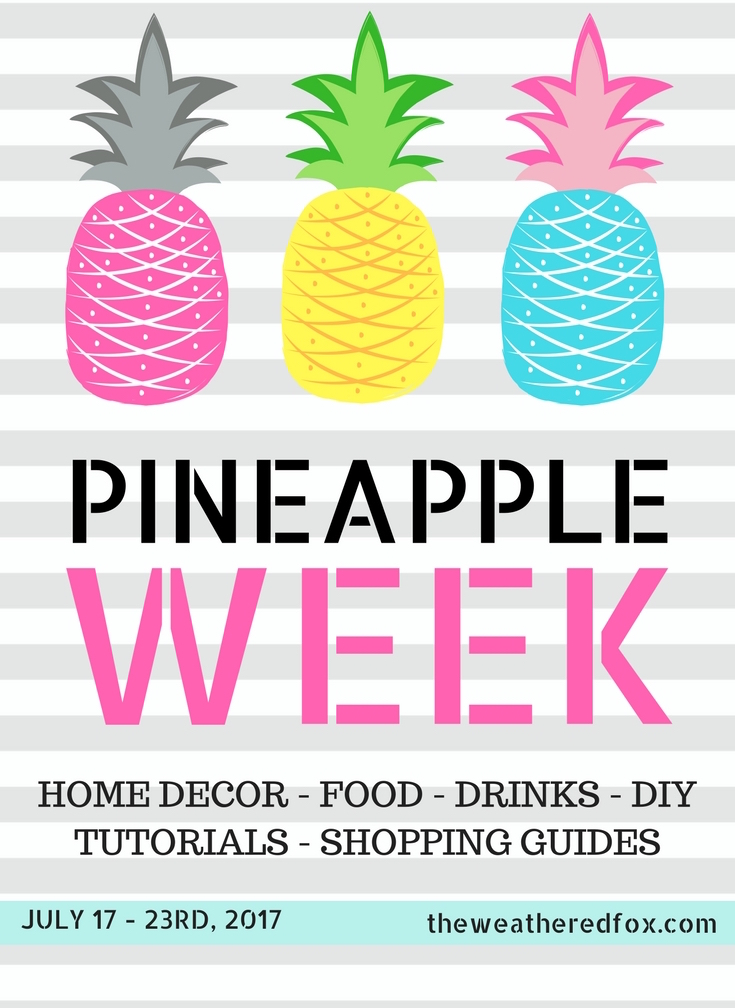 Hosting any parties this summer? Last year, I came across a Pineapple Birthday Party and fell in love with the pineapple as a party theme. This tasty fruit is reminiscent of warm Hawaiian nights and is the symbol of hospitality. How can you not have a party focused on the symbol of hospitality, right?!
I'm Lora Green, of Craftivity Designs, and today I'm back at The Weathered Fox to share a Simple Pineapple Centerpiece for a summer gathering. It's exciting to finally be bringing a Pineapple Party to life, in my own home!
(This post contains affiliate links. This means I get commissions for purchases made through links in this post.)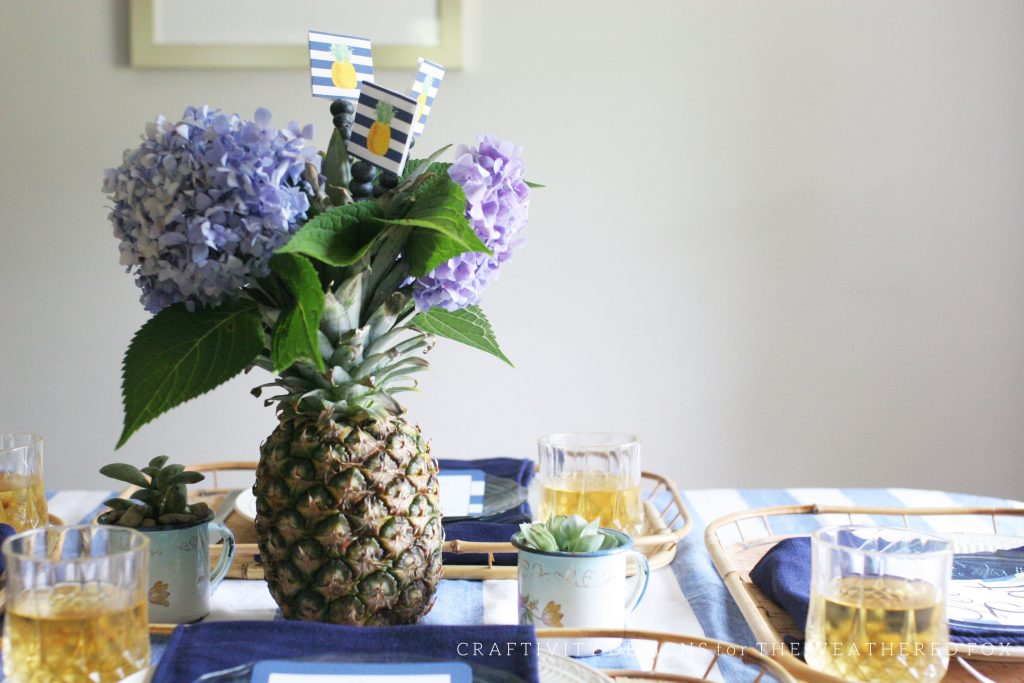 Simple Pineapple Centerpiece: Supplies
Simple Pineapple Centerpiece: Instructions
Using either fresh hydrangea blooms, or silk hydrangeas, tuck the stems into the pineapple leaves. Since pineapple leaves are stiff, you shouldn't need any floral wire. Just make sure to allow a few inches of the hydrangea stem to tuck down in between the leaves. Once you've got several blooms in place, fill in around the centerpiece with excess hydrangea leaves.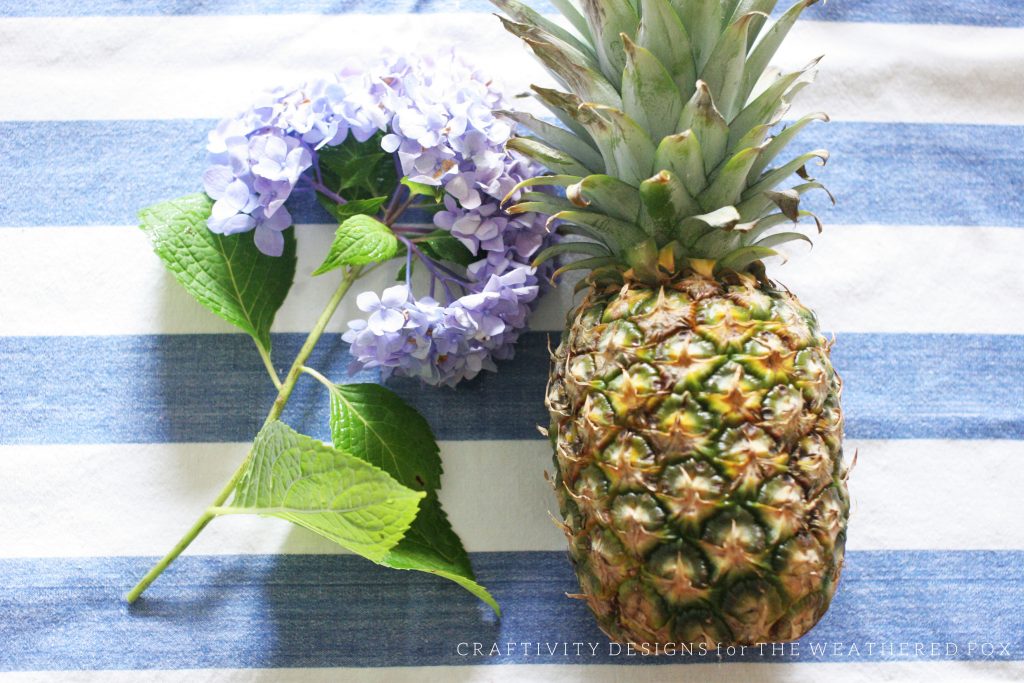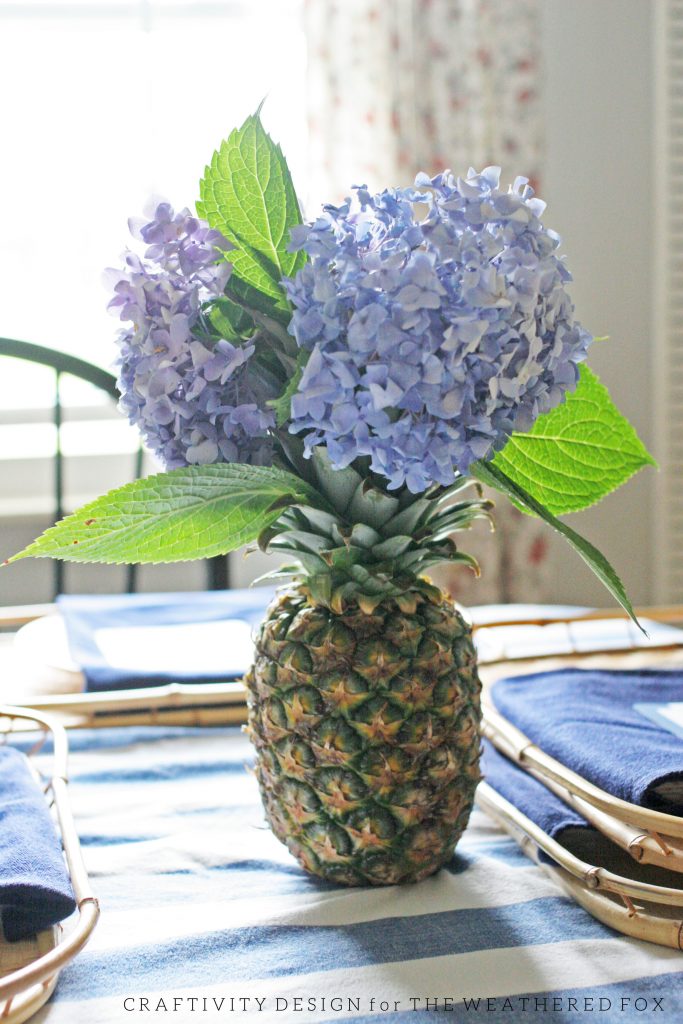 Once the flowers and leaves are in place, slide blueberries onto several wooden skewers. I had 12″ skewers, and used a set of pliers to trim the sticks down to approximately 6″ long. If you are buying skewers for this project, grab these, which are already cut to 6″ long. Then, use the extra skewers to serve tasty fruit and grilled meat at the party!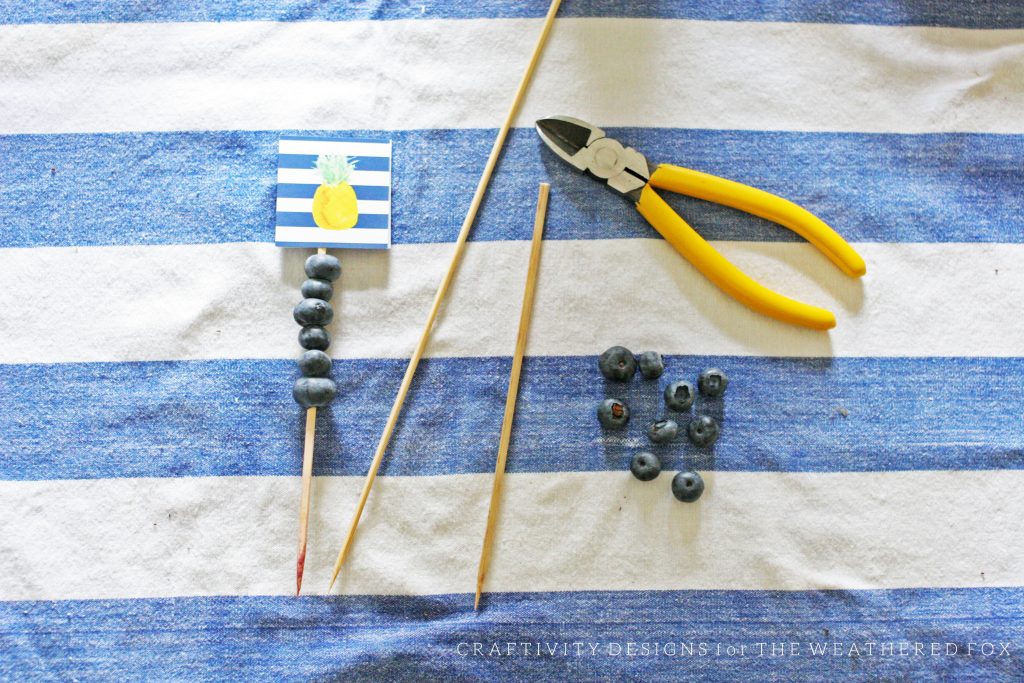 To make the coordinating pineapple toppers, print and cut out the 2″ x 2″ Pineapples. Use pop-up adhesive squares to attach two pineapple squares and create a topper to slide over the end of the blueberry skewers.
Quick Tip: If you regularly use printables, invest in a paper trimmer. It will make cutting SO much simpler and cleaner.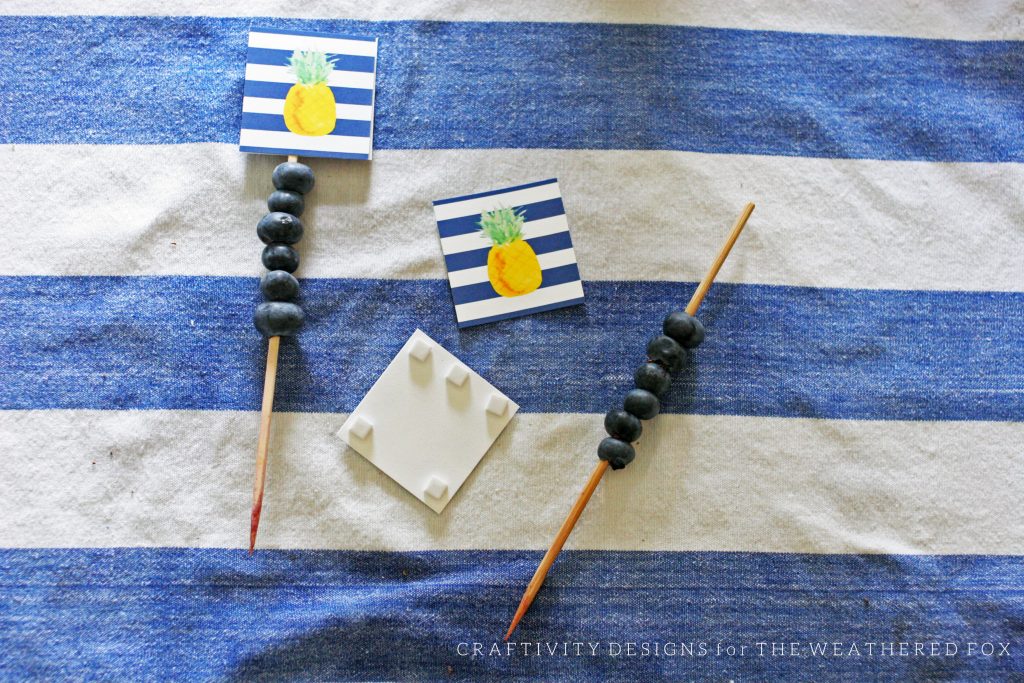 Finally, stick the skewers into the top of the pineapple, in the center of the leaves. The pointy skewer tip will hold it in place.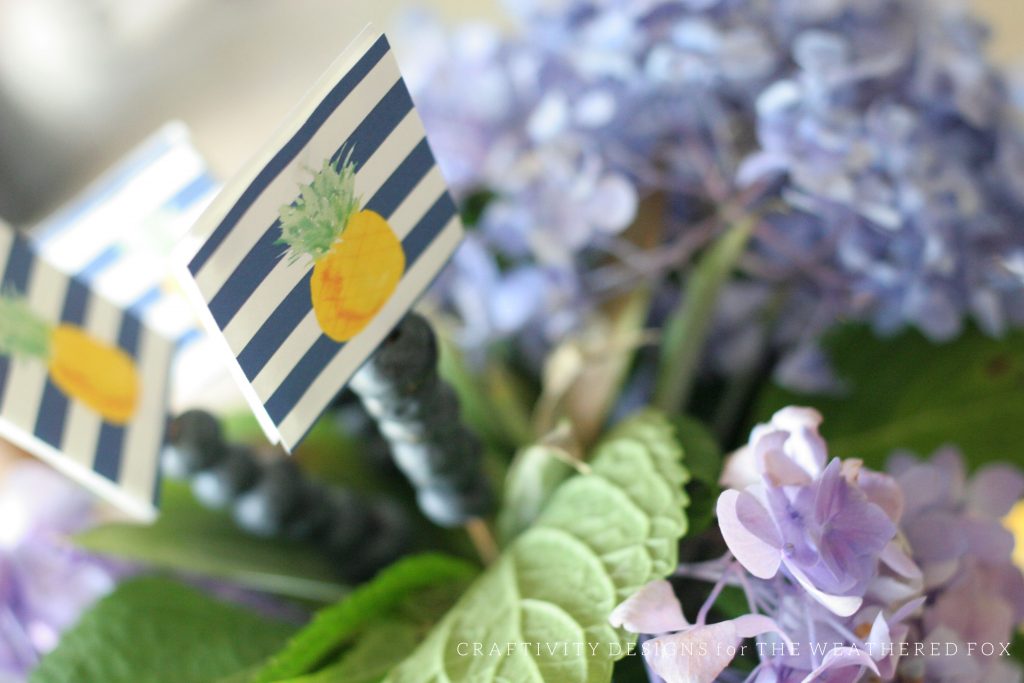 A Quick Centerpiece for a Pineapple Party
So simple, right? Within minutes, you'll have a beautiful centerpiece — that is tasty, too! At the end of the party, cut up the pineapple and hand out the blueberry skewers for a fruity dessert.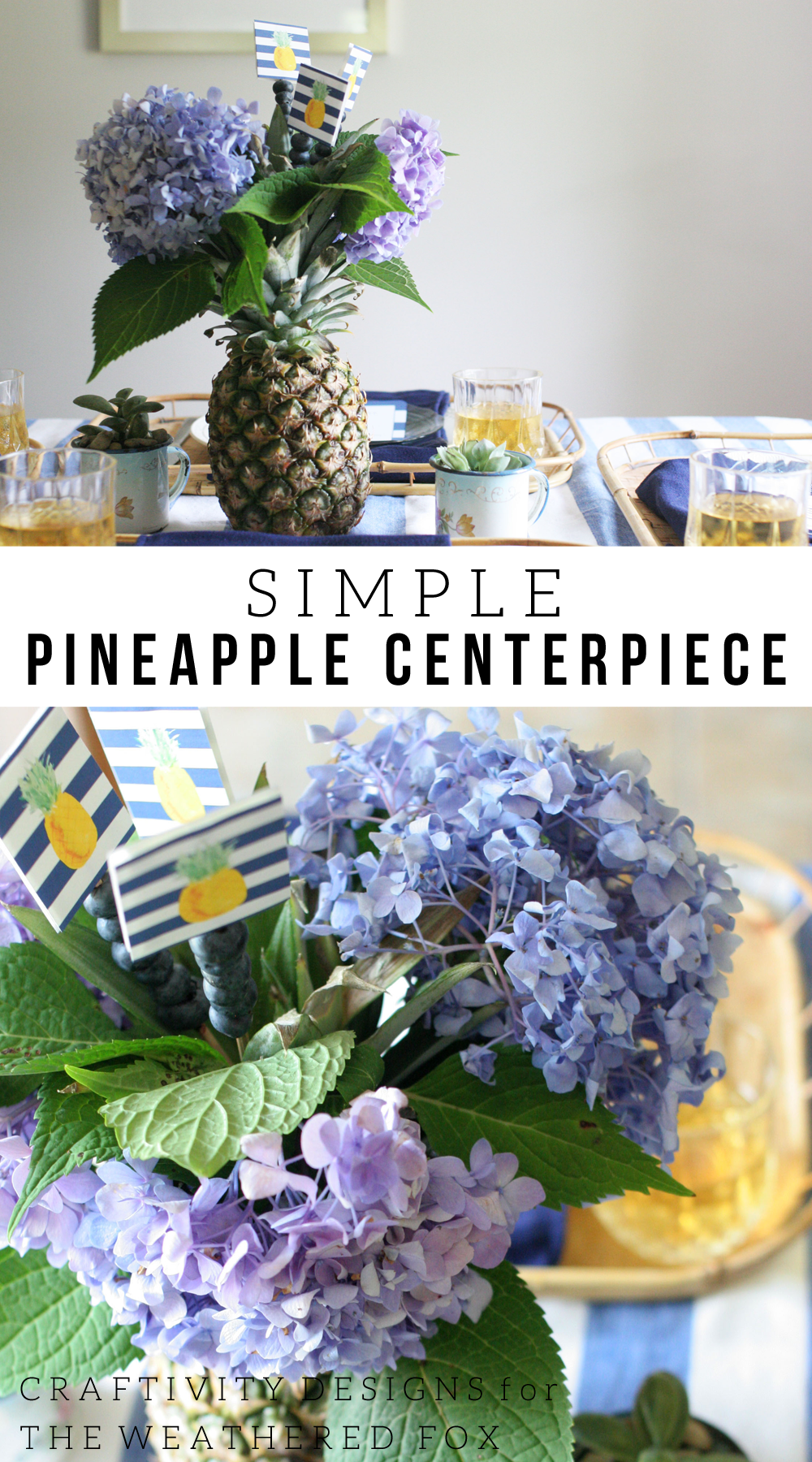 I hope all this talk about pineapple and blueberries hasn't made you hungry, but I do hope you are in the mood to throw a Pineapple Party!
Happy Entertaining,
Lora Green of Craftivity Designs

Would you like to see more party and entertaining ideas? Check out 25+ Pineapple Party Ideas, an Elegant Black + Gold Table Setting, or a Pineapple and Watermelon Party.
See all my posts on the Weathered Fox by clicking here!