Hi!  My name is Michelle James and I am excited to be a contributor on The Weathered Fox.  I blog at Michelle James Designs and I teach my readers how to re-purpose, decorate and craft using budget friendly products.  I have been blogging for 2.5 years and have many projects and crafts including one of the outdoor lighting ideas listed below.  Be sure to check out my blog when you have a chance.
Today I am sharing 12 wonderful ideas to add ambiance and fun to your deck or patio this summer with outdoor lighting.  Summer is all about late evenings and utilizing your outdoor space.
In the Midwest the winters are long and the summer months seem to be over in the blink of an eye.  Spending as much time outside in the warm weather is fun.  Outdoor lighting extends your days into twilight and beyond so you can stay out even longer.
Keep these outdoor lighting ideas in mind when you are thinking about your own lighting.  Be sure to click on the photo or the link below the photo to get the original tutorial or post and also to pin to Pinterest.  This way when you go back later you will be taken directly to the original post.

Outdoor Lighting Ideas
This post contains affiliate links for your convenience!
These are some of my favorite outdoor lighting ideas.  They are not in any particular order.  I just love them all!  Let's get to it.
Outdoor Tin Can Lanterns
These tin can lanterns from Small Home Soul are a perfect way to up-cycle and to create a fun lantern and/or planter.  The succulents are perfect for this type of container and the copper color just tops off the look.
Recycled Tin Can Lanterns – Small Home Soul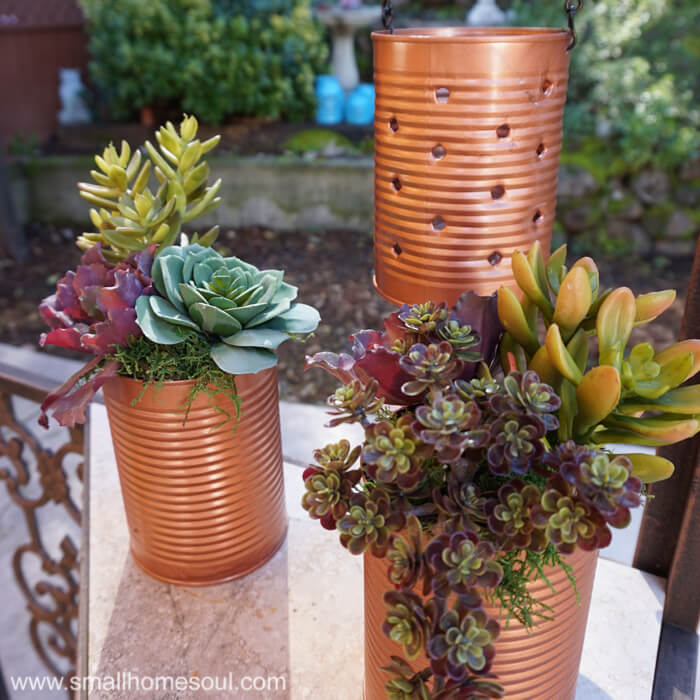 DIY Outdoor Hurricane Lantern
I love the story of this light and the way it looks.  This small lantern creates just the right amount of lighting for an outdoor gathering. It is an Anthropologie knock off from Sadie Seasongoods and it looks fantastic.
DIY Anthropologie – Style Metal Hurricane – Sadie Seasongoods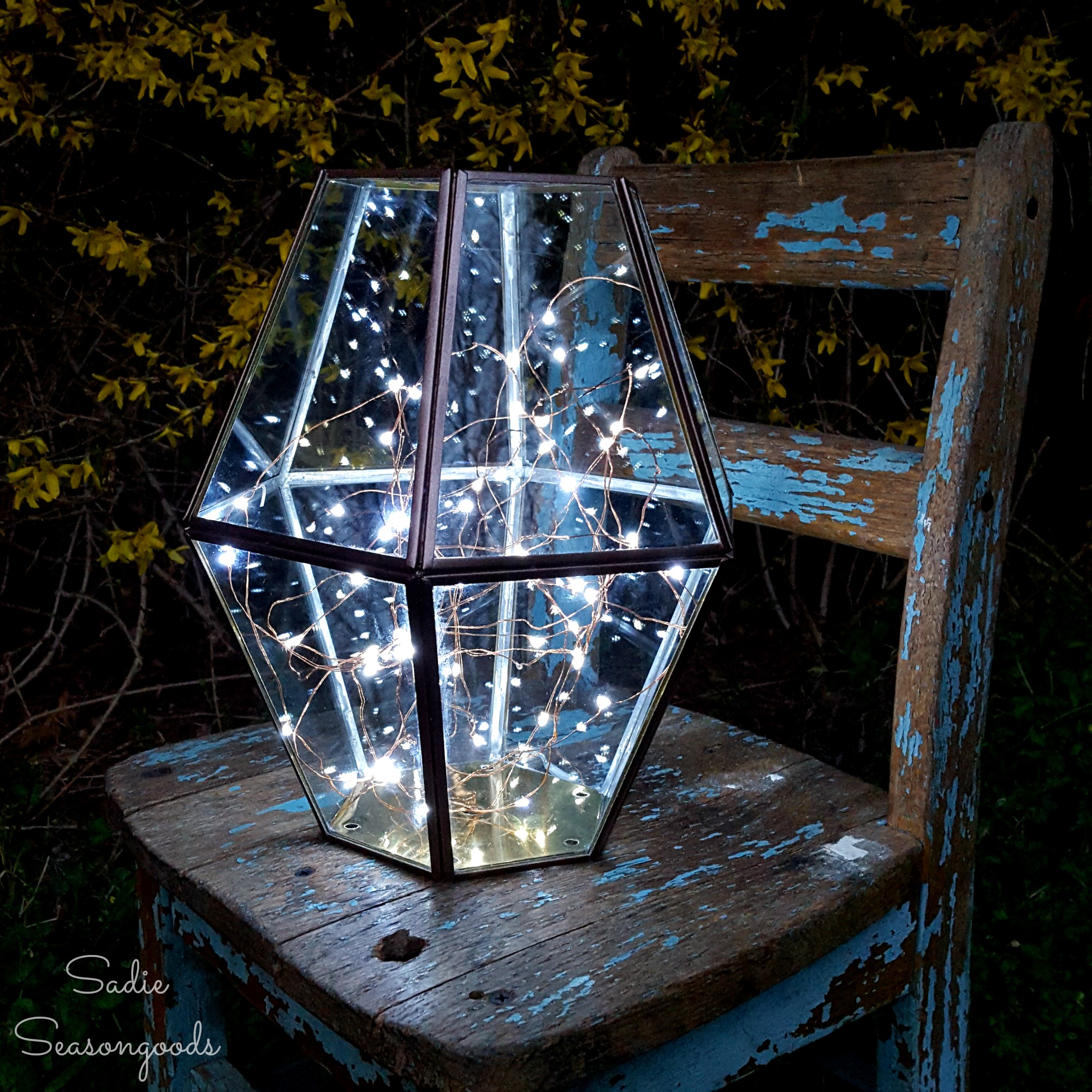 DIY Outdoor Chandelier Planter
I am so inspired by this combination planter/solar chandelier.  It looks very easy to make and the solar lights fit perfectly into the space the candles would be.   You can check out the full tutorial at Our Crafty Mom.
DIY Chandelier Planter – Our Crafty Mom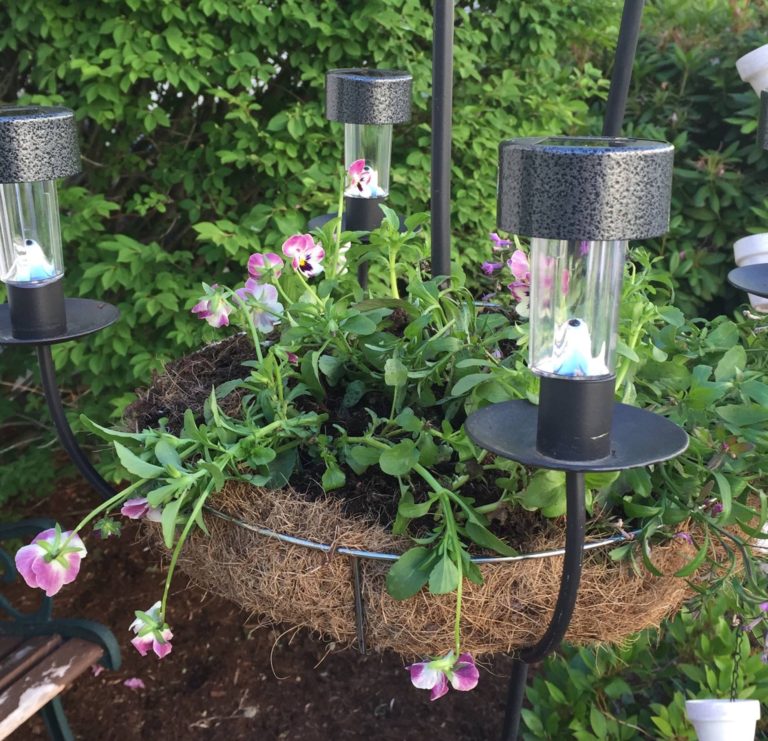 Flower Solar String Lights
If you are not into "DIY-ing" your own outdoor lighting these solar string lights are perfect for you.  They are a string of lights shaped like flowers attached to a solar stake.  Once they have charged for about 6 hours they give you about 8 hours of light.  They are so bright, colorful and pretty.
Solar String Lights – Sassy Townhouse Living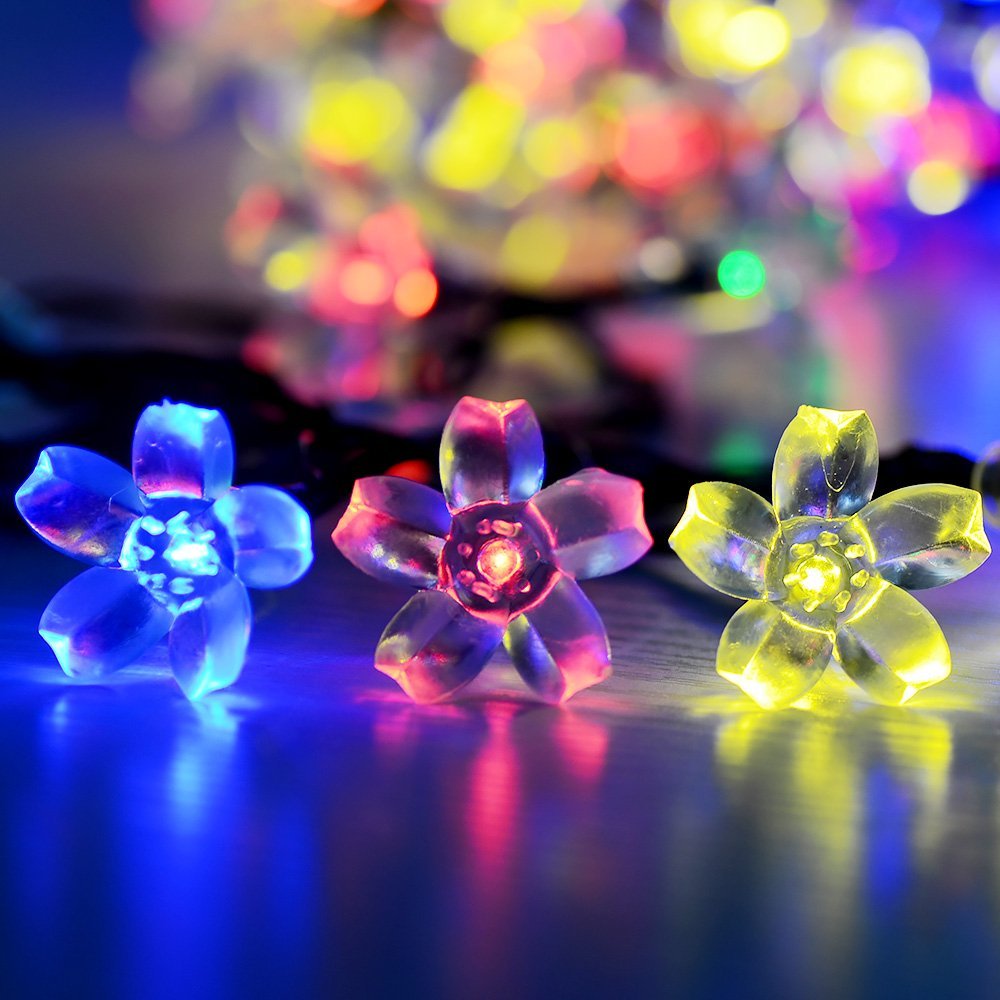 DIY Hanging Planter Lights
I made these myself .  They are a mixture of a metal planter and a tabletop solar light.  Both can be found at the Dollar Store.  I get compliments on them all of the time and I just love the way they look hanging from the bracket on the fence.  I also hung one from our tree.  You can see the full post and tutorial at Michelle James Designs.
Dollar Store Outdoor Lighting – Michelle James Designs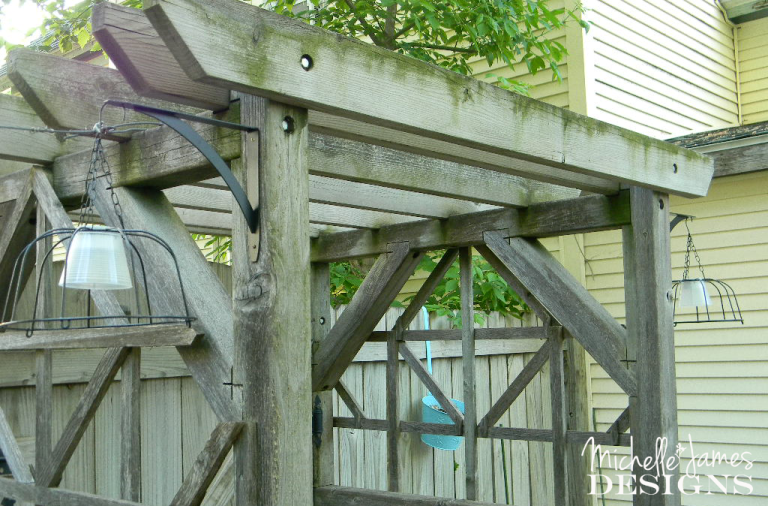 DIY Outdoor Rope Light
Rope lighting is such a great invention, don't you agree?  It seems very durable especially for the outdoors.  I love the way she wrapped it around her deck and the different colors it provides.  And, it looks easy to install.  That is a win-win!
Outdoor Rope Lighting – The Handyman's Daughter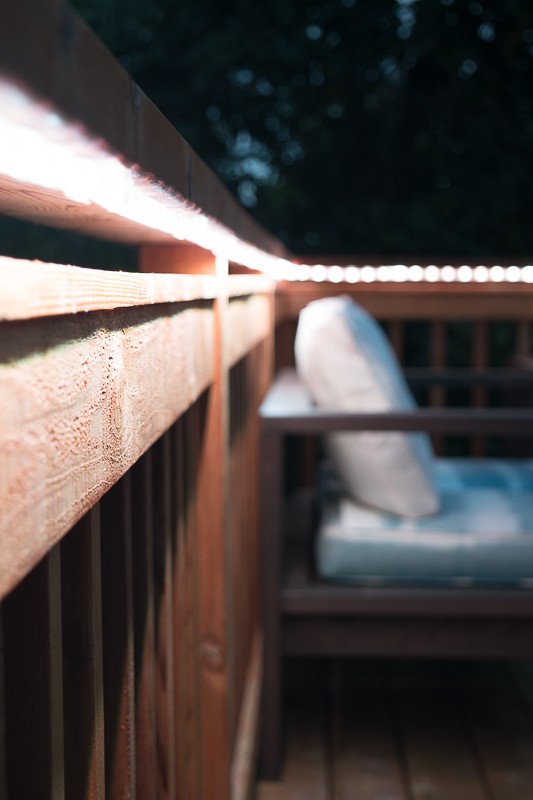 DIY Pillar Solar Lights
The industrial look and the stability of these solar lights make them one of my favorites.  I live in Northwest Iowa and it gets pretty windy.  These would stand the test of storms and high winds.  They are made from cement and an oatmeal container if you can believe that!  You can see the full tutorial at The Shabby Creek Cottage.
DIY Pillar Solar Lights – The Shabby Creek Cottage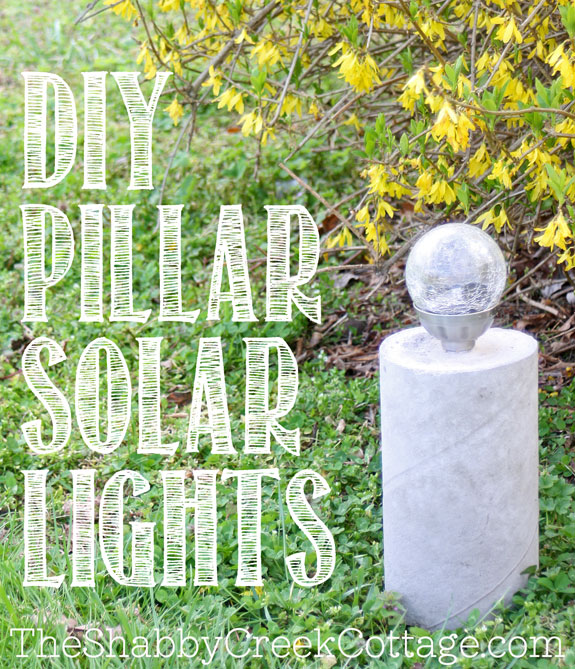 DIY Solar Floor Lamp
This lamp is so fun!  I can definitely see it on my back patio sitting by our little rocker bench.  I am in awe of the creativity of finding a lamp and adding the solar lights.
Solar Floor Lamp – Sadie Seasongoods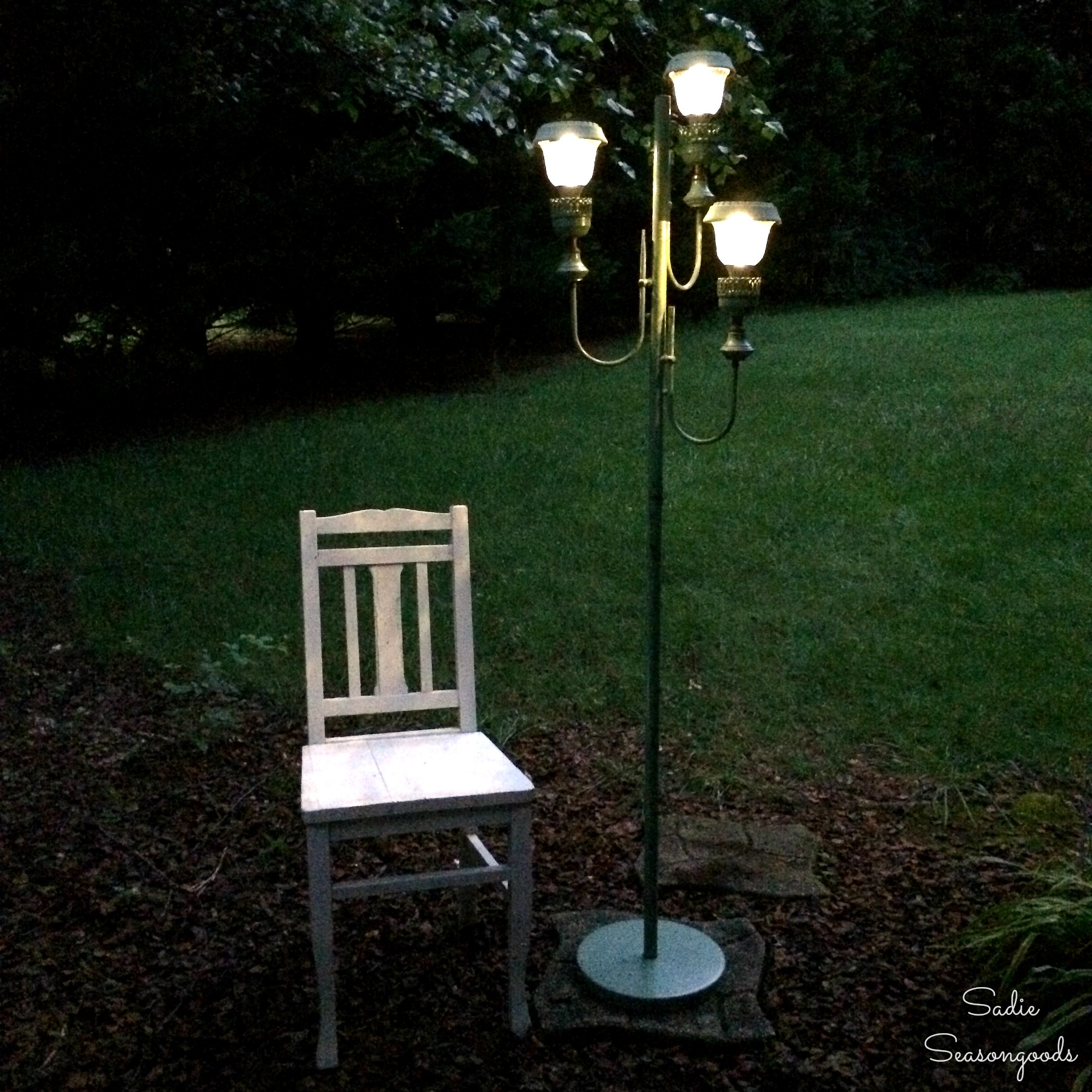 DIY Mason Jar Solar Lamp
These mason jar solar lights are fabulous.  Did you know you could get a solar insert for mason jars?  I am so excited to know this.  I love the way they hang on the posts.  You could probably make some fun path lighting with these as well!
Mason Jar Solar Lanterns – North Country Nest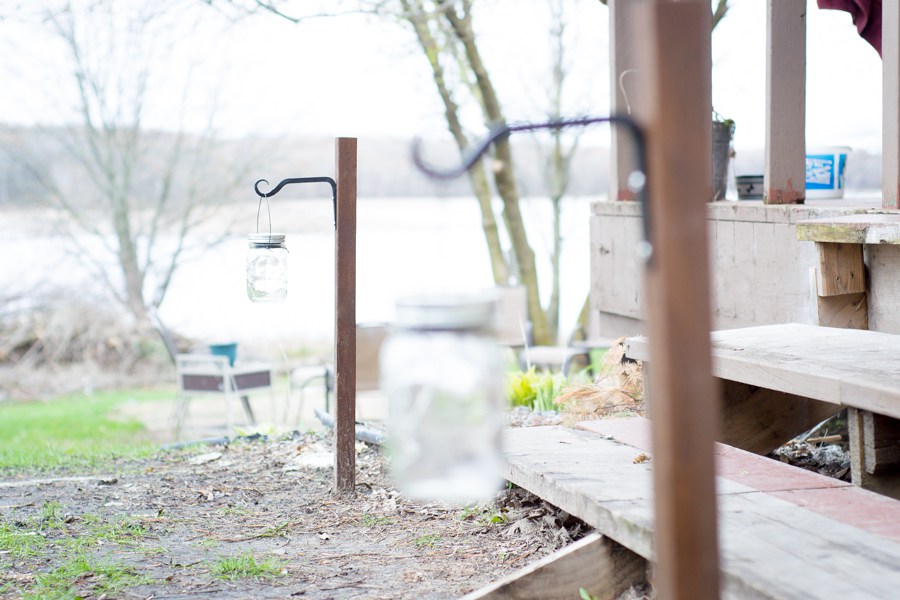 DIY Soda Can Chinese Lanterns
Can you believe these are made from soda cans?  I think these would be great hanging on a big table umbrella or from a camper.  They would be light and you can paint them any color you want. You can get the full tutorial at Our Peaceful Planet!
Chinese Lanterns – Our Peaceful Planet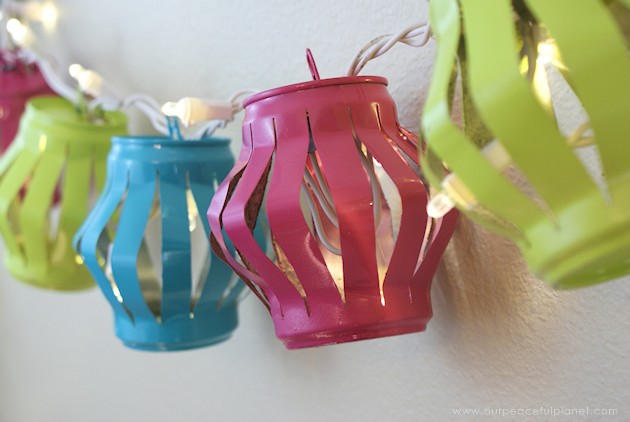 DIY Tiki Torch Planter
This is one of Crystal's posts.  There is a wonderful tutorial about making these planters and they really ground the seating area of her outside space.  The tiki torches add the lighting part and I love they way they stick out of the planters.
Tiki Torch Planter – The Weathered Fox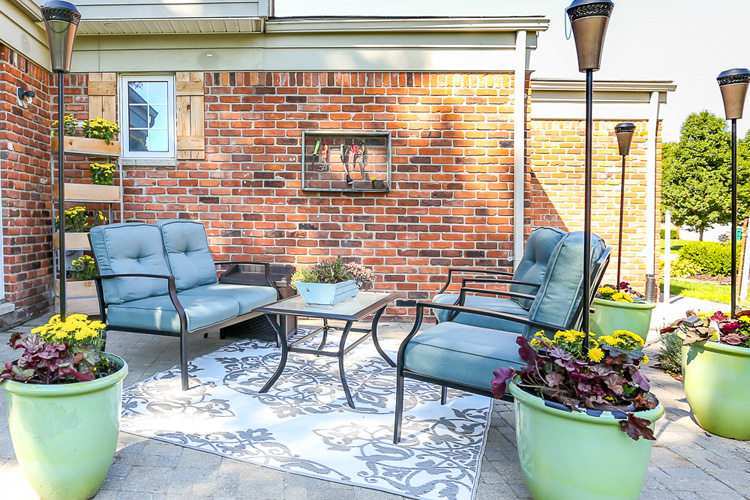 DIY Outdoor Candle Chandelier
In My Own Style was the first blog I started reading regularly.  Her projects never disappoint and this outdoor candle chandelier is no exception.  It was a thrift store find and now it is the star of this eating area.
Outdoor Candle Chandelier – In My Own Style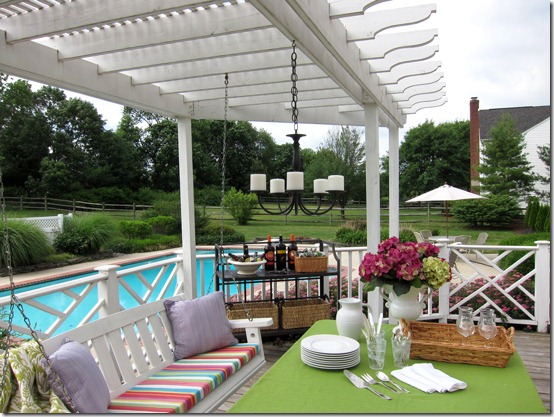 There we have it.  All twelve outdoor lighting ideas.  I hope you enjoyed this round up.  If so, be sure to pin it!


I will be back soon.
Michelle
You May Like These Outdoor Lighting Ideas!

If you love to up-cycle and DIY your home decor be sure to check out these posts including a fun summer drink station made from an old table, an herb garden perfect for adding flavor to your summer grilling recipes and farmhouse decor like this chalkboard wooden crate box.