I've been slowly making over my master bedroom and have been searching for some bedding for our new (to me) bed. You can see my bed transformation here. Want to know how I made a no sew euro sham for my farmhouse bedroom?
Have any of you noticed how stupid expensive pillow cases for euro shams are!? Like $30 for one pillow case stupid expensive! I even tried Home Goods, and they typically have reasonable prices. NOT this time. I might as well buy a brand new Euro Pillow every time I want a new pillow case.
Thankfully I came across a clearance shower curtain for $4 while I was flabbergasting over the euro sham prices. It was the perfect compliment to my bedding and headboard, so I thought why not try to make my own sham?
(This post contains affiliate links. This means I get commissions for purchases made through links in this post.)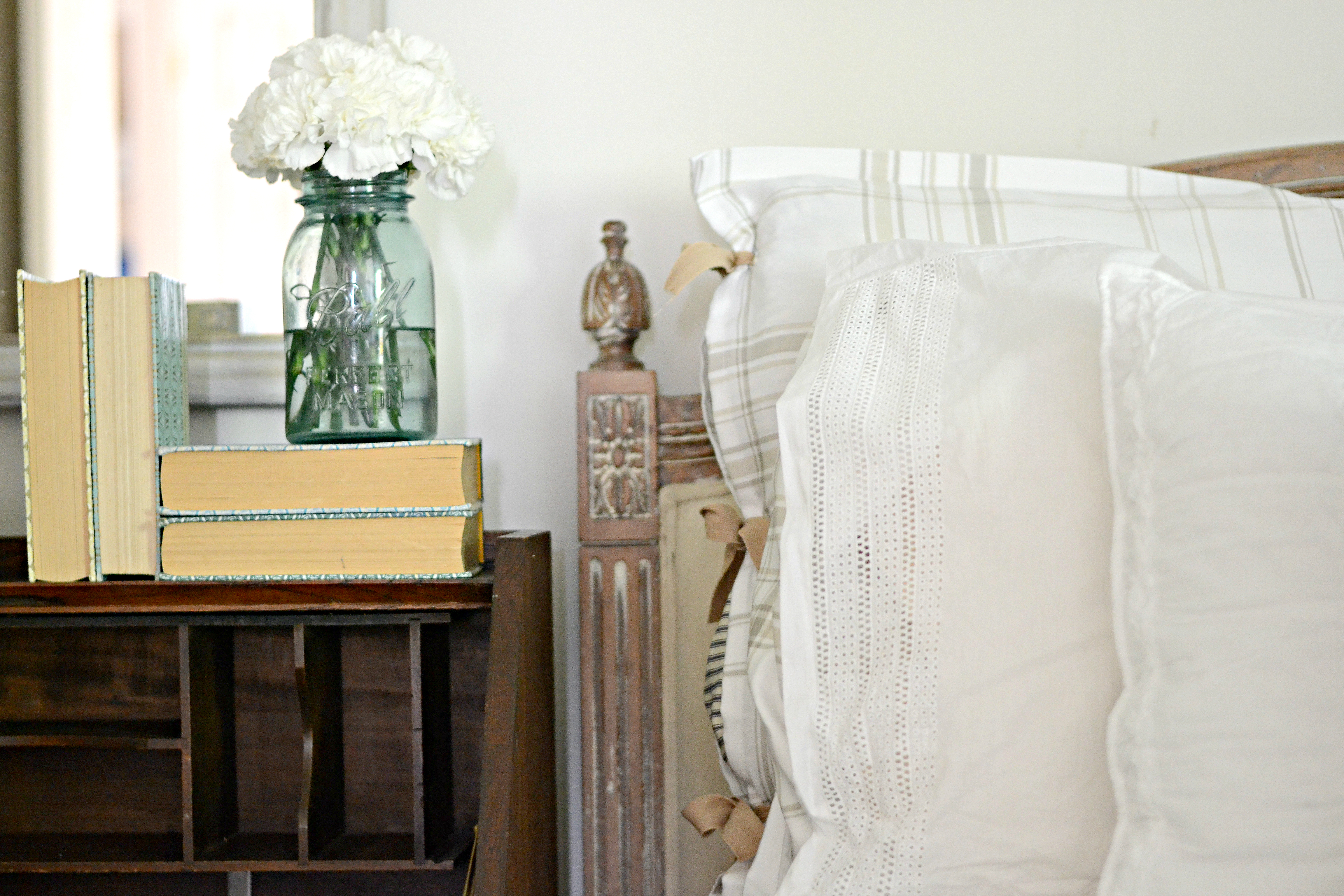 Let me preface this by saying I have ZERO sewing skills, so I'm not even going there. At all. This is a NO SEW euro sham tutorial. I was able to create these pillow cases with absolutely ZERO sewing involved. They are machine washable, and the fabric is durable since it's fabric made for shower curtains!
So, let's get started with the tutorial!
Here are the tools and items I used to create my no sew euro sham (affiliates):
Clearance fabric shower curtain (well, you could use any fabric you darn well please)
No Sew Euro Sham Tutorial
1.) Start by measuring your pillow. Double up your fabric, lay it out and put your pillow on top. I put my pillow against the one finished end, and the edge that was doubled up. I'll use those two edges as part of my finished pillow to save some time. That way I only have to hem two sides! Measure around your pillow the best you can. Keep in mind the 'fluff' of your pillow and give generous room when cutting.
2.) I gave about 2 inches extra for error and hemming, then I cut around the two edges of the fabric that I'll be hemming.
3.) After the fabric has been cut to size, I ironed down the edge where I want my hem tape to go. To get that really nice clean edge like I have on my pillows, you'll need to hem each edge separately, then use another piece to hem them together.
4. After your seams are ironed down, open the seam and add your hem tape. Follow the directions on the hem tape, and using your iron, iron down the hem tape, sealing your edge into place. Do this for all of your fresh cut edges.
Here is a short video of the above steps:
5. After all of your edges are hemmed with the hem tape, this is when you hem the two opposite sides together to create a closed pillow case. Keep that stitched edge open, that is where you will add your eyelets and ribbon, and eventually insert your pillow!
It's seriously THAT easy. It took me 30 minutes TOPS to finish the first no sew euro sham, and the second was even faster!
I used some extra fabric I had leftover to stuff on the ends of my pillows and tucked it around my boxspring. Now it looks really pulled together. Such a simple and unexpected way to add pattern!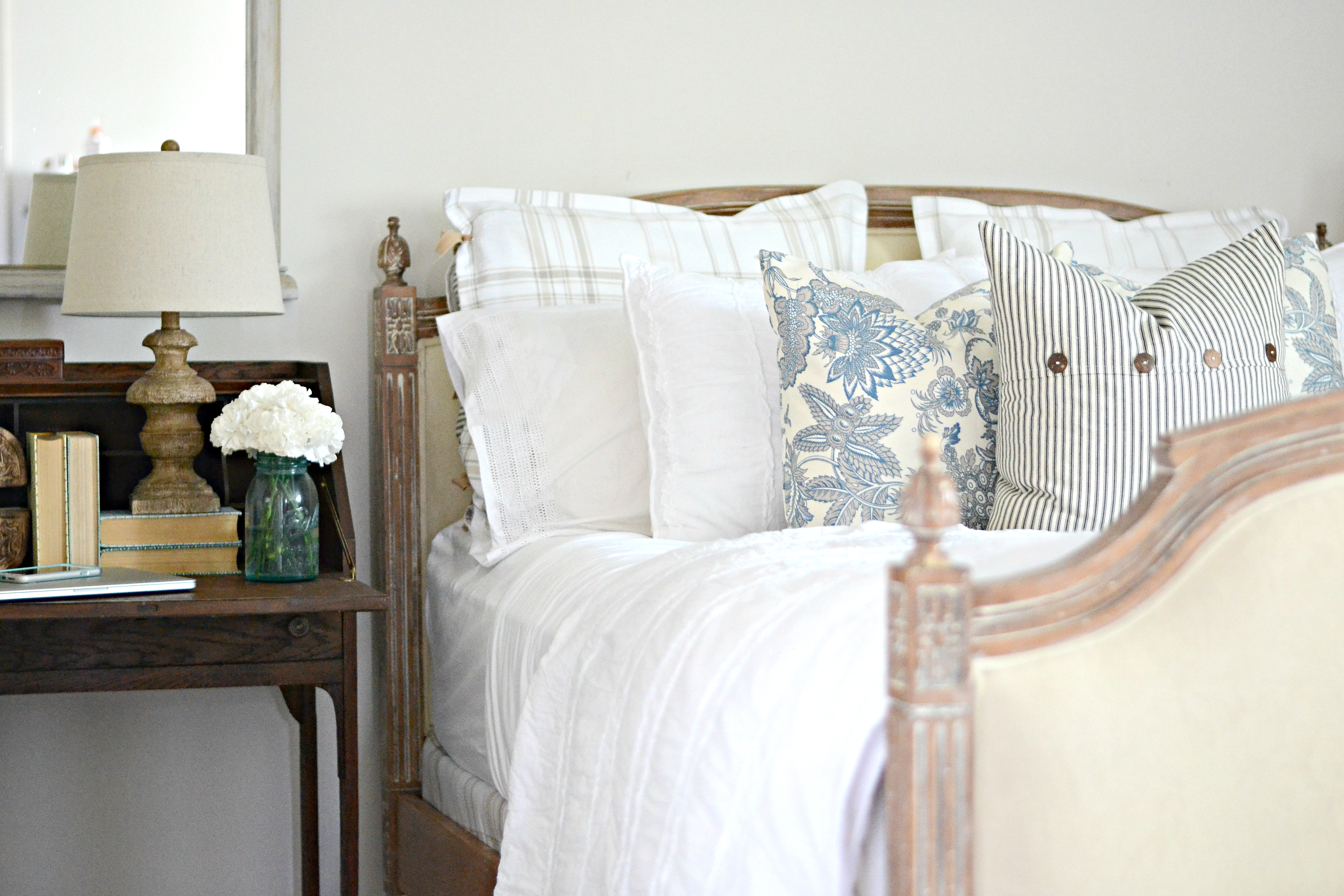 I've rounded up some exact and similar products to help you get this look at home!
Click on the images to be taken to the products (affiliate links).