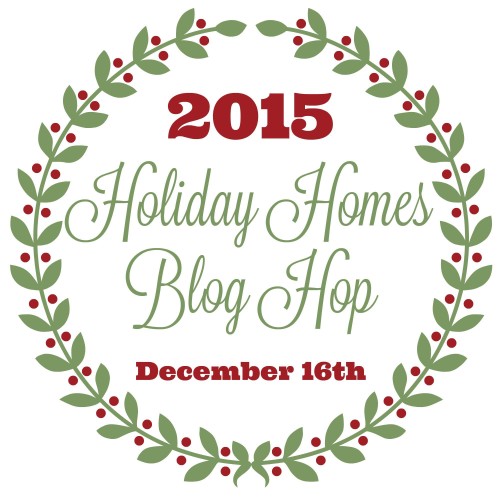 Welcome to my holiday home tour! Since Advent, I've been slowly rolling in the Christmas decor and was able to jump on board with a later Christmas tour.
I'm so thrilled to be a part of this because a lot of Christmas tours start really early and I'm not always ready to jump on the bandwagon so soon.
And, come to think of it, this is actually the first official tour of my home. Well, at least part of my home. For this tour we were asked to focus on one room, which is just fine with me!
So I decided to share the heart of my home, the kitchen.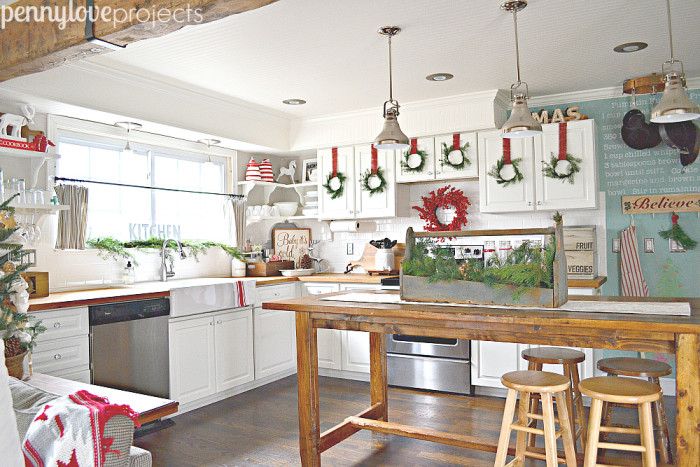 When we first moved in, this house had a decent sized kitchen, but I really wanted a giant island. I had always imagined a huge farmhouse table right in the middle of the space. The island would function as a work space, a eat in area, and would be great for entertaining.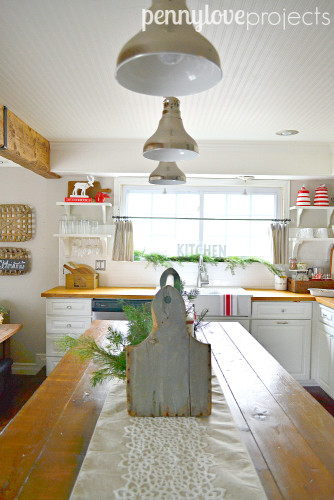 With the help of my father-in-law, I built this island. I can honestly say this is where we spend most of our time. This table has become the cornerstone of our house.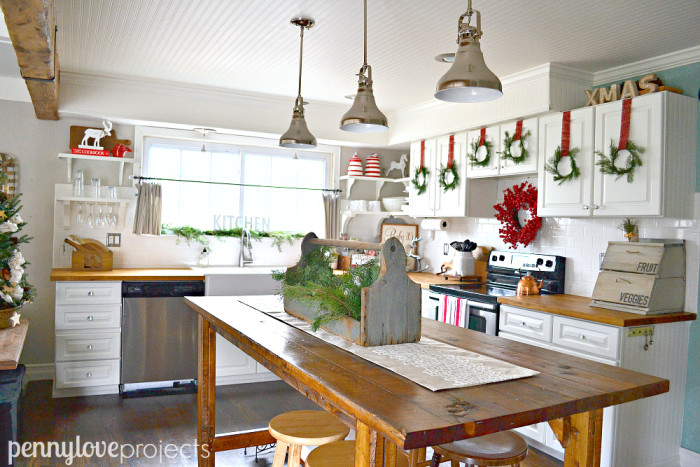 It's where we gather, pray, work, laugh, create.  It's so much more than a table. And it can easily fit 10-12 people around, so I always pick up extra stools when I spot them!
To add a bit of color to the space, I hung these mini wreaths that I made.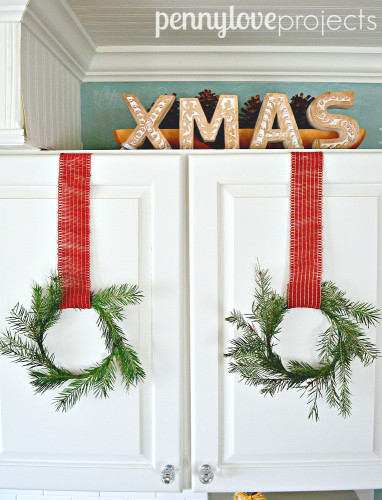 The red berry wreath above the stove is from Home Goods.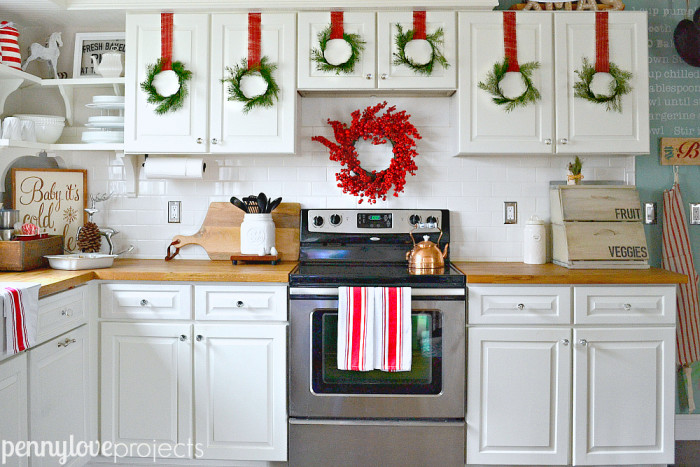 The pops of red in the towels and jars just give a little extra cheer without disrupting the function of the space.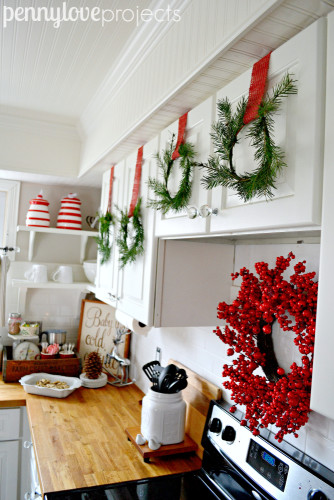 During the redesign, we added the butcher block countertops and opens shelving.
We use the bottom shelves for our every day items, and the tops shelves for decorative, and less used items. And a Hot Cocoa bar,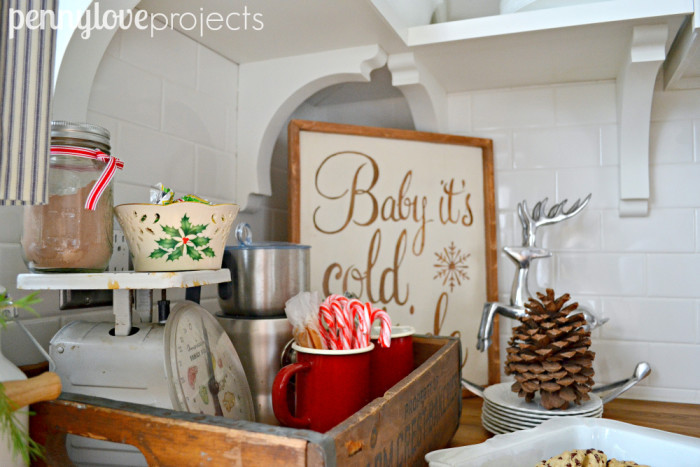 which in all honesty is used far too often, makes it easy to grab a cup and warm up next to the fire.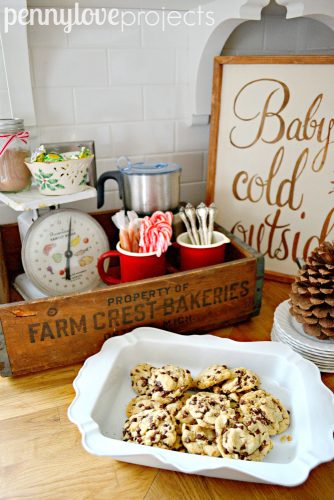 I also added the beadboard to the ceiling. Here's a secret: It's wallpaper. 🙂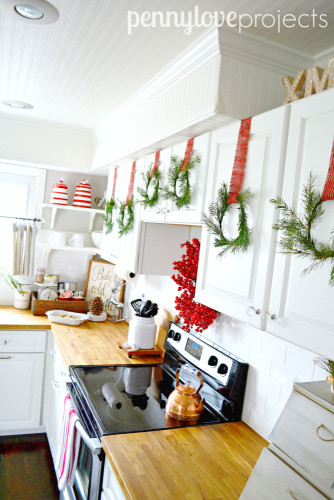 I added a little fresh cut garland to the window as well. I'm going to share with you soon on how I get my fresh garlands for free. yea. free. That info will be revealed when I show you how to make those adorable mini wreaths later this week!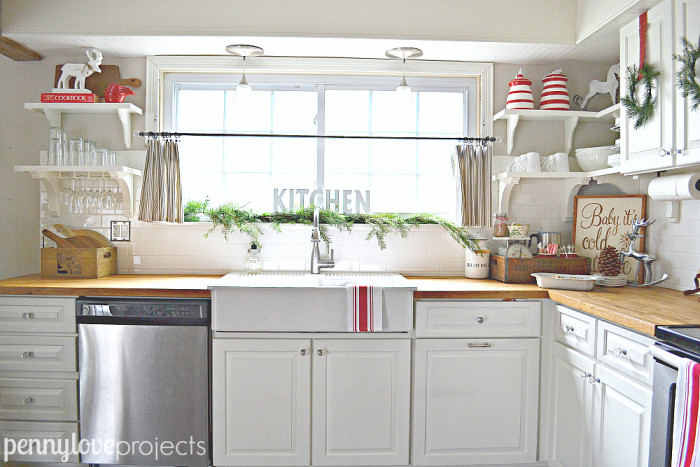 The chalkboard wall that I added this summer has been fun to decorate too. I wrote an old family recipe for pumpkin nut pie, and below that I like to switch it up every once in a while.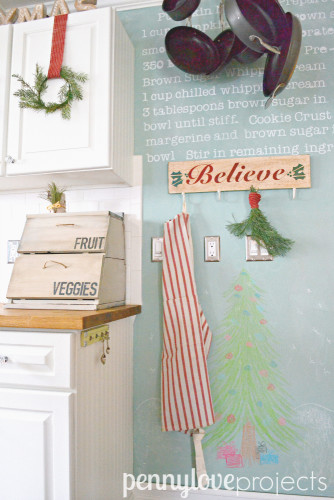 Thanks so much for stopping by! And please be sure to pin an image to your holiday board!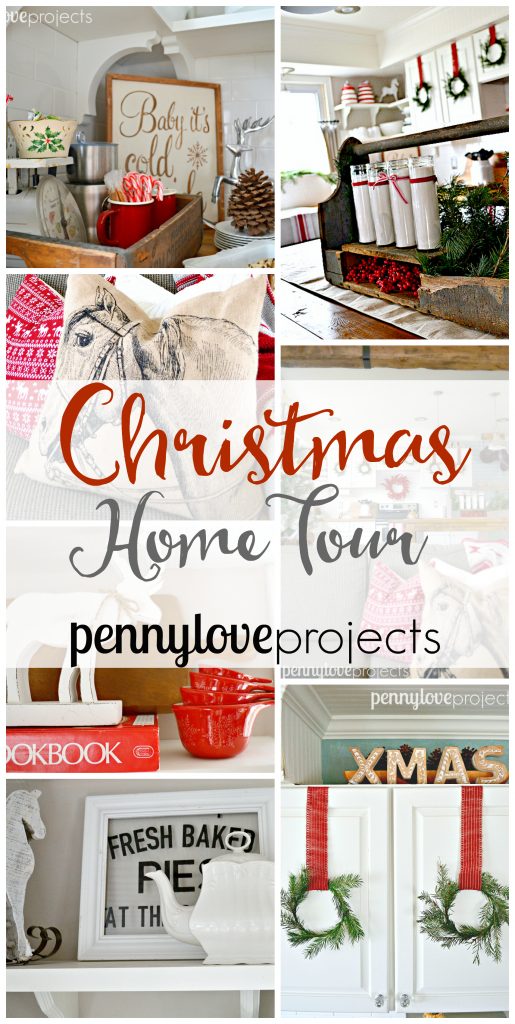 Please stop by the other homes on the hop for more Decor inspiration!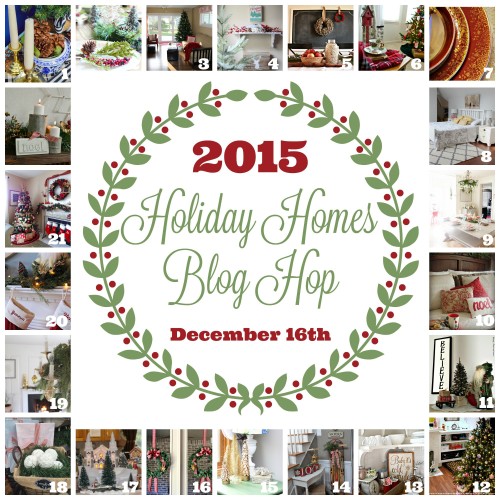 1. Casa Watkins ~ Winter Home Tour, Part 3
2. Kolb Corner ~ Christmas Dining Room Tour and Holiday Homes Blog Hop
3. Green with Decor ~ 5 Must Haves for Christmas Decorating: The Family Room Christmas Tour
4. Karen's Up On the Hill ~ Holiday Hallway and Holiday Homes Blog Hop
5. Twelve on Main ~ Farmhouse Christmas Dining Room Tour
6. The House Down the Lane ~ Holiday Homes Blog Hop: Red and White Christmas Dining Room
7. Creatively Homespun ~ A Vintage Christmas Dining Room
8. 2 Bees in a Pod ~ Guest Room Christmas Home Tour
9. Sew a Fine Seam ~ Dining Room Decked Out For Christmas
10. Knock It Off Crafts ~ Holiday Homes Blog Hop: Festive Master
11. Vintage Paint and More ~ Christmas Home Tour 2015, Part 1
12. Inside the Fox Den ~ Candy Coated Living Room
13. Penny Love Projects ~ Holiday Home Tour
14. Made In a Day ~ Mini Holiday Decor Tour
15. Refashionably Late ~ Holiday Home Hop
16. Pretty Practical Home ~ Simple (and Cheap) Holiday Porch Decor – Holiday Homes Blog Hop
17. Intelligent Domestications ~ Christmas Traditions Home Tour 2015
18. Our Crafty Mom ~ Outdoor Holiday Decor: Front Entry
19. Lehman Lane ~ Green and Gold Christmas Dining Room
20. C'mon, Get Crafty ~ 2015 Holiday Homes Blog Hop
21. My Pinterventures ~ 2015 Holiday Homes Blog Hop – Festive Family Room