Enjoy the last little bit of grilling season with this simple yet tasty gluten-free grilled chicken shish kabob recipe. With a yummy, low-fat creamy dill dipping sauce, it's a filling yet healthy meal idea. Assemble the skewers ahead of time for easy Labour Day entertaining!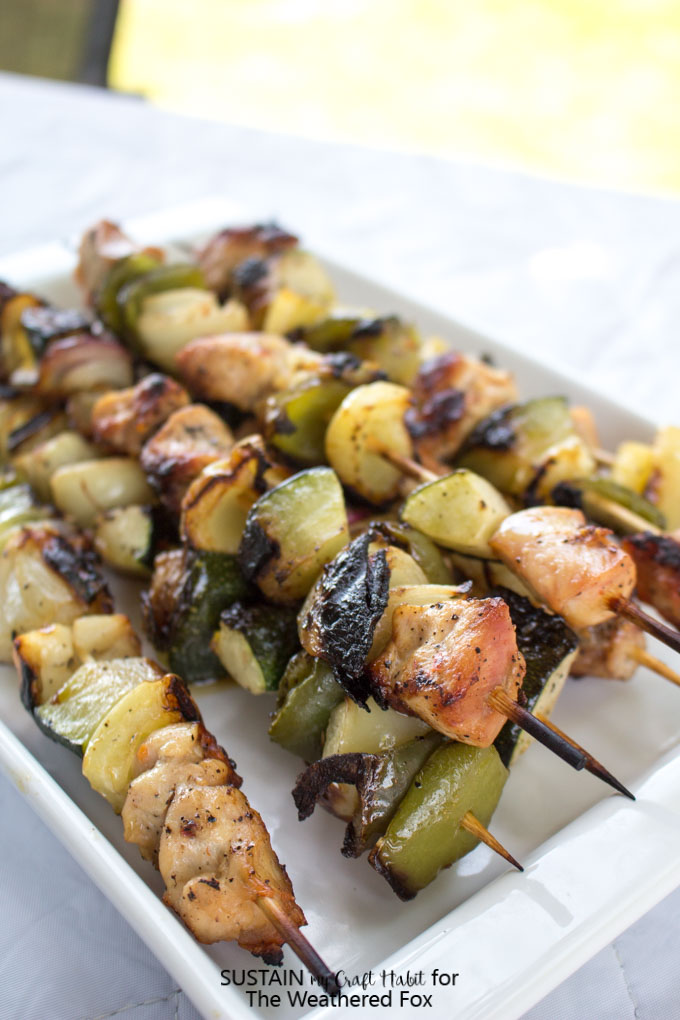 Hi friends! It's Jane and Sonja from Sustain My Craft Habit. We're happy to be back here at The Weathered Fox, this time sharing a simple summer recipe idea with you. Being in Canada, we relish each and every warm weekend of the summer. For us, there's no better way to celebrate the end of a beautiful summer season than with a BBQ for the Labour Day weekend. Although it's bittersweet, it's also a special time to get our family together, reflect on the memories of the summer and re-set for a new season and school-year ahead.
This summer, we've been fortunate with a bumper crop of amazing zucchinis. You'd think we'd be sick of them by now, but no! We've been using them in all kinds of different recipes, with this easy zucchini and berry cake being a household staple. We've made this chicken shish kabob recipe and number of times already as well! Alongside the tasty kabobs, we also grill up a side dish of any remaining zucchini and onion cubes.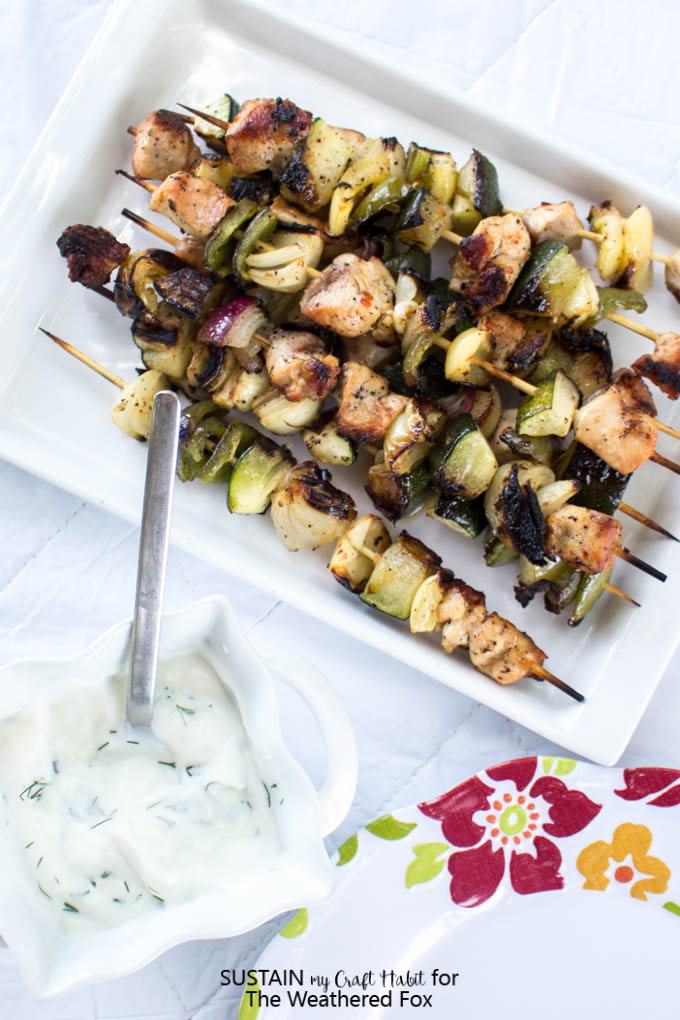 For that little bit of savoury flavour we use Montreal steak spice seasoning. While most of these blends are gluten-free, be sure to double check the particular brand you are using. Alternatively, replace the seasoning with a generous sprinkling of salt and pepper.
A little tip: To keep the shish kabobs from charring on the grill, we don't actually place them directly on the grill. Rather, use an old cookie sheet, or aluminum foil grilling tray: you can find them for cheap at the dollar store and then toss them in the recycling bin when done. No fuss, no muss!
Grilled Chicken Shish Kabob with Creamy Dill Dip
(This post contains affiliate links. This means I get commissions for purchases made through links in this post.)
Ingredients:
To make 12 shish kabobs:
3 chicken breasts

4-5 zucchini

2 small red onions

1 Spanish onion

2 green peppers

salt, pepper

bacon grease (optional)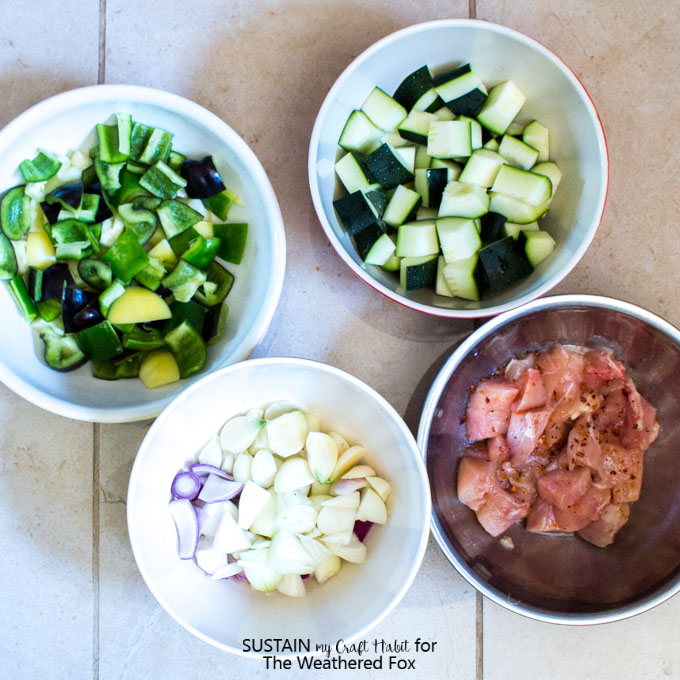 To make the creamy dill and garlic dipping sauce:
1 cup of low-fat sour cream

2 cloves of minced garlic

2 tbsps of fresh dill
Directions:
1. Cut the chicken into 1" cubes. Drizzle with olive oil and then sprinkle with Montreal steak spice seasoning (or salt and pepper). It's best to let the chicken sit and marinate for 30 minutes (or prepare the night before and marinate in the fridge overnight).
2. Just before you're ready to assemble the shish kabobs, cut the zucchini, onions and peppers into 1" cubes or squares. We prefer to keep the ingredients in separate bowls to make it quicker to grab when assembling the kabobs. Drizzle each with olive oil and a bit of salt and pepper.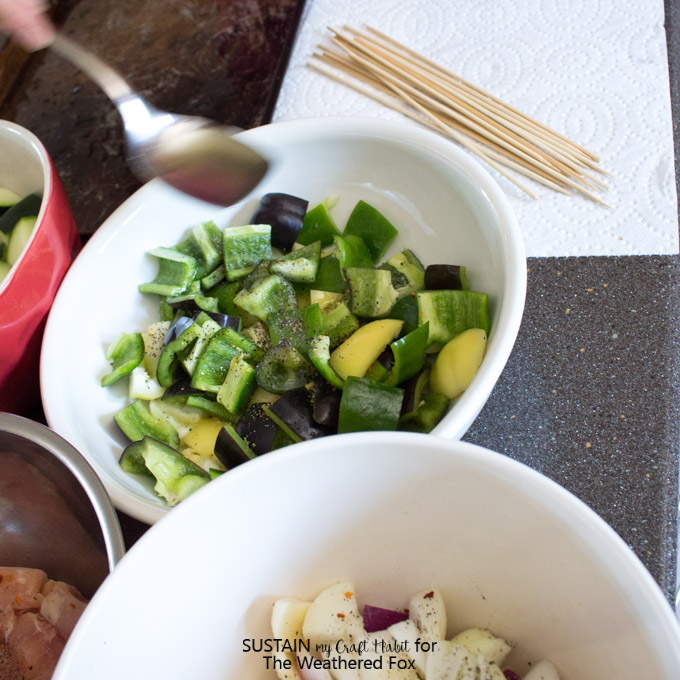 3. Assemble the shish kabobs! Randomly alternate pieces of chicken and vegetables onto each skewer. Leave about 1"-2" of each end of the skewers empty to make them easier to hold (and so that the food won't fall off of them when cooking).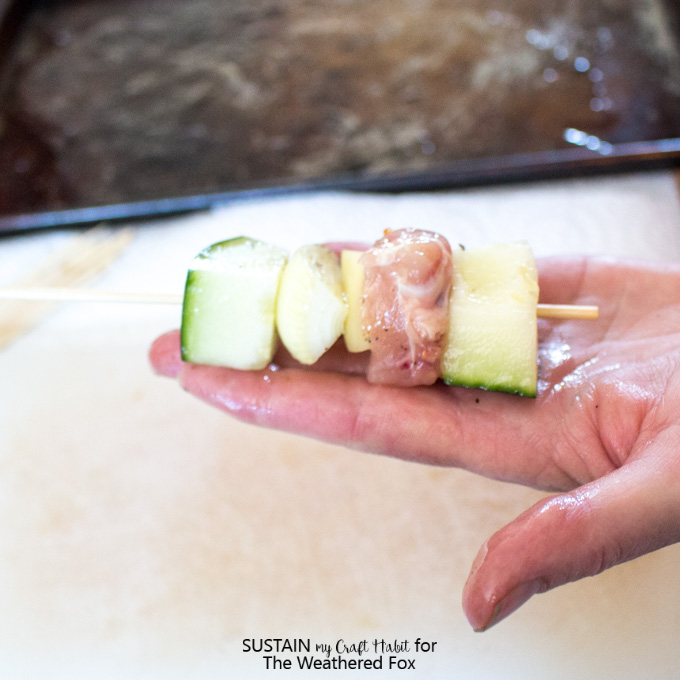 4. Drizzle the cookies sheet or tin tray with some more olive oil to prevent sticking. Alternatively, use any leftover bacon grease you have for an extra touch of flavour. Arrange the each chicked shish kabob side by side in one layer on the cookie sheet/tray.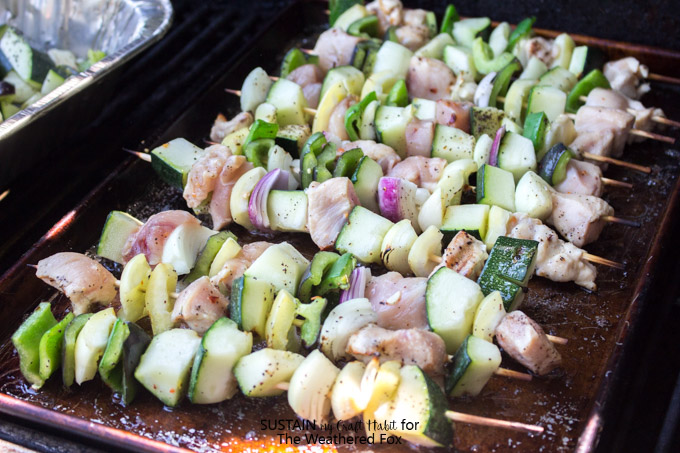 5. Place the sheet/tray of shish kabobs onto your grill, which was preheated to a medium-high temperature (~350F). Grill the shish kabobs for about 15 minutes, turning regularly.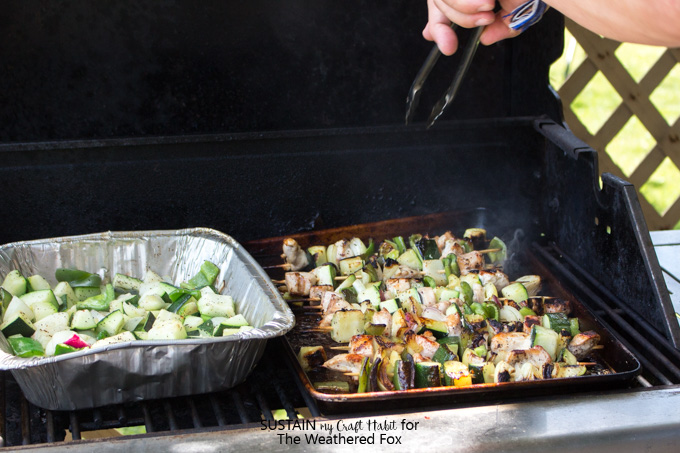 6. In the meantime, combine the sour cream, garlic and dill to make the dipping sauce.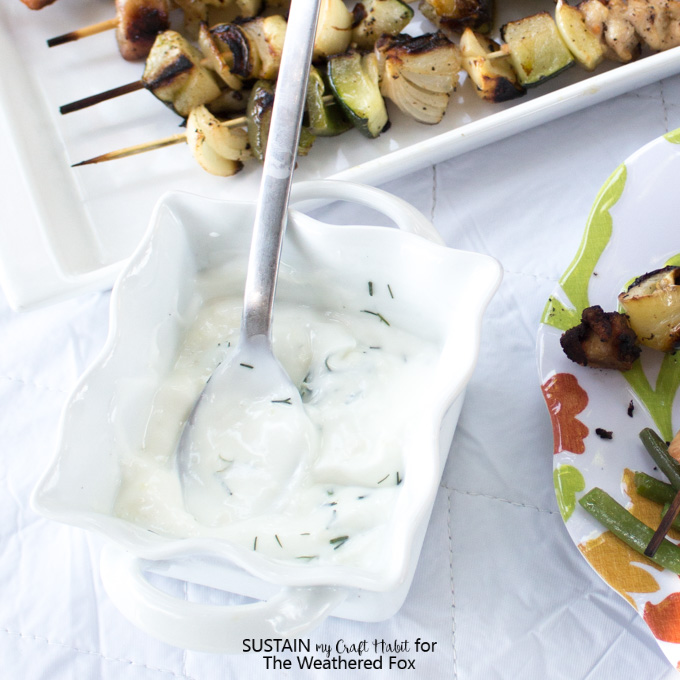 Serve the delicious chicken shish kabob while warm, with the dipping sauce on the side.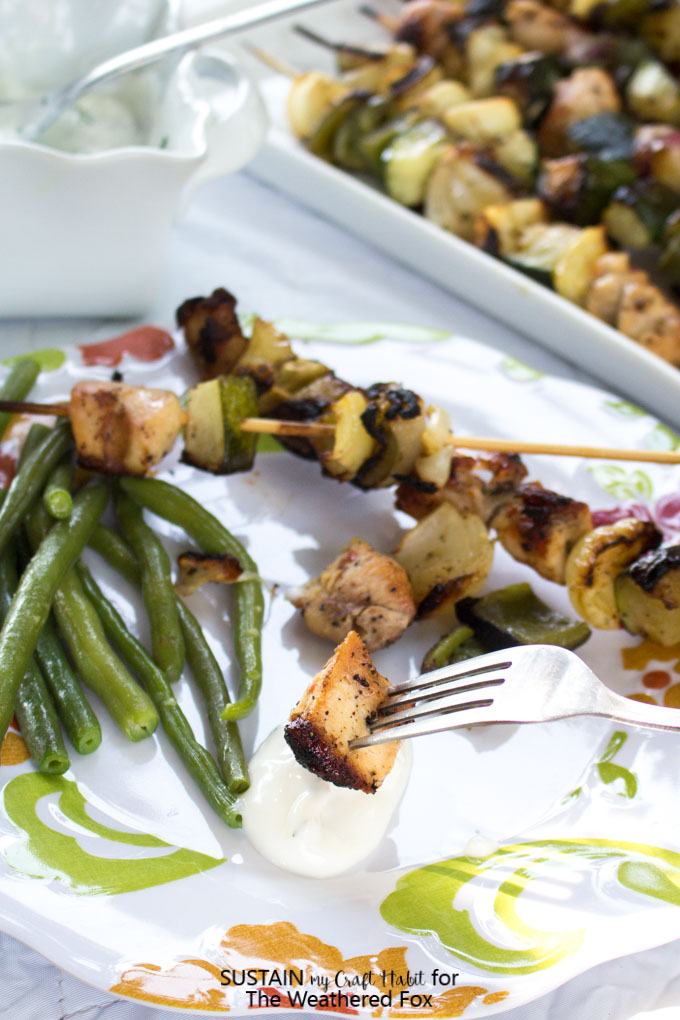 Do you have a favourite summer grilling recipe?



We love to create crafts, DIY and recipe ideas with nature in mind on our blog. Here are a few recent posts of our which you may enjoy!