I'm really lucky.
Do you know why? I'm lucky because I have a design style that embraces imperfections.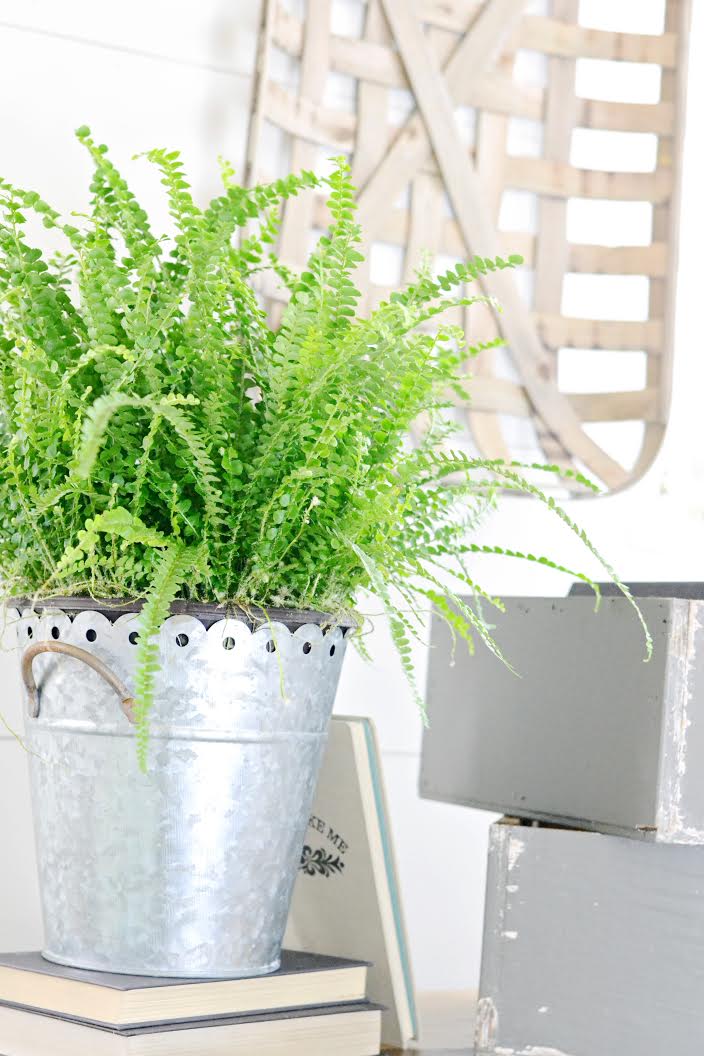 Not everyone likes the distressed look, but I do. And my love for pieces that tell a story and have a history works in my favor when I'm working with literal garbage.
At least, most people would see the furniture I refinish as garbage.
And most toss these pieces out because there are imperfections that just seem to ruin the piece. I had such a piece that was given to me because it was either I take it, or it was getting dumped.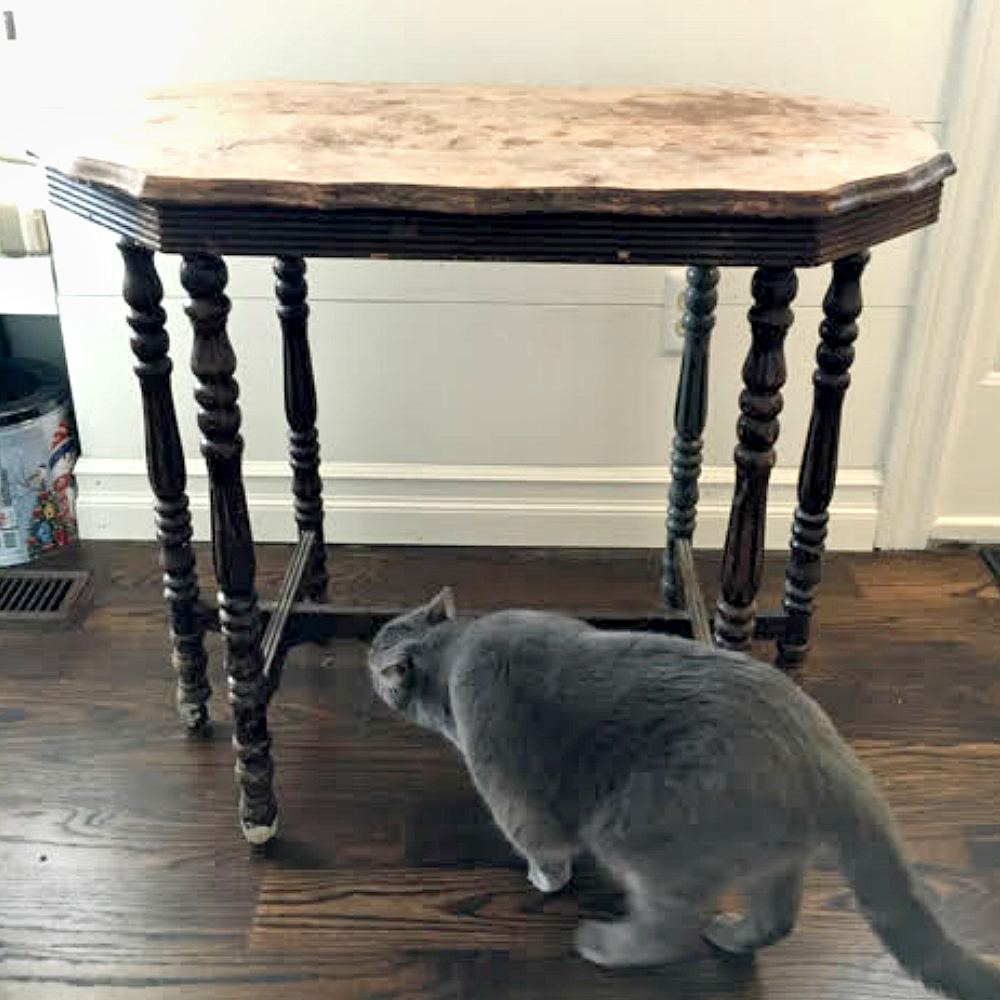 This little side table was all a mess. The veneer was warped, and there were who knows what kind of stains that were definitely NOT coming out.  But I'm going to show you what I do to help hide imperfections and what I did to highlight the beauty of this darling little side table.
(This post contains affiliate links. This means I get commissions for purchases made through links in this post.)
Gray Side Table Rummage Redesign
Here are the materials I used:
1.) Deglosser
2.)Your choice of Paint
3.) Plaster of Paris
4.) Sandpaper 60 grit and 200 grit
5.) Dark Wax
6.) Citristrip
7.) Putty knife
8.) Wire brush
9.) Sander
The first thing I did was wash it down with my deglosser, and mixed up some handmade chalky style paint. You can find the recipe I use here. I chose a dark gray for this table. and I LOVE the way it turned out!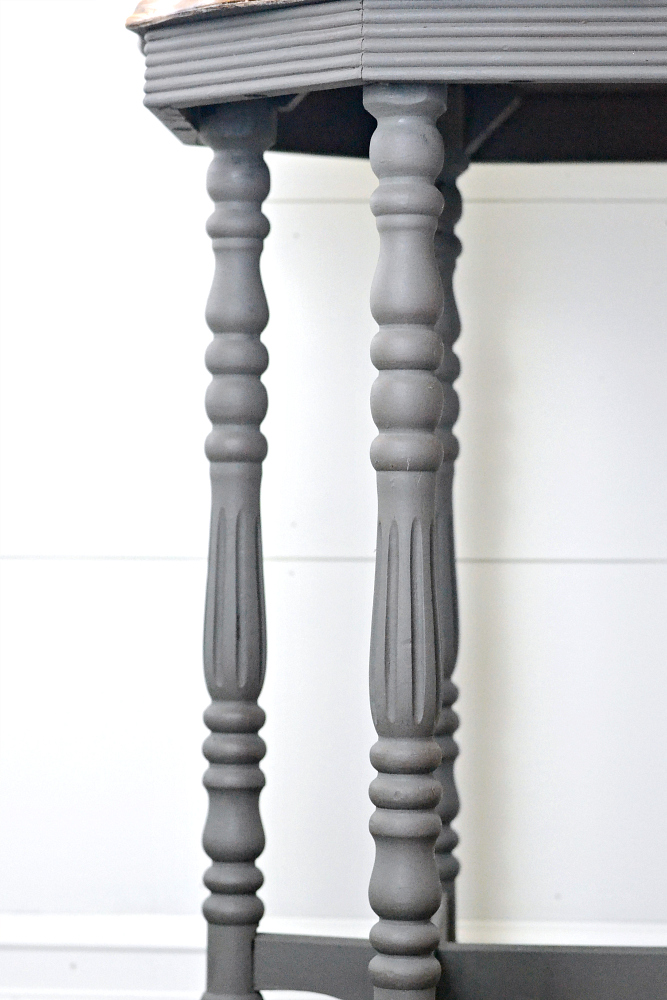 Two coats of the paint, let dry, and ran over the high points with my sandpaper to add just a touch of distress. After I had the paint how I wanted it, I went over the finish with some dark wax, just enough to add a little dimension, but not so much that it's obviously aged. This table is all about subtlety, because I wanted to keep the attention on how amazing the top turned out!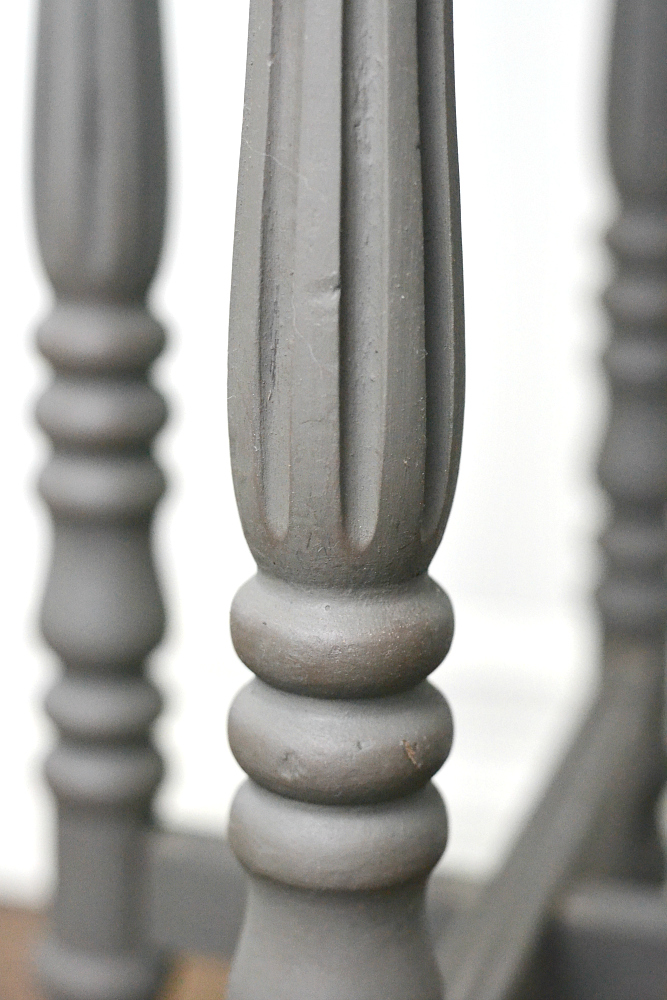 Next I soaked the top in citristrip to remove any glue or finishes left behind. This table had some veneer on it when I first got my hands on it, but I tore it off before it even made it to my car.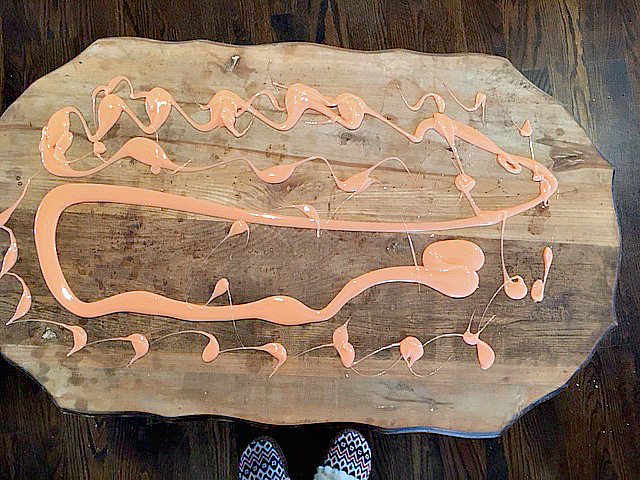 Now, in a perfect world, I would have used the stripping agent first, but I got really excited to paint and I just told myself I'd be super careful when I used the Citristrip so I wouldn't take off any of the paint. and I did a good job of that! I was extra careful not to drip any stripping agent on my pretty paint job.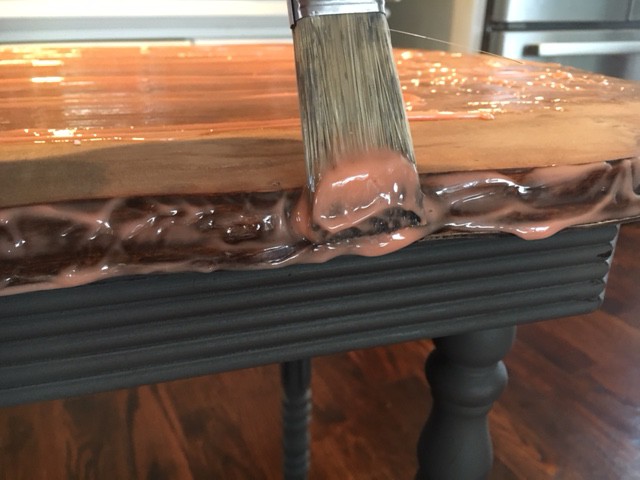 After letting the Citristrip sit for a while, I scraped it off using my putty knife.  To get all around the details in the top, I took a metal brush and scrubbed the finish off. (No photos of this part sorry.)
When the majority of the citristrip was removed, I washed the entire top down with soap and water to  make sure all the stripper is gone.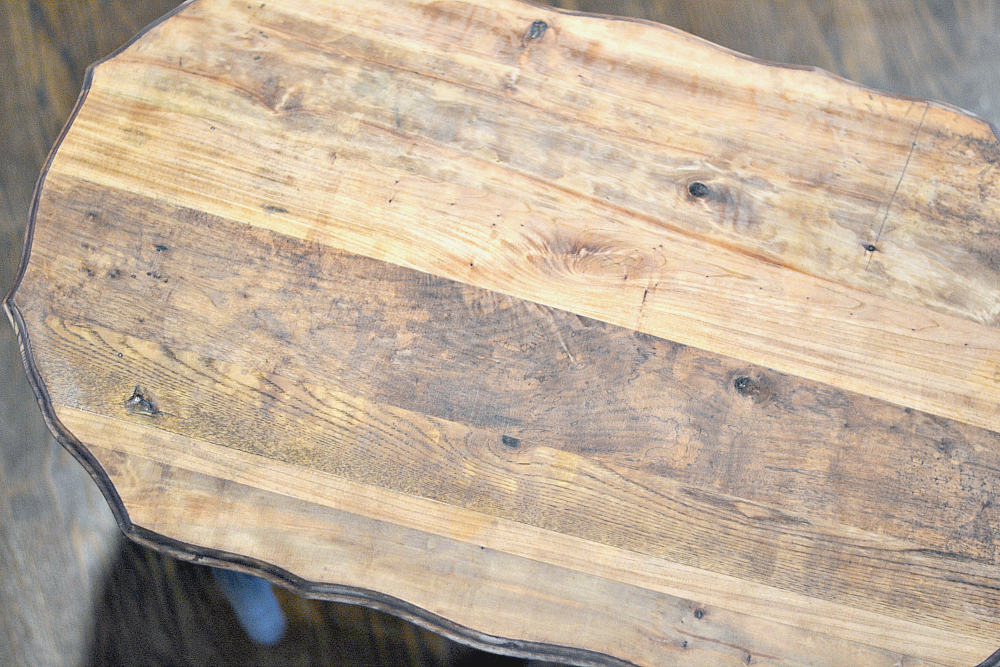 I went over the top with some 60 grit sandpaper, again to make sure none of the old finish and veneer was completely gone. As you can see, some of the spots are just not budging, but I have one final trick up my sleeve.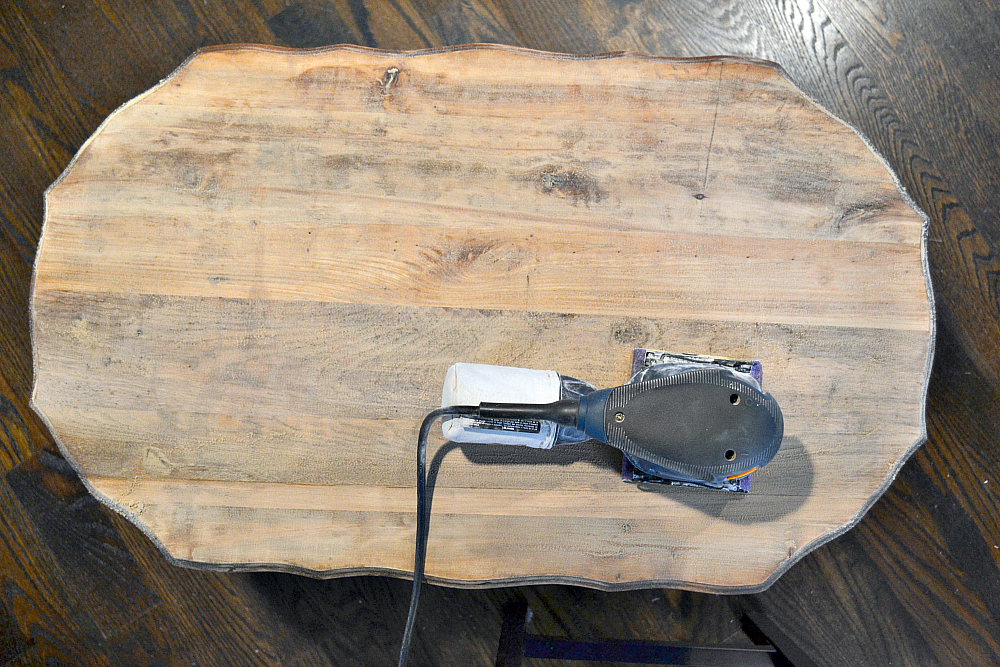 I let the table completely dry overnight and came back the next day to stain the top. Remember those imperfections that just weren't budging? I hid them using different shades of stain.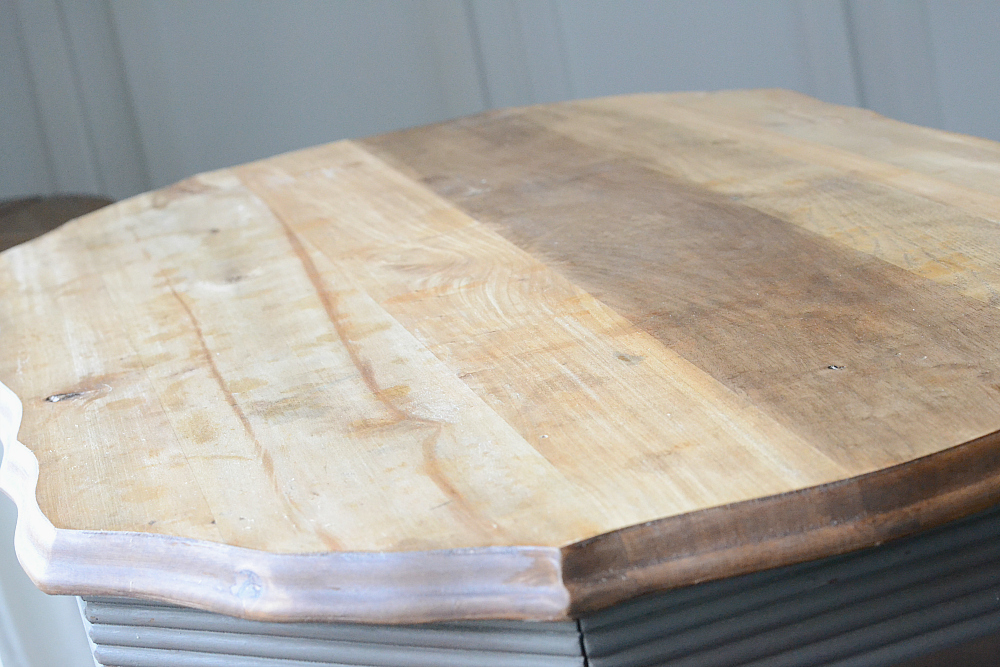 The most stubborn spots got a darker stain across the length of the board, while lighter spots got a lighter stain.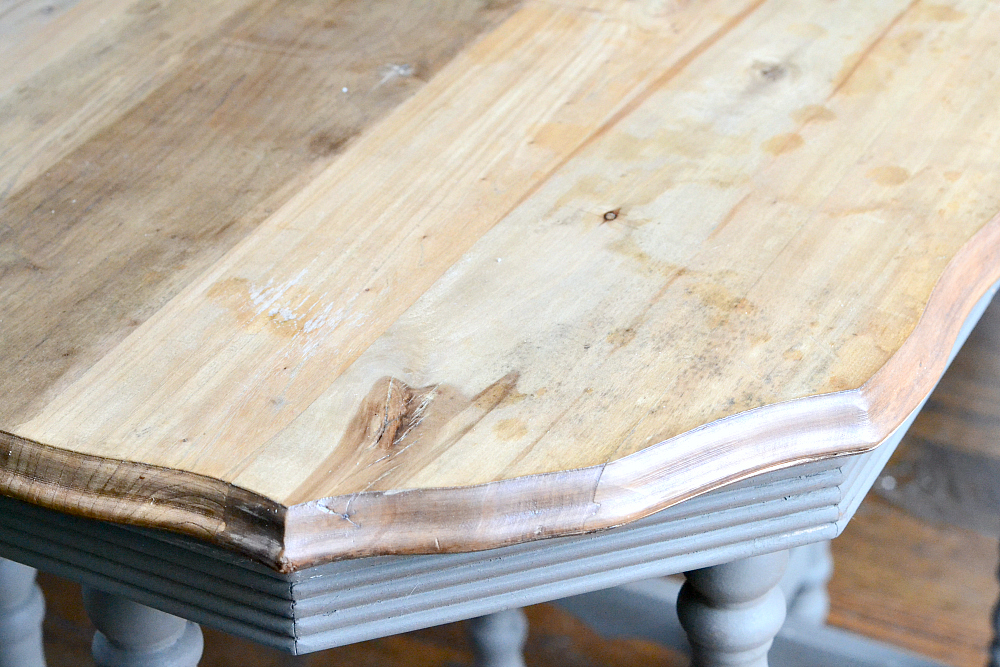 Now, the spots are still somewhat visible, but it doesn't bother me. I love all the knicks and dents and spots in the top. It's not perfect, but it's so so so much better. I think it adds so much history to this piece.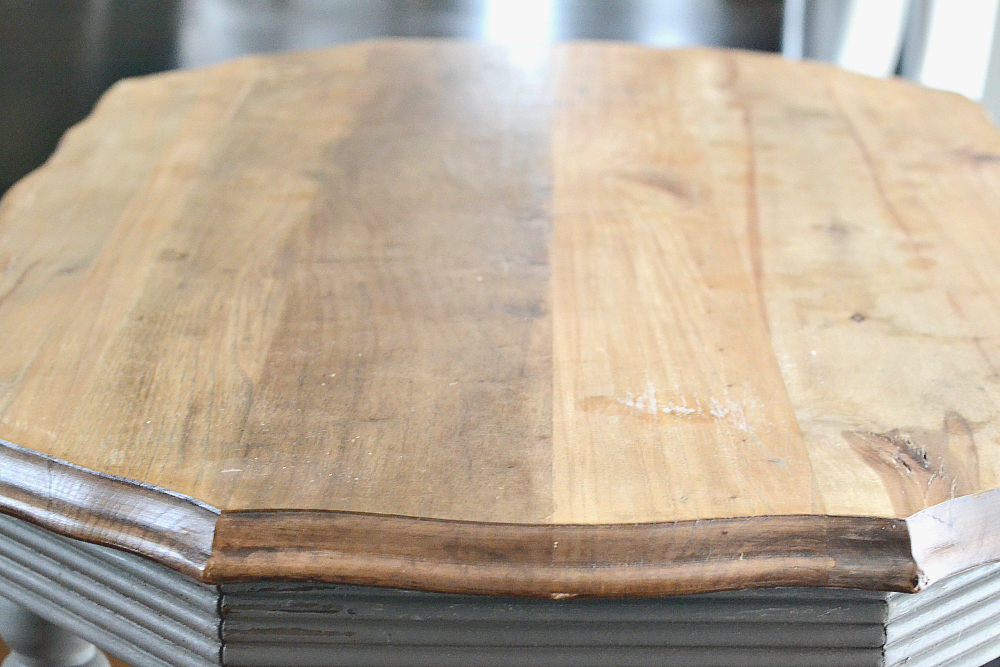 Plus, these images are meant to focus on those spots, when you see the piece as a whole, they really don't stand out.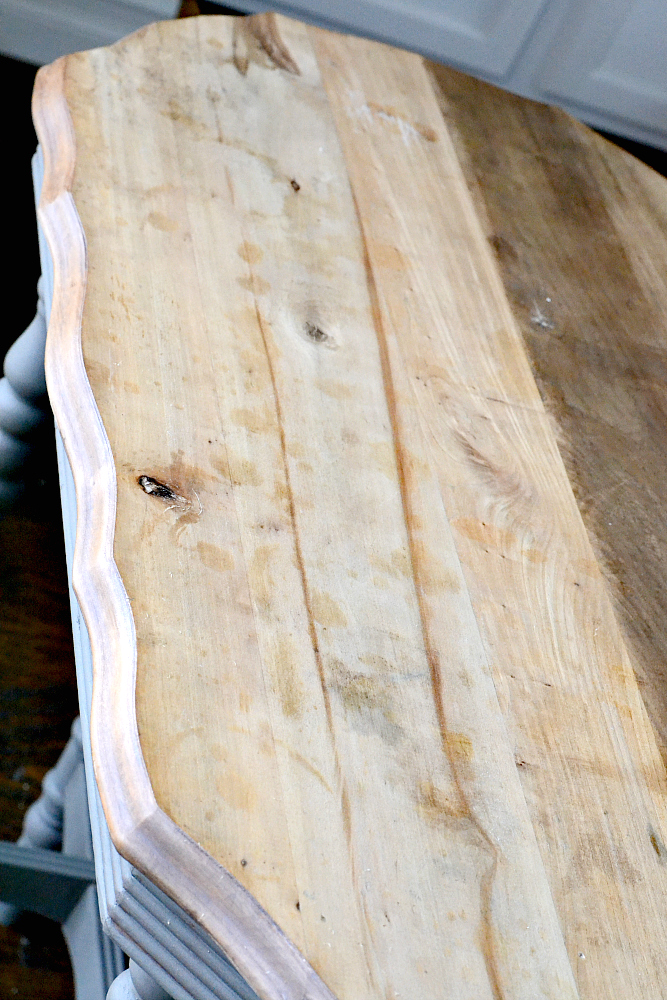 I love the way this turned out! It gives so much character to the wood.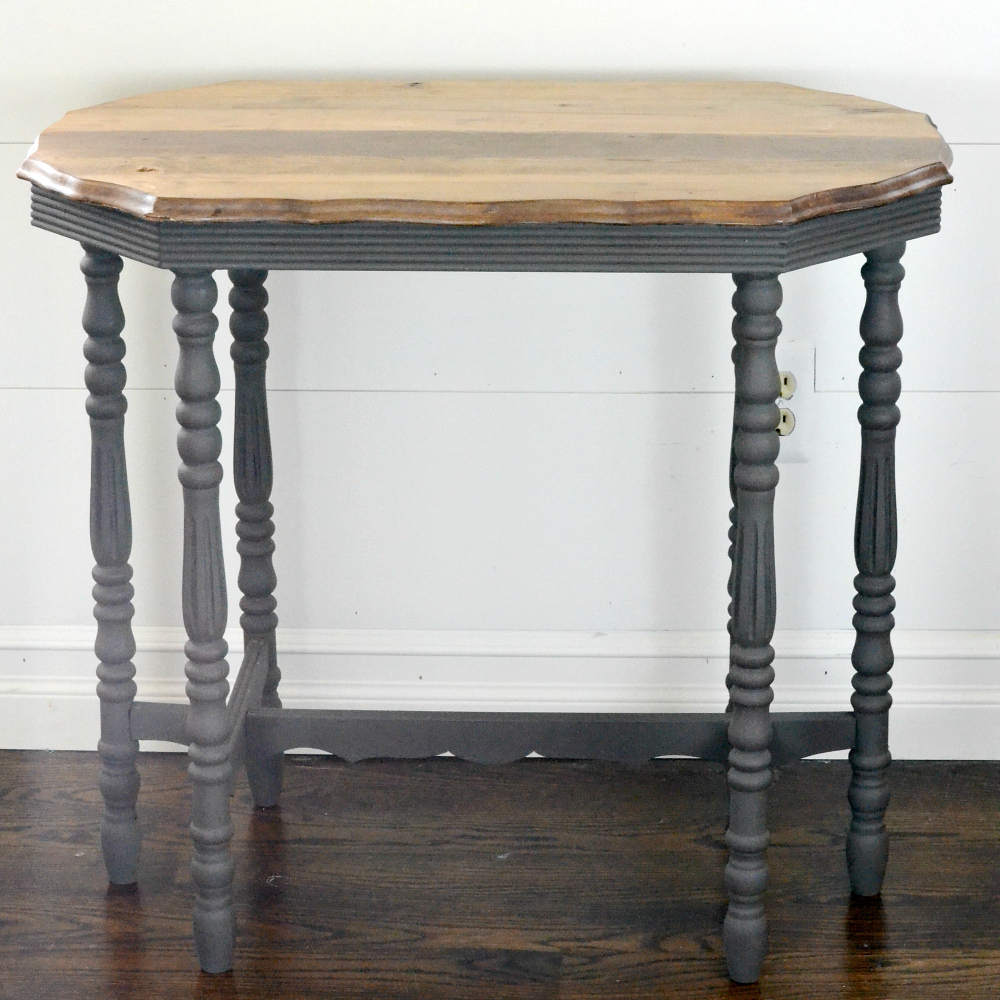 After getting the stain how I wanted, I went over the top with a wet washcloth, then let the top dry overnight.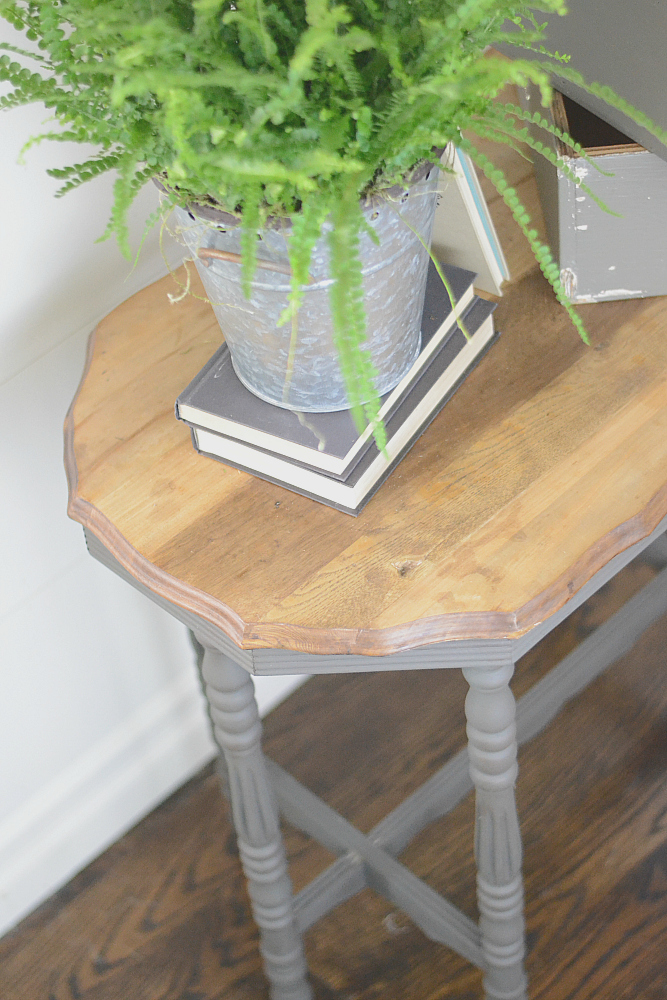 I came back the next day and added two coats of water based polyurethane to the top.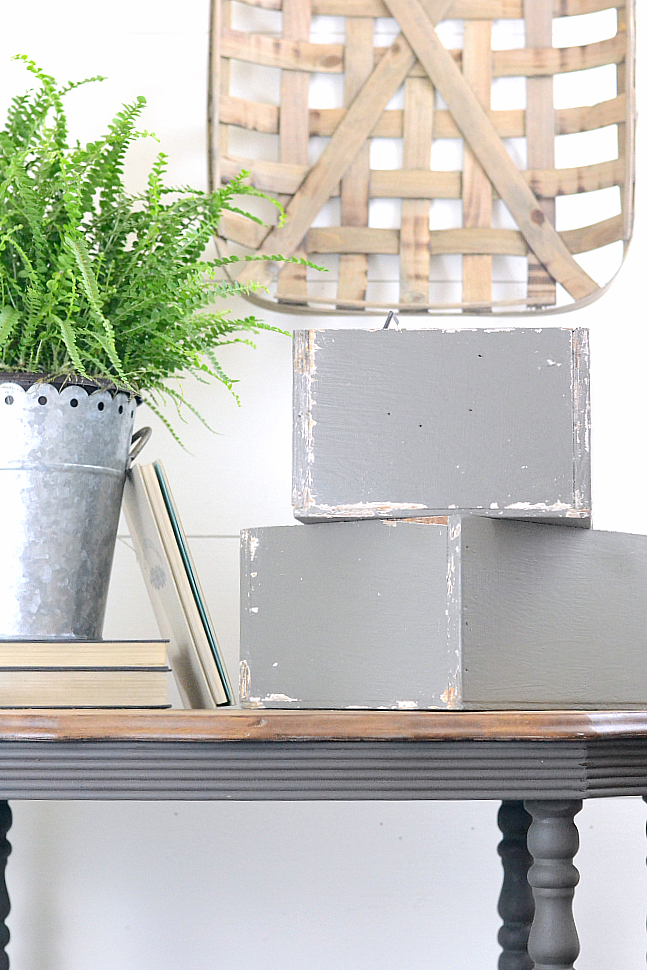 Next time you see a piece of furniture that looks too bad to bring back to life, try looking a little harder. Not every piece needs to be perfect. There is beauty in the imperfections.
I can't wait to add this to our master bedroom!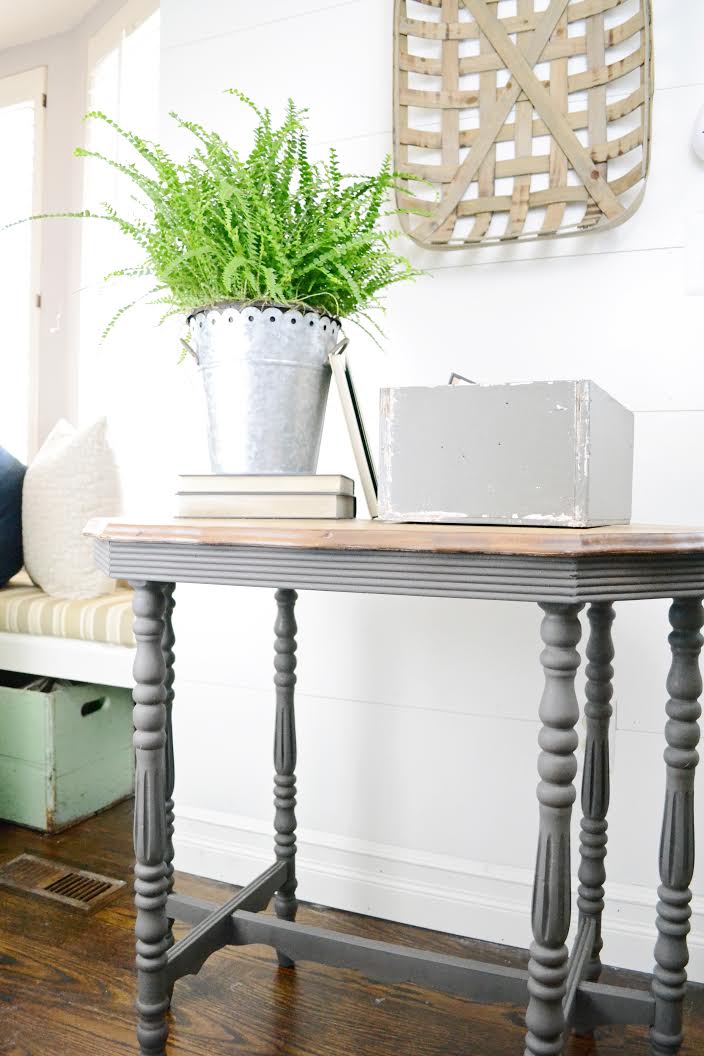 Let's check out that before and after one more time!
[twentytwenty]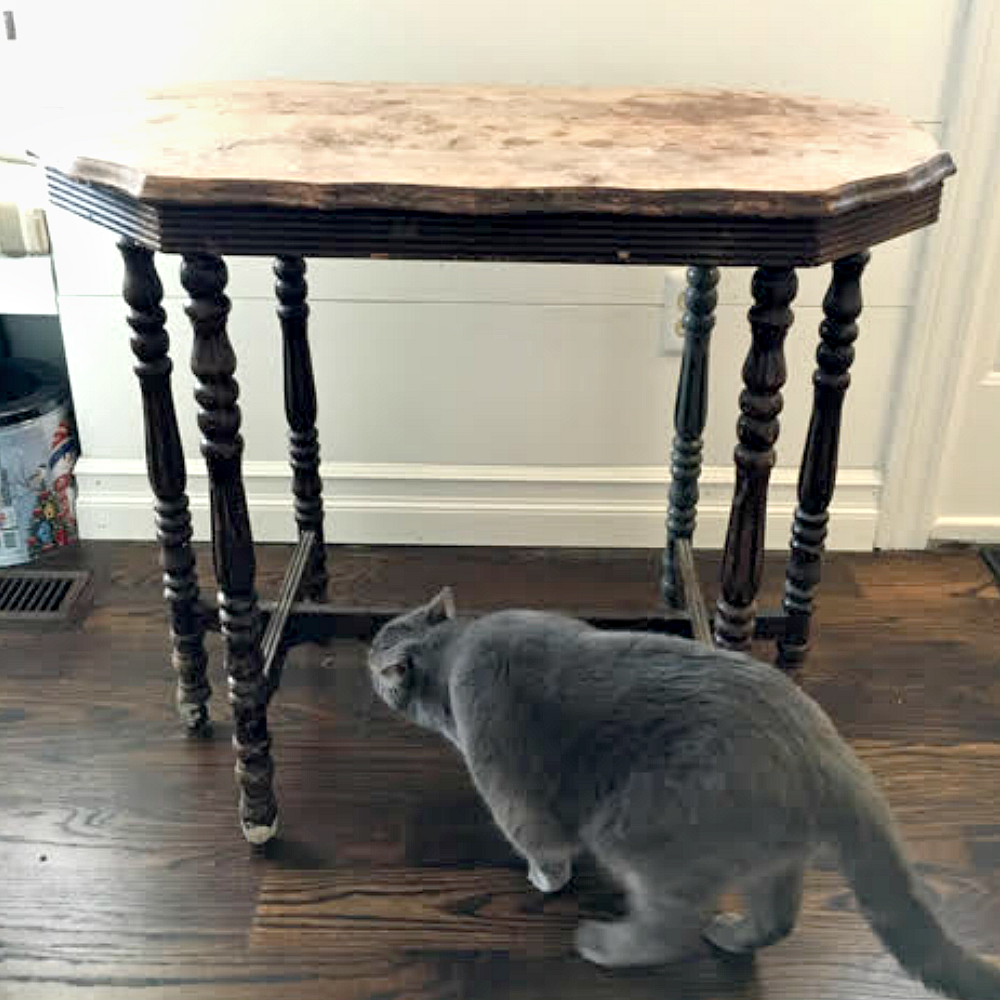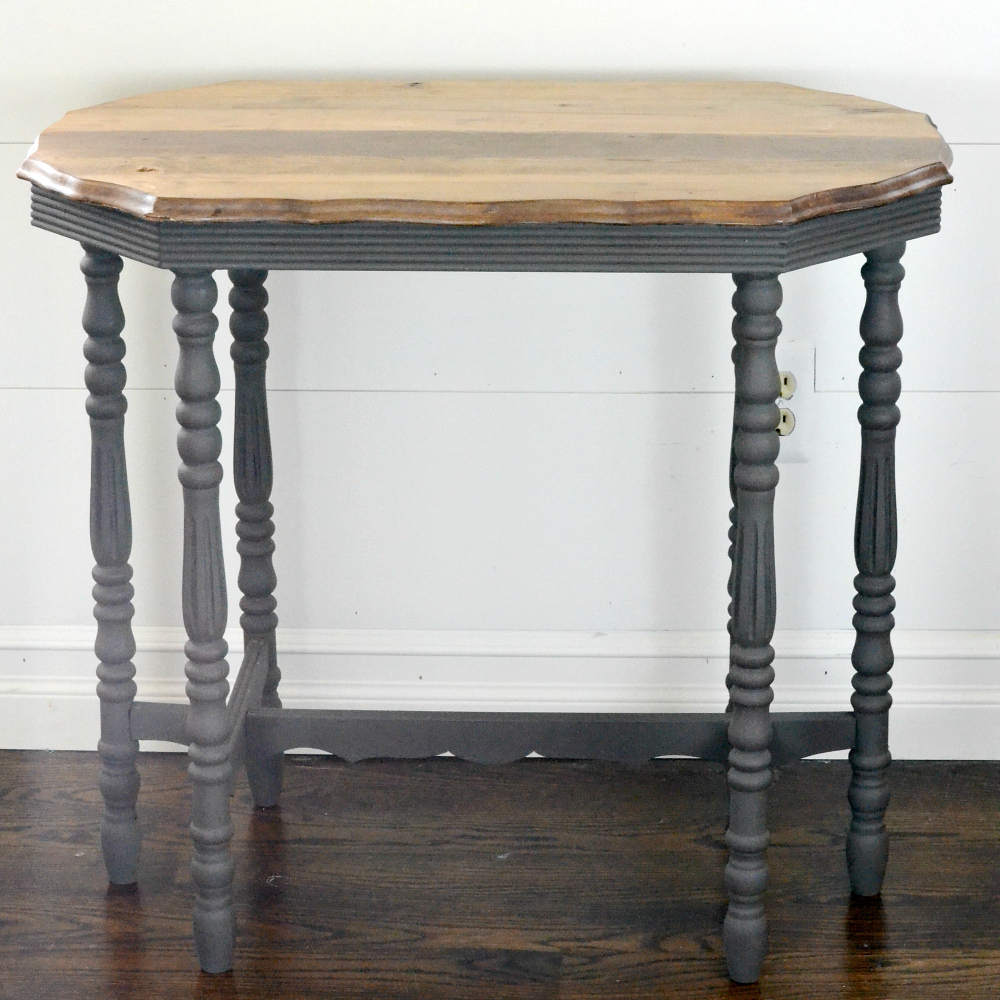 [/twentytwenty]

Like the look? Here are some similar products to help you!
Click on the images to be taken to the products (affiliate links).

[one-third-first]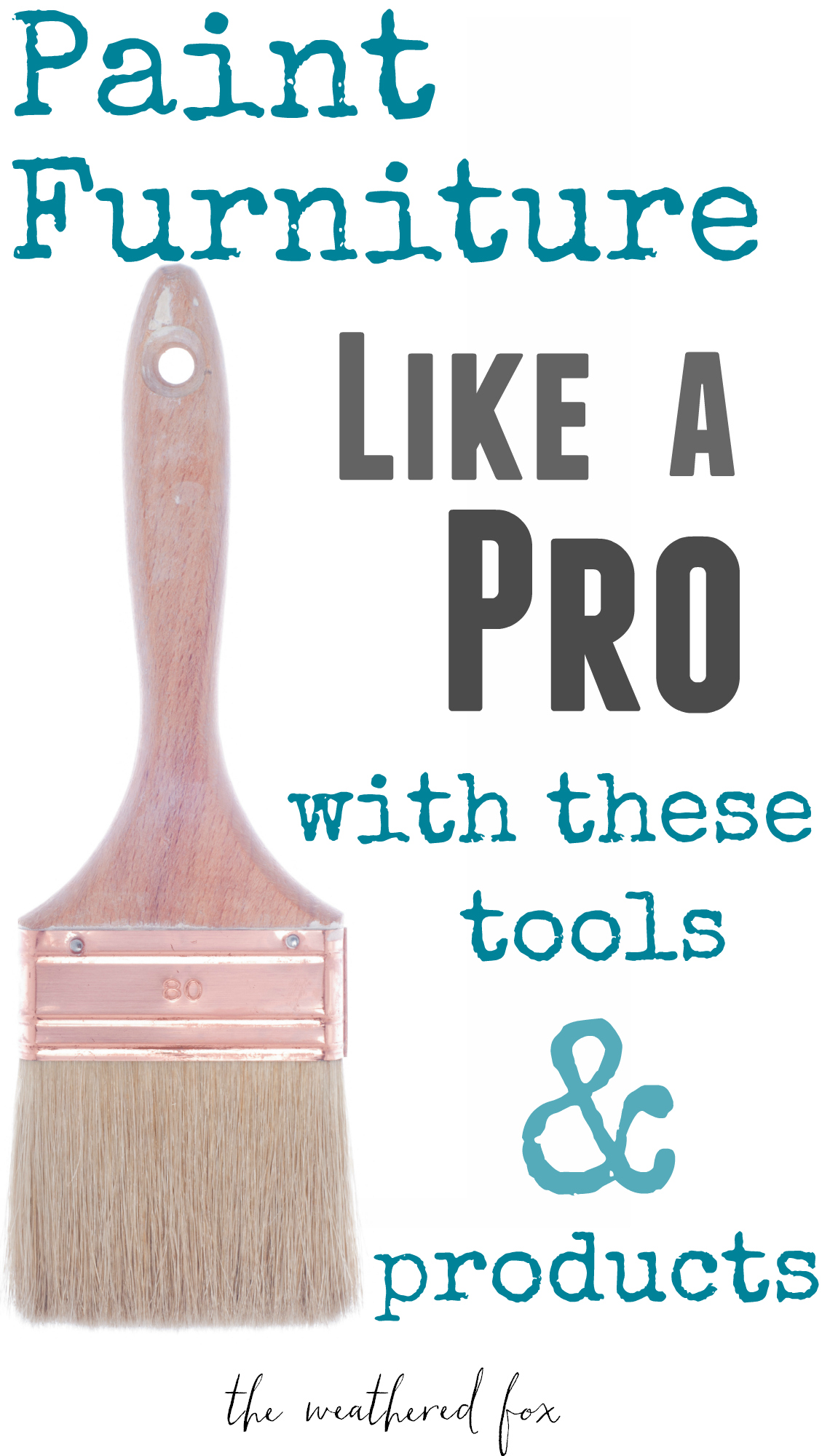 [/one-third-first][one-third]