Hi friends!!
I was talking to a friend & fellow blogger (Jami from An Oregon Cottage) the other day about what kinds of fun things she likes to do on her blog to chat more with her readers. She told me about this fun thing she does every week for her readers. She kind of checks in with them, tells them some interesting things she's learned, seen, bought, all that. And I thought what a great way to connect! I'm all for a great tutorial, but sometimes those can be exhausting and I can really start to feel like I'm not expressing myself the way I want to. I originally started this blog as an outlet. I wanted to talk about anything and everything and wanted to take you along with me. So I want to try something new.
I'm going to do this sort of thing inspired by my friend Jami. I'm gonna call it Fun Things Friday, because I want to chat with you about all sorts of fun things…and because Friday is usually a day I have a little bit more time to do it. So, here's the first Fun Things Friday. I would love it if you would leave a comment, ask me questions, and just generally want this to be a place where we can get to know each other!
(This post contains affiliate links. This means I get commissions for purchases made through links in this post.)
Fun Things I've Watched
Santa Clarita Diet on Netflix. I tried this show thinking it would probably just be OK, but I ended up watching the entire season, and then I introduced it to Brian and we watched it all again together. He loves it, I love it, it's hilarious. It does have explicit language, some sexual content (not anything nude), and some (ok, lots of) murdery humor. Basically the main character somehow contracts a virus that turns her into a zombie, so she eats people. But otherwise she's pretty normal and the family is trying to figure out how to live their new normal. OK, see? You're already learning something about me! I don't shy from weird TV Shows.
Lady Dynamite on Netflix. One of my new favorites. Also plenty of profanity and some sexual humor, but all in all I think it's hilarious. Maria Bamford stars in the show loosely based on her life & coping with her mental illness, Bipolar 2. Yes, I watch a lot of TV. Blogging is 70% computer stuff.
Fun Things I've Done
Last week was World Marriage Day. There's a dinner event that happens every year for this occasion, and this was the first year we went. Brian's parents invited us and we had such a great time. Coincidentally, we ran into my cousin and his wife there. they live pretty far from us, so we would have never expected to see them.
I installed windows for the first time, which was kind of cool. I didn't do it by myself, I had a friend help me. But it isn't so bad as I thought it was. I also learned how to tile! I've never tiled before. So when I was hiring someone to tile a bathroom for me, I told them the one condition would be that they teach me how to do it myself. Consequently it's not perfect, but I'm not afraid to try it again.
I also went to the doctor for my yearly physical. It's my first time since probably high school actually having a physical, but it was the only opportunity I had to address some growing concerns of mine. I've had some joint pain for a while, and last fall I began noticing increasingly frequent stomach troubles. I cleaned up my diet after that, and cut out most processed foods and gluten, so I thought I had it taken care of. But my Dr. ran some tests anyway. So he called me a few days ago to tell me I tested positive for Celiac Disease, which is an autoimmune disease that causes intestinal damage among other issues when gluten is ingested. So, I was pretty spot on for suspecting I had a gluten sensitivity, but I had no idea it was this serious. I have to go to an Gastroenterologist on Tuesday to have them check my intestines and confirm the diagnosis. Until then, I have to continue to eat gluten. Consequently I've been feeling pretty sick, tired, depressed, and overall bleh.
Fun Things I Bought
After searching too many stores, and almost paying way too much money, I finally found a high waisted bikini bottom that I like. And it came from Target! Thank you Target! And it was SO reasonably priced. I seriously LOVE it. I bought a large, and I'm between a size 6-8 just to give you an idea of sizing.
Target High Waist Swim Bottoms
But seriously though, why is it so dang hard to find a swimsuit that is flattering? And why do they have those lights in the fitting rooms? The ones that make you never want to try anything on? I went to Macy's and their lights are so unflattering, I was trying on $200 suits out of desperation and not even those looked good under the lights they had. Note to stores: stop finding models to make your clothes look good, make clothes  ( and fitting rooms) that make your customers look good!
I finally cleaned out my car this week too (yay spring cleaning, even though it's February, the weather has been nice!). Any time I do a deep cleaning, I get the urge to buy organizing stuff. Does this happen to you?? It must my psychological. Like, if I have more things to organize, I can keep it this clean foreverrrr. So, I took my first trip to The Container Store and spent entirely too much time there. But I did come out with some gems that I think are handy. I bought this purse organizer, which I was going to use to organize my center console. But it doesn't fit there, ack! However, it does fit nice and snug in between the console and the seat in that little crack. So, that's it's new home and it's working out well so far! 
In a burst of cleverness, I threw these into my basket too. They're little plastic sleeves that have sticky backs. They come 6 in a pack for a couple dollars, and guess where I'm using them!? I added one to my visor and put my registration and proof insurance! Yep! I'm a total sucker for not having my most up to date information readily available. Typically it just gets lost somewhere in my glove box or who knows where. But now I have a designated spot, within reach, and in plain view for grabbing purposes. Plus, I wrote the expiration dates of each nice and big and put the note in front of the papers so I can easily see when I need to update the documents. Boom. Adulting.
Fun Deals I've Found
I cannot get enough of this gorgeous industrial shelving! I haven't seen shelving like this for such an affordable price. I could see a pair of these hung in a kitchen for open shelving, or in a bathroom. That gives me some ideas!
This tic tac toe set is super adorable. It would look so cute on a coffee table, and what fun would it be to just have a set around for a quick game?
Fun Things I've Thought About
My husband Brian and I will be married for 6 years in July. We've been through a lot together. Buying, renovating, and selling our first home, changing careers, starting our own businesses, 4 pregnancy losses, among many other joys and sorrows. But I'll always have a special place in my heart for Valentine's Day because that's when we took our first photo together! I talked about that and about our first miscarriage in this post here.
Lent is coming up and I'm been discerning what to do. I typically try to stay away from giving up chocolate for a few weeks just to pick it back up again after Lent. Lent is for reflection, an inward look at what life you're living and how you can change it to deepen your relationship with God. And because this is an inward journey, I choose to not reveal what journey I've chosen for Lent. Not even to my husband. Because it's not about anyone else, it's about me and my relationship with God. and I believe what you choose to focus on in Lent should be something that changes your life forever. Something that makes you think about the world, and your lifestyle, differently every day. Here are some things I've done in the past:
No Television
No Fast Food
No Alcohol
Say only nice things about people
Avoid gossip by deflecting
Work less, help more
Try 3 new hobbies
Read
Make more time for family
Watch more documentaries and less comedies
Halt spending and purge
Fun Things I Found Online
This super easy hanging clay vase tutorial from A Shade of Teal. Fantastic right?
Free calendar printable from Designer Trapped. Get it here.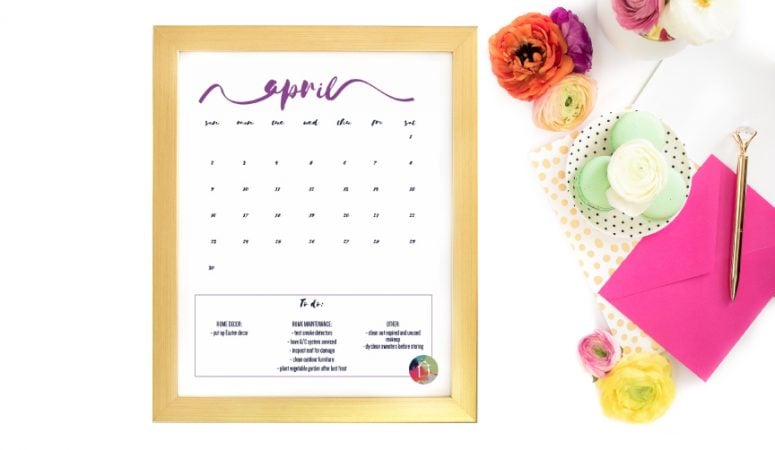 I hope you enjoyed the first edition of Fun Things Friday! If you want to chat more about life and love and all things home, come join our Facebook group I Heart Home! Click here to request to join!