Welcome back to Fun Things Friday! A time where I just check in with you guys, let you know what fun things are going on in my life, as well as fun things I've found around the internet and such. You've already given me some great feedback about how much you're enjoying the series, but as always if you ever want to check in with me send me a comment or an email! Or join our facebook group!
(This post contains affiliate links. This means I get commissions for purchases made through links in this post.)
Fun things on the blog
You may have noticed a change in scenery! I'm renovating the old blogosphere, trying to make things easier to find, and nice to look at. If you encounter something you don't like, please feel free to leave a comment. I'm always interested in hearing from you guys about user experience. If you go to the Home Page, you'll see I added new categories, and even a shop page to share my favorite finds in an easy to find location. I hope you like it!
Fun Things I'm doing
I started taking some private lessons to learn ASL (American Sign Language). I know, random! But a few years ago I found out I had a cousin that I didn't know existed. I reached out to him on Facebook and we quickly learned we have a ton in common. Chatting online was no problem, but once we met in person it was a little bit more difficult. My cousin is Deaf, so there is obviously a huge language barrier that prevents us from expressing ourselves fully when we see each other. I started taking some free classes online, and have learned a great deal from them, but I wanted to learn ASL  faster, and in a way that I could get real experience & practice signing. So, I'm taking private lessons! I had my first private lesson on Tuesday, and I'm just so excited to learn and absorb and finally one day be able to talk with my cousin the way I want! Which reminds me, I have to do my homework for the week!
Fun Things I've Found
Well, if you're in our I Heart Home facebook group, you'll know that I've been looking for something to use as an example for the new painting tutorials we're starting. By the way, if you're not part of the group you may want to join! [Click here to request to join the facebook group] It's been so much fun so far, and our live painting classes are starting soon! Anyway, I finally found something to paint. It's an old Ikea side table, which will be the perfect thing to make over! Who doesn't have a beat up piece of furniture just staring at them, taunting them every day. lol!
I also spotted this t-shirt the other day while doing some online window shopping. I'm so in love with it! And it's a great price for a handmade item. Isn't it adorable?? It's the perfect shirt to do some hardcore junkin & painting, right? I can't wait to get mine. [click here to order yours]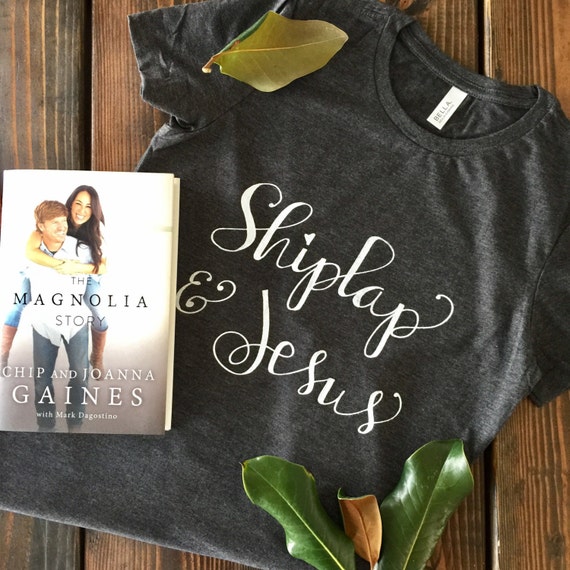 Speaking of, have you order your subscription to Magnolia Journal yet? the Spring issue just came out & I can't believe I didn't order it sooner. Everyone in the I Heart Home group has so many great things to say about it.  I found that you can get 40% off the cover price by ordering [here]
Fun Things I've Watched
The Good Place – On Hulu, starring a Michigan native Kristen Bell. Have you heard of her? 🙂 I personally think she's adorable in everything she does, and her sass is hilarious in this show. She basically gets sent to heaven after being killed in a freak accident, but she wasn't meant to be placed there, and literally hell breaks loose.
Last Man on Earth – On Hulu. I've been following this series for a while, but they just introduced a new character in the lastest episode, and she's one of my favorite people. I can't wait to see where they take this.
Fun Deals I've Found
This galvanized pendant light is an amazing price. It could absolutely be used in a Fixer Upper house!  Get yours [here]
Seriously cute Home Sweet Home sign for a steal! Click [here] to get yours.
I love this wall hook shelf dealio. This would be perfect right above an old church pew in an entry way. Add some baskets above to store your hats and gloves and mail and such! & hang your coats on the hooks! And this is seriously an amazing deal, but it won't last. Get yours [here]
 Fun Things I wrote
This week I wrote about my thrift store farmhouse table flip. You can find that [here]. I took an $18 table and turned it into a farmhouse table that seats up to 10 people! And just for a new pieces of wood and some paint & stain. TOTAL score. I also wrote about how to organize your home using the most underutilized space in your house. Can you guess what that is? Read all about that [here]
I hope you have a beautiful week, friends. And don't forget to come hang out with us in our Facebook group! I'd love to chat with you about life & love & all things home!