Shop the House: The Gorman Story
The Kitchen and Dining Room
(This post contains affiliate links. This means I get commissions for purchases made through links in this post.)
Click on the images to jump to a different room: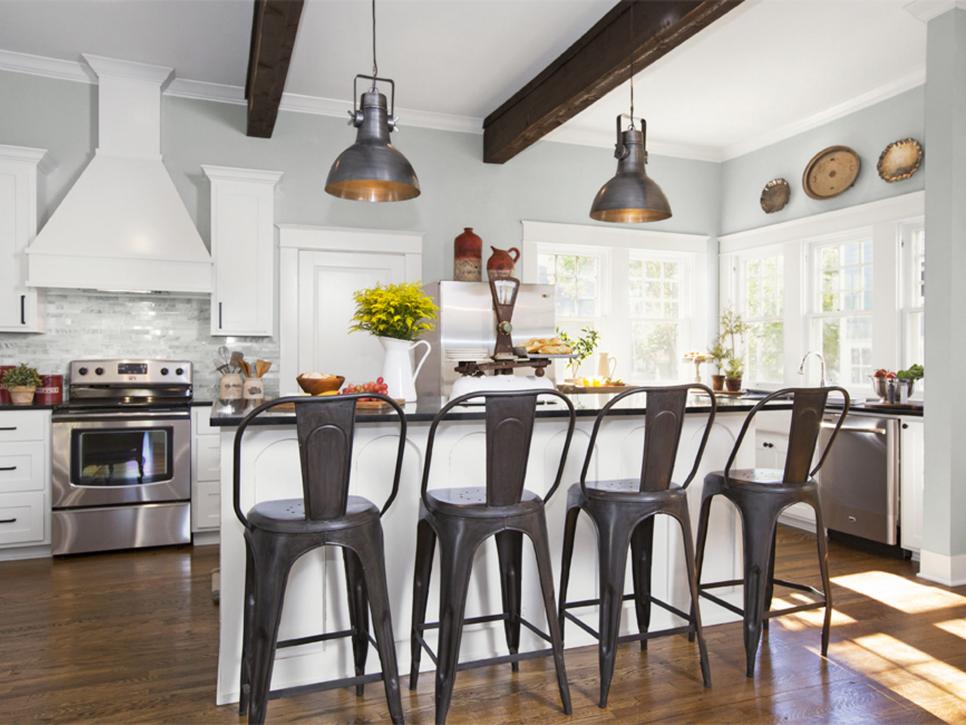 The Gorman Story kitchen is one of my favorite fixer upper kitchens! There's something so fresh and clean about white cabinets and wood floors, don't you think? I love that Joanna added an iridescent backsplash. It really makes the space sparkle when the lights bounce off of the backspash.
You can easily recreate the wall decor by hanging some thrifted silver platters on the wall! Check out this tutorial to see how easy it is to do! 
Joanna had the island custom made, and it looks just like her island in her own home. I love the arches in the custom made island, and that it matches the built in bench in the dining space. Two giant industrial pendant lights hang above the island, which includes matching gunmetal industrial bar stools.
I love the beam that runs along the kitchen and dining space. If you want to add in your own beam, you can actually buy a faux beam. It looks so real you won't be able to tell the difference! I love the little pop of color in the floral patterned rug, and the metal letters for wall decor. and those farmhouse pillows (similar ones here) are just the perfect amount of soft to cushion your back during a meal or game night!
Want to recreate the Fixer Upper Season 1 Episode 1 Kitchen and Dining Room?
Click on the images to be taken to the products (affiliate links).
And be sure to check out the full home tour at Magnolia Market!