The fall season is a time of year when we have the itch to straighten, organize, and tidy up the home. A perfect spot to start is our entryways. Whether your entryway is near the garage or the front door, a Command Center can help you get the daily coming and going back in order.
As much as I love the fun of summer, I appreciate the fresh slate of the fall season. Are you looking forward to that clean slate, too?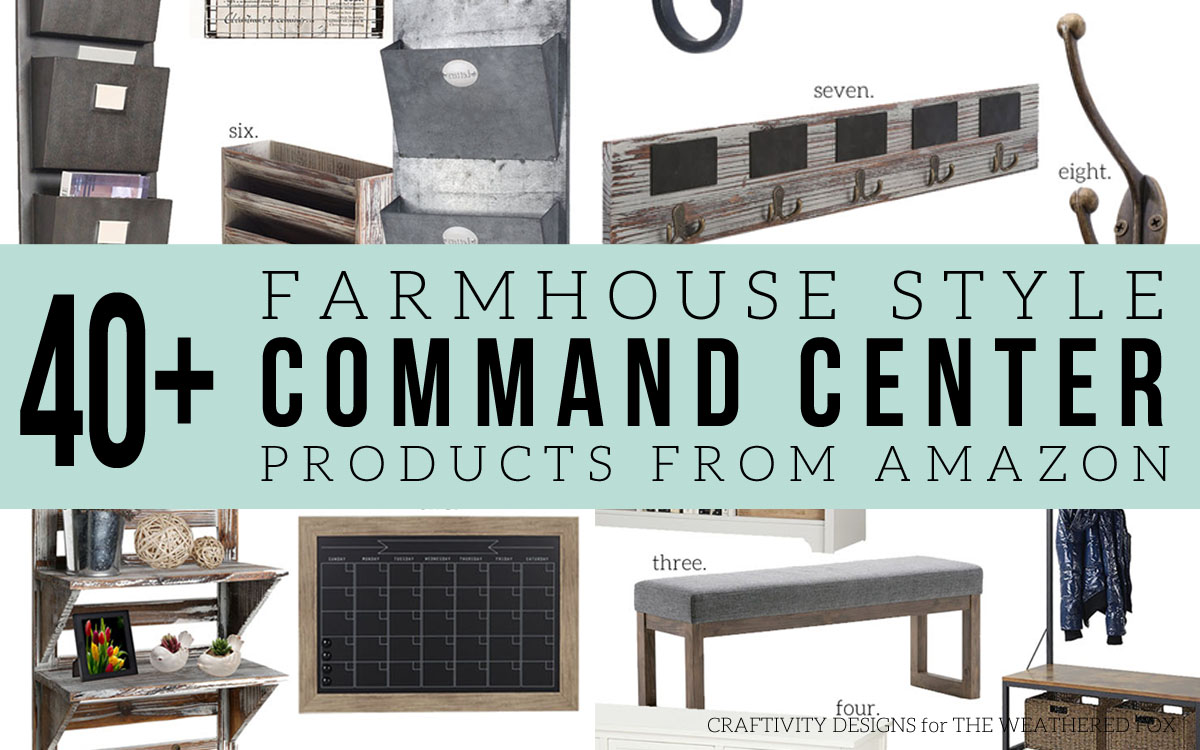 I'm Lora Green, of Craftivity Designs, and today I'm back at The Weathered Fox to share how to make a command center, all with products from Amazon. If you are looking for an easy farmhouse style entryway, this is the list for you! Pick out your favorite products, order, and set up an organized Command Center in an afternoon.  
So, what are the key ingredients to a functional Command Center? Let's take a look…
(This post contains affiliate links. This means I get commissions for purchases made through links in this post.)
Command Center: Message Boards
First, any Command Center needs a spot for messages and reminders. Last fall, I made a message board from an old frame. It holds family photos and daily reminders, along with our coats and bags. Which type of message board is best for your family? Let's take a look at the options.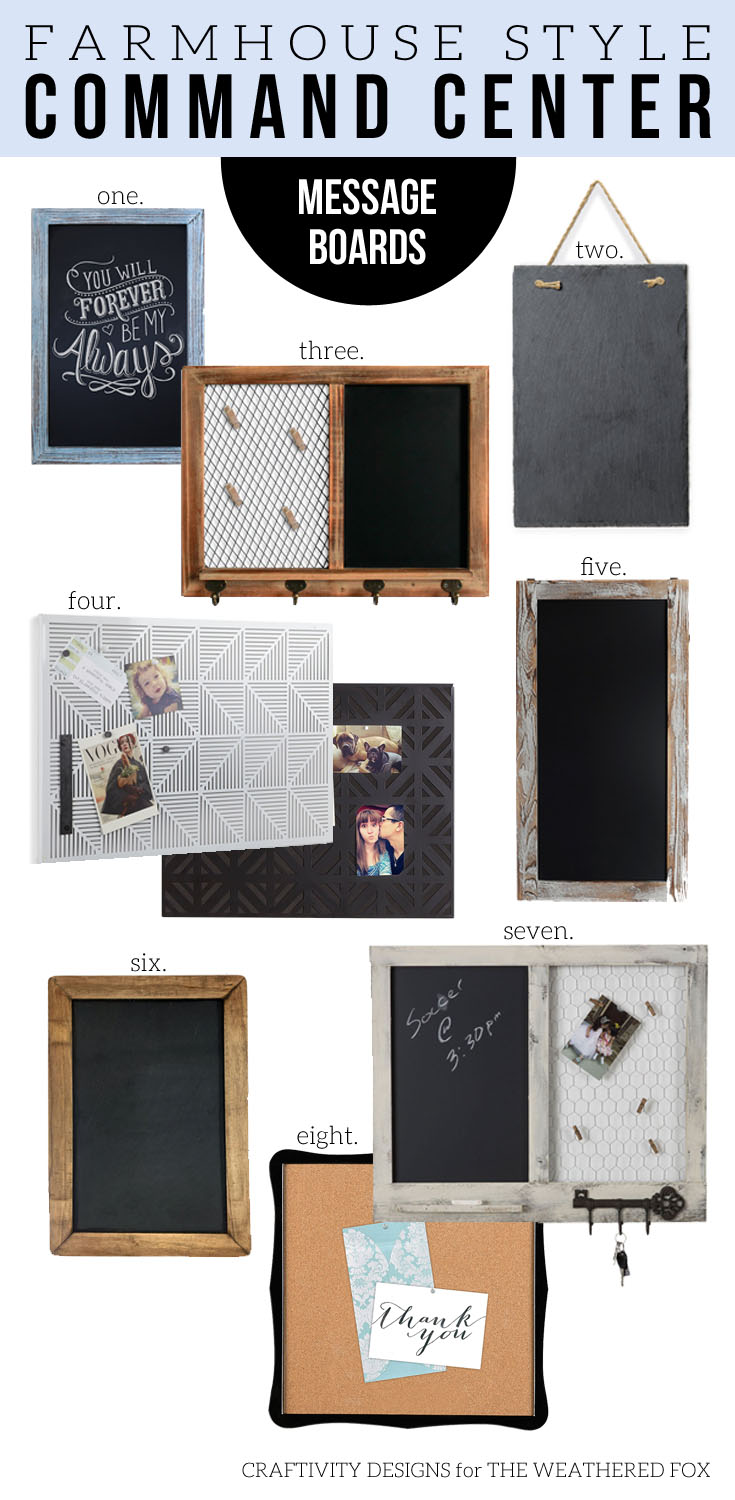 One: A large, 20×30 chalkboard in a soft blue, rustic frame makes a great focal piece for a Command Center.
Two: Write notes directly on slate with a simple, frameless chalkboard.
Three: Go double-duty with a combo chalkboard and clipboard in a warm, rustic wood.
Four: Get a modern farmhouse look with these metal magnet boards, available in white or black.
Five: If you love distressed wood, this 13×25 chalkboard will be right up your alley.
Six: A simple, schoolhouse-style chalkboard is perfect for a Back to School Command Center.
Seven: Another combo chalkboard and clipboard for those of you who love chippy white paint and chicken wire.
Eight: If you prefer a bulletin board to a chalkboard, this curvy black framed board is stylish and modern.
Command Center: Mail Sorters
The next ingredient to a functional Command Center is a mail sorter. Is it only for mail? No! A mail sorter is great for handling any daily paper clutter — whether it's the kid's homework, your planner, or bills to pay.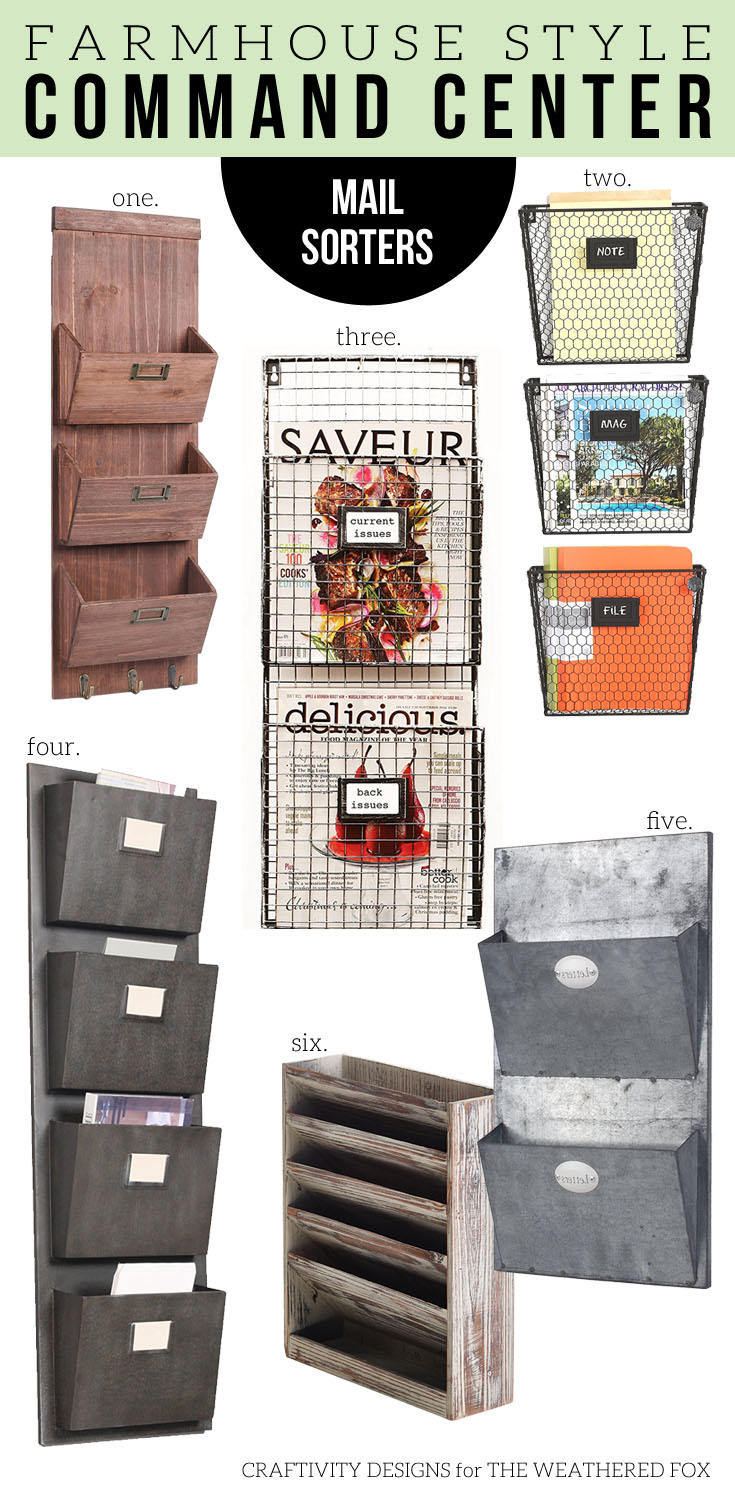 One: Wood lovers, how could you pass up this beautifully stained sorter — complete with label holders and hooks?
Two: I love this set of 3 metal mail bins for its versatility. They aren't attached to each other, so you can hang them in a row, or in separate spots.
Three: A modern-meets-rustic 2-bin mail sorter.
Four: If you need lots of paper storage, this 4-bin metal mail sorter is a great option.
Five: If you love galvanized metal (me! me!), this stylish sorter is your pick.
Six: Looking for something more compact? This wood sorter is small on space but still offers 5 mail slots.

Command Center: Calendars & Organizers
So, what if you need more than just paper storage and a message board in your family's Command Center? Maybe you need a dedicated family calendar? Or, a spot to hold electronic devices and keys?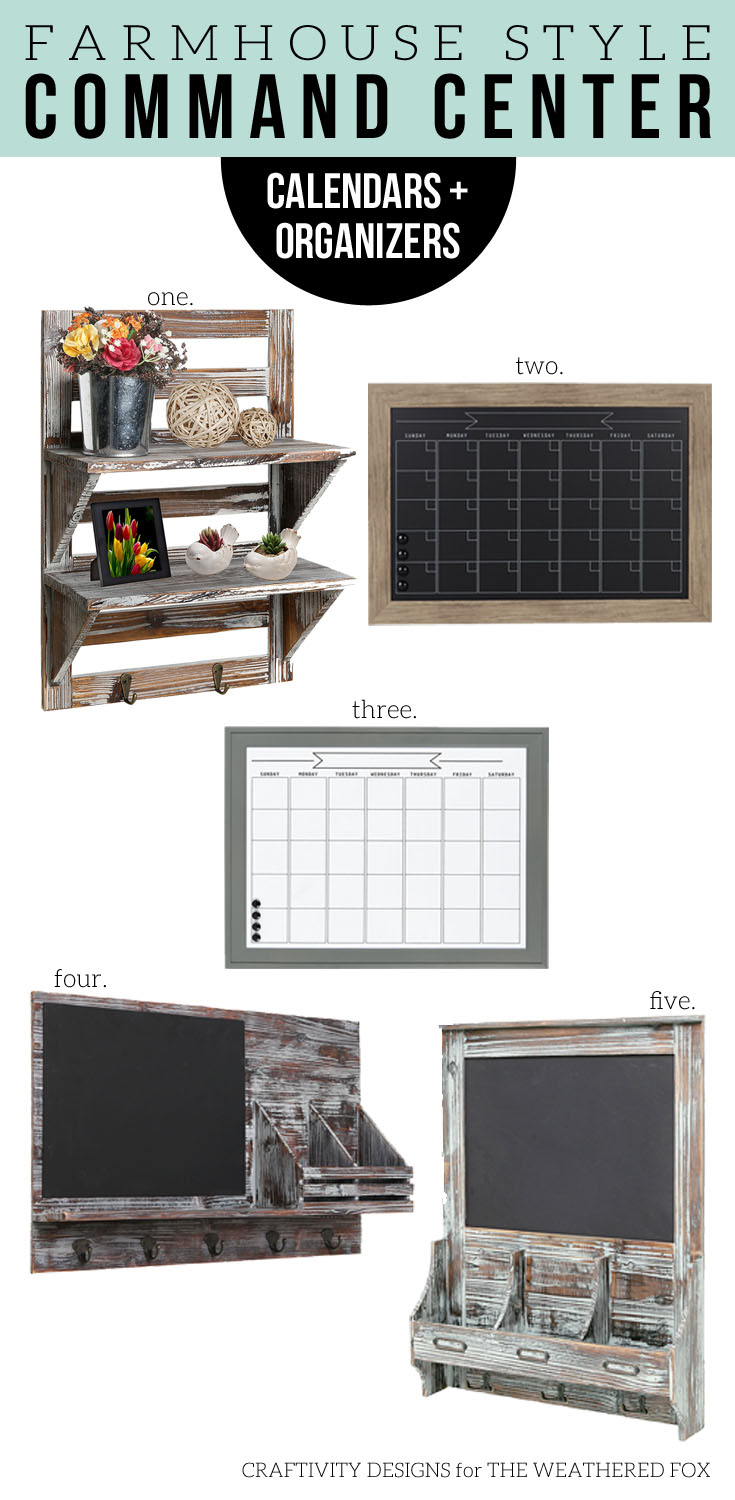 One: Two shelves, paired with hooks, can hold everything from keys and sunglasses to bags and coats.
Two: Love the idea of a chalkboard for your command center, but need a calendar instead of a message board? Try this one.  
Three: Skip the chalk dust, and use a dry-erase calendar with a modern, gray frame, instead of a chalkboard.
Four: This wood organizer could easily be made into a cell phone charging station. The bins are perfectly sized for phones.
Five: Use the labeled bins in this wood organizer for keys, sunglasses, and spare change.
Command Center: Coat Hooks
If you have the wall space, and especially if you don't have a dedicated coat closet, hang several coat hooks in your Entryway.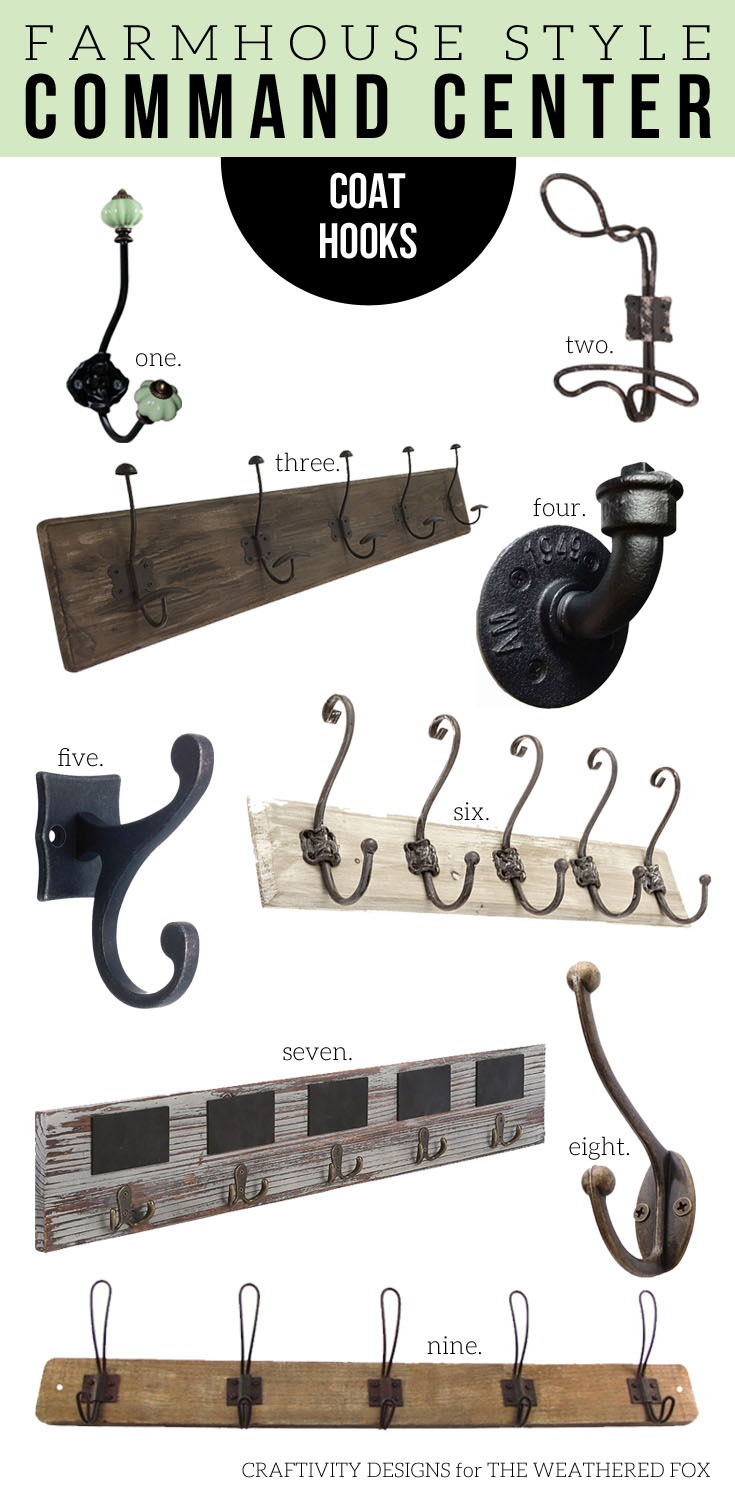 One: Add a bit of color to your Command Center with ceramic coat hooks (available in 7 colors).
Two: Go vintage with very rustic coat hooks.
Three: This rustic coat rack packs 5 hooks into a 38″ space.
Four: Cast iron pipe hooks are perfect for the home with industrial style.
Five: Traditional rod iron scroll hooks are timeless and incredibly sturdy.
Six: Metal coat hooks on a whitewashed wood rack make for a nice contrast. 
Seven: Label a hook for each family member with a chalkboard coat rack.
Eight: A classic, bronze double hook is timeless and stylish (this was our pick for a mudroom renovation).
Nine: This rustic coat rack is perfectly farmhouse, it could have come straight from the barn where it held rakes and shovels.
Command Center: Seating & Storage
Finally, if you have the budget and available floor space, a bench is great for an Entryway Command Center. It's a spot to store shoes, leave your bag, or a drop zone for items that need to leave the house.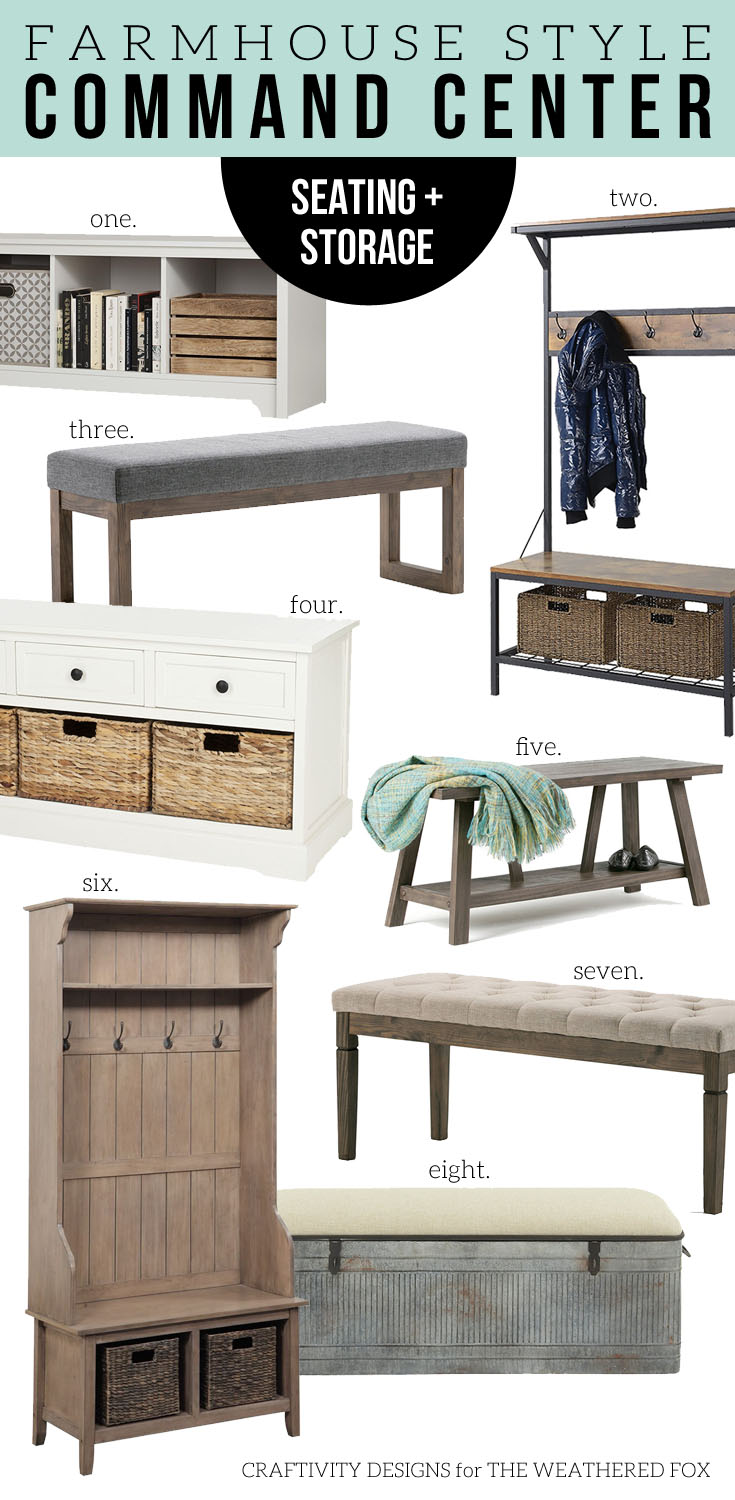 One: Simple and understated, this white bench will work in nearly any home — while packing in a bit of storage, too.
Two: Complete with coat hooks, this industrial-style hall tree is available in several sizes.
Three: Modern and clean lines, paired with a comfy, thick cushion — this upholstered bench is a stylish choice.
Four: You'll get 3 baskets and 3 drawers in this storage-packed white bench.
Five: Go simple and stylish with a trestle-leg wood bench.
Six: Choose this beautiful wood hall tree for a furniture piece that holds coats, shoes, bags and more.
Seven: If you lean more traditional, you'll love this tufted linen bench.
Eight: How "farmhouse" is this galvanized feeding trough turned bench? Plus, you get storage, too!
One of my favorite things about these products? Unless you include a bench, a great Command Center won't eat up any floor space. So, whether you live in a small home or a large home, a functional Command Center is achievable.
Like this Post? Pin it!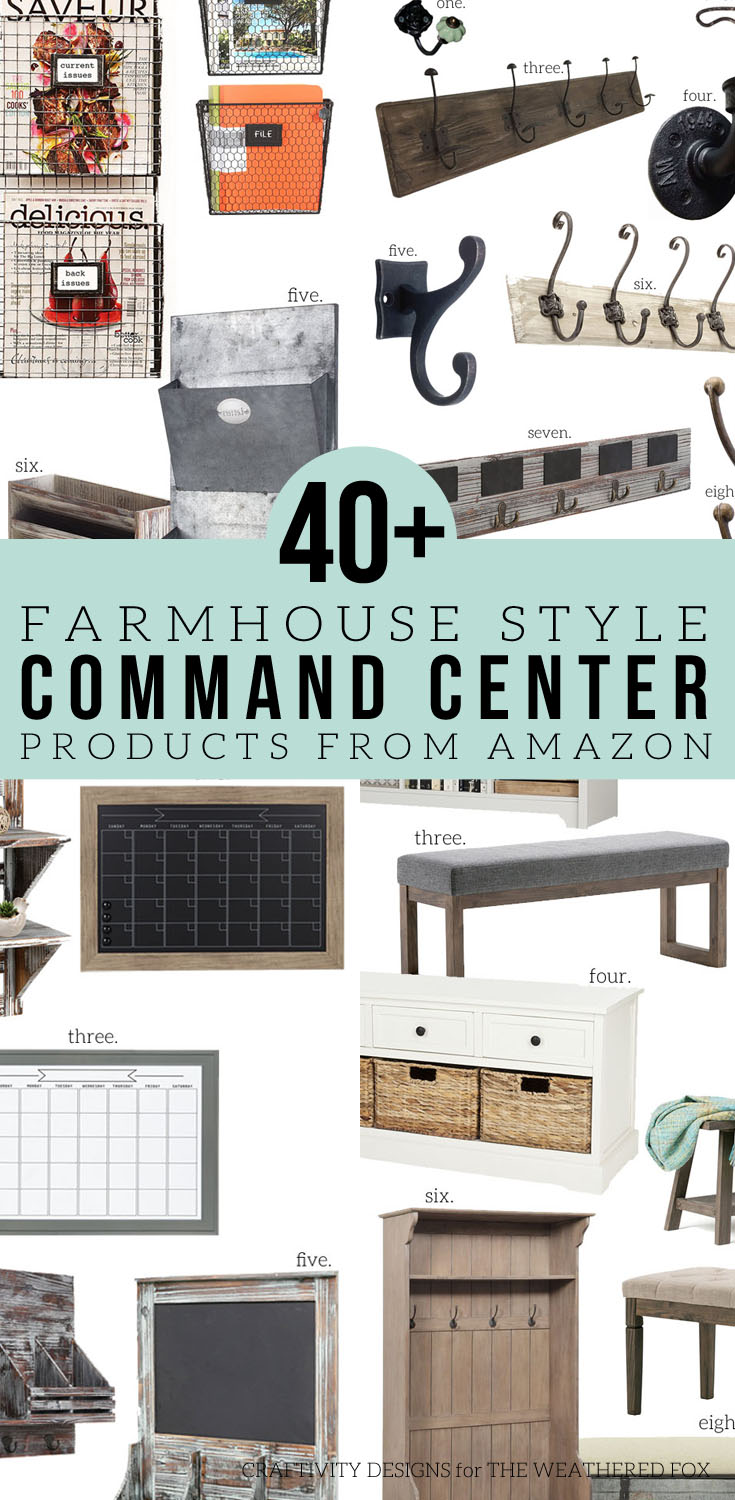 If you're dreading Back to School, or just aching for a little more organization, a Command Center might be the solution. Hopefully, this big list of Farmhouse Products will have you inspired to get started!
Happy Organizing,
Lora Green of Craftivity Designs

Would you like to see more organizing ideas? Check out my tips for organizing a Small Laundry Room and a Small Bathroom, or learn how to make a Command Center from an old picture frame.
See all my posts on the Weathered Fox by clicking here!